Memorial Day is around the corner so you will love these 71 keto picnic foods for your summer parties as part of this week's meal plan 20. There is a wide variety of salads from faux potato to faux linguine salads as well as burgers, bbq, pulled meats, keto drinks and desserts.
Check out all of keto meal plans here!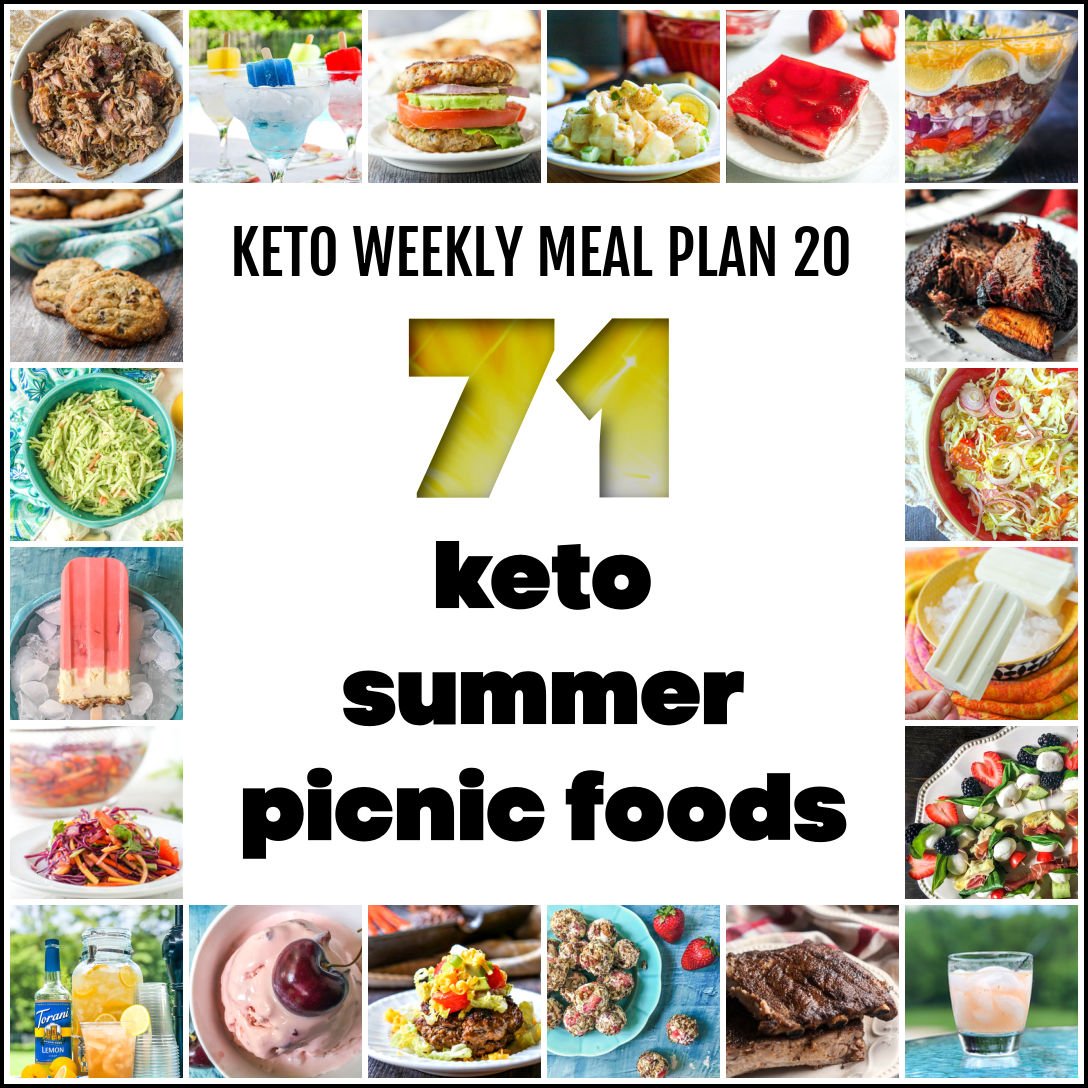 While we have not socialized much at all over the last year, I can't wait to get back to family gatherings be it picnics or pool parties.
So today I've gathered just some of my summer recipes and came up with this list of 71 keto picnic foods that should come in handy.
However, please note that there are a whole lot more recipes I could have picked from. So if you are looking for a specific keto recipe, just go to my recipe index.
Keto tips to keep cool this summer.
flavored seltzer water: It's always good to keep hydrated in the summer. I developed a love of flavored seltzer water. There are so many flavors these days and they also work great as mixers for alcoholic drinks. They have no carbs nor calories so give one a try.
popsicles: you can make popsicles from just about any sugar free drink. I find Crystal Light type drinks work really well. I like hese freeze pop bags which are great to make low carb freeze pops to keep on hand in your freezer. And if you don't like waste, I also have these reusable silicon freeze pop molds.
easy flavored iced tea: We make a big pitcher of unsweetened iced tea and keep it in our refrigerator. To flavor it we love to use a little lemon juice and Torani's sugar free peach syrup. Any of their sugar free fruit syrups are great for ice tea. There is something about the sweet and sour that go great together for drinks. You can even try a fruit tea with some lemon juice and sweetener.
iced coffee and frappuccinos: I also suggest you make a big container of decaf coffee and keep it in the fridge. Then you can add some ice, heavy cream and your favorite sweetener for a delicious afternoon treat. Again Torani's sugar free syrup are great for coffee drinks.
lunch meat rollups: Just get your favorite lunch meat and roll up chopped veggies, salad dressing and cheese for a delicious lunch. Here's a post about it.
use your grill: Just add some beef cubes, chicken breasts or a flank steak in a ziplock bag with a marinade and grill it for dinner. If you are in a pinch, use a bottle of Italian dressing. Also lemon, olive oil, garlic and oregano is an easy marinade to try.
the big salad: We often have big salads for dinner in the summer. Just add your favorite veggies (we like peppers, red onions, radishes and cucumbers) and add some type of protein (grilled chicken, lunch meat or canned tuna) and from there you can pick from bacon, hard boiled eggs, nuts, olives, seeds, cheeses and your favorite dressing.
freezer candy: I love freezer candy in the summer. Just use a fun silicone mold that you can often find at The Dollar Store. I think they are meant for ice cubes? Anyway, melt coconut oil, cocoa powder and sweetener in a pan and pour in the molds. Freeze until solid, pop them out and store them in a baggie in the freezer. You can also add nut butter, nuts, seeds, coconut flakes and even protein powder.
5 minute blender ice cream: Check out my blueberry blender ice cream. Just use some frozen berries, heavy cream and sweetener. Blend and eat!
I hope those give you some ideas of things to quickly make in the summer and stay on your low carb diet. They are simple ideas and recipes but you can easily adapt them to make them your own.
So now we are going to get to our extremely long list of recipes for 71 Keto Picnic Foods! Remember I have loads more low carb recipes that you might like that would work for a party or picnic this summer.
71 Keto Picnic Foods Recipes for Summer
Whether you are having a summer party or going to picnic, this list of 71 keto picnic foods will have you covered. Everything from apps to salads to main dishes to desserts. All are low carb, sugar free and gluten free.
If you like this post, please share it on Pinterest with the graphic below!