This low carb blue cheese marinated flank steak is so tasty and easy. Only 2 ingredients for the perfect summer meal on the grill. This post is sponsored by the Certified Angus Beef ® brand in conjunction with a social media campaign through Sunday Supper LLC. All opinions are my own.
You might also like this grilled marinated steak kebabs dinner.
Do you have old recipes that you love but forgot about? That's the beauty of having food blog. You have all your favorite recipes at your fingertips. This low carb blue cheese marinated flank steak is an old favorite that my mom used to make in the summertime.
For some reason I forgot about it but it's something my whole family loves and it's oh so easy to make. There are a few tips you have to remember but it only requires a bottle of blue cheese and a flank steak.
Other Low Carb Dinners On The Grill
I think I told you how I love meals on the grill. Less work for me and more for my hubby who is the grill master in the house. I know how to use a grill but one time I melted the siding on the house so hubby doesn't trust me anymore. Oh well, less work for me! Here are a few other grilling recipes we love.
Working With Flank Steak
Flank steak is a good marinating steak and it's delicious on the grill. It's lean and should be cut against the grain when carving. You can learn all about different cuts of beef and how to prepare them on Certified Angus Beef® website. They all have useful recipe videos.
In this particular recipe I just used blue cheese salad dressing to marinate this Certified Angus Beef® flank steak that I bought. I love the flavor that blue cheese dressing imparts on this dish but I imagine other dressings might work well too. I'll have to try those and get back to you!
Scoring The Meat Before Grilling
You have to look closely at the photo below you can see how you have to score the meat before you marinate it. Look at the grain of the meat which the direction the muscle fibers are aligned. It's pretty easy to see on a piece of flank steak.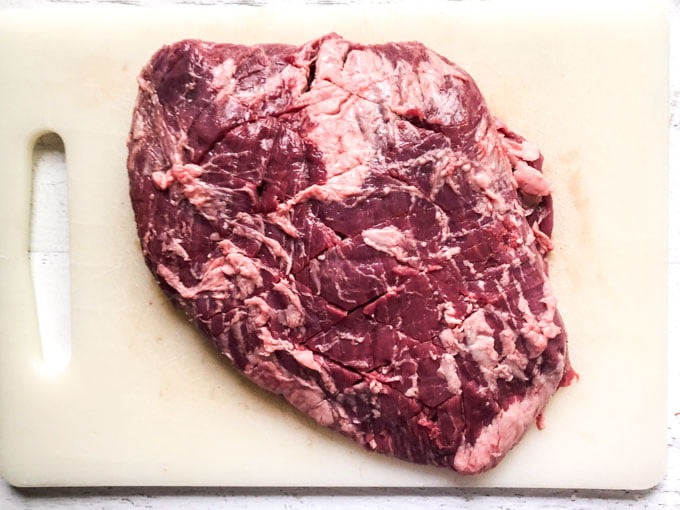 You want to score a diamond pattern in the meat so the dressing soaks in. I cut mine a bit too deep as I was in a hurry but just be careful. Slice lines going in one direction then slice the other way to make the diamond cut. Do this on both sides.
Marinating The Flank Steak
Next add about 2 cups of blue cheese dressing on both sides of the meat and let it marinate overnight. You can place it in a marinating container like this or a baggie. The longer you marinate the meat the better it will be so try to do it overnight if you can.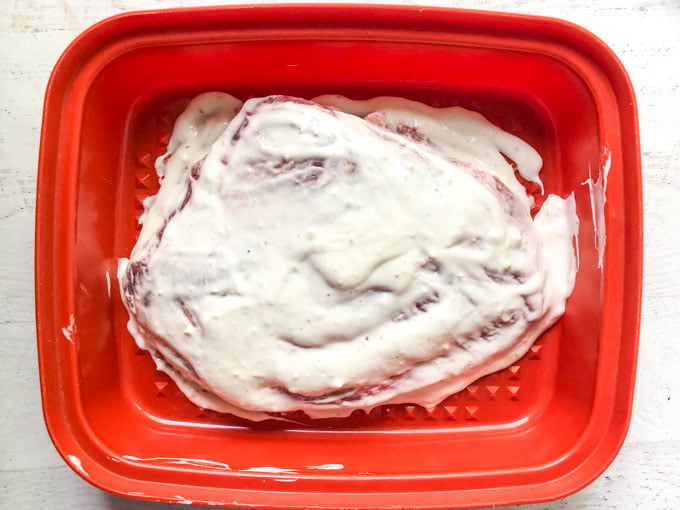 How Long Should I Grill The Flank Steak?
You want to grill each side for at least 10 minutes on both sides. I like mine to be charred on the outside but pink in the middle. Medium rare is usually 135°F in the middle and 145° for medium. So grill it for 10 minutes on each side and use a meat thermometer. If you don't have a meat thermometer you can always cut a small piece off!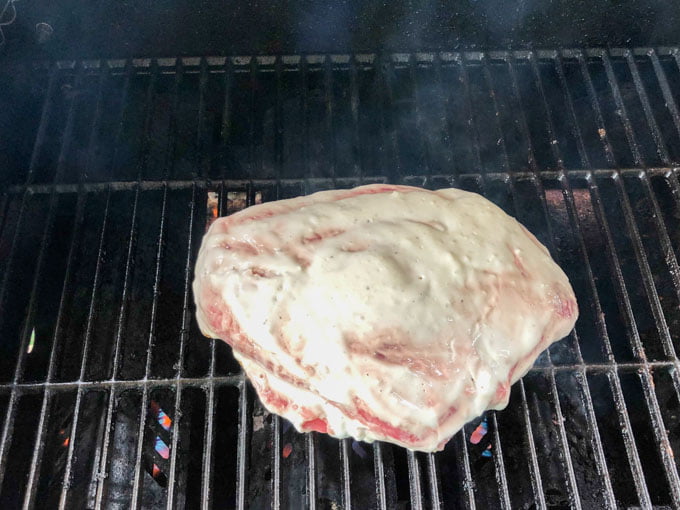 Once the meat is done, let it rest for about 5 – 10 minutes to seal in the juices. Then when cutting the meat make sure to cut against the grain. If you want to know exactly how to do that, here's a great article on how and why to cut against the grain.
Please Note: You really need to grill this blue cheese marinated flank steak. Otherwise you will have a sickly looking, gray piece of meat. You want to burn up that white blue cheese. Believe it's worth it though. It has so much flavor!
This meat is very flavorful and I served asparagus and yellow zucchini. It the perfect light and healthy low carb dinner for the summer time. Even Max loved this meat and that of course makes me happy. He really is becoming a better eater as he's growing up.
I hope you enjoyed this recipe. The nutritional information for 1 serving is:
587 cals / 48.7g fat / 3.7g carbs / 0.3g fiber / 33.4g protein = 3.4g net carbs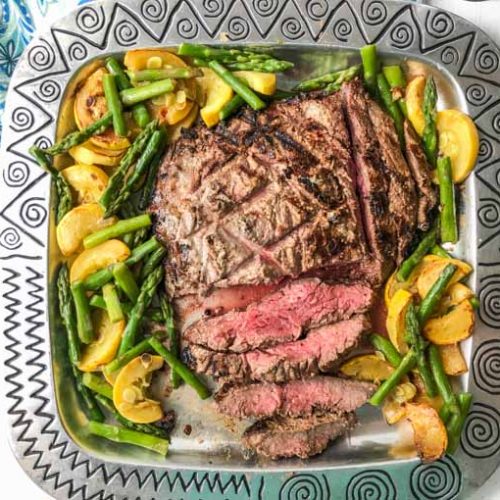 Low Carb Blue Cheese Marinated Flank Steak
This low carb blue cheese marinated flank steak is so tasty and easy. Perfect for a summer meal on the grill.
Total Time
1
day
20
minutes
Ingredients
2

lb

flank steak

2

cup

blue cheese salad dressing
Instructions
The night before or early morning of when you want to eat this, prepare the steak.

Take a sharp knife and score the meat in a diagonal direction and then score the meat in a diagonal direction the other way. There should be a diamond pattern on the meat.

Flip the meat over and do the same thing on the other side. Make sure not to cut too deep.

Slather blue cheese dressing all over both sides of the steak.

Place in a ziplock bag or container and refrigerate until ready to grill.

When ready to use, grill the steak as you would any steak, approximately 10 minutes on each side.

Let sit 5 minutes before carving to retain the juices.

Carve against the grain for more tender pieces.
By the way you might want to check this Certified Angus Beef® Kitchen Facebook group to learn some great beef tips and recipes. It really helped me to make my first prime rib! For more information about Certified Angus Beef ® brandfollow them on their Social Media Platforms: Facebook | Pinterest | Instagram | YouTube | Twitter