For an easy and delicious high protein and low carb dinner try this keto chicken bacon ranch casserole that you make in the slow cooker. You only need 6 ingredients and you can have a creamy chicken casserole with the delicious flavors of ranch, bacon and cheddar cheese. Only 4.3g net carbs per serving.
You might also like this keto bacon ranch chicken & broccoli salad.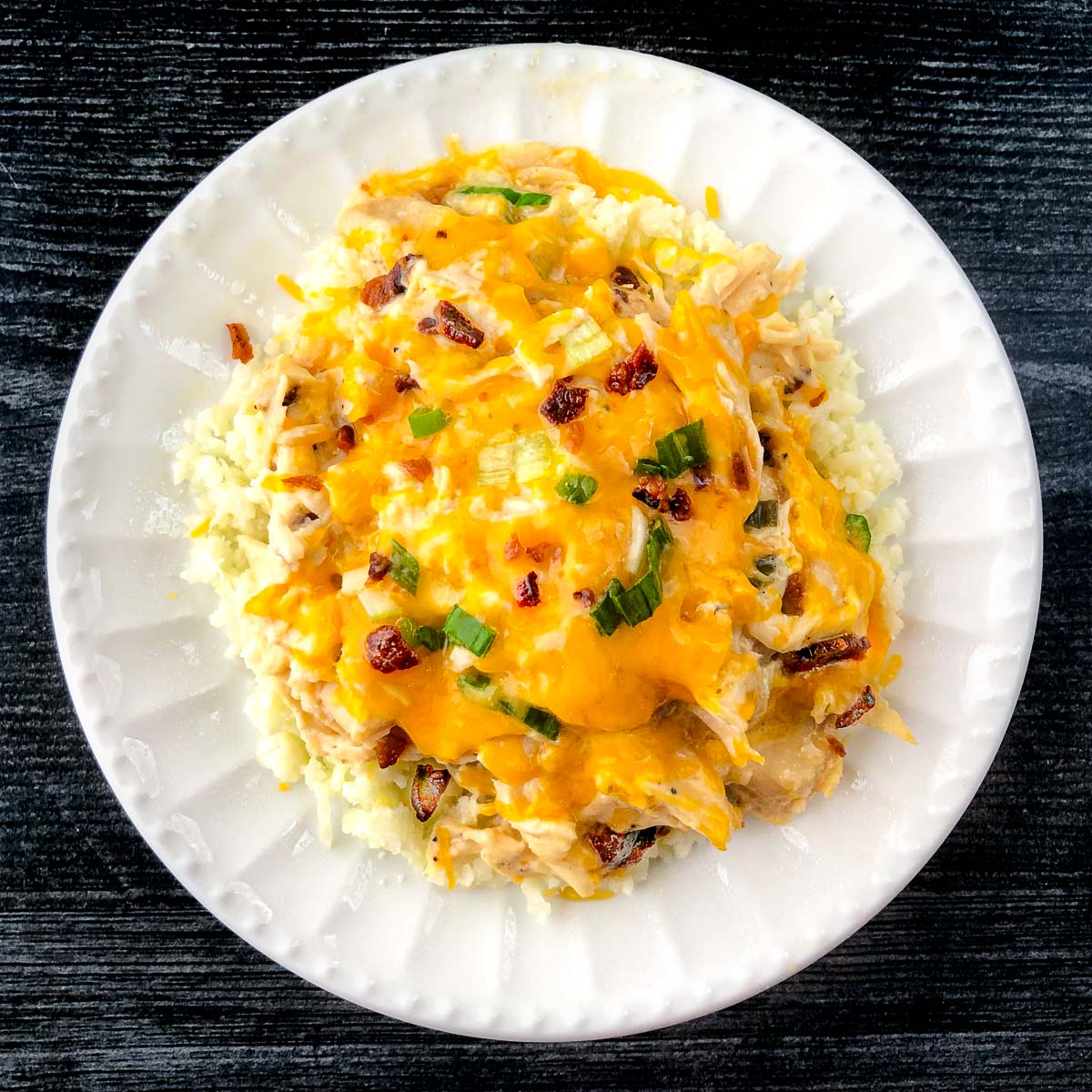 I love the slow cooker for making busy weeknight dinners. Just put everything in the crock and you can feel satisfied that dinner is taken care of. Today I was in the mood for some keto comfort food because the weather was crappy and we had a busy schedule.
So I made this yummy keto chicken bacon ranch casserole in the slow cooker and it was sooo good! The creamy ranch sauce mixed with tender shredded chicken and topped with my favorite loaded potato toppings of cheese, bacon and green onions.
You can eat this as is, over cauliflower rice or with low carb buns as a sandwich. And best of all for those on a low carb diet it has just 4.3g net carbs.
This recipe also made a big batch that we ate for lunch the next day and I froze 1 serving for a quick keto lunch.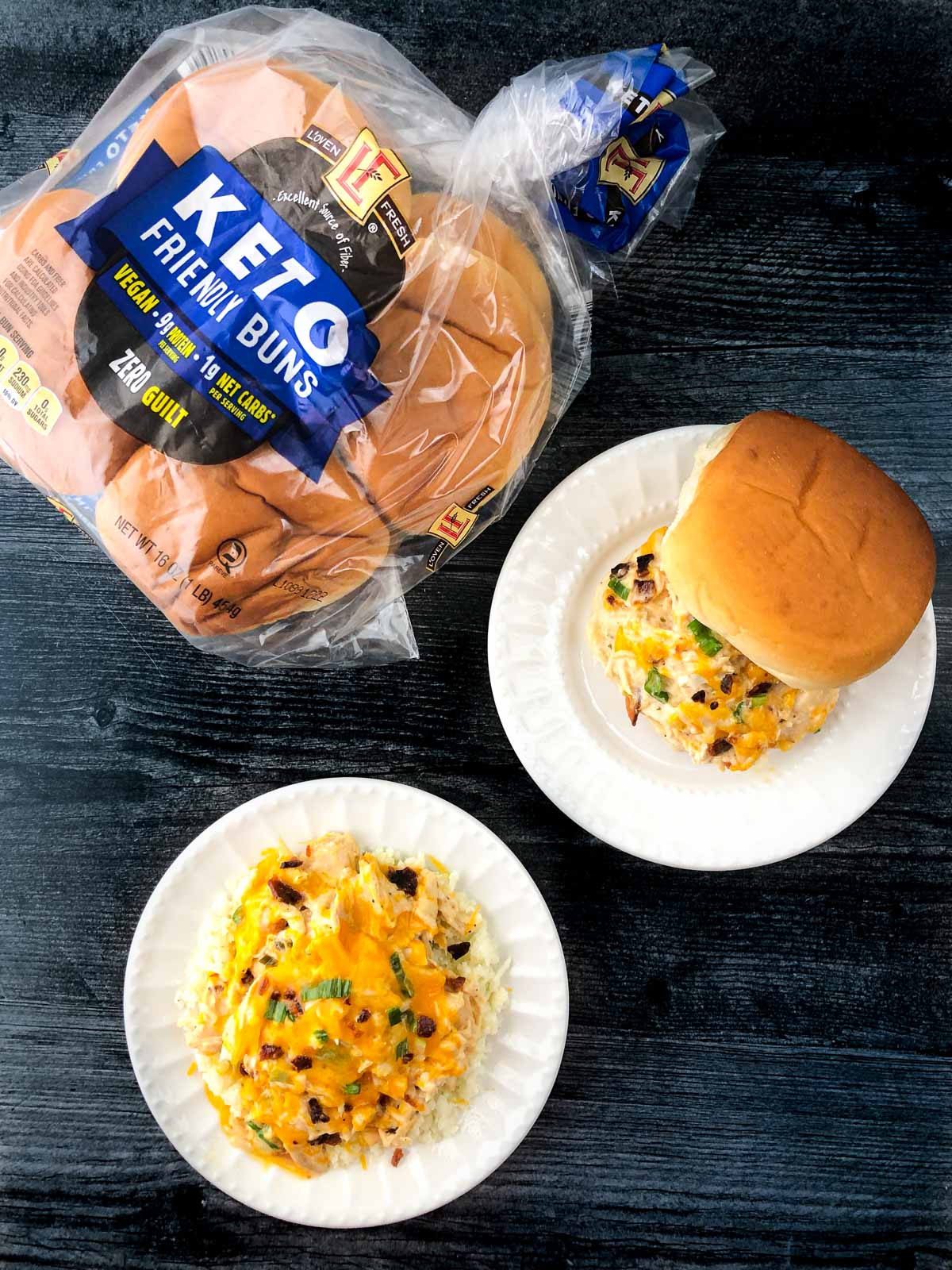 Recipe ingredients I used.
All you need for the keto slow cooker casserole is raw boneless skinless chicken breast, ranch seasoning mix, cooked bacon, green onion, cream cheese and sharp cheddar cheese. You could use chicken thighs if you prefer them.
NOTE: I found these great keto buns at Aldi recently. You can see them picture above. They only have 1g net carbs, have the same texture as regular buns and best of great taste.
I recently bought this big bottle of Hidden Valley Ranch seasoning at Target I believe and it has really come in handy. You can use any brand of ranch mix as you want but I find the original the best. Also this is the mix I'm talking about and not the dressing.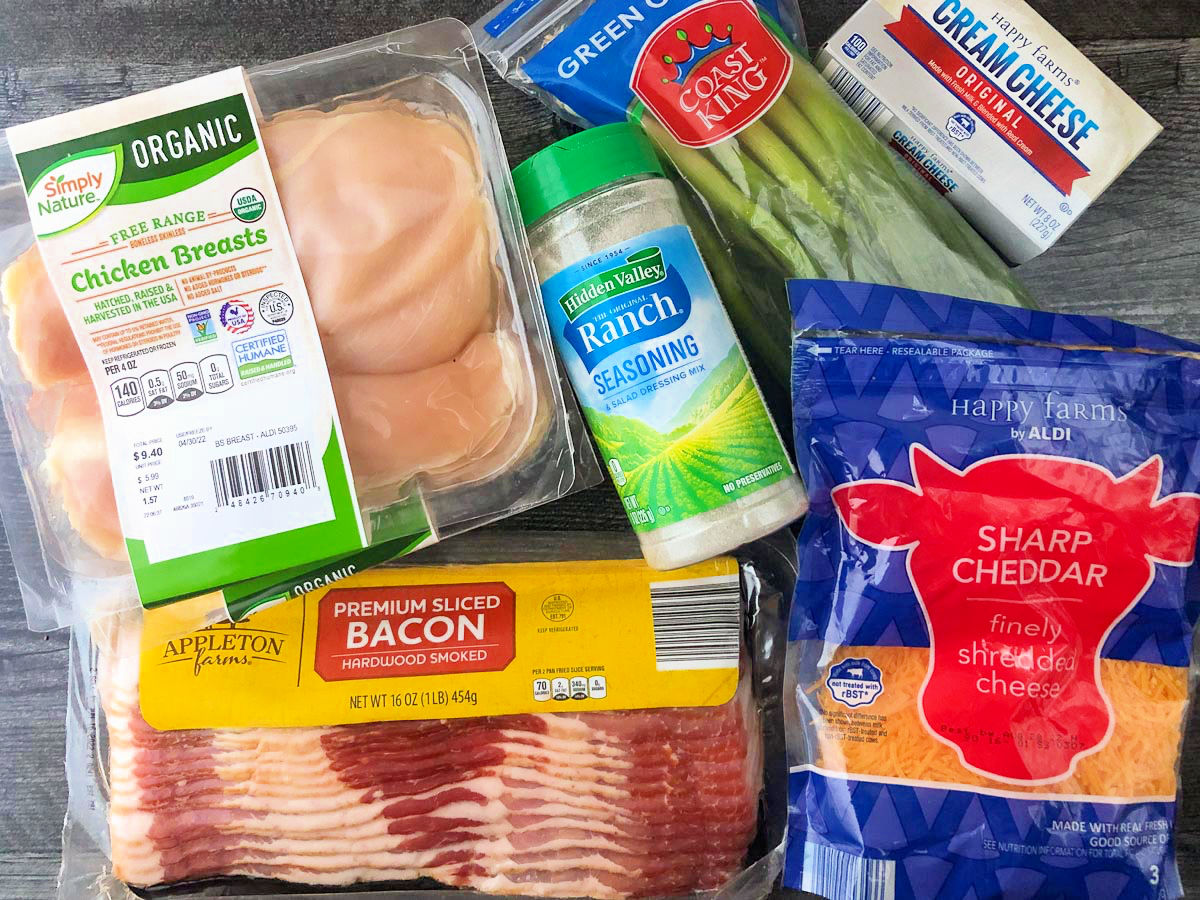 How to make keto chicken bacon ranch casserole in the slow cooker
Step 1: Spray the crock of your slow cooker with a nonstick cooking spray. Then place in the raw chicken breast and seasoning with salt and pepper.
Step 2: Cut the cream cheese into smaller pieces and sprinkle across the chicken and then sprinkle the ranch dressing.
Step 3: Chop the green onions into small pieces and place most of them in the slow cooker but keep a little for the garnish.
Step 4: Lastly sprinkle the ½ of the shredded cheddar cheese over the chicken mixture and place the lid on the crockpot. Cook on high for 3-4 hours or on low for 6-8 hours. Cooking time make vary.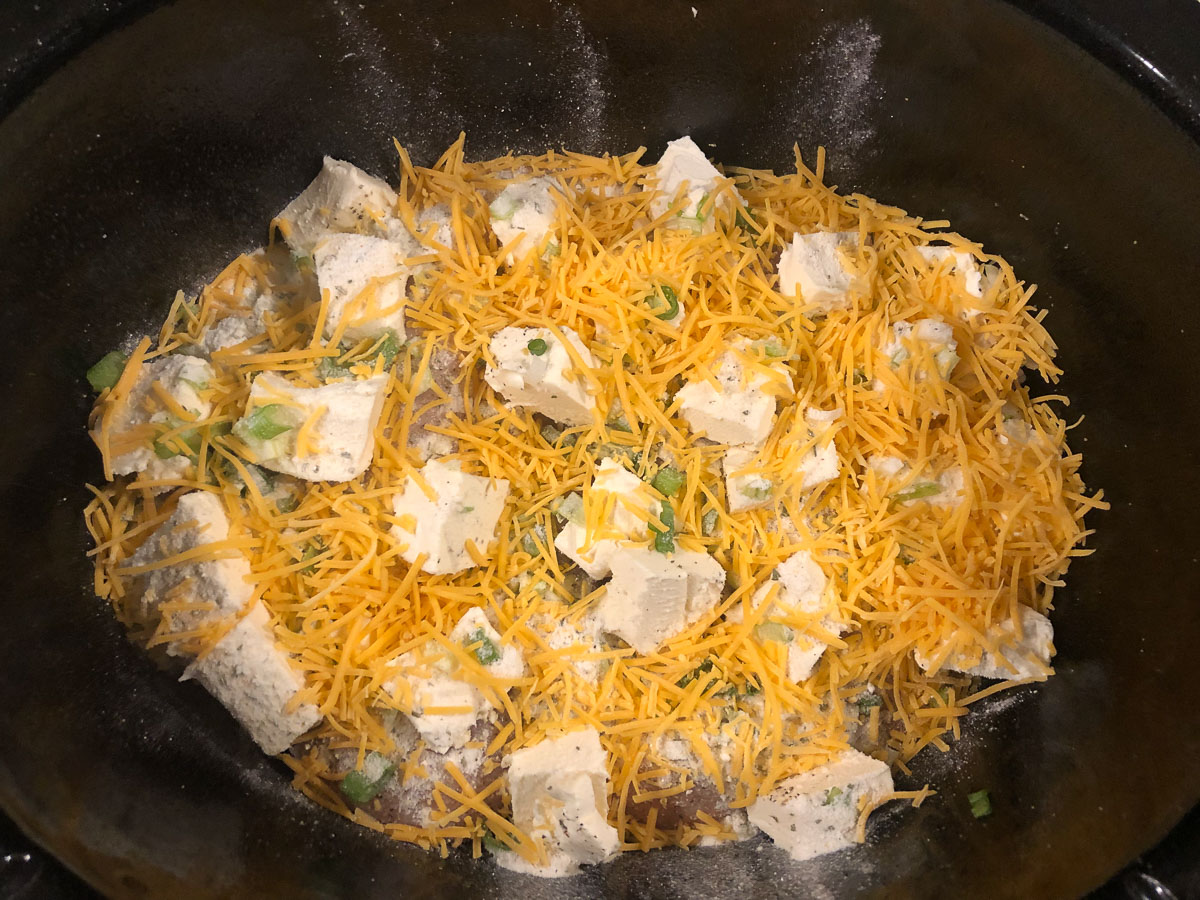 Step 5: When the chicken is very tender, take to forks and shred the chicken in the crock. Mix it well with the cream cheese mixture and cover and cook for 10 minutes.
Step 6: Sprinkle the remaining shredded cheese on top of the chicken mixture and then garnish with the remaining green onion and crumbled crispy bacon. Wait to let the heat from the casserole to melt the cheese and then serve.
You could also spoon the mixture into a large casserole dish and then addd the cheese, bacon and green onions. Then place it under the broiler to get the cheese golden brown. Make sure to spray the baking dish with nonstick cooking spray first.
Some toppings you can try are sour cream, chives, hot sauce, etc but I don't think it needs it.
See below for serving suggestions and store leftovers in an airtight container. (Please scroll down to view the printable recipe card.)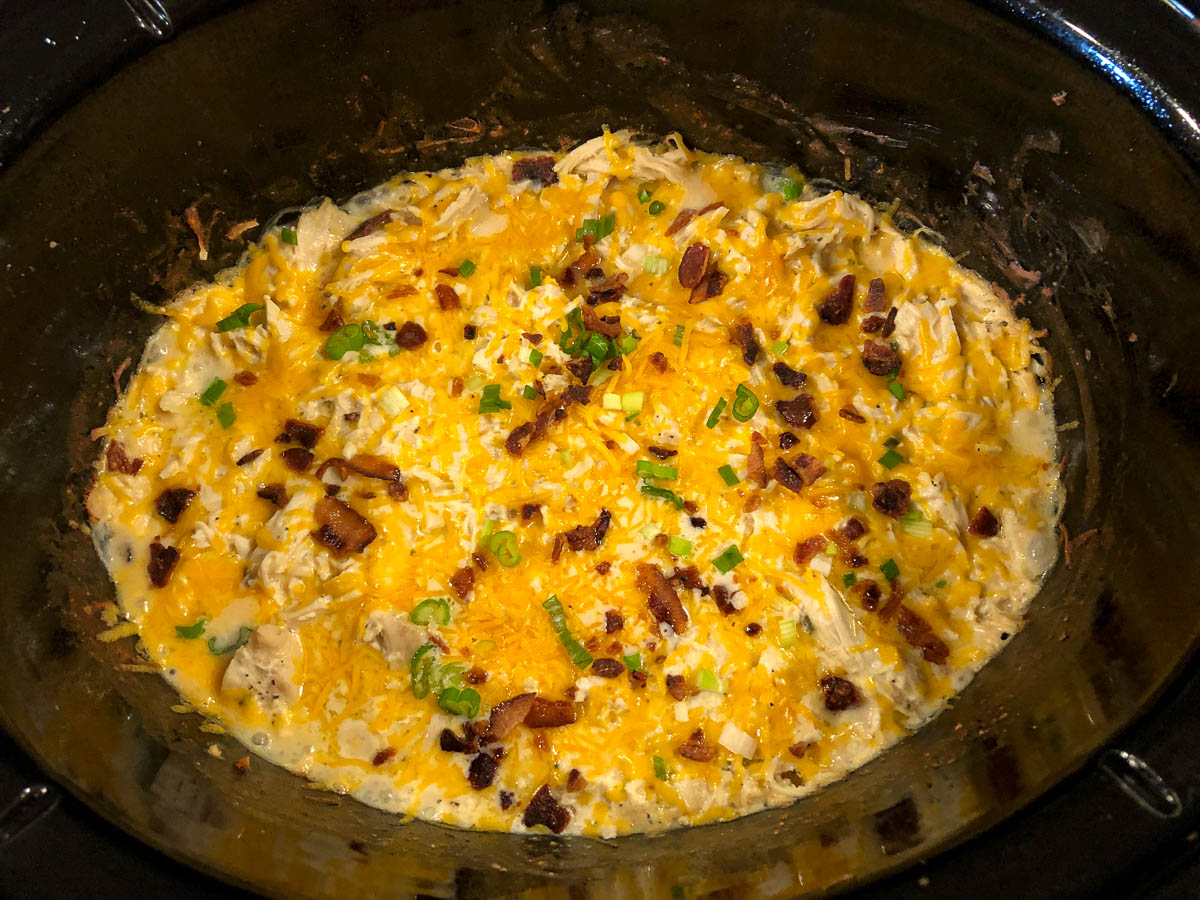 This is a great dish for feeding a crowd. It makes 8 servings so it would be good for watching a football or hockey game with friends and family.
We ended up eating some of it the next day and I was able for freeze 1 serving for a quick keto lunch. It freezes and microwaves well so it's a good recipe for keto meal prep.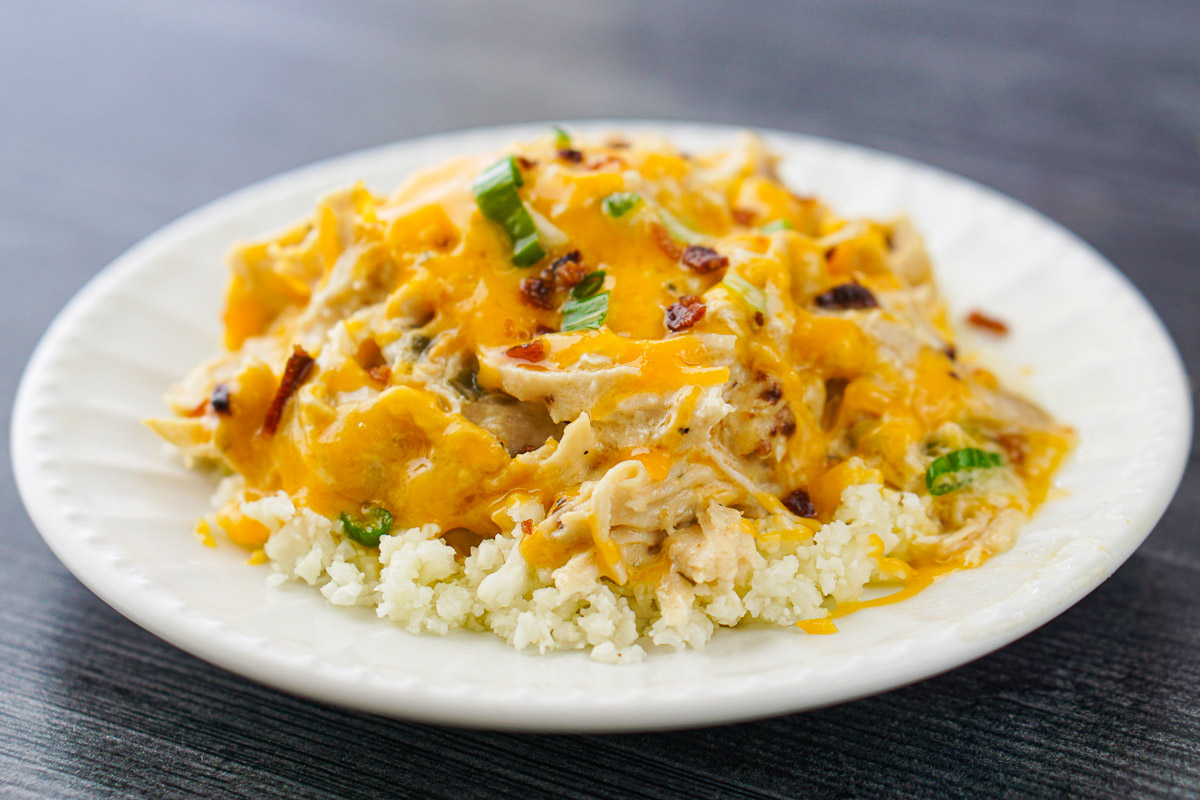 How to eat this chicken casserole.
There are a few ways to eat this keto casserole to make it a meal. You can eat it as is, on a keto bun or on cauliflower rice.
I personally liked it on cauliflower rice pictured above or just as is. However my family preferred it on a bun and I was lucky enough to find really good keto sandwich buns at Aldi.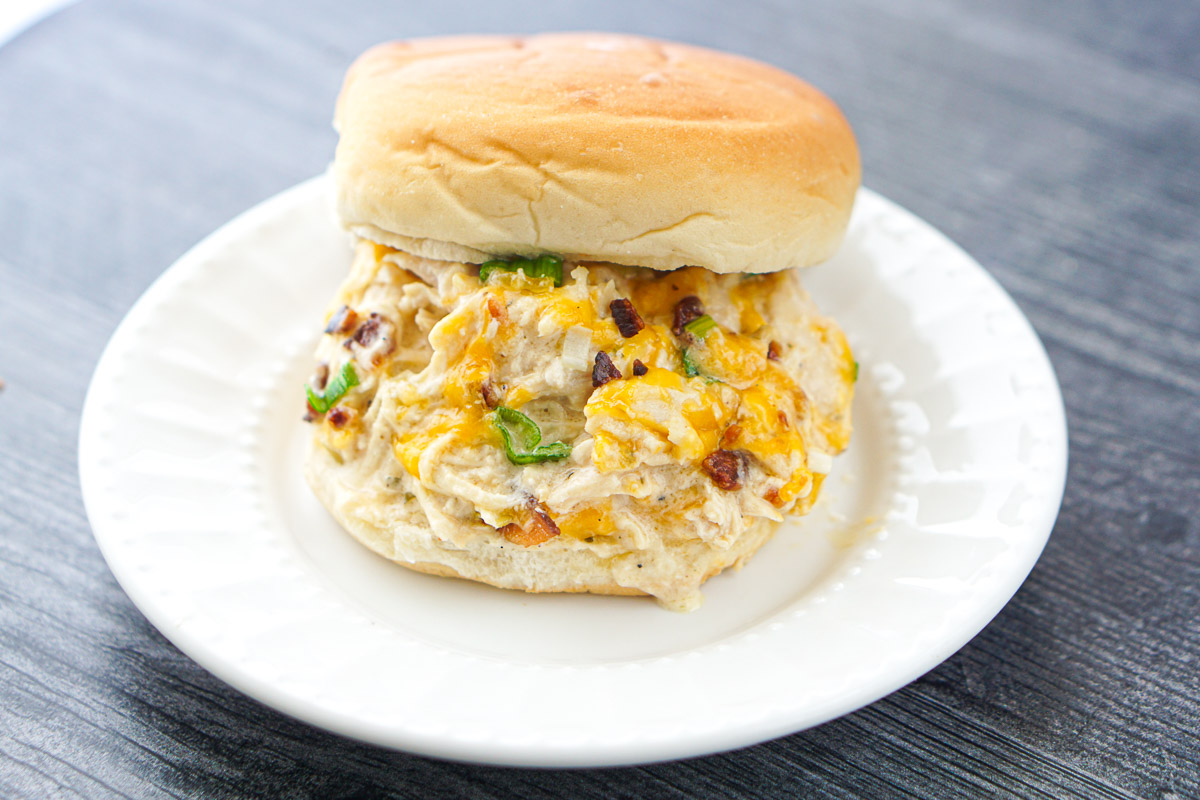 You could also eat this casserole in a wrap with low carb tortillas or mixed it together with veggie noodles.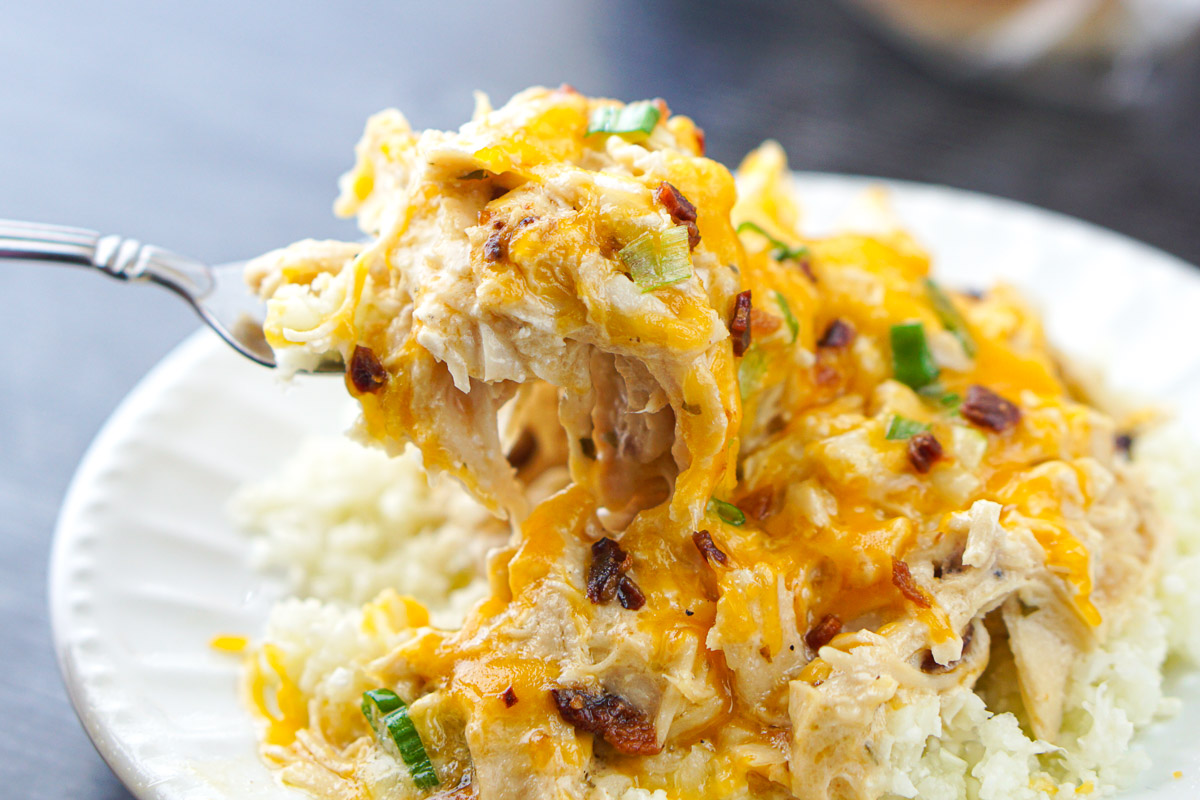 Well next time you are in the mood for an easy keto dinner that's creamy, cheesy and full of awesome flavor, give thisketo chicken bacon ranch casserole a try. It's a low carb, high protein dish that is sure to be a family favorite recipe. It's perfect for a busy weeknight meal.
The nutrition info for 1 serving is 448 calories / 20.4g fat / 4.5g carbs / 0.2g fiber / 57.6g protein = 4.3g net carbs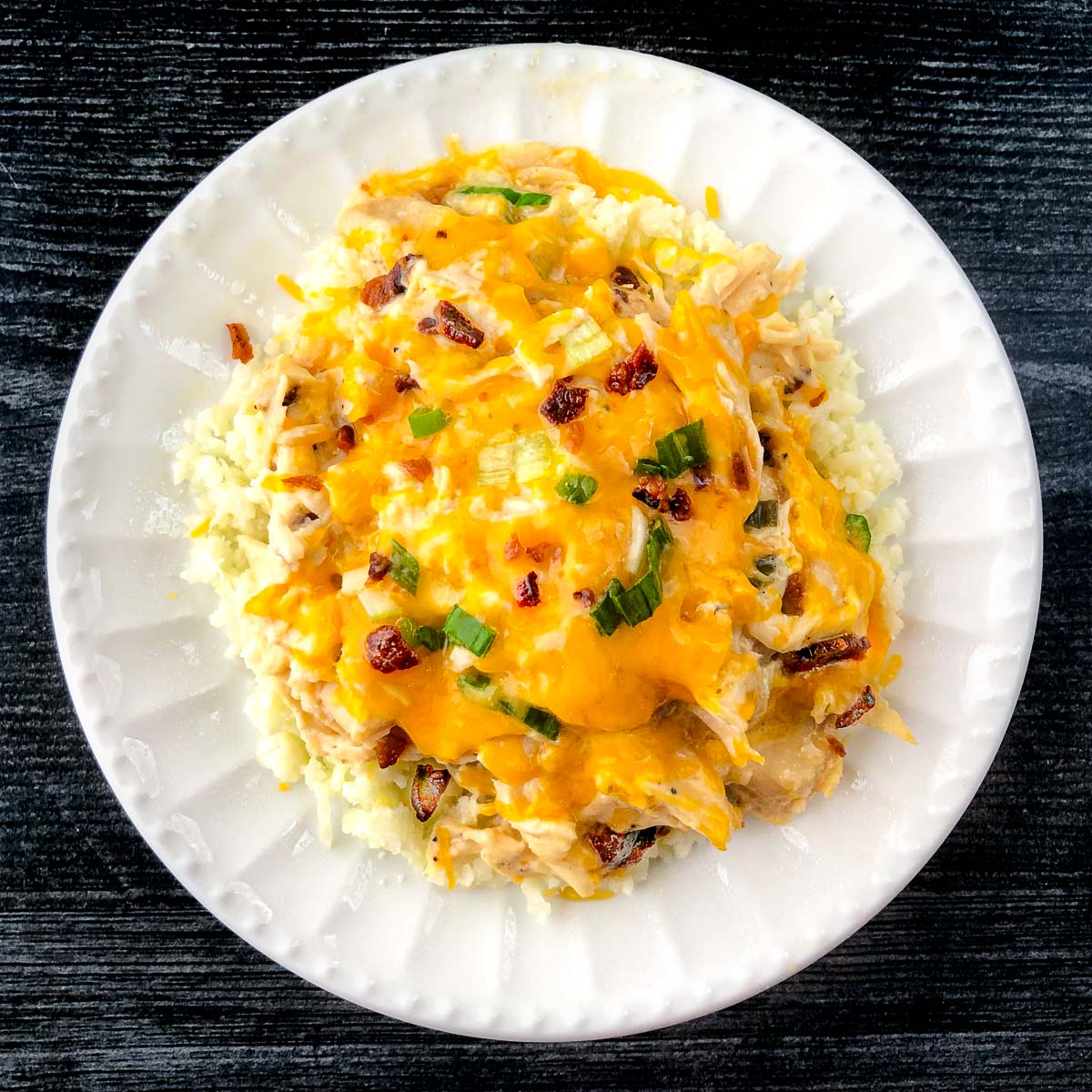 Keto Chicken Bacon Ranch Casserole (Slow Cooker)
Total Time:
4 hours
5 minutes
Next time you crave keto comfort food try this keto chicken bacon ranch casserole that you can easily make in the slow cooker. Great for feeding a crowd or even freezing for low carb lunches. It's an easy, low carb and high protein dinner.
Ingredients
3 pounds chicken breast, boneless skinless
8 ounces cream cheese
3 tablespoon ranch dressing mix
1 cup cheddar cheese, shredded
2 green onions, finely chopped
2 slices bacon, cooked and crumbled
Instructions
Finely chop the green onions and set aside.
Add the chicken breast to the crockpot and season with salt and black pepper.
Cut up the cream cheese into cubes and spread evenly over the chicken.
Sprinkle the ranch dressing mix and most of the green onions. Save some of the green onions for a garnish at the end.
Lastly sprinkle half of the cheddar cheese on top, cover and cook on high for 3-4 hours or on low for 6-8 hours.
Once you the chicken is fork tender, take two large forks and shred the chicken in the crockpot. Mix everything together and cook for 10 more minutes.
Lastly sprinkle the remain cheese, green onions and then the crumbled bacon on top. Cover for a minute or two to let the cheese melt and then serving.
You an add this casserole as is, over cauliflower rice, on a low carb bun, in a low carb tortilla or mix with veggie noodles.
Notes
The nutrition info for 1 serving is 448 calories / 20.4g fat / 4.5g carbs / 0.2g fiber / 57.6g protein = 4.3g net carbs
Nutrition Information:
Yield:

8
Serving Size:

1
Amount Per Serving:
Calories:

448