If you are looking for a delicious and easy picnic or summer side dish, try this easy linguine salad using Salad Supreme seasoning. It's fully of delicious flavor from fresh veggies, cheddar cheese and pepperoni and that unique Salad Supreme flavor. It's the perfect cold pasta salad to take to summer parties , family reunions or picnics and it take less than 20 minutes to make!
You might also like this artichoke and olive pasta recipe!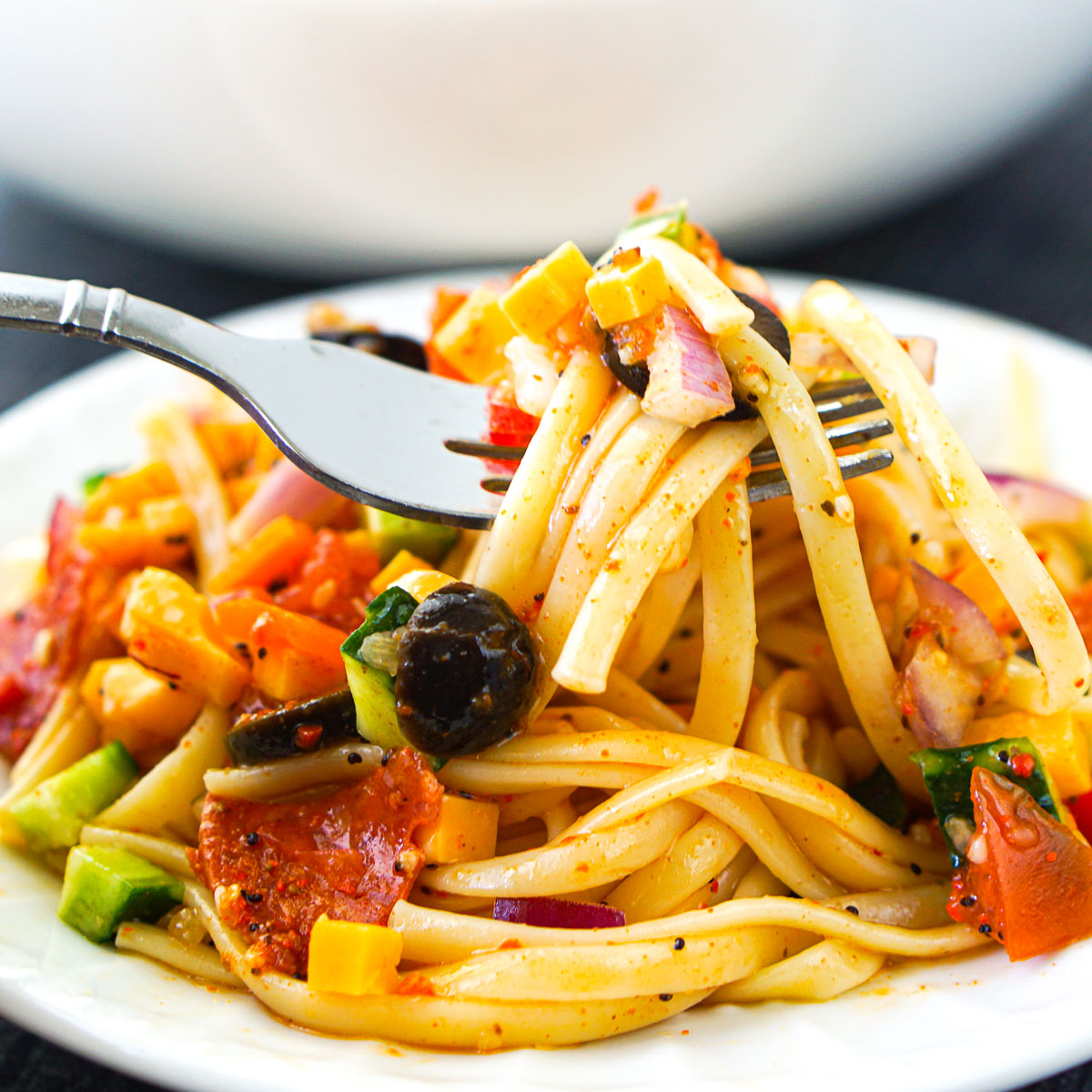 I grew up on this easy linguine salad and over the years made it my own. It's a family recipe that my mom used to make in the summer time with her secret ingredient – McCormick Salad Supreme seasoning – along with fresh veggies from her garden.
Today I make it with the addition of bits of cheese and pepperoni as that's my husband's favorite recipe and I have to agree it tastes great. I love to make this for summer parties as it's the perfect side dish for burgers and hot dogs on the grill.
You can make it the night before or in the morning. Either way it only takes about 20 minutes to make but you want it to chill in the refrigerator to get maximum flavor.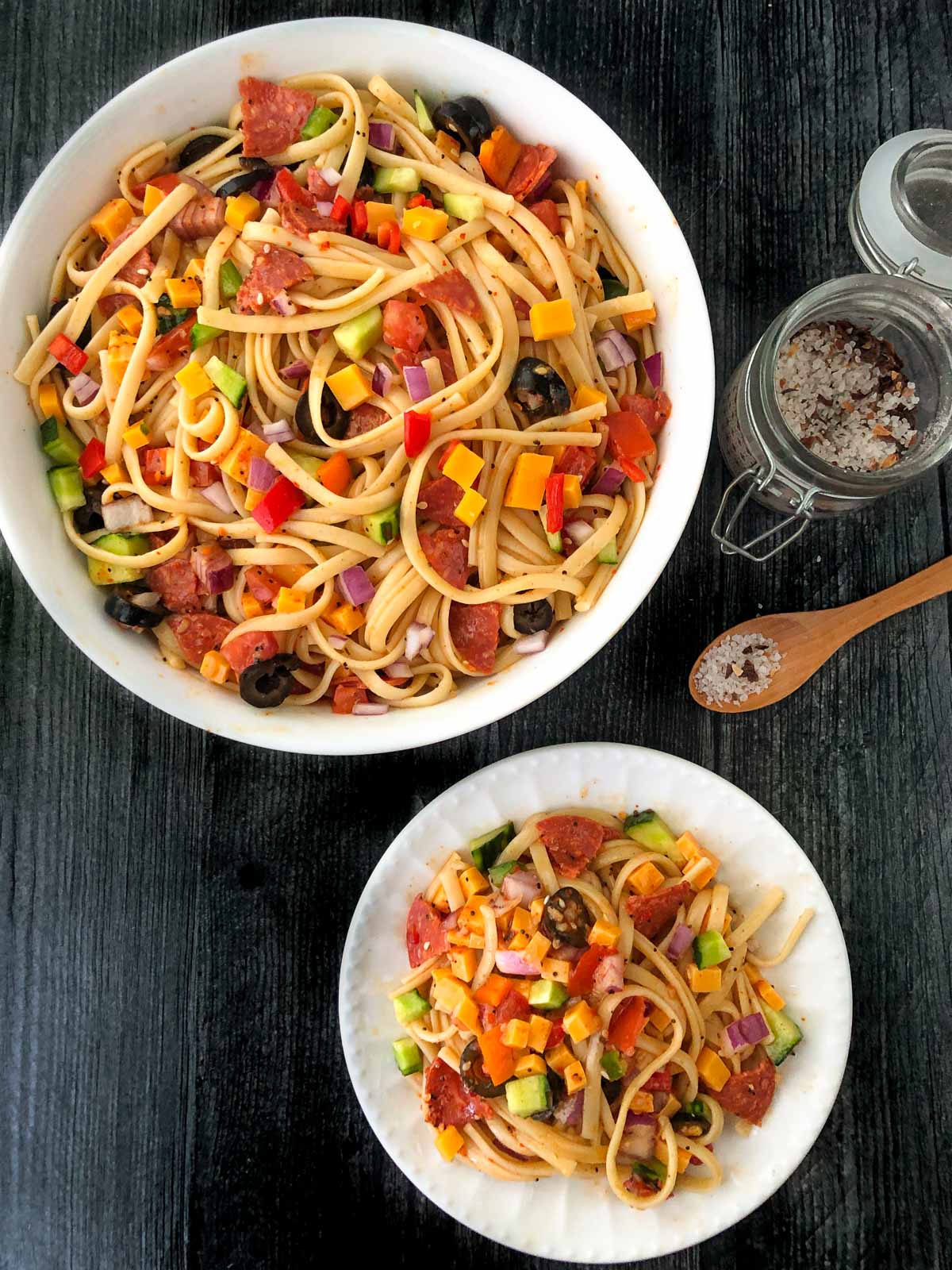 Recipe ingredients I used.
You only need a few simple ingredients to make this awesome pasta salad and that is dry linguine pasta, Zesty Italian dressing, Salad Supreme seasoning, pepperoni, sharp cheddar and chopped veggies.
I used a colorful vegetable blend of tomatoes, cucumbers, sliced black olive, red onion and sweet bell and green pepper. You can also use zucchini, celery, broccoli, carrots, grape or cherry tomatoes or other veggies of you choice.
As for the dressing , I remember my mom always used a zesty Italian dressing but any bottled Italian dressing would do. Also you can use different kinds of cheeses and meats but I find this particular combination the best in my opinion.
About McCormick Salad Supreme Seasoning.
This is a McCormick seasoning that is pretty common to find especially in the summer seasons. Most grocery stores will have it. But if you can't find it I have a work around.
Make your own Salad Supreme by mixing:
2 tablespoons Parmesan cheese, grated
1 teaspoon paprika
¼ teaspoon black pepper
½ teaspoon salt
½ teaspoon celery seed (can use celery salt if you don't have seed but use less table salt)
2 teaspoons sesame seeds (if you have poppy seeds you can add half and half but I did not)
½ teaspoon garlic powder
½ teaspoon Italian seasonings
¼ teaspoon cayenne pepper or hot pepper flakes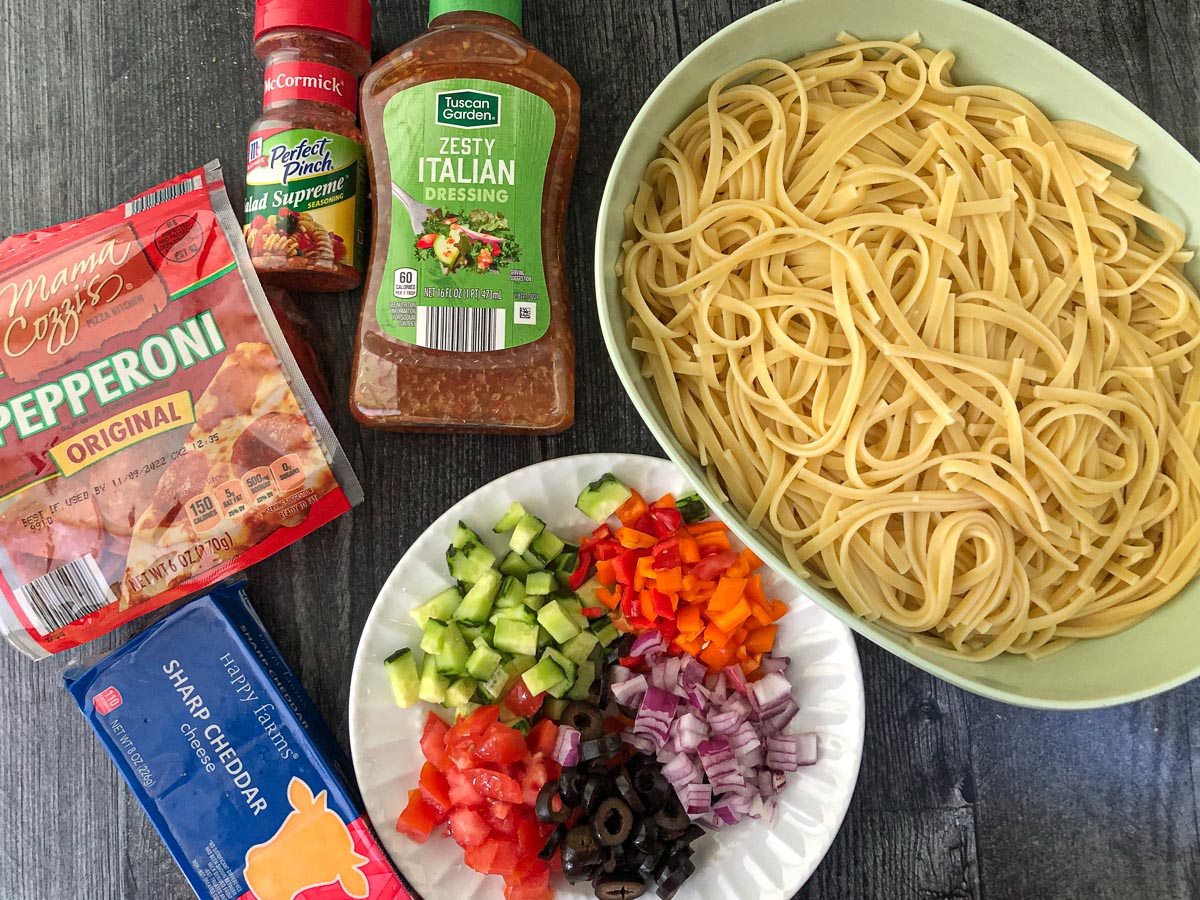 How to make Salad Supreme linguine salad.
Get a large pot of boiling water and cook your linguine by following the package instructions.
In the meantime chop the vegetables, pepperoni and cheddar cheese into very small bite size pieces and place in a medium size mixing bowl.
When the linguine is done, strain the water out and then run under cold water until pasta cools down. You don't want the cooked pasta to be hot as it will absorb too much of the dressing. Strain all the excess water and place in a big pasta bowl.
Once the pasta has cooled completely add the ⅔ of the bottle of Italian dressing and ¼ cup of the Salad Supreme seasoning. Mix well and then add in the chopped additions. Mix well and chill until ready to eat.
Before serving add in the rest of the bottle of dressing and mix well again. Sometimes as the linguine sits it absorbs the dressing so I save some for just before serving to make sure it's not too dry.
This makes a LOT of linguine salad and makes it perfect for a party. If you just want to make a smaller batch for a weeknight dinner side dish just cut everything in half. It's a pretty forgiving recipe.
Store leftovers in an airtight container in the refrigerator. (Please scroll down to view the printable recipe card.)
This is a very forgiving recipe. You can try different salad dressings like ranch or make your own homemade dressing with olive oil and wine vinegar.
Try different meats or cheese (fresh mozzarella cheese would be good) or leave them out for a vegetarian version. Lastly you can add fresh herbs like basil, cilantro or parsley. Make it your own with any combination!
Other easy and delicious summer picnic salads.
I love salads and have quite a few low carb picnic recipes on this blog. But I also have some regular family favorites like this cold linguine salad. Here are some easy crowd pleasers for you to try.
This is a great summer dish for parties! It's really tasty and will definitely feed a crowd. I hope you enjoy this easy linguine salad as much as we do. It's a staple in most of our summer get togethers. And the leftovers are just as tasty!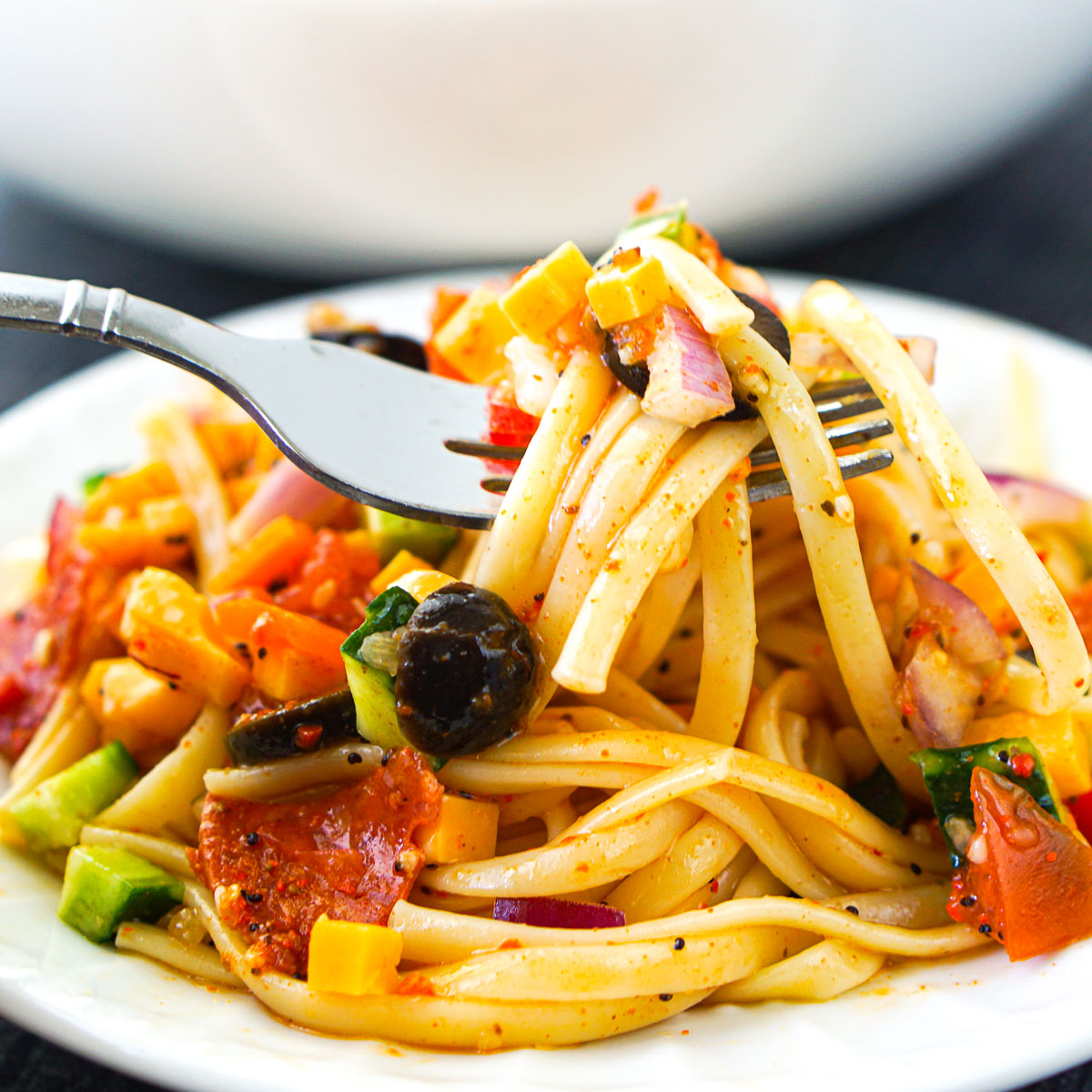 Easy Linguine Salad using Salad Supreme Seasoning
This easy linguine salad is full of healthy vegetables as well as savory cheese, pepperoni and seasonings. Great for summer picnics and parties. Best of all it feeds a crowd and takes less that 20 minutes to make.
Ingredients
1 pound linguine pasta
3 cups diced veggies (I used cucumbers, tomatoes, black olives, red onion, sweet and green bell pepper)
1 cup cheddar cheese, small dice
½ cup pepperoni, chopped into small pieces
1 bottle Zesty Italian dressing
¼ cup Salad Supreme seasoning
Instructions
Get a large pot of water boiling and make your linguine according to the package instructions. When done pour into a strainer to drain the hot water. Then run cold water on the linguine to get the temperature down. You want to use room temperature pasta.
In the meantime chop the vegetables, cheese and pepperoni and set aside.
Once the pasta has cooled and been drained, pour into a large pasta bowl or mixing bowl. Pour over. the Salad Supreme and about ⅔ of the bottle of dressing. Mix well.
Next add in the chopped veggies, cheese and pepperoni. Mix well, cover and refrigerate until ready to eat. You can even make this recipe the night before.
When ready to eat, add the rest of the bottle of dressing and mix well. Store leftovers in an airtight container.
NOTE: Leftovers taste just as good the next day! This pasta salad will serve many people as a side dish and if you want to cut it in half it should be fairly simple.
Nutrition Information:
Yield:

16
Serving Size:

1
Amount Per Serving:
Calories:

109
Total Fat:

5g
Saturated Fat:

2g
Trans Fat:

0g
Unsaturated Fat:

2g
Cholesterol:

12mg
Sodium:

161mg
Carbohydrates:

11g
Fiber:

1g
Sugar:

1g
Protein:

5g