These low carb jello pops are a delicious and easy treat for summer. Only 2 ingredients and 1.1 carbs for these creamsicle pops.
You might also like these keto cookie dough cheesecake pops!
We used to have a soft serve ice cream place only two miles from our house on the bike trail. This meant we could ride our bikes there and back and call it exercise! I was in heaven that summer because I love ice cream. However they closed it and I'm trying to curb my ice cream cravings so I came up with these low carb Jello pops.
These popsicles are creamy and sweet and only have 1.1g carbs per pop. My husband even asked me if they where store bought! And did I mention they only use 2 ingredients?
Low Carb Ice Cream Recipes
NOTE: I updated this post. Before I get to the recipe, I wanted to share some low carb ice cream recipes that I finally did learn to make.  Last summer made these 3 flavors: my favorite chocolate peanut butter, my hubby's favorite black cherry and my father in law's caramel butter pecan ice cream. Some are no churn and they are all delciously sugar free. 
Keto Jello Pops Ingredients
As I mentioned above this recipe only needs two ingredients: heavy whipping cream and sugar free flavored gelatin. Because I used sugar free flavored gelatin, there is a lot of flavors to pick from. In this update I made lemon, orange, lime and strawberry.
Because many people ask me about the size of the jello box, here is a photo of one I have on hand. I use a 0.3oz box of sugar free Jello like the one like this.
You make these sugar free popsicles in the blender which easily mixes the cream along with the gelatin. The result is a creamsicle type pop. It was a big hit with my family. Below is what it looks like before pouring.
Low Carb Jello Pops Recipe In A Nutshell
Because there was some confusion with this recipe, I made these 4 batches to ensure I got the same results. I'm updating the instructions and this is what I did. I made this entirely in the blender and it worked each time.
Start with a 0.3oz packet of sugar free Jello (that's the small box).
Add 1/2 cups of boiling water to a blender along with the Jello mix.
Blend on low for a couple seconds while the gelatin dissolves in the hot water.
Add in the cold heavy cream and blend on medium for just a second or two mix.
Pour into your molds, add popsicle sticks and freeze until they are hard. It takes at least 4 hours in the freezer.
If you don't have a blender: Just whisk everything in a bowl. Make sure all the gelatin is dissolved before mixing in the cream. No need to whip it just whisk until well blended before pouring.
My Newest Batch And Flavors
Above are the lemon that my husband loved so much. You can add a little fruit to these if you wish. I think a few blueberries would be nice or add a bit of lemon zest.
My son preferred the orange. I think they reminded him of an orange creamsicle or an Orange Julius.
The strawberry pops were my favorite because I love berry flavors. I have another pop I made last summer similar to this one that has a cheesecake layer and salted nuts at the bottom. It's delicious too!
Since I'm updating this recipe, the lime is my newest creation and I personally love it. Next time I'm going to tinker with it to make it taste like a margarita! Maybe add a bit of lime zest and salt?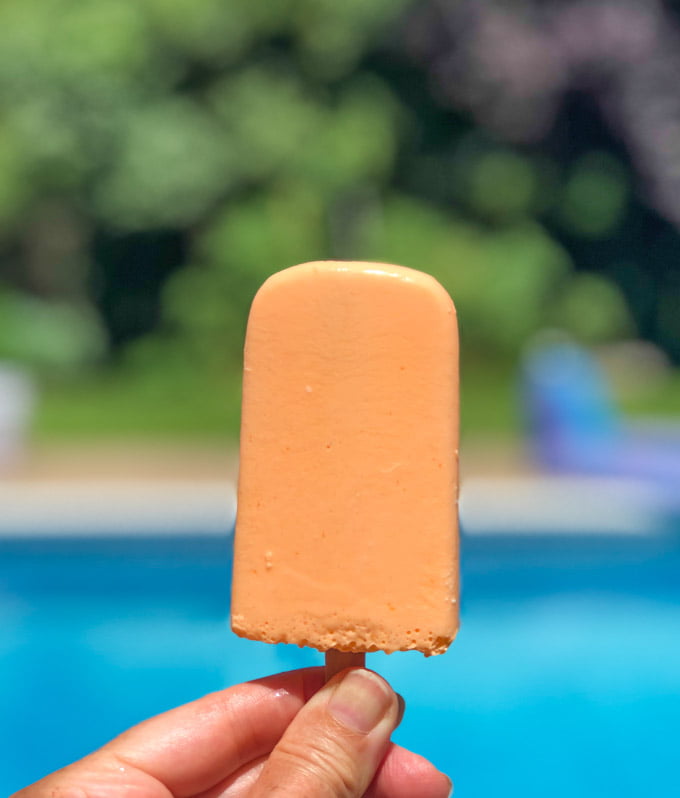 Low Carb Jello Pops Nutrition
That is my low carb Jello pops recipe. If you are ever looking for a low carb, cool treat, give this one a try. It satisfies a sweet tooth and will keep you cool this summer. Enjoy! Nutrition for 1 pop based on making 6 pops is:
145 cals / 14.8g fat / 1.1g carbs / 1.5g protein = 1.1g net carbs
Note that the number of pops you will get will depend on what kind of popsicle mold you use. Mine made 6 so the carbs came out to 1.1
Tips & Questions From Readers
Sarah – Heavy cream is whipping cream, if you mix it on high in a powerful blender you end up with clumpy whipped cream and the liquid jello does not blend in, for those people that had the chunky problem, just stir it in a cup or just blend it for like 3 seconds. Thank you for the recipe! my first batch was chunky but the rest turned out so good!
Karen – I made mine with peach jello. I had some fresh blueberries so I threw them in. It was the best!!!!
Allison – I made these with coconut milk and they turned out great!
Glenda – Hi, I am allergic to artificial sweeteners. will this recipe work with regular jello instead of sugar free? 
Yes, but it will not be low carb. 
Misty – I want to try this recipe so bad but I want to use Great Lakes gelatin and add the flavour with food-grade essential oils instead of using flavoured gelatin (I don't trust the sweeteners in those jellos). How many tbs of Great Lakes gelatine should I use?
Hi Misty, I am not sure. I too use Great Lakes gelatin so I think 1 Tablespoon of gelatin (red can) gels 2 cups of liquid and a small box of flavored gelatin usually calls for 2 cups of water so I'm guessing 1 tablespoon. Does that make sense? Good luck!
Doreen – Hi Denise. I'd like to try using original flavor liquid coffee mate for this recipe in place of the cream. Do you think it would work? If so, would I still use 1 cup or do you think it would be a different measurement?
I don't think you will have a problem though don't know what the carb count would be. I would probably use the same amount as the whipping cream. Hope that helps!
Rich – Thank you Denise for such a quick reply and test on your recipe. I am going to make these again this weekend and I'll let you know how things turn out. I'm not sure if it matters, but I used "Whipping Cream"….at least that's what it said on the carton. Do you think there is a measurable difference between "Whipping Cream", "Heavy Cream" and "Heavy Whipping Cream"? Silly question, I know….just curious what your thoughts are.
Hi Rich,
It doesn't matter if you use heavy cream or whipping cream. As a matter of fact when I made them the other day I used heavy cream for 1 batch and half and half for another. The half and half had less carbs so I wanted to try it and I felt the taste was the same. So I think any kind of cream will work, just check out the carb content if you doing this for a low carb treat. Hope that helps!
Barb – How do you store them in the freezer? Do you pop them out and then wrap in Foil or Saran?
I use those cheap sandwich bags that don't have a ziplock. Do you know the ones? They seem to work the best. We end up eating most of them in a few days so usually I just leave them in the mold. Hope that helps!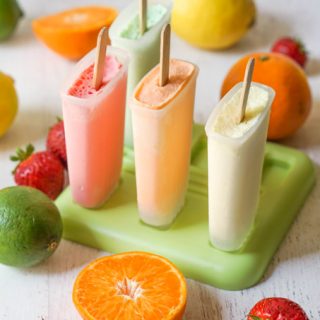 Low Carb Jello Pops
These low carb jello pops are a delicious and easy treat for summer. Only 2 ingredients and 1.1 carbs for these creamsicle pops.
Total Time
6
hours
5
minutes
Ingredients
1

(0.3 oz) box of sugar free Jello gelatin (in the flavor of your choice)

1/2

cup

boiling water

1

cup

heavy whipping cream, cold
Instructions
Pour the boiling water in to a blender and then the gelatin mix.

Blend on the lowest setting for a couple seconds until the gelatin is dissolved.

Pour in the cold heavy cream and blend on the lowest setting until well combined. (Just a few seconds).

Pour into your popsicle molds, add the sticks and freeze for at least 6 hours.
Recipe Notes
Note: For my popsicle mold, I had to wait 1/2 hour until they were had frozen enough so I could put the popsicle sticks in. I just set a time so I wouldn't forget to do it. 
To store them, I used plastic sandwich bags (no ziplock) and stored in a larger ziplock bag. You could also wrap them individually in plastic wrap. Or just keep them in the mold until you eat them.
When you eat these jello pops, they will be hard and have different texture. That is the gelatin. I personally liked them but some people did not. I feel for 1.1g net carbs they were well worth the different texture. 
Some people had trouble with the cream mixing with the gelatin. I think it was the heavy whipping in the blender though I'm not sure because it's never happened to me. For these 4 batches, I just mixed them in the blender for a few seconds before pouring and I had no problem. 
If using a blender, make sure to clean it out right away as the gelatin will be very sticky in the container.