These chocolate brownie keto cookies are so easy to make and will definitely satisfy your chocolate cravings. For sweet keto snacks, these Soft and chewy, keto cookies are very chocolatey and only require a few ingredients. Only 0.7g net carbs per cookie!
You might really like these keto chocolate peanut butter cookies too!
One thing I miss on a low carb diet is cookies. I love cookies! And while I have a few low carb cookie recipes, sometimes I don't want to use almond flour. Too many nuts can give me a headache. So when I came across a few recipes on Pinterest for cream cheese cookies I thought I'd give it a try.
I am SO psyched about this keto snack recipe. These chocolate brownie keto cookies are REALLY good to me! They are not too pretty but they are tasty and I have already made 2 batches.
Ideas for keto snacks
Some of the easiest are just simple foods like eggs, avocados, cheese or meats. However I like to snack on veggies and lots of dip. Use low carb vegetables (see chart in this post) and high fat dips.
For sweet keto snacks try berries such as strawberry, raspberries or blackberries with heavy whipping cream. I like very dark chocolate or these cookies! Here's a great visual guide from the Diet Doctor.
What kind of cocoa powder & chips to use
First off I want to tell you about two important ingredients that make this recipe: good cocoa powder and Lily's stevia sweetened mini chocolate chips. You can find them here on my Amazon store.
I am now hooked on these two brands of cocoa powder. Both Guittard and Divine brands are very smooth and rich with roughly 1 net carb per 2 tablespoons. The cocoa powder I get at Aldi on the other hand has 4g net carbs per 2 tablespoons and it taste more bitter to me. I bought both of these from Amazon and have been making my own hot chocolate with them (recipe here).
UPDATE: In the past I used Lily's chocolate chips but I now use ChocZero chocolate chips. Both are good ChocZero has 1g less carbs and I had them on hand. Either will work and they both taste good.
Above you can see the Lily's chocolate chips I used. They are good and have no artificial taste to me. However they are not overly sweet. For roughly 3 tablespoons (120 mini chips) they only have 4g net carbs. I sometimes eat these as a snack too. Their sweetness comes mainly from erythritol and stevia.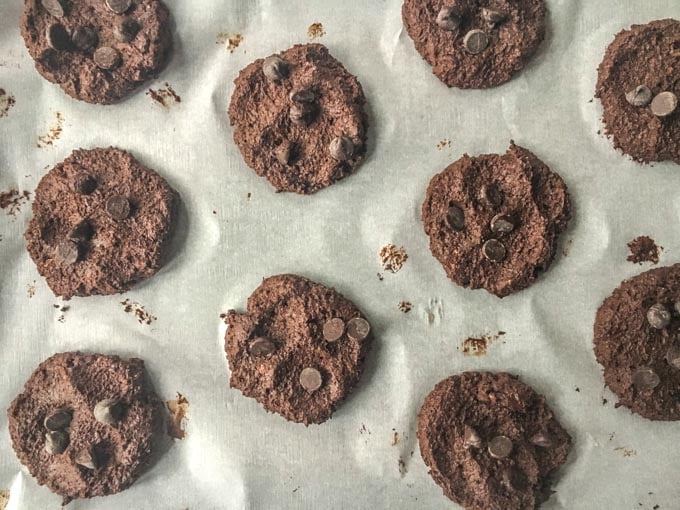 Above you can see what these low carb cookies look like going in the oven and below what they look like coming out. They don't spread or rise much.
Chocolate Brownie keto Cookies Recipe
So you want to use a mixer for this one. Put in your cream cheese that has been softened and creamy it with the Swerve sweetener. Then add the cocoa powder, baking powder and egg. beat until well mixed. Add in half of the chips and mix by hand.
Then line a cookie sheet with parchment paper. The dough is very sticky so form the batter into little balls and then flatten with your fingers. Use the remaining chips to place on top of each cookie. Bake for 10n – 12 minutes and they should be firm to the touch.
I seriously love keto cookies recipe! For sweet keto snacks, they are the best for me. I store them in the refrigerator and eat one or two for dessert. They are very chocolatey and filling. As for the texture they are more like if a brownie and a cookie had a baby. They are not crunchy at all which is fine with me.
And for another delicious low carb sweet treat, try my friend Davinah's keto cheesecake brownies. They are so good!
Enjoy!! The nutritional information for 1 keto cookie is:
57 cals / 4.1g fat / 5g carbs / 4.3g fiber / 1.8g protein = 0.7g net carbs
Chocolate Brownie Keto Cookies
These chocolate brownie keto cookies are so easy to make and will definitely satisfy your chocolate cravings. Soft and chewy, these very chocolatey keto cookies only require a few ingredients and have 1.2g net carbs per cookie!
Ingredients
4

oz

cream cheese, room temperature

1

egg, beaten

1

teaspoon

baking powder

6

tablespoons

cocoa powder* (I recommend Guittards or Divine)

1/3

cup

Swerve confectioners sweetener

1/3

cup

ChocZero or Lily's chocolate chips*

1/4

teaspoon

SweetLeaf vanilla liquid stevia
Instructions
Preheat oven to 350 degrees F. Line a cookie sheet with parchment paper and set aside.

Using a hand mixer, cream the Swerve sweetener and cream cheese. When nice and creamy add in the baking powder, stevia, cocoa powder and egg.

Mix well until a dough forms. Add the chocolate chips and mix with a spoon to incorporate.

Spoon out the cookies on the cookie sheet. The dough is very sticky. Flatten the cookie dough with your fingers. This batch made 15 cookies for me.

Bake for 8-10 minutes. You want the cookies to be firm to the touch but not too firm.

Take out of the oven and let cool completely before eating. Eat immediately or store in the refrigerator.

*Note* I used Guittard or Divine cocoa rough powder. It's a better brand of cocoa powder and has less carbs. You can use regular cocoa powder but it might increase the carbs. 

For the chocolate chips I used ChocZero or Lily's dark chocolate stevia sweetened mini chips.
Recipe Notes
The nutritional information for 1 cookie is:
57 cals / 4.1g fat / 5g carbs / 4.3g fiber / 1.8g protein = 0.7g net carbs