This homemade keto hot chocolate mix makes a great gift for friends and family on a low carb diet! It takes only minutes to make and with a cute container, ribbons or bows you have an easy homemade gift. Or make a cup of this sugar free hot drink for yourself on those cold winter days. Only 0.7g net carbs.
You might also like this low carb spiked hot chocolate recipe too!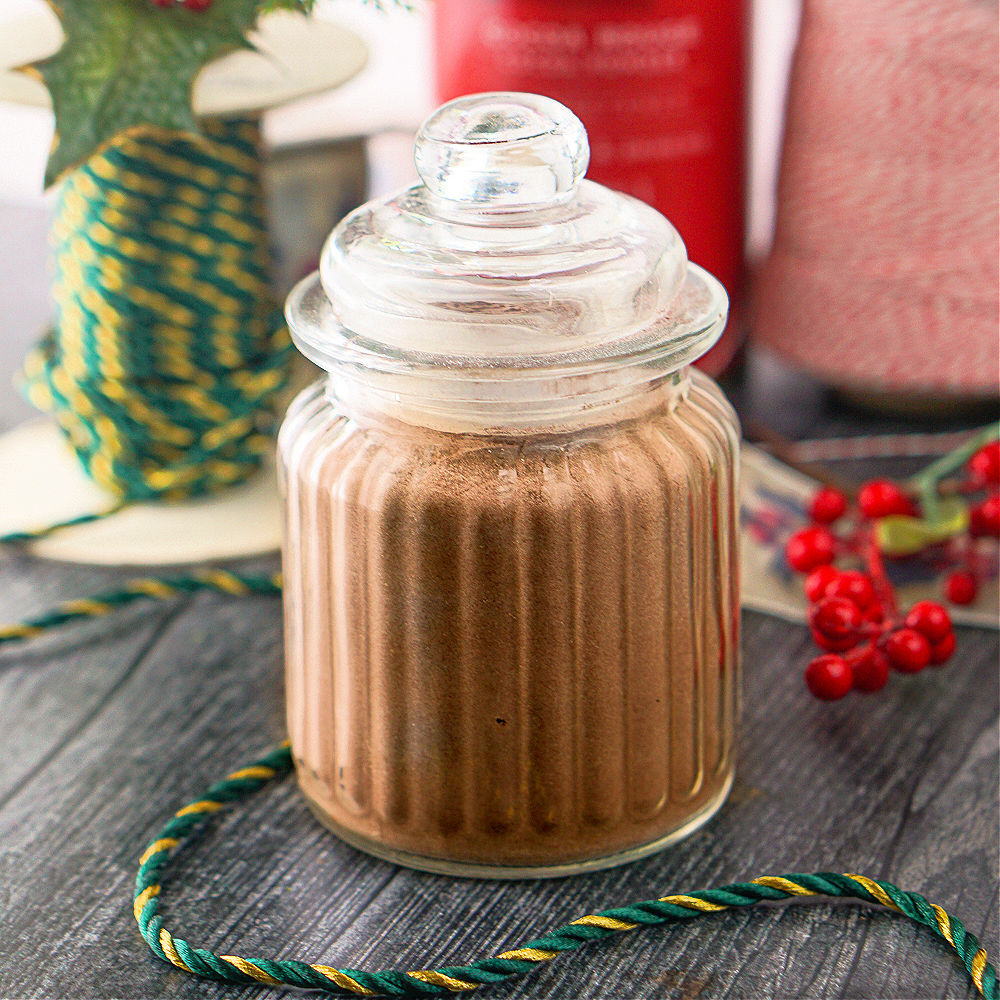 I don't know about you but my hot chocolate craving is strong in the winter. Sometimes I just want a hot and sweet cozy drink to sip on and so I came up with this recipe for keto hot chocolate mix.
I keep it out and use it almost everyday. I've experimented with all kinds of things and I think I came up with the best sugar free instant cocoa recipe. Plus I thought it might make a nice keto friendly gift if you have a friend who is on a low carb diet or who is diabetic.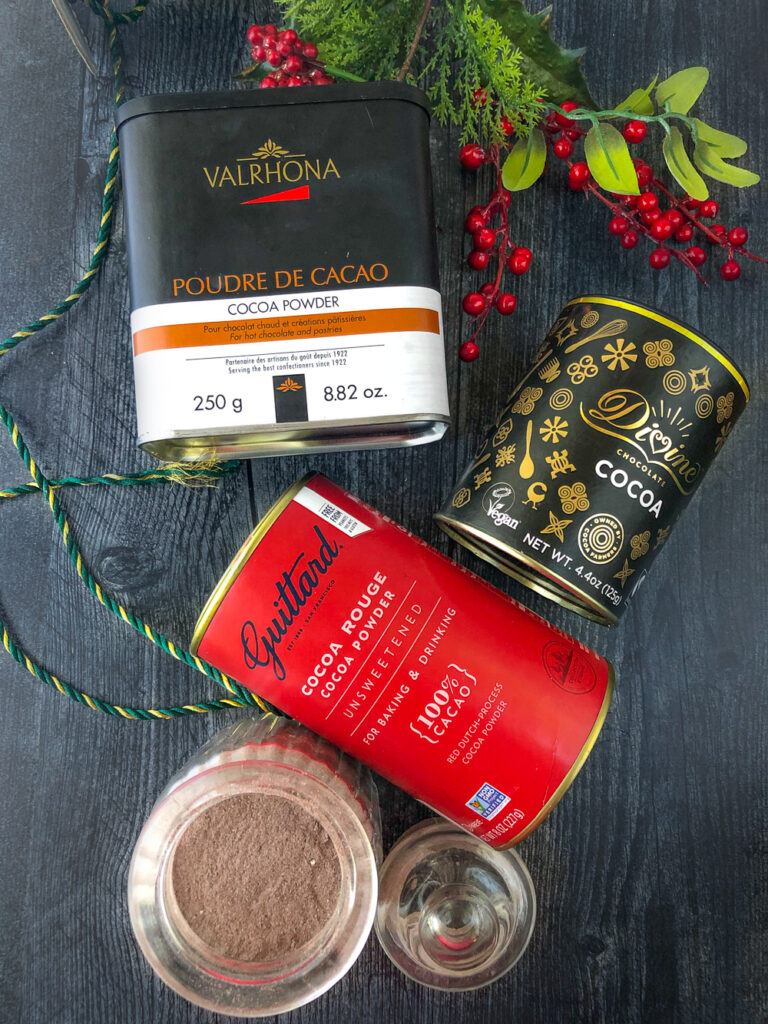 These are the best unsweetened cocoa products to use.
I am really excited I discovered these three quality cocoa products: Divine, Valrhona and Guittard cocoa powders. They are all lower in carbs than your regular grocery story cocoa powder and they have a very rich chocolate flavor.
Below you can see the difference in both color and texture in the three cocoa powders along with Bakers Corner brand I buy at Aldi.
They are more expensive than regular cocoa powder but to me it's worth it. I mainly used Guittard in this recipe but you can always just use regular unsweetened cocoa powder. (But give one of these a try some day!)
Recipe ingredients I used.
I tried a lot of different combination of ingredients to get the best instant sugar free hot chocolate mix. The final ingredients I used were Guittard's cocoa powder, Lakanto sweetener, Anthony's heavy cream powder and salt. You can find all the products from this post here.
I stumbled upon heavy whipping cream powders on Amazon and it is perfect for giving this instant mix a creamy flavor. The two I used today were Anthony's and Judee's which you can see below. Both tasted the same to me to be honest and they both worked well.
Lastly I've been using this Lakanto baking sweetener and it really tastes great. My other favorite sweetener is Swerve confectioners sweetener.
So the final ingredients I used were
If you don't care about carbs you could use powdered milk but the powdered cream has less carbs.
The basic keto hot chocolate mix recipe.
To make this recipe all you do is mix the dry ingredients and store in an airtight container. The basic recipe for this hot cocoa mix is:
1 part unsweetened cocoa + 1 part powdered cream + 2 parts sweetener + a pinch of salt.
To make the hot chocolate 2 tablespoons of this mix in 8 oz of hot water, unsweetened almond milk or your milk of choice. Taste it and if it needs more sugar to you, add a bit more.
A dairy free option & keto thickener to try.
I also tried coconut milk powder. This got a little clumpy and wasn't as creamy as I'd like but if you don't do dairy, this is an option for you instead of the cream powder.
I also stumbled upon a thickener (Thick-It-Up) that worked well with the coconut milk but I felt it was unnecessary in the final version. It's a nice low carb product to have on hand though.
Where can you find nice containers for gifts?
I bought the glass container below at the dollar store years ago. You would be surprised at the things you can find there.
Also try looking on Amazon. I have an Amazon list with a few suggestions here.
Lastly you can use a jelly jar too. I know at Target there are all kinds of cute glass jars available. So you can mix up a batch of this low carb cocoa mix, spoon into a pretty container an tie with raffia or a pretty bow for a nice homemade gift!
Make a gift basket with these other items that would go great with the keto hot cocoa mix.
Torani Sugar Free Syrups – You know I love my Torani syrups and I think any flavor that would be good in coffee would be good in cocoa. If you wanted to make a gift basket to go with your cocoa mix, grab one of these.
Flavor extracts – Like vanilla extract, you can buy other flavors to add such as peppermint, orange, raspberry, etc. Online there are tons of flavors to pick from.
Whipped Cream Maker – I recently bought this fun whipped cream maker at a Pampered Chef party. It too would be a nice extra to go with the mix. They have it on Amazon or you can buy it on the Pampered chef site.
NOTE – You can use the Torani syrups and/or extracts in both the whipped cream and cocoa.
Important Recipe Notes
I don't like mine super sweet so make a sample first by mixing 1 tablespoon sweetener + ½ tablespoon cocoa + ½ tablespoon heavy cream powder and 8 oz water. Adjust the sweetener amounts from there.
Or you can double the amount of mix (4 tablespoons) that you use to 8oz of water and see if that works for you. It would still be low carb at 1.4g net carbs per cup.
The nutritional information for 1 (2T) serving is: 28 cals
2.5g fat / 1.5g carbs / 0.8g fiber / 0.8g protein = 0.7g net carbs
I hope you enjoy this recipe as much as I do. It's very simple but I used it alot when I'm in the mood for sweet hot beverage and thought you might like it too.
Homemade Keto Hot Chocolate Mix
This homemade low carb hot cocoa mix makes a great gift for friends and family on a low carb diet! It takes only minutes to make and with a cute container, ribbons or bows you have an easy homemade gift. Or just keep it for yourself for those cold winter days.
Ingredients
½ cup unsweetened cocoa ***
½ cup powdered heavy cream***
1 cup Lakanto sweetener***
¼ teaspoon salt
Instructions
NOTE: Before you start do a test with 1 tablespoon sweetener + ½ tablespoon cocoa + ½ tablespoon powdered cream. Mix with 8 oz of hot water. Test to see if you like it sweeter and adjust accordingly. I prefer it less sweet.
Add all ingredients in a bowl and mix well.
Pour into a sealed container. Use 2 tablespoons per 8 oz of hot water or unsweetened almond milk.
*** Note I preferred Guittards or Divine cocoa rouge for it's intense chocolate taste and less carbs. You can find all of these ingredients on my Amazon page. I prefer Lakanto baking sweetener or Swerve confectioners sugar as it dissolves much easier than granulated sweetener.
Notes
The nutritional information for 1 (2T) serving is: 
28 cals / 2.5g fat / 1.5g carbs / 0.8g fiber / 0.8g protein = 0.7g net carbs
Nutrition Information:
Yield:

16
Serving Size:

2 tablespoons
Amount Per Serving:
Calories:

28
Unsaturated Fat:

0g