Get ready for football season with these delicious keto tailgate drinks! I've made an easy margarita punch and a spiked ice tea that will please any party crowd and they are both very low carb and low calorie! These recipes were sponsored by Torani. All opinions are my own. #ToraniTailgate
You might also like these keto buffalo chicken stuffed mushrooms!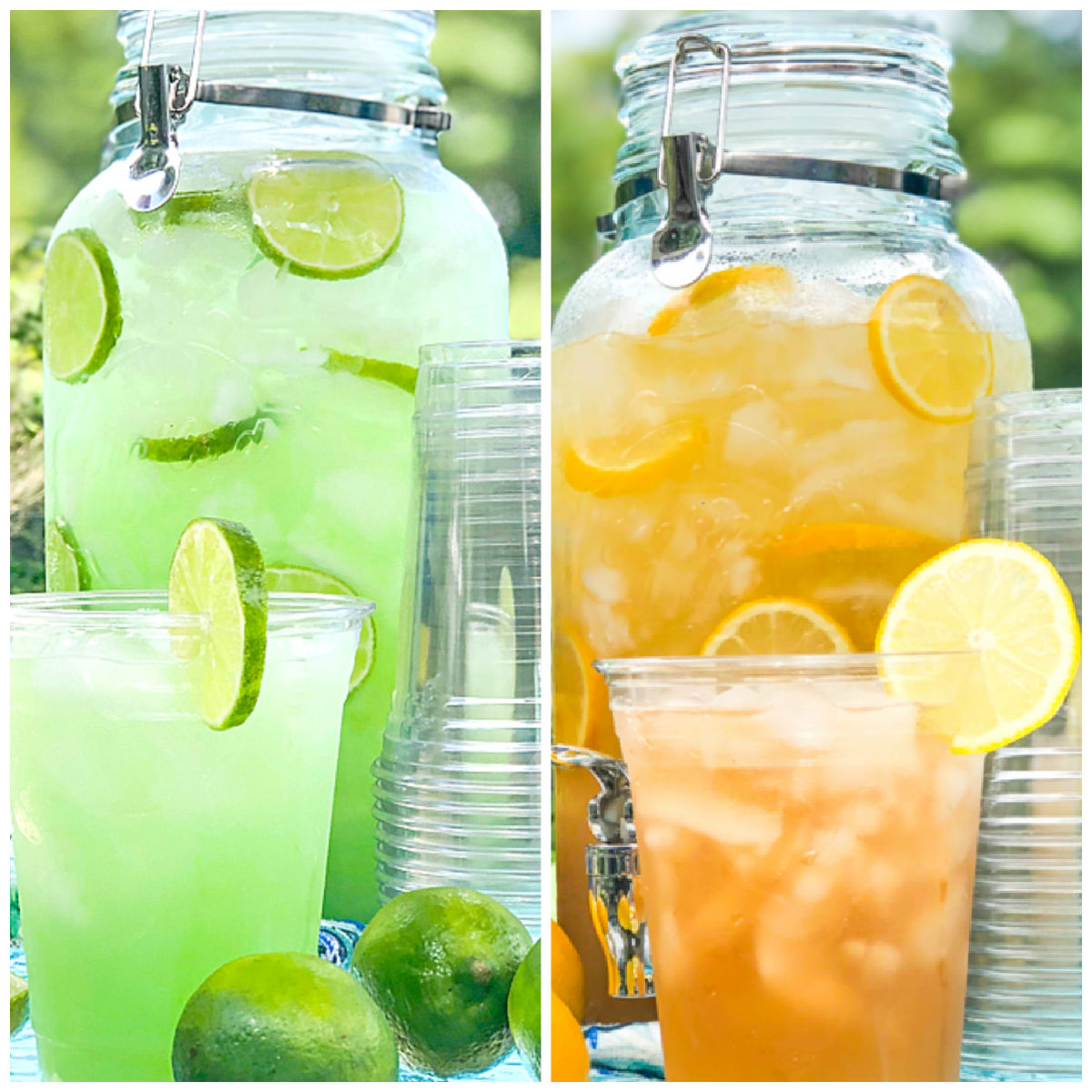 My husband loves football season so August makes me think about keto snacks and keto drinks for parties and tailgates.
Today I have for you 2 delicious keto tailgate drinks you can make for your next tailgate party: Margarita Punch and Spiked Ice Tea! They only require a few ingredients and I am positive your crowd will love them! And if you prefer non-alcoholic drinks just eliminate the alcohol.
I also have some great ideas for keto appetizers and snacks you can take the tailgate. There is everything from keto sliders to pumpkin spice pecans.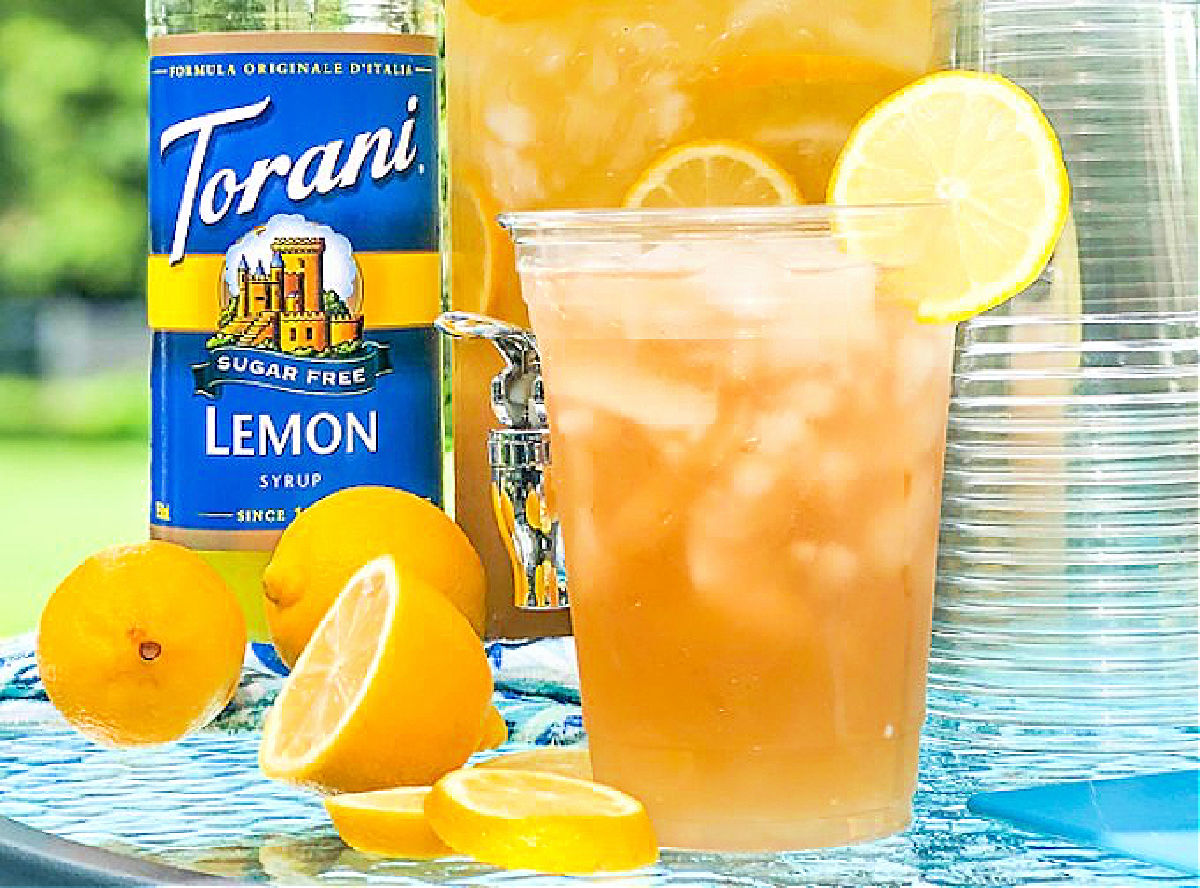 I love Torani sugar free syrups for keto drinks.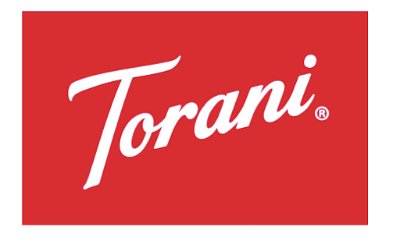 If you follow my blog you know that I love using Torani sugar free syrups in many coffee, tea and alcoholic drink recipes. They have over 30 sugar free syrups and I personally have at least 20 in my pantry. I even use them in desserts like this keto raspberry no bake cheesecake.
You can usually find their products in a local grocery store or coffee house but if you are not sure, click here to find the nearest retailer. I usually buy mine on their website because they have the best selection and lots of recipes to try.
Tips for making keto drinks.
Whether you are having a party or bringing drinks to a tailgate, it's sometimes hard to find a good low carb drink when socializing.
Most hard alcohols do not have any carbs so mixing them with sugar free syrups, flavored seltzers or adding a squeeze of citrus are good ways to eliminate extra carbs.
You can also use flavored extracts, a simple syrup using sweeteners, sugar free drink mixes, sugar free soda, etc. This blog post will give you more ideas about keto mixers and other tips for low carb cocktails.
Keto margarita punch ingredients I used.
I really like a good margarita and this punch has all the flavor of a classic one but it's easy to make in large quantities using simple ingredients. Below you can see what I used: Torani sugar free lime syrup, tequila and lime juice. That's all you need! The basic ratios I used were:
1 part Torani Sugar Free Lime Syrup + 1 part lime juice + ½ part tequila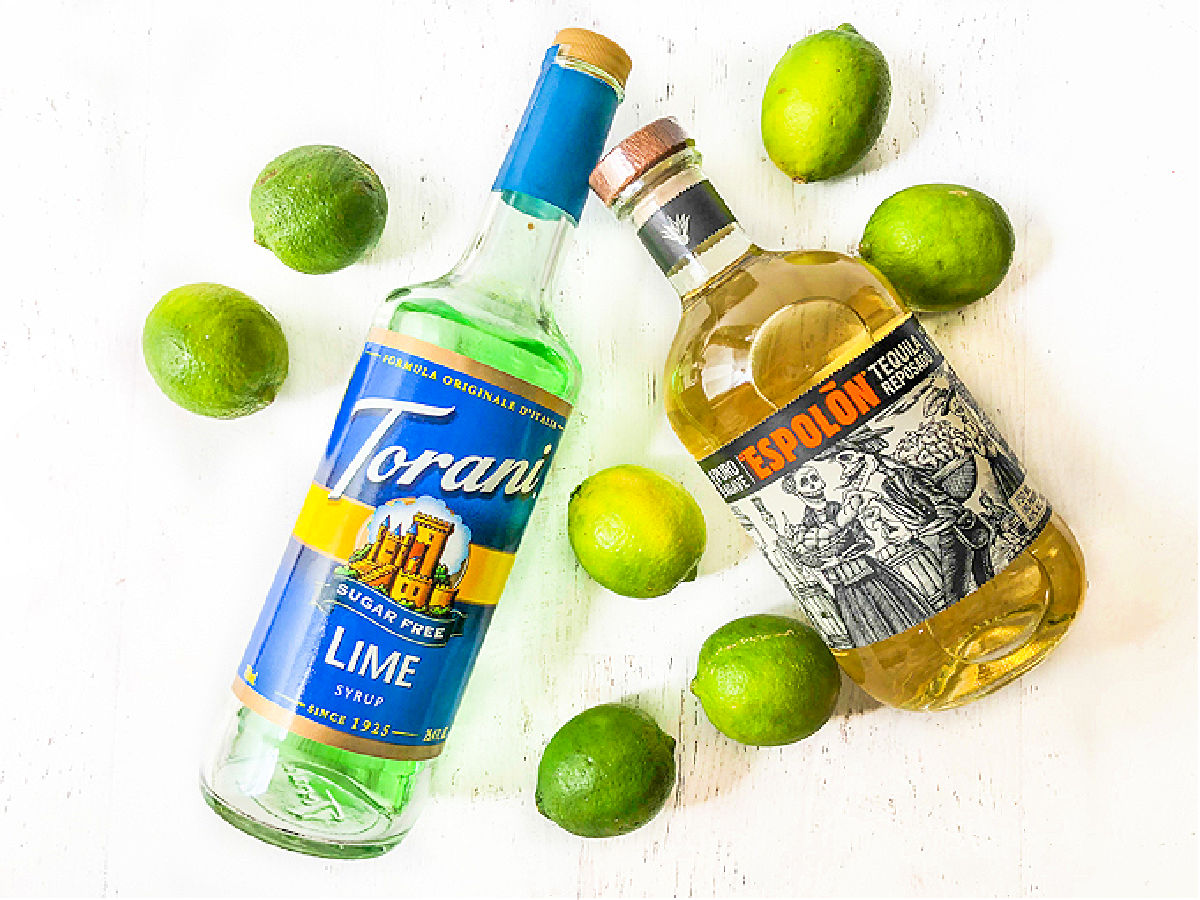 How to make keto margarita punch.
I like to use a large drink container like the one below when I'm making drinks for a large crowd.
Fill up a large drink dispenser with ice and sliced limes.
Then in a large pyrex measuring cup add the lime juice, lime syrup and tequila. By the way I like to use lime juice from a bottle you get at the grocery store as it has less carbs than fresh lime juice but it's a minimal amount either way.
Taste test your mixture before pouring in the drinking container and adjust as necessary. For this drink I like to make it fairly concentrated because the ice will melt and dilute it.
Pour into your dispense and mix well with the ice and limes.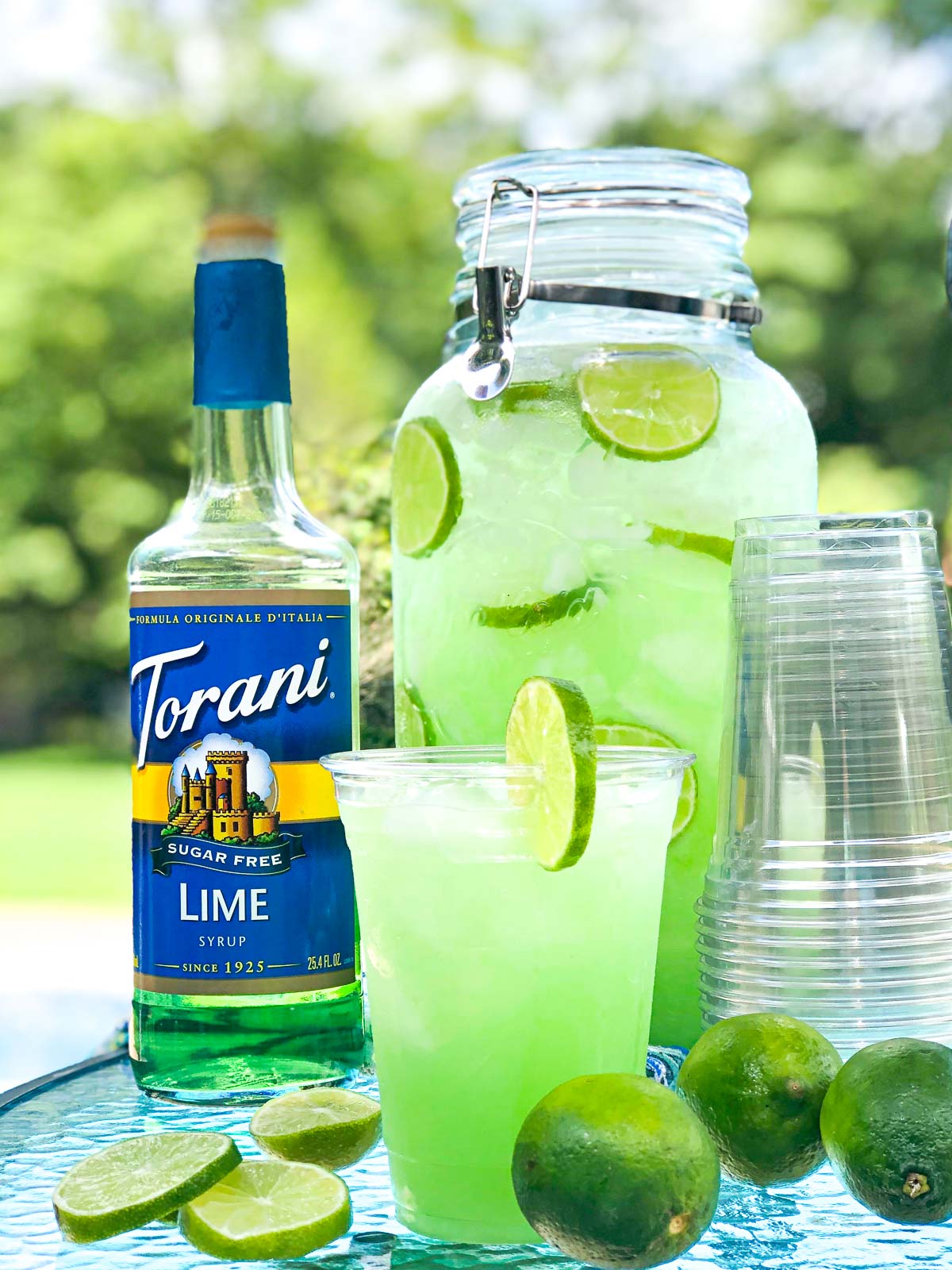 Keto spiked iced tea ingredients I used.
The ingredients for this tasty drink are: tea, lemon juice, Torani sugar free lemon syrup and vodka. Again I like to use lemon juice from a bottle instead of fresh to make it lower carb. I used a similar ratio:
1 part Torani Sugar Free Lemon Syrup + 1 part lemon juice + ½ part brewed tea + ½ part vodka
How to make keto spiked iced tea.
Nothing like a thirst quenching drink with both caffeine and alcohol for a tailgate! This is not a keto Long Island iced tea recipe but rather like an Arnold Palmer.
Brew tea and let cool before making this drink. Place it in the refrigerator or freezer to quickly cool it down after brewing.
As with the other recipe, I like to fill the pitcher or container with ice first and lemon slices.
Then mix the cooled brewed tea, lemon juice, lemon syrup and vodka in a large measuring cup and taste test. Remember about making it more concentrated because of the ice melting and diluting.
Pour the spiked iced tea into the large dispenser.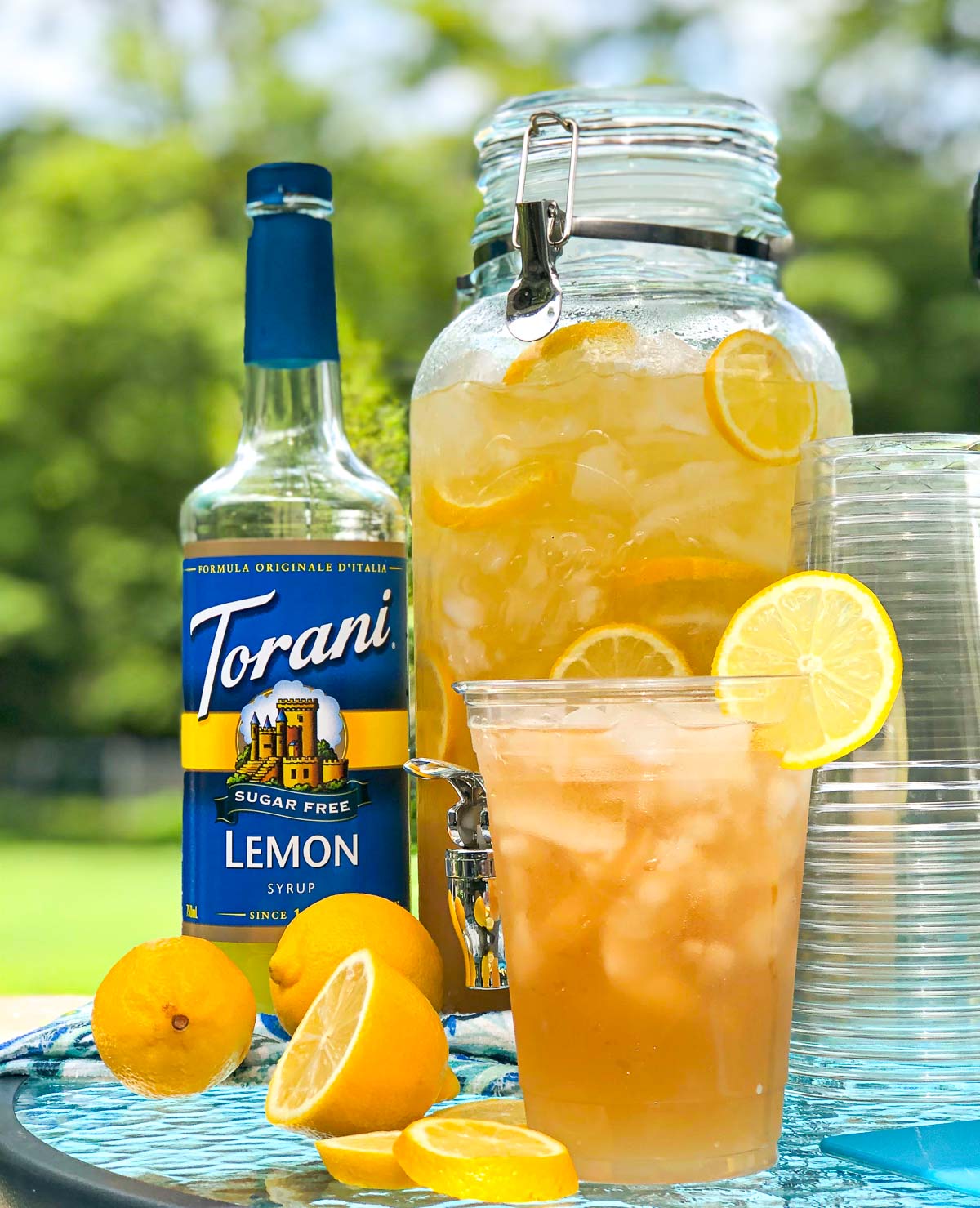 Making these drinks in large quantities.
The amount of drinks you want to make depends on how many people will be drinking. I ended up using 3 cups of Torani syrup, 3 cups of juice, 1 ½ cup of alcohol and 1 ½ cup of water (or tea) to fill the gallon container below.
I would suggest using the same ratios of juice, alcohol and Torani syrup and then add water or tea to your taste preference.
The drink dispenser I used in the photos.
I bought a 2.1 gallon container on Amazon which I think would be great for tailgate parties. However I think a but you can find similar ones at Target or Walmart. This recipe makes 0.56 gallons or 9 cups of drinks. So if you buy a smaller gallon drink dispenser and fill it with ice and fruit slices plus this recipe it should all fit.
A note about calories and carbs in these drinks.
Because Torani sugar free syrups and bottled lime and lemon juices have 0 calories and a 0 carb count the only carbs are coming from the alcohol which usually does not have any carbohydrates. So for both drinks the nutritional information for 1 serving is roughly:
64 calories and 0 net carbs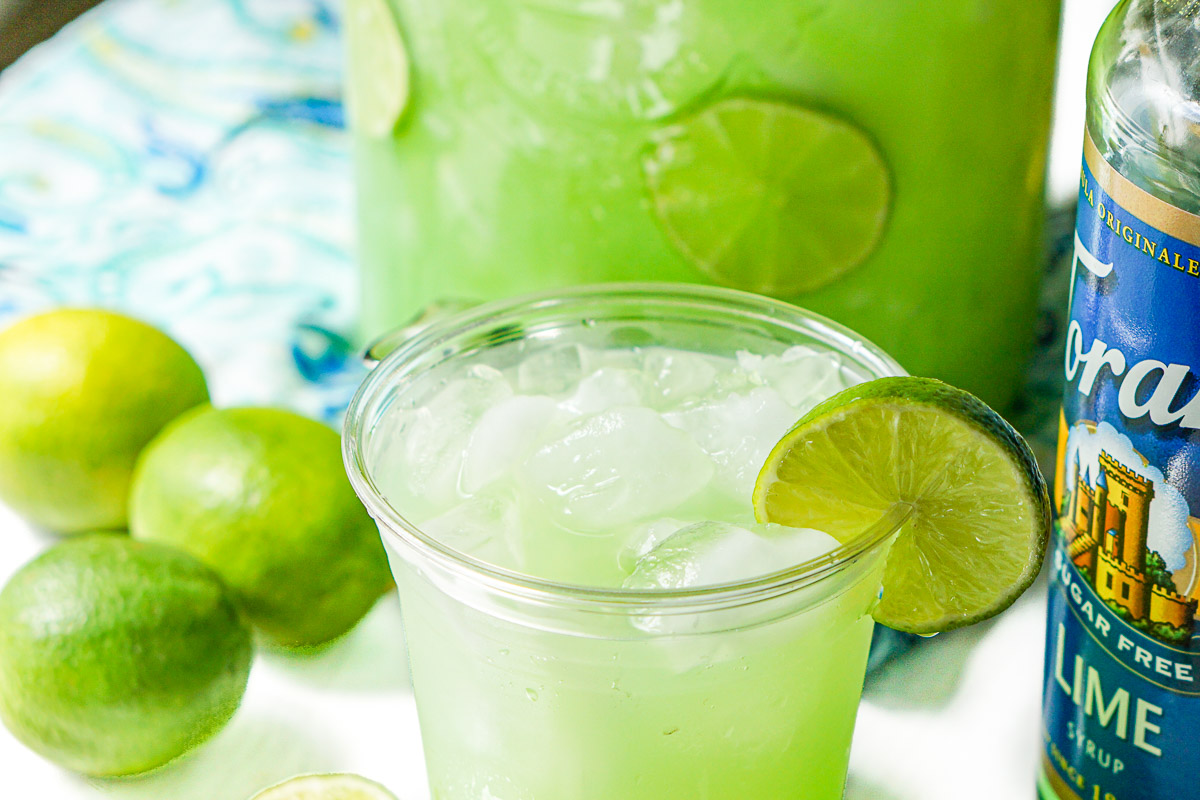 Keto appetizers to take to the tailgate.
I have quite a few keto appetizer recipes that would be great at the tailgate party. Here are a few of my favorite recipes.
Well I hope you enjoy these keto tailgate drinks and appetizer ideas . Even if you don't have a football party or tailgate parties to go to, they taste great for a summer drink with a burger or wings. I often make these drinks non alcoholic to drink on a hot day. Enjoy!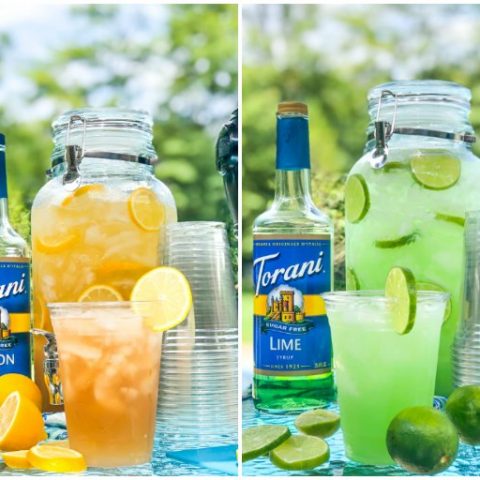 Keto Tailgating Drinks - Margarita Punch & Spiked Iced Tea
Get ready for football season with these delicious keto tailgate drinks! I've got an easy margarita punch and spiked ice tea recipe that will please any party crowd and they are both very low carb!
Ingredients
Low Carb Margarita Punch
3 cups Torani Sugar Free Lime Syrup
3 cups lime juice (use bottled for less carbs)
1 ½ cups tequila
1 ½ cups water (more or less to your taste)
sliced limes for garnishing
Low Carb Spiked Iced Tea
3 cups Torani Sugar Free Lemon Syrup
3 cups lemon juice (use bottled for less carbs)
1 1 /2 cups vodka
1 ½ cups brewed tea ( more or less to your liking)
sliced lemons for garnishing
Instructions
Fill drinks dispenser or large pitcher with ice.
In a separate pitcher or large pyrex measuring cup, mix the juice, syrup and alcohol.
Add water (or tea) to the alcohol mixture to achieve your taste preference but remember the ice will probably dilute the drink so make sure it's a bit more concentrated to begin with.
Just disregare the alcohol to make these non-alcoholic. Everything else should stay the same.
Nutrition Information:
Yield:

12
Serving Size:

1 grams
Amount Per Serving:
Calories:

64
Unsaturated Fat:

0g