These low carb chicken stuffed poblanos are a breeze in the air fryer. With only 4 ingredients you an have this delicious keto snack or appetizer with only 4.7g net carbs!
You might also like these low carb bbq pulled pork stuffed poblano peppers.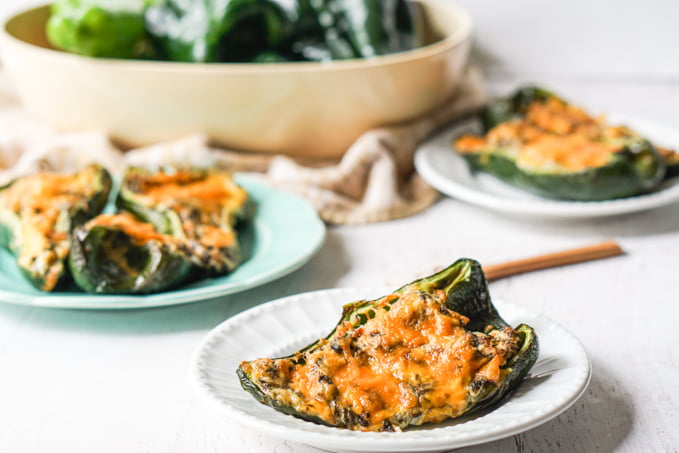 My hubby has an awesome crop of poblano peppers this year. To me they are the most delicious type of pepper. So today I decided to make these low carb chicken stuffed poblanos with spinach and artichoke dip and bake them in the air fryer. It was super easy and the poblanos cooked so well that I now have 2 more stuffed peppers recipes coming!
More Poblano Pepper Recipes
This is a rather new pepper for my husband and I. He started growing them a few years ago and now we are hooked. He makes a delicious chili rellenos recipe and I have a bbq pulled pork stuffed poblano recipe. Sometimes He even grills them and puts them on grilled cheese sandwiches.
Now for our main attraction…
The 4 Ingredients For Chicken Stuffed Poblanos
The four ingredients are chicken, cheddar cheese, spinach artichoke dip and poblano peppers. I always have chopped rotisserie chicken on hand in my freezer for dishes like this. So as a tip, next time you see a rotisserie chicken, clean all the chicken off the bone, chop and freeze it for casseroles, soups and fillings like this. Then use the bones to make bone broth!
Note that I bought a block of cheddar cheese and grated my own cheese because it has less carbs. Also I tried to find the lowest carb spinach and artichoke dip I could find. The brand below was the lowest I could find in my grocery store with just 1 carb per 2 tablespoons.
Making The Chicken Stuffed Poblanos Recipe
This is an easy but tasty keto recipe. By the way, you can eat these for dinner or serve as an appetizer. They are pretty big so you would only eat 2 at most for dinner and one for an appetizer. On to the recipe. Just mix the chopped chicken, spinach artichoke dip and half of the cheddar cheese to make the filling.
Stuff the poblano peppers with it and then sprinkle the remaining cheese on top. Carefully place them in the air fryer basket. Make sure to spray the bottom of the air fryer basket first to prevent sticking.
Set the air fryer to 350°F for cook them for 15-20 minutes until the peppers are cooked through. The timing will depend on how big and thick the walls of your pepper are.
This recipe made 6 fairly large stuffed poblanos. Usually when I buy them in the store they are smaller so you may have filling left over if you only use 3 smaller peppers.
Can I Make Substitutes If I Don't Have Poblanos?
Yes you can use a different type of pepper if you wish. If you have large jalapenos you can try them or even banana peppers. I would make sure you cleaned out the seeds and ribs well before hand because they will be much hotter.
Anaheim and hatch chiles would also be great. Or just use bell peppers if you want but try to find smaller ones if you can.
Tips To Make This Lower Carb
use small peppers and you will get more servings out of this recipe
use more chicken and cheese and less spinach dip
make sure the products you are using are the lowest in carbs you can find
grate your own cheddar cheese instead of buying bagged as it has a stablizer in it that has carbs
add riced cauliflower to bulk up the stuffing and make it go further
I hope you love these low carb chicken stuffed poblanos as much as we did. This is an easy appetizer or dinner using the air fryer and just 4 ingredients. Best of all they taste great! The nutrition for 1 stuffed poblano is:
319 cals / 26.5g fat / 6.5g carbs / 1.8g fiber / 12.6g protein = 4.7g net carbs
IF YOU DON'T HAVE AN AIR FRYER
If you don't have an Air Fryer you can always make these in the oven. Place the stuffed poblanos in a baking dish and bake them for 25 -30 minutes in a 350°F oven. Check to see if the pepper is cooked through and if not cook for 5 -10 minutes more.
I really like my old air fryer which was an Air Fryer XL by Cozyna (5.8QT) and it has a pretty large basket (I've cooked a whole chicken) and it's simple to use (not too many buttons and gadgets). So far it's been great!
However I bought a new air fryer which is a Chefman 6.3 qt digital air fryer. You can use it to dehydrate and it has a rotisserie spit! What I really like is that it has a window so you can see your food as it's cooking.
Low Carb Chicken Stuffed Poblanos in the Air Fryer
These low carb chicken stuffed poblanos are a breeze in the air fryer. With only 4 ingredients you an have this delicious keto snack or appetizer with only 4.7g net carbs!
Ingredients
3

poblano peppers cut in half and cleaned

1

cup

chicken breast, cooked and chopped

1 ½

cup

spinach artichoke dip

2

oz

cheddar cheese, grated
Instructions
Cut the poblanos in half and clean out seeds.

Mix the chicken, half of the cheese and spinach artichoke dip and then stuff the peppers

Sprinkle the cheddar cheese on top and then carefull place them in the basket of the air fryer.

Cook at 350°F for 12-15 minutes until the peppers are cooked through.