If you are looking for a low carb ground beef recipe, this keto cauliflower & cheeseburger casserole is pure comfort food. Make a big pan and freeze individual servings for a quick low carb lunch. Only 1.9g net carbs per serving and the whole family will love it.
For more ground beef recipes check out this 27 keto ground beef recipes post.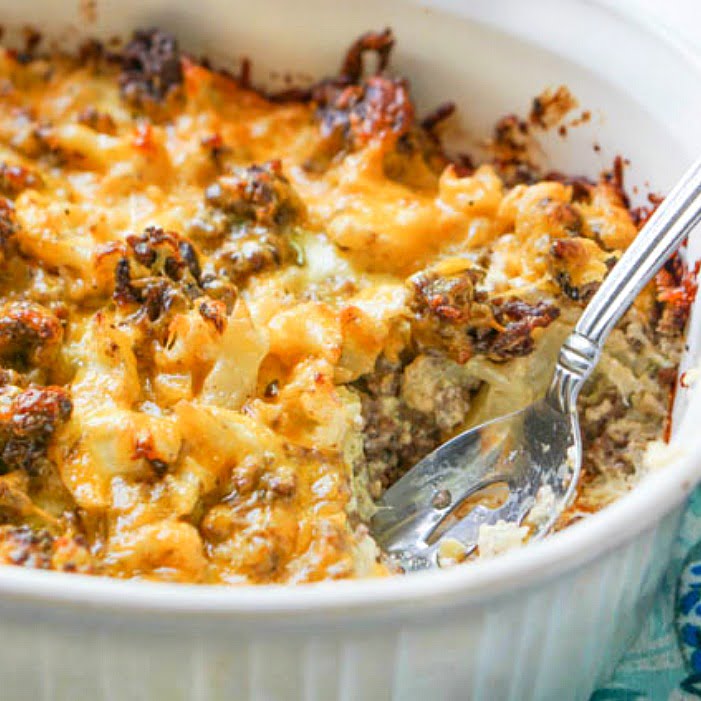 As you may have guess, I like cheeseburger flavors. I've made a cheeseburger flavored frittata, salad, waffle, portobello and now this keto cauliflower & cheeseburger casserole.
The first time I made this it came out like a shepherd's pie which was very tasty but this version was what I was going for. Creamy, cheesy and comfort food at it's best without the carbs.
I made a big pan and froze a few servings for a quick low carb lunch. It has been a life saver this week as I was very busy. It's a great ground beef casserole even if you aren't a low carb diet.
2 Low Carb Cooking Tips For This Casserole
I wanted to point out 2 cooking tips that I used in this recipe that you can use to create other low carb casseroles. Just use different spices and sauces to change it up.
When I browned the ground beef, I sprinkled some steak seasoning on top. This is what makes ground beef taste like a hamburger to me.
I added cauliflower in with the meat to make it go further. It tastes almost like a pasta or a potato and was a yummy addition.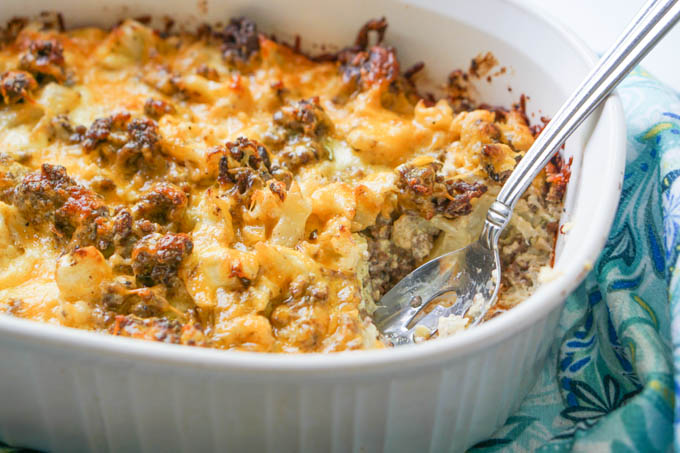 Let's Make This Keto Cheeseburger Casserole
Start by microwaving the cauliflower while you brown the ground beef. Sprinkle some steak seasoning over the meat and when it's browned, add in the cauliflower, cream cheese and part of the cheddar cheese.
Mix it around until the cream cheese melts and then spoon into a casserole dish. Next whisk eggs, cream and butter and pour over casserole. Top with the remaining cheese and bake.
The first time I made this in a 13″ x 9″ baking dish and got 8 servings from this casserole but I ate two pieces. It was really good to me. But with only 1.2g net carbs per serving I don't think it's bad to have 2 pieces. 🙂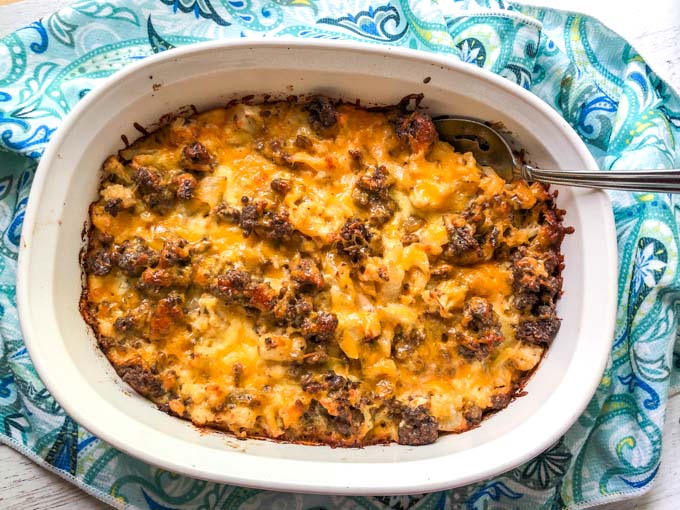 This time I made it in a 10 x 8 inch baking dish and got 6 servings. So one serving comes to 1.9g net carbs. Either pan you use the, carbs are pretty low for this comfort food dish!
More Ground Beef Keto Recipes
I love using ground beef or hamburger in recipes because it adds so much flavor and it's low carb. Subsequently I have quite a few ground beef keto recipes. Some of my most popular posts are this cheesesteak ground beef skillets and this ground beef and broccoli post.
My tip for using ground beef in low carb recipes is to aim for high fat content when making something like burgers or even meatballs but use leaner ground beef when making casseroles or soups.
Recipe Tips & Notes
Since this is a rich and creamy casserole, you might want to use a leaner ground beef. If it's too fatty it will shrink down and leave a lot of excess grease.
I really like steak seasoning on my ground beef but if you don't have any add a little spices like salt, pepper, garlic powder, onion powder, etc.
I freeze dishes like this in glass storage containers like this if possible. When you microwave dishes with a lots of cheese and fat, the plastic seems to get all funky so the glass is better.
Well I hope you like this keto cauliflower & cheeseburger casserole as much as I did. I find that preparing casseroles like this and then freezing individual servings can really help you stay on a low carb diet. It's filling and savory and perfect when you don't have the time to make lunch or dinner.
The nutrition for 1 serving is:
421 cals / 30.2g fat / 2.6g carbs / 0.7g fiber / 25.1g protein = 1.9g net carbs
For another ground beef casserole try my friend Kasey's keto taco casserole or my friend Alika's keto shepherd's pie.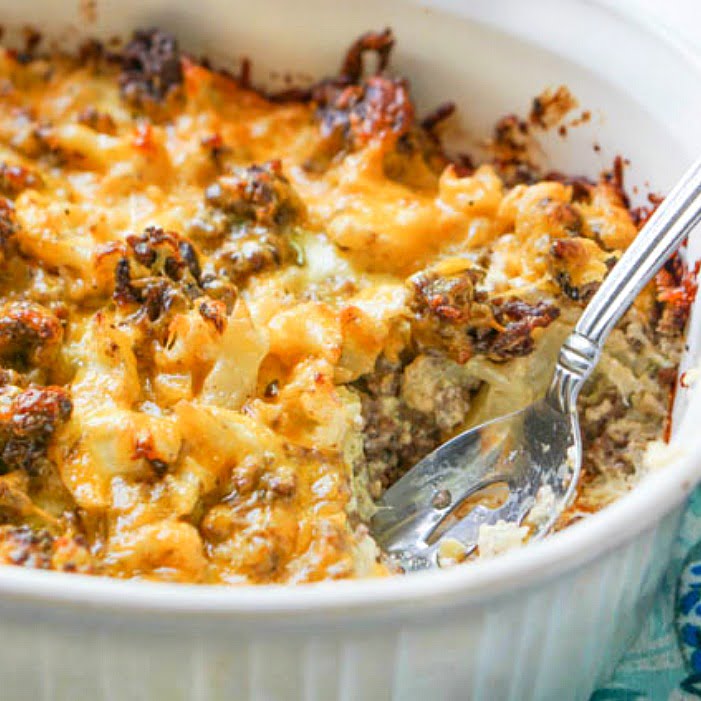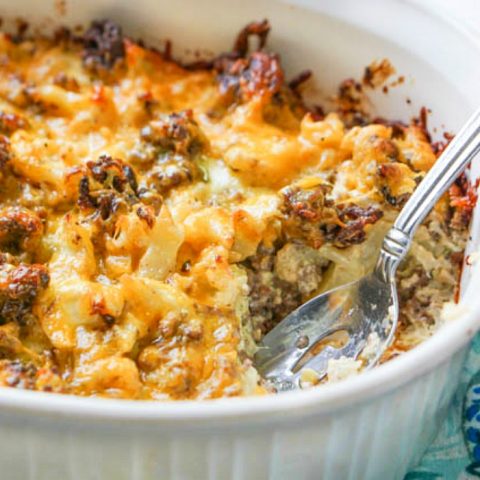 Low Carb Cheeseburger & Cauliflower Cauliflower
This low carb cheeseburger & cauliflower casserole is pure comfort food. Freeze individual servings for a quick low carb lunch. Only 1.9g net carbs per serving.
Ingredients
1 lb ground meat
2 cup cauliflower, chopped
2 teaspoon steak seasoning
1/4 cheddar cheese, shredded
1 tablespoon butter, melted
4 oz cream cheese, cut into cubes
2 eggs
1/2 cup heavy cream
1/2 cup cheddar cheddar cheese, shredded
Instructions
Preheat oven to 400 degrees F.
Microwave the cauliflower for 5 minutes.
In the meantime add the beef to a skillet and sprinkle steak seasoning on top.
Once brown, add in cauliflower, cream cheese and 1/4 cup of cheddar cheese. M
Mix well and then pour into baking dish.
In a bowl, beat eggs then whisk in cream and butter.
Pour over beef mixture and top with remaining 1/2 cup of cheese.
Bake 30 minutes.
Notes
The nutrition for 1 serving is:

421 cals / 30.2g fat / 2.6g carbs / 0.7g fiber / 25.1g protein = 1.9g net carbs


Nutrition Information:
Yield:

6
Serving Size:

1
Amount Per Serving:
Calories:

421
Net Carbohydrates:

1.9g