Ground beef is a low carb dieter's best friend. It's inexpensive, tasty and goes great in a lot of keto dishes. I've gathered 27 of the best low carb keto ground beef recipes so you will never have to worry what to make for dinner. Check them out! This post is sponsored by the Certified Angus Beef ® brand in conjunction with a social media campaign through Sunday Supper LLC. All opinions are my own.
You might also like this post on 4 keto ground beef and cabbage recipes!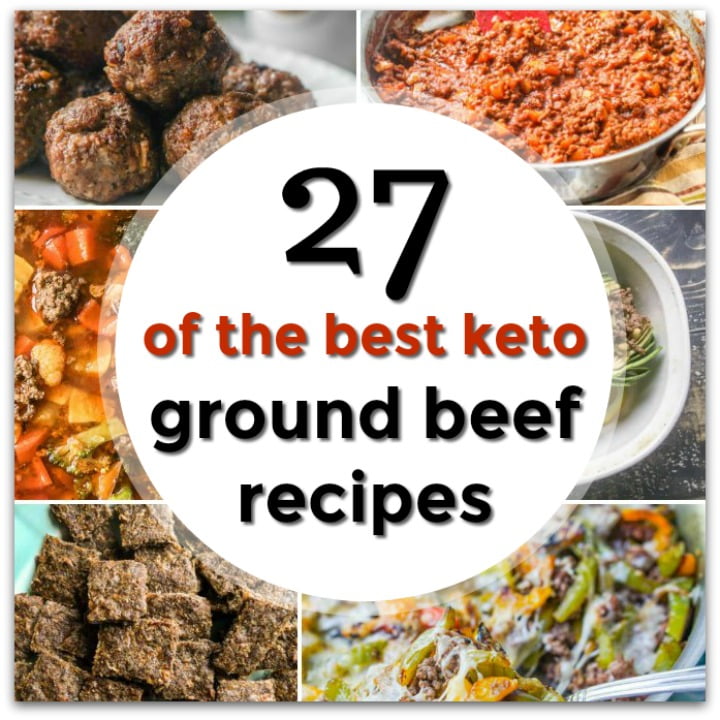 I always have ground beef in my freezer just in case I don't have anything in mind for dinner. With this list you can take that pound or two of ground beef and make a keto casserole or maybe a low carb hamburger.
But did you know you can make meat bagels and meat crackers too? Scroll to the bottom to see how.
What Kind Of Ground Beef To Use?
When I shop at Giant Eagle, I always check to see if they have Certified Angus Beef® ground beef on sale. I feel that this is the best quality of beef and Giant Eagle has a large selection to choose from.
I usually buy the 85% ground beef because I want some fat for flavor but not too much excess grease.
If you have a preference for a fattier meat, just drain some of the grease out and if you want to use a leaner beef, you may need to add a bit more oil to some of these recipes.
Why Ground Beef Is Great On A Keto Diet.
I love ground beef for keto recipes for 3 reasons. It is :
Inexpensive – You can buy hamburger meat just about anywhere and it doesn't break your budget. Sometimes I buy large quantities of ground beef when it's on sale and freeze it in 1lb servings.
Tasty – I flavor my ground beef in many different ways. On burgers I love to use steak seasoning, taco seasoning, Italian seasonings, etc. I just depends on the recipe. But you always have the meaty taste that goes great with vegetables, cauliflower rice, zucchini noodles etc.
Versatile – Below you will see how versatile hamburger meat is. It's a good way to add protein and fat when on a keto diet and it has 0 carbs. I use it in soups, salads, casseroles, burgers, pastas, stir fries and more.
Now Our 27 Easy Keto Ground Beef Recipes!
I've broken out these recipes into casseroles, burgers, skillet dinner, meatballs, soups & salads and misc ground beef recipes. I hope you enjoy them and please comment below if you have any questions.
Keto Ground Beef Casseroles
These are some of my favorite kind of keto recipes - casseroles. These are pure comfort food and usually quite easy to make. I like to make double batches so I can freeze some for a low carb lunch.
This keto ground beef casserole recipe is an easy and tasty one pan dinner the whole family will love. Savory ground beef, marinara and a variety of cheese make for a tasty low carb dinner with just 3.2g net carbs. Freeze leftovers of this hamburger casserole for a quick keto lunch!
This low carb cheeseburger & cauliflower casserole is pure comfort food. Freeze individual servings for a quick low carb lunch. Only 1.9g net carbs per serving.
This slow cooker low carb Mexican casserole needs only 6 ingredients. It's cheesy, creamy and full of those spicy Mexican flavors. Each serving is only 6.2g net carbs. This low carb Mexican casserole can be made in the Instant Pot too!
Keto Hamburger Recipes
While you can make a burger out of just about anything, ground beef is the best. Keto burgers are an easy low carb dinner that the whole family will enjoy. Even a plain burger with a tasty slice of cheese on top is a treat. And what about bacon?!
These keto butter burgers are so tasty as is but topped with low carb onion straws and pickled jalapeños they go to another level. One burger with cheese and onion straws is 3.3g net carbs. Add a slice or two of bacon and really make it decadent.
This keto cheddar stuffed taco burger is a delicious change from your everyday burger. Customize with all your favorite taco toppings. Each taco burger is 1.2g net carbs without toppings.
Keto Ground Beef Skillet Dinners
Ground beef skillet dinners are almost like a casserole that you make on the stove instead of the oven. These are definitely one pan meals perfect for a weeknight family dinner.
Keto Ground Beef Meatballs
Meatballs are another great way to make a low carb dinner with ground beef. There are so many ways you can flavor them besides your usual Italian style meatballs.
These will satisfy your craving for takeout food. Eat over cauliflower rice or take to your next party as a low carb appetizer. One serving of 8 meatballs is just 1.9g net carbs.
These low carb Middle Eastern meatballs taste like kibbeh using cauliflower instead of cracked wheat. A deliciously different appetizer or main dish. Each meatball has only 0.5g net carbs and is Paleo too!
This is a delicious dish to top zucchini noodles. Creamy mushroom sauce over beefy meatballs, you can even eat these as is or as an appetizer. One serving is 5.8g net carbs.
Keto Soups and Salads using Ground Beef
Using ground beef in a soup can add so much flavor and texture but ground beef is also great on salads. Here are few low carb salads and soup to try.
Misc Keto Ground Beef Recipes
Here are a few creative and delicious ways to use ground beef.
---
Well I hope you give some of these 27 easy keto ground beef recipes a try. Regardless if you are on a keto diet or not, I think your family will enjoy them as much as mine did!
By the way you might want to check this Certified Angus Beef® Kitchen Facebook group to learn some great beef tips and recipes. It really helped me to make my first prime rib! For more information about Certified Angus Beef ® brandfollow them on their Social Media Platforms: Facebook | Pinterest | Instagram | YouTube | Twitter