This taco cobb salad is the perfect low carb lunch or dinner. The only thing that makes it better is the homemade ranch dressing!
I think I've declared my love for salads many times on this blog. I eat one everyday and lately it's been this Taco Cobb Salad. I don't know why but lining up your toppings on one plate makes it taste better I swear. I always have loved traditional cobb salads but never seem to have all the right toppings to make one. However I aways seem to have the right toppings for a taco salad so hence the Taco Cobb Salad.
Fun Fact: It is thought that the Cobb Salad became famous from the Hollywood Brown Derby restaurant, where it became a signature dish and was named for the owner, Robert Howard Cobb. Ok that wasn't really a fun fact but I always thought a Cobb salad meant that the ingredients were lined up that way. Learn something new everyday.
Because this is not much of a recipe post, I've added my sister's most delicious homemade ranch mix recipe. She gave us all a jar of this mix for Christmas. All you have to do is mix a few tablespoons with mayo and milk and you have homemade ranch. Or mix it with sour cream and you have ranch dip.  I've made 3 or 4 batches of this mix since Christmas so that is telling you how much I like it.  By the way, Patti has lots of house and garden projects on her site so you should check it out! Gardenmatter.com. Here is the link to her ranch dressing mix and here is a post on 9 Fabulous Salad Dressings which looks fantastic if you are a salad lover.
As for the Taco Cobb Salad, I used this taco seasoning which I got at a Wildtree party. Have you ever been to one of those? They sell a lot of organic cooking ingredients in a home party setting. This was very good and I like that there are no artificial or scary ingredients. Just mix a few teaspoons into your ground meat and your done.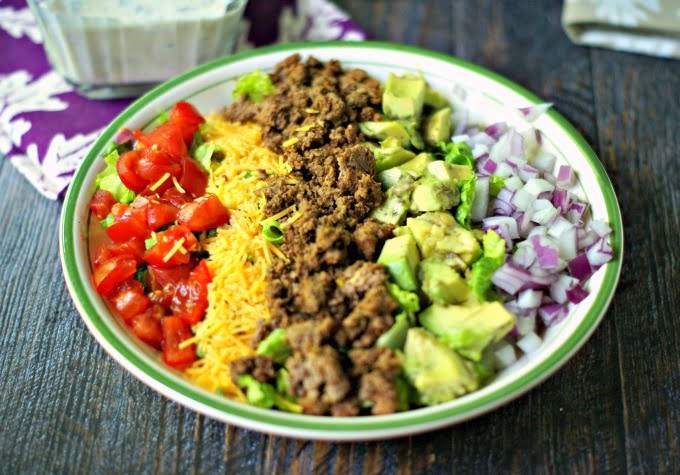 For the salad I just chopped up a few of my favorite things: avocados, tomatoes, red onions, cheddar cheese and of course my taco meat. Top it with some of the homemade ranch and I am good to go. 
I hope you love this salad as much as I do. The dressing is great and it goes perfectly with this taco cobb salad. Here are a few more taco related recipes I think you might like.
---
---
Taco Cobb Salad with Homemade Ranch
This delicious ranch mix can be used as both a dressing and a dip. Just mix with milk and mayo or sour cream for a tasty homemade dressing or dip.
Author:
Denise Wright (MyLifeCookbook.com)
Ingredients
1 cup cultured buttermilk powder
3 Tablespoons dried parsley flakes
1 Tablespoon garlic powder
1 Tablespoon onion powder
1 teaspoon dried dill
1 teaspoon sugar (I used Splenda)
½ teaspoon salt
½ teaspoon black pepper
½ teaspoon dried thyme
½ teaspoon paprika
Instructions
Combine all ingredients. Mix well.
Place in a jar or baggie in the regrigerator to keep fresh.
To make the dressing combine 3 Tablespoons of the mix with 1 cup of milk and 1 cup of mayonnaise. This dressing is on the thin side so you may want to add extra mayonnaise or less milk.
To make dip combine 3 T of the mix to 1 pint of sour cream. A little lemon zest is great to add too.