This keto taco salad is the perfect low carb lunch or dinner. Filled with spicy taco ground beef and fresh toppings this dish is one of my favorite keto recipes. And it tastes even better with homemade dairy free ranch dressing! This large salad serves two and has just 2.1g net carbs per serving!
Here are a few more taco related recipes I think you might like: taco stuffed peppers and cheddar stuffed taco burgers.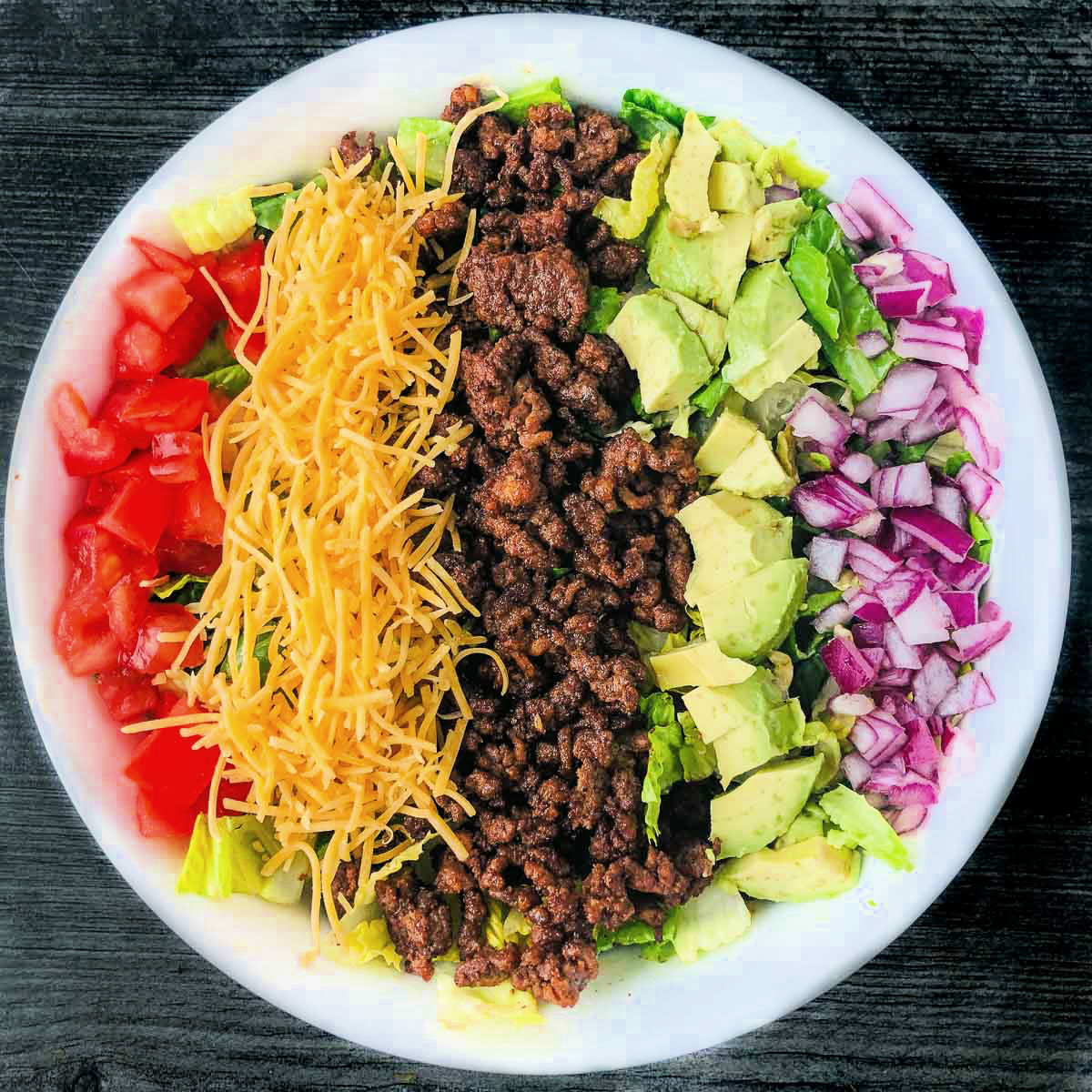 I think I've declared my love for salads many times on this blog. I eat one everyday and lately it's been this keto taco salad. While it's a low carb salad for dinner kind of meal, no one would think of it as a diet meal. In other words your family would love it too even if they are not on a keto diet.
It's full of healthy ingredients like avocados, romaine lettuce, tomatoes which are my favorite taco toppings. And I made a low carb taco meat which I made with lean ground beef and a few spices.
This keto salad is very filling and the whole salad (which could easily feed 2 people) has only 4.4g net carbs! It's an easy weeknight dinner whether or not you are on a low carb diet.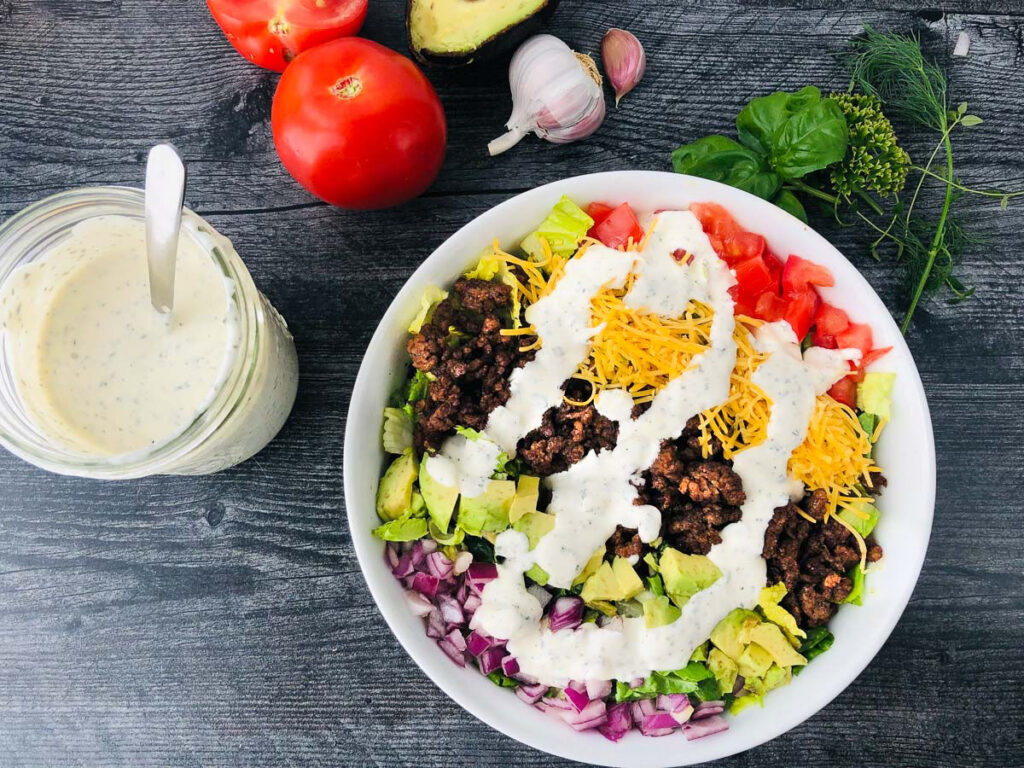 Salad recipe ingredients I used.
I just used a few simple spices to make the taco meat. I used 90% lean ground beef and my homemade taco seasoning using chili powder, cumin, paprika, salt, onion powder and sweetener.
I used leaner ground beef because I didn't want a lot grease on the lettuce. You could also make this ground turkey or ground chicken if you wanted.
I did not use store bought taco seasoning mix because it can have quite a few carbs and a lot of artificial ingredients. But if you have a good low carb mix you can certainly use that.
For the whole salad I used romaine lettuce, red onion, avocado, sharp cheddar cheese and fresh tomatoes. I used Roma tomatoes but you can also use cherry tomatoes or grape tomatoes.
The dressing was my homemade dairy free ranch which was perfect for this salad.
How to make the keto taco salad.
Step 1: To make the taco meat, get out a large skillet and heat to medium high heat.
Step 2: Add the ground beef and break up with a wood spoon or spatula. Turn down the heat to medium.. Mix the spices and sweetener together in a little bowl and then sprinkle over the ground beef. Brown ground beef for 5-7 minutes until cooked through.
Step 3: In the meantime chop the lettuce and vegetables. Fill a large salad bowl with lettuce and set the toppings to the side.
Step 4: Once the meat has browned and cooled for a few minutes, spoon the seasoned beef onto the bed of lettuce then add the rest of the toppings. If you don't want to use all of the ground beef your can store it in an airtight container for up to 3 days in the refrigerator.
Note you can use any of your favorite toppings on this salad and I have the carb count for some other options below. Please scroll down to view the printable recipe card.
Top with your favorite taco salad dressing though I highly recommend my dairy free ranch dressing. It only has 0.3g net carb per tablespoon.
I also have an avocado salad dressing that would work great too.However you could probably mix up the ingredients and not even need dressing.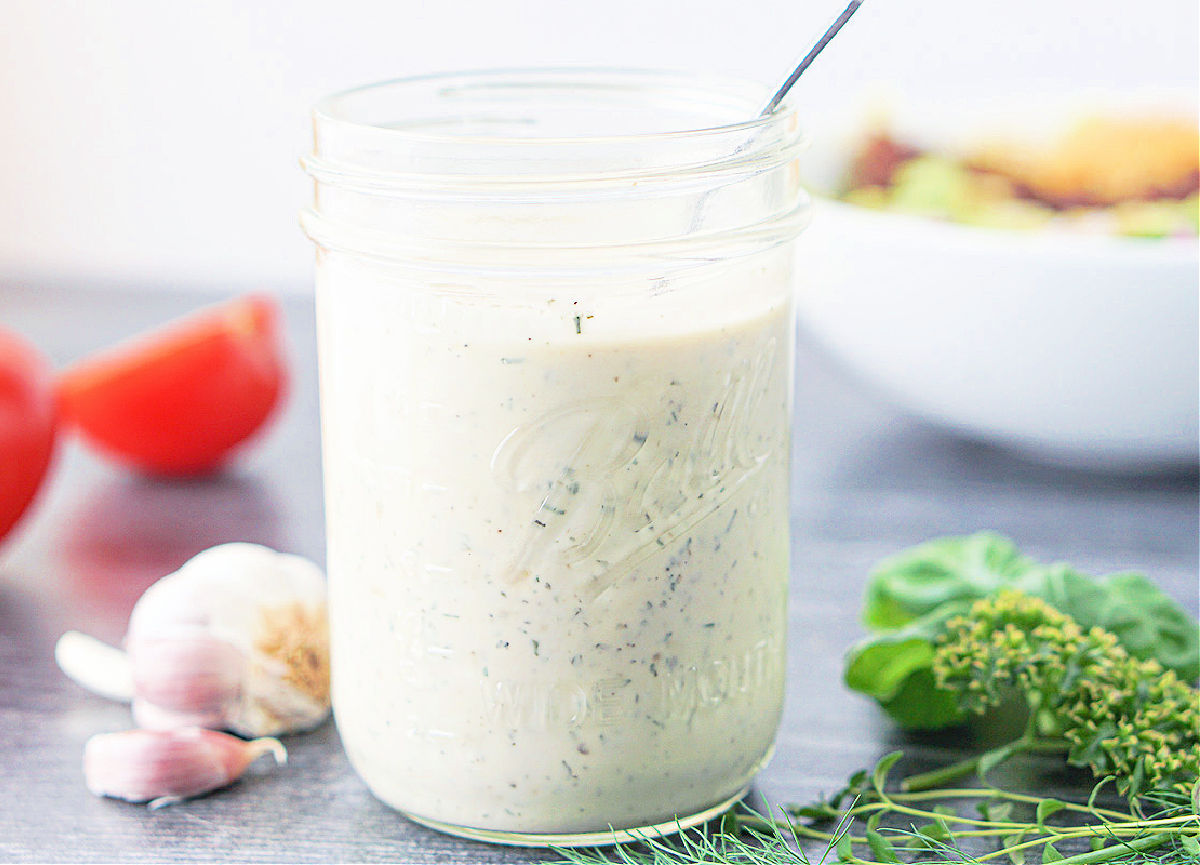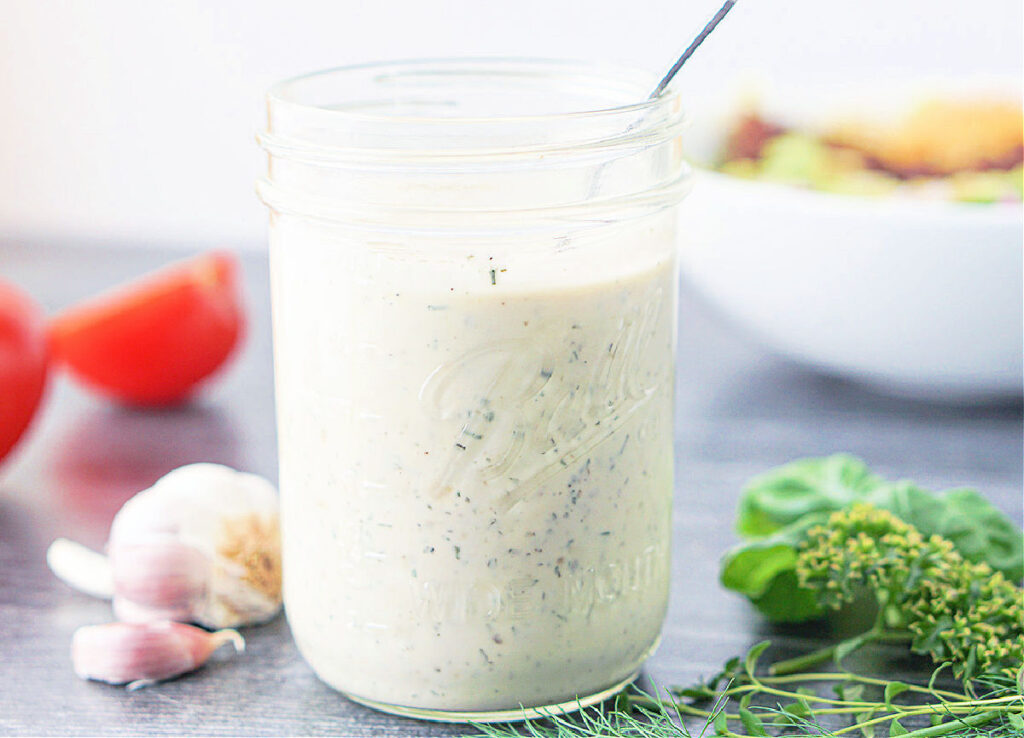 By the way, my sister Patti has a wonderful blog called Hearth and Vine with lots of house and garden projects on her site so you should check it out!
She made a really good ranch dressing mix that you can make and give as presents. She also has a great post with 9 Fabulous Salad Dressings which will be great for the salad lover like myself.
Low carb toppings you can use on your salad.
Here are a few more low carb options for you to add to your keto taco salad. I basically used 2 cups of lettuce and 2 tablespoons of colorful veggies and toppings I wanted to use.
cheddar cheese – 0.7g net carbs per ½ cup
tomatoes, roma chopped – 2g net carbs for ½ cup
jalapeno slices – 0.4g net carbs per 1 whole jalapeño
avocado, chopped – 1.3g net carbs per ½ cup
sour cream – 4g net carbs per ½ cup
fresh cilantro, leaves – 0g net carbs per ¼ cup
guacamole – 0.8g net carbs per 1 tablespoon
green onions, chopped – 2.4g net carbs for 2 whole green onions
black olives, sliced – 1.1g net carbs per ¼ cup
salsa – 2g net carbs per ¼ cup
Other keto salad recipes to try.
I really, really love salads so I have over 38 keto salad recipes on this site but these are my favorite recipes.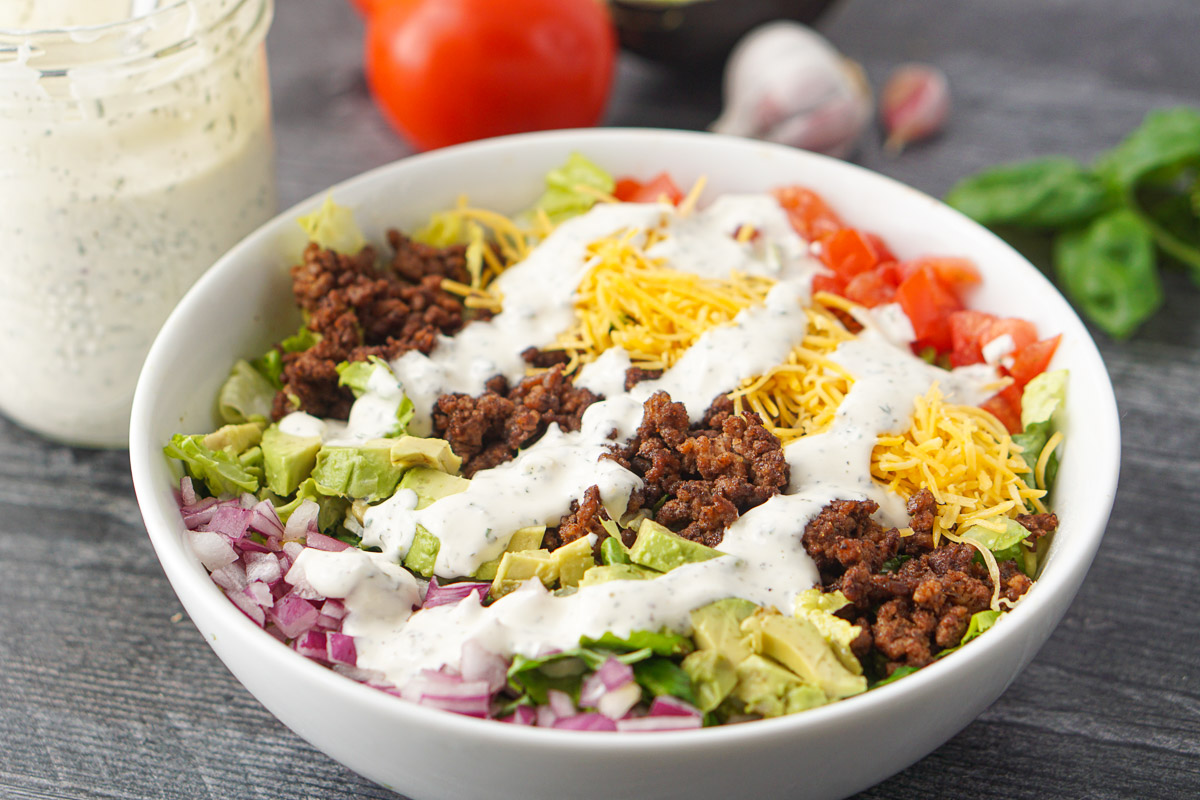 I hope you love this salad as much as I do. Next time you crave Mexican food give this recipe a try. And try the ranch dressing too as it goes great with this keto taco salad.
The nutritional information for half of the salad above without dressing : 307 cals / 17.2g fat / 4g carbs / 1.9g fiber / 32.3g protein = 2.1g net carbs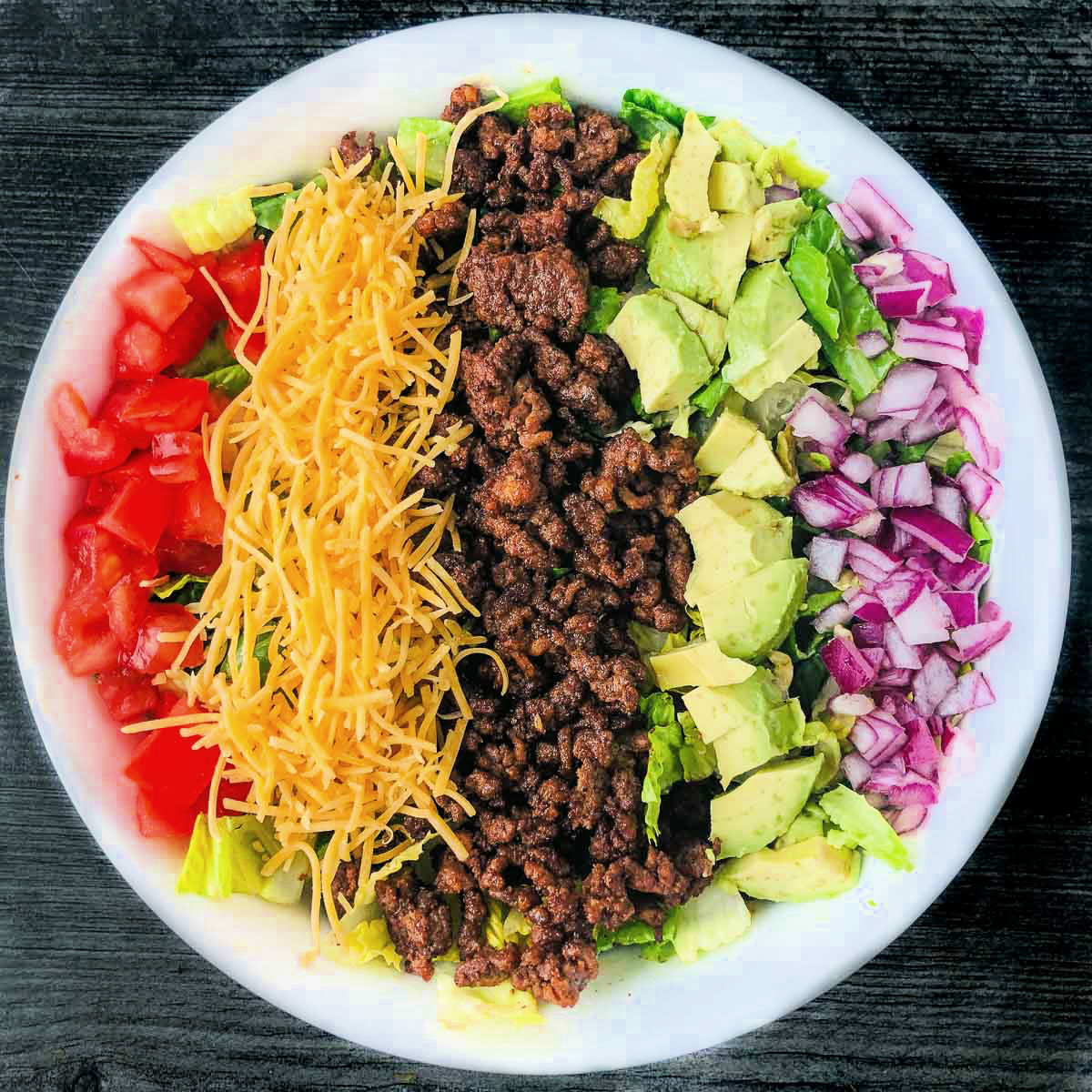 Keto Taco Salad Recipe
This delicious keto taco salad if full of seasoned ground beef and a variety of healthy salad topping to create a healthy and filling low carb dinner.
Ingredients
½ pound ground beef, lean
1 teaspoon chili powder
½ teaspoon salt
½ teaspoon onion powder
¼ teaspoon cumin
¼ teaspoon sweetener (or sugar if not low carb)
¼ teaspoon paprika
salt and black pepper to taste
Instructions
Get out a medium skillet and heat to medium heat.
In a small bowl mix all of the spices and sweetener.
Add the ground meat to the skillet and break it up with a spoon. Sprinkle the seasonings over top and mix well. Keep cooking the meat for about 5-7 minutes until completely browned.
In the meantime chop the lettuce and toppings. Add the lettuce to a large bowl and set the toppings aside.
Once the meat is finished and cooled for a few minutes add to the lettuce and then add all your toppings.
Use a keto ranch dressing or your dressing of choice. You can even mix the salad up and eat it without dressing.
The salad makes two serving.
Nutrition Information:
Yield:

2
Serving Size:

1 serve
Amount Per Serving:
Calories:

307
Unsaturated Fat:

0g