These low carb taco stuffed peppers are a tasty keto dinner that you can make quickly and easily. Only 4.4g net carbs per serving and they freeze well too!
You might also like this keto taco cups snack!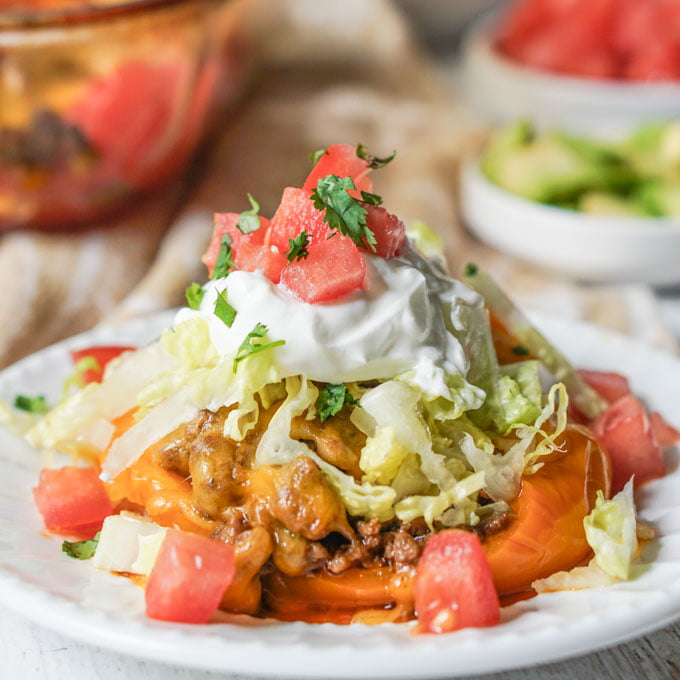 I'm always on the search for the perfect stuffed pepper. My husband likes them but they have to be really good. The peppers can't be too hard and the stuffing must be tasty too and let's not forget the sauce.
Well being on a low carb diet I thought I'd try these low carb taco stuffed peppers. I was so happy that my husband loved them as much as I did and asked me to make them again. Best of all, they were so easy, fun to eat and one pepper has only 4.4g net carbs!
Making The Low Carb Taco Meat
The first thing I did was mix the ground meat with 4 Tablespoons of taco seasoning. I used to have a nice one from WildTree that is organic and free from preservatives. But in a pinch I just use the packet mix from Aldi.
Sometimes I make my own using the taco seasoning recipe below for 1 lb of meat:
1 tablespoons chili powder
½ tablespoon onion powder
1 teaspoon salt
1 teaspoon garlic powder
½ teaspoon paprika
½ teaspoon crushed red pepper flakes (optional)
Precooking The Bell Peppers
I've changed the way I make these stuffed peppers recently. I precook the peppers in the microwave and that way they are sure to be soft and tender. Just slice then in half, clean out the seeds and cook in the microwave for 4 minutes. When they are cooled spoon in the taco meat.
Top with a slice of cheddar cheese. I used to use shredded but I like the way that the slices work better. But you can use which ever you want.
Toppings For The Taco Stuffed Peppers
Now for the fun part. Top them with whatever toppings you like. We used tomatoes, lettuce, sour cream and cilantro. But you could also use avocado, jalapeños, black olives, onions, salsa… you name it. I made a lot so I could have one for lunch the next day.
Carbs In Common Taco Toppings
Below are some common taco toppings and their net carbs. I used some products from Aldi as I show there often but if you are using different brands remember to always check the label. I know Daisy brand milk products tend to have less carbs than other brands.
tomatoes: 2T is 0.7g net carbs
iceberg lettuce: 2 T is 0g net carbs
cilantro: 1 T is 0g net carbs
avocado: 2 T is 0.4g net carbs
sour cream: 2 T is 2g net carbs (Daisy brand only has 1g)
guacamole: 2 T is 2g net carbs (prepared from Aldi)
salsa: 2 T is 2g net carbs (prepared jar from Aldi)
black olives: 2 T is 1g net carbs (sliced)
jalapeno peppers: 2 T is 0.4g net carbs (sliced)
onions: 2 T is 1.6g net carbs (chopped)

How To Freeze These Stuffed Peppers
These freeze well so I often double the recipe or split this one in half and freeze for another day. Cook the peppers in the microwave and brown the meat. Stuffed the peppers then lay them in the baking dish.
I used plastic wrap to kind of mold the peppers so they wouldn't get any freezer burn. Then I covered the whole dish tightly with foil. When ready to use, thaw them in the refrigerator overnight and bake as you normally would. Make sure to take off the foil and plastic wrap first and to also lay down a slice of cheese.
And that is all there is to it. A tasty low carb dinner that you can make quickly on a weekday night. Enjoy!
The nutrition for 1 serving without toppings:
290 cals / 19.5g fat / 5.4g carbs /1g fiber / 22.1g protein = 4.4g net carbs
For more taco goodness, check out my friend Trina's Keto Taco Casserole… it looks awesome!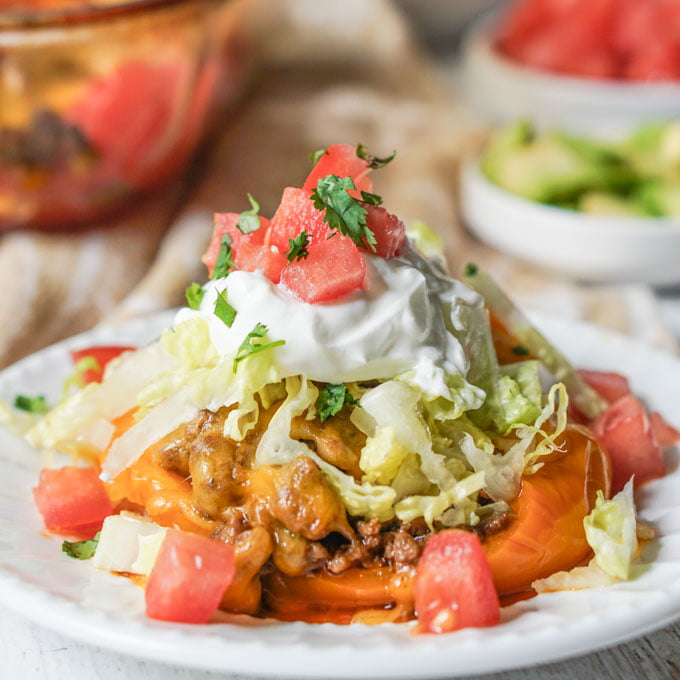 Low Carb Taco Stuffed Peppers
These low carb taco stuffed peppers are a tasty keto dinner that you can make quickly and easily. Make a double batch and freeze them for another day. Only 4.4g net carbs per serving.
Ingredients
4 bell peppers, cut in half and cleaned
1 lb ground beef
4 tablespoons taco mix
8 slices cheddar cheese
1 cup chopped tomatoes, optional
1 cup shredded lettuce, optional
½ cup sour cream, optional
3 tablespoons cilantro, chopped, optional
Instructions
Preheat your oven to 400°F.
Cut and clean your peppers. Microwave for 4 minutes and let cool.
Meanwhile brown the ground beef in a large frying pan along with the taco seasoning.
When the meat is done and the peppers cooled, stuff each pepper with the meat and then lay one slice of cheddar cheese on top.
Bake the peppers for about 20 minutes or until the cheese is brown.
To serve you can add anything you would normally like on a taco, like lettuce, tomatoes, sour cream, avocado, cilantro, etc. I used 1 tablespoons of sour cream, tomatoes, lettuce and cilantro.
TO FREEZE: Prepare as written above up until the cheese. Do not freeze the cheese. Stuff the peppers with the meat and then place in backing dish. Use a piece of plastic wrap and lay over to cover the peppers. Then use a piece of foil on top. Make sure to take off plastic wrap and foil before baking.
TO COOK FROM FREEZER: Let the peppers thaw and then cook in a 400°F oven for 20 minutes.
Notes
The nutrition for 1 serving without toppings:
290 cals / 19.5g fat / 5.4g carbs /1g fiber / 22.1g protein = 4.4g net carbs
Nutrition Information:
Yield:

8
Serving Size:

1
Amount Per Serving:
Calories:

290
Unsaturated Fat:

0g