These keto taco stuffed peppers are an easy and tasty low carb dinner for busy weeknight meals. Sweet bell peppers stuffed with Mexican seasoned ground beef and topped with melted cheese. Then add all your favorite taco toppings. Only 4.4g net carbs per serving and they freeze well too!
You might also like this keto taco cups snack!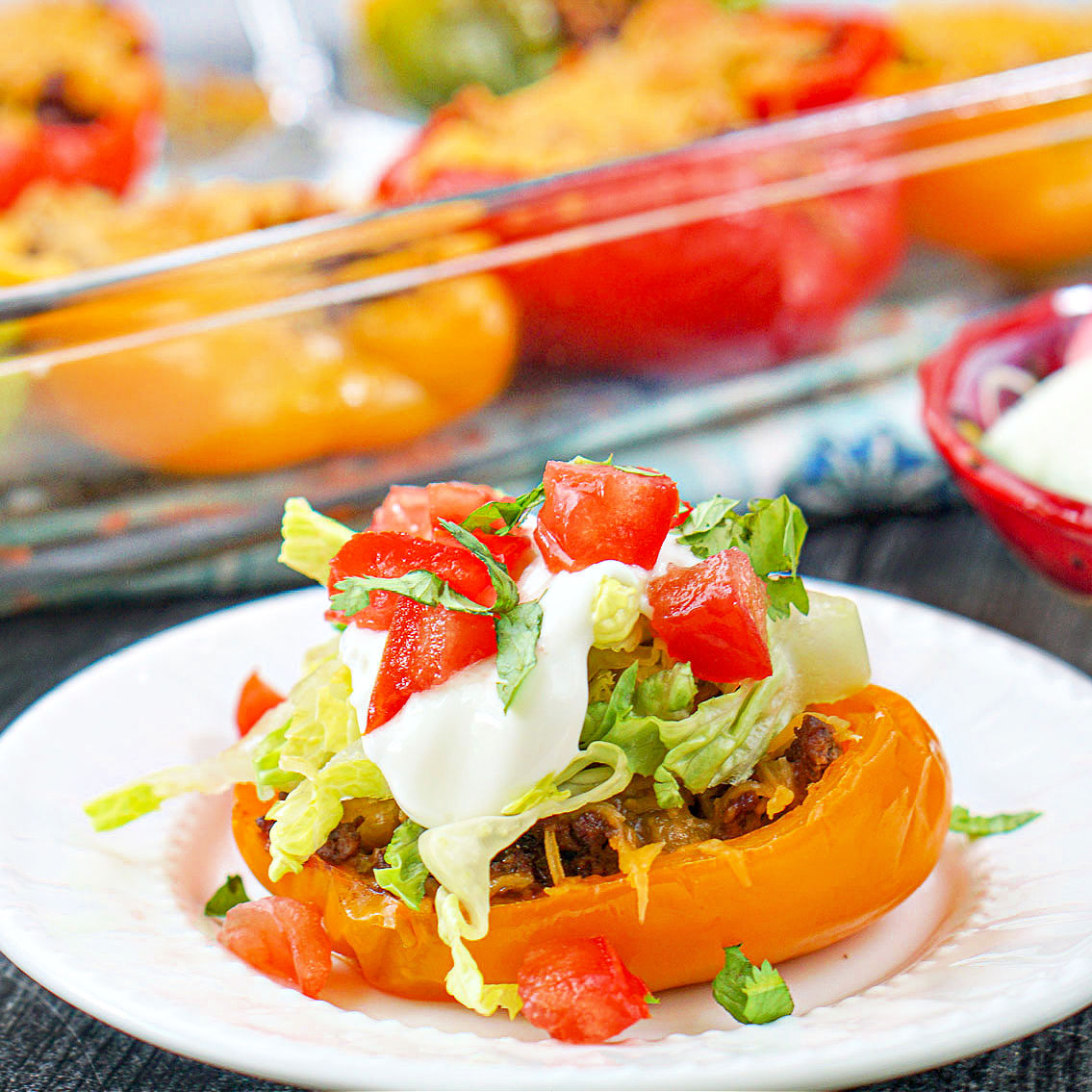 I'm always on the search for the perfect stuffed pepper. My husband likes them but they have to be really good. The peppers can't be too hard and the stuffing must be tasty too and let's not forget the sauce.
Well being on a low carb diet I thought I'd try these keto taco stuffed peppers. I was so happy that my husband loved them as much as I did and asked me to make them again.
Best of all, they were where great for my low carb diet with only 4.4g net carbs per pepper. They were also easy to make and fun to eat! These are now part of our family favorite meal rotation.
Recipe ingredients I used.
You really only need the 4 simple ingredients below for this recipe and then you can top them with whatever you want. Note because I wanted to keep these low carb I didn't use any beans or rice but if you really want to add these items you can use cauliflower rice and black soy beans. They are low carb options for you.
Bell Peppers
I used a mix of sweet bell peppers and green peppers. Some people don't like the taste of green one because they have a bitter taste. You can. use whatever you like. For this recipe I used 4, cut them in half to make 8 servings.
Ground Beef
I usually use 85% beef lean ground beef. You can use leaner meat if you want as well as ground turkey or ground chicken. The seasonings add tons of flavor.
Taco Seasoning Mix
Most of the carbs comes from the peppers and the taco mix. I used to have a nice one from WildTree that is organic and free from preservatives. So if you have a lower carb taco seasoning mix go ahead and use that or make your own. I usually use the packets you find in the grocery store. (Below I have a recipe to make your own if you are interested.)
Cheddar Cheese
Originally I used slices of cheddar cheese and this time I used shredded cheddar cheese. I think in retrospect the sliced cheese melts better. I like cheddar but you can use a taco cheese mix, Monterey Jack or Mexican blend cheese if you want.
Other Toppings
Below I have the carb counts of other taco toppings you can use. For these I used shredded lettuce, tomatoes, sour cream and fresh cilantro. All are option but you have to add their carb counts if you are counting carbs.
Low carb and homemade taco seasoning recipe.
Below is the spice mix blend for 1 pound of ground meat if you want to make your own. Sometimes store bought mixes have added sugar and if you want that bit of sweetness you can add ½ teaspoon of sweetener.
1 tablespoon chili powder
2 teaspoons ground cumin
½ tablespoon onion powder
1 teaspoon salt
1 teaspoon garlic powder
½ teaspoon paprika
½ teaspoon crushed red pepper flakes (optional)
How to make keto taco stuffed peppers.
Step 1: Preheat the oven to 400°F and spray a casserole dish with nonstick cooking spray.
Step 2: Get out a large skillet and heat to medium high heat. Add the ground beef and break up with a wooden spoon. Turn the heat down to medium heat and sprinkle the taco mix over the hamburger meat. Stir and continue to cook until the ground beef mixture has just turned brown from pink.
Step 3: In the meantime precook the peppers. Slice them in half and clean out the seeds and steps. Rinse with water and place the bell pepper halves in a microwave safe bowl or use a microwave vegetable steamer if you have one. Cook for 4 minutes then take them out to cool.
Step 4: Once the meat is done and the pepper halves are cool to the touch, place the bell pepper halves into the baking dish. Fill each pepper with the taco meat mixture then cover with the shredded cheese.
Step 5: Place in the preheated oven and bake for 20 minutes or until the peppers are fork tender and the cheese melted. Note cooking time may vary.
Step 6: Take out of the oven and let rest for a few minutes. Serve with any toppings you like. Store leftover in an airtight container or freeze (directions on how to freeze below). Please scroll down for the printable recipe card.
Taco toppings for the stuffed peppers.
Now for the fun part. Top them with your favorite toppings or just eat them as is. We used tomatoes, lettuce, sour cream and fresh chopped cilantro. But you could also use avocado, jalapeños, black olives, onions, salsa, hot sauce you name it.
Below I have a list of common toppings and their carb count.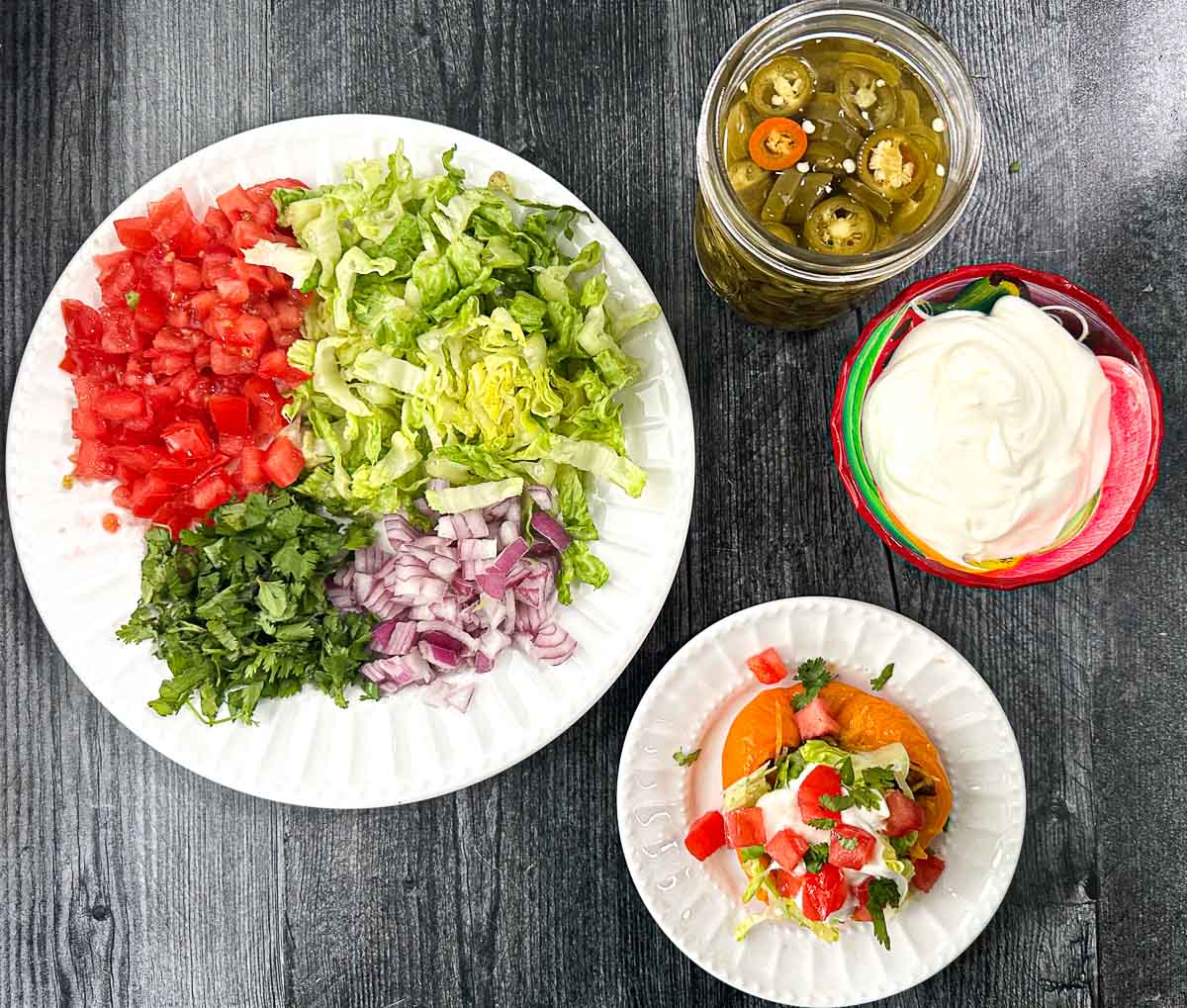 Carbs in common taco toppings.
Below are some common taco toppings and their net carbs. I used some products from Aldi as I show there often but if you are using different brands remember to always check the label. I know Daisy brand milk products tend to have less carbs than other brands.
tomatoes: 2T is 0.7g net carbs
iceberg lettuce: 2 T is 0g net carbs
cilantro: 1 T is 0g net carbs
avocado: 2 T is 0.4g net carbs
sour cream: 2 T is 2g net carbs (Daisy brand only has 1g)
guacamole: 2 T is 2g net carbs (prepared from Aldi)
salsa: 2 T is 2g net carbs (prepared jar from Aldi)
black olives: 2 T is 1g net carbs (sliced)
jalapeno peppers: 2 T is 0.4g net carbs (sliced)
onions: 2 T is 1.6g net carbs (chopped)
How to freeze these stuffed peppers.
These freeze well so I often double the recipe or split this one in half and freeze for another day. Cook the peppers in the microwave and brown the meat. Stuffed the peppers then lay them in the baking dish.
I used plastic wrap to kind of mold the peppers so they wouldn't get any freezer burn. Then I covered the whole dish tightly with foil. When ready to use, thaw them in the refrigerator overnight and bake as you normally would. Make sure to take off the foil and plastic wrap first and to the add the cheese.
And that is all there is to it. A tasty low carb recipe that you can make quickly for a busy weeknight dinner. And here are more low carb stuffed pepper recipes for you. Enjoy!
The nutrition for 1 serving without toppings: 290 calories / 19.5g fat / 5.4g carbs / 1g fiber / 22.1g protein = 4.4g net carbs
For more taco goodness, check out my friend Trina's Keto Taco Casserole.
Keto Taco Stuffed Peppers
These keto taco stuffed peppers are a tasty low carb dinner that you can make quickly and easily. Make a double batch and freeze them for another day. Only 4.4g net carbs per serving.
Ingredients
4 bell peppers, cut in half and cleaned
1 pound ground beef
4 tablespoons taco mix
8 slices cheddar cheese*
1 cup chopped tomatoes, optional
1 cup shredded lettuce, optional
½ cup sour cream, optional
3 tablespoons cilantro, chopped, optional
Instructions
Preheat your oven to 400°F.
Cut and clean your peppers. Microwave for 4 minutes and let cool.
Meanwhile brown the ground beef in a large frying pan along with the taco seasoning.
When the meat is done and the peppers cooled, stuff each pepper with the meat and then lay one slice of cheddar cheese on top.
Bake the taco peppers for about 20 minutes until the peppers are fork tender and the cheese has melted.
To serve you can add anything you would normally like on a taco, like lettuce, tomatoes, sour cream, avocado, cilantro, etc. I used 1 tablespoons of sour cream, tomatoes, lettuce and cilantro.
TO FREEZE: Prepare as written above up until the cheese. Do not freeze the cheese. Stuff the peppers with the meat and then place in backing dish. Use a piece of plastic wrap and lay over to cover the peppers. Then use a piece of foil on top. Make sure to take off plastic wrap and foil before baking.
TO COOK FROM FREEZER: Let the peppers thaw and then cook in a 400°F oven for 20 minutes.
Notes
The nutrition for 1 serving without toppings:
290 cals / 19.5g fat / 5.4g carbs /1g fiber / 22.1g protein = 4.4g net carbs
* I have used both sliced cheddar and shredded cheddar cheese. I like the sliced because it melts better but they carbs counds are roughly the same for 2 cups of shredded cheese if you rather use that.
Nutrition Information:
Yield:

8
Serving Size:

1
Amount Per Serving:
Calories:

290
Unsaturated Fat:

0g