This Paleo chicken pot pie soup uses a creamy, cauliflower sauce instead of cream. Takes little time and uses items you probably have on hand.
I don't know why but chicken pot pies always look so comforting on cold winter days. I've only eaten them a few times in my life but it's so cold here in Pittsburgh that I thought it would make a good Paleo-ish soup. The best part about this soup is that there is no milk, cream or flour to make it thick. All you need is cauliflower! Creamy sauces made with pureed cauliflower! Who knew?
The second best thing about this soup is that it takes very little time and you can use food you probably have on hand. I used frozen veggies, frozen cooked chicken, fresh cauliflower, an onion, butter, garlic, bouillon and some spices. I usually have all that on hand anyway so I can eat this comforting soup all winter long.
To make the creamy cauliflower sauce.
The creamy sauce is pretty easy to make. You cut the cauliflower into florets and boil/steam them in a covered pot. When they are very tender, you add them to a high speed blender or food processor along with olive oil, seasonings and some of the cooking liquid. Blend until it has a smooth and creamy texture.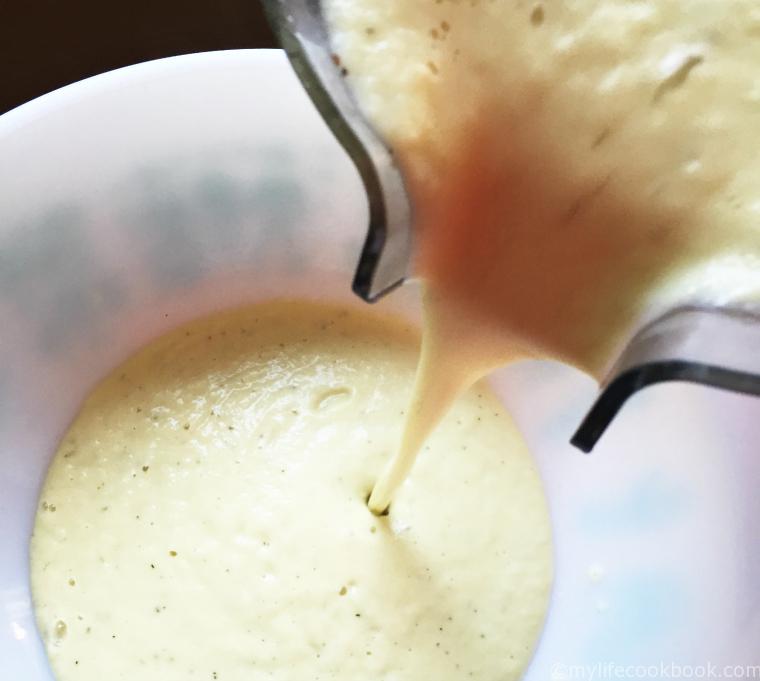 The nutritional yeast gives it a bit of a cheesy flavor. I'm thinking you could use a grated parmesean or romano cheese here if you didn't have any nutritional yeast. I use Bragg's Nutritional Yeast.
And this is what it looked like after it is blended well.
To make the soup.
While you are cooking the cauliflower, you add some butter and onions to another pot and sauté until the onions are translucent and soft. I love the smell of onions and butter. Reminds me of pierogis, a popular Pittsburgh food. My family never made pierogies but many of my friends' families did so I've had some really good ones. Yum. But I digress. So back to the soup. Next you add your frozen veggies and stir until they ares softened a bit. I used these veggies from Trader Joes.
Now you are ready to add your cooked chicken. I usually have some cooked, chopped chicken in the freezer. I use the meat I get when I make Bone Broth or in a pinch I buy a rotisserie chicken. Actually in a real pinch I have used this:
It wasn't bad at all but I prefer the Bone Broth chicken or the rotisserie chicken.
Stir the chicken and veggies and make sure they are heated through. Add a little chicken broth or water if it's starting to stick. Pour in the finished cauliflower sauce, bouillon and water. Mix well. Let the soup cook for about 5 more minutes to let all the flavors meld. And that's it! Easy peasy.
Notes: I love Better than Bouillon in my soups. It gives it so much flavor and you only need a teaspoon. However you can use chicken broth in it's place if you don't have it. And for the veggies, if you are following a strict Paleo diet, you would want to use Paleo vegetables. Corn is not one but peas and green beans are generally thought to be ok.
Paleo Pot Pie Soup
This Paleo chicken pot pie soup uses a creamy, cauliflower sauce instead of cream. Takes little time and uses items you probably have on hand.
Ingredients
4

cups

cauliflower florets

1/2

onion chopped

1

Tablespoon

butter

2

cups

frozen vegetables

1

cups

cooked chopped chicken

1

teaspoon

Better than Bouillon

or 1 cup chicken broth

2

Tablespoons

nutritional yeast

1

teaspoon

crushed garlic

2

Tablespoons

olive oil

1/8

teaspoon

sage

1/8

teaspoon

thyme

salt and pepper to taste
Instructions
Creamy Cauliflower Sauce:

----------------------------------------

In a pot add cauliflower and enough water to almost cover florets.

Cover and cook until cauliflower is tender.

Once the cauliflower is tender drain but retain the water.

Add the cauliflower to a high speed blender or food processor. To that add the olive oil, yeast, sage, thyme, garlic, a pinch of salt & pepper and 1 cup of the cooking liquid.

Puree until smooth.

---------------------

For The Soup:

----------------------

In another saucepan melt butter and sauté onions, saute until translucent.

Add frozen vegetables to the onions and cook until warmed through.

Add frozen or fresh chicken and stir.

Add pureed cauliflower mixture to the cooked chicken and veggies. Mix the bouillon with 1 cup of hot water and stir in.

Cook until flavors meld, about 5 minutes.

Enjoy!
This post may contain affiliate links. For more information please visit our policies page.
---
Here are a few more healthy, creamy soups to try.