This easy keto chicken pot pie soup uses a healthy creamy, cauliflower sauce instead of cream. It takes little time to make and uses items you probably have on hand. This creamy keto soup is great for a busy weeknight meal. One serving has only 5.2g net carbs and 142 calories!
You might also like this low carb creamy turkey soup using leftovers.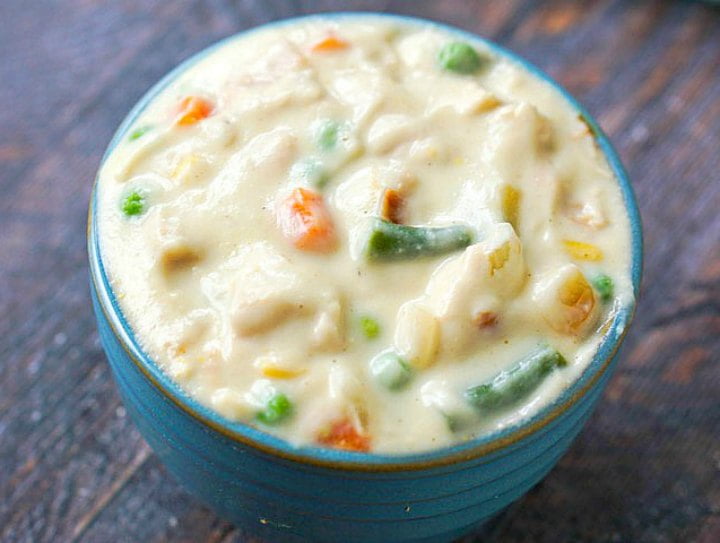 I don't know why but classic chicken pot pie always look so comforting in the colder months. I've only eaten them a few times in my life but it's so cold here in Pittsburgh that I thought it would make a good Paleo-ish and low carb soup similar to pot pie.
So today I have for you a keto chicken pot pie soup. This recipe has no milk, heavy whipping cream, cream cheese or flour to make it thick. All you need is cauliflower to make the creamy base. Pureed cauliflower is great to make creamy soups and sauces.
One of the best things about this delicious soup is that it takes very little time and you can use simple ingredients you probably have on hand. It's the perfect low carb comfort food on a cold day.
Recipe ingredients I used.
I used frozen veggies (carrots, peas, corn and green beans), chopped cooked chicken pieces, fresh cauliflower, dried onion, olive oil, garlic cloves, bouillon and some spices. I usually have all that on hand anyway so I can eat this comforting and hearty soup all winter long.
Not I often use frozen chopped rotisserie chicken in my soups. I keep a batch on hand all the time. However if you want you can cook skinless chicken breasts or use any you have leftover chicken from another meal.
Are these frozen vegetables low carb?
You might be wondering why I used the below frozen vegetables (from Trader Joes) if this is a low carb recipe. I felt that since it was a chicken pot pie soup it needed these particular vegetables. And yes corn, carrots and peas have quite a few carbs but you are only using 1 cup of the vegetables.
If you want to lower the carb count just use whatever lower carb vegetables you want and I'm sure it will still taste delicious. . I would not use potatoes though as they are very high in carbs. You can also use fresh veggies instead of frozen but this saves time as there is no chopping!
How to make the cauliflower cream sauce.
Once you make this creamy cauliflower sauce you will be hooked. It's great for thickening creamy soups and casseroles without flour or even heavy whipping cream. So if you are gluten free or gluten intolerant, this is a great option for you!
The creamy sauce is pretty easy to make. You cut the cauliflower into florets and boil/steam them in a covered pot.
When they are very tender, you add them to a high speed blender or food processor along with olive oil, seasonings and some of the cooking liquid.
Blend until it has a smooth and creamy texture.
You can control the thickness of the soup by how thick your make the cauliflower sauce. So maybe use just ¼ – ½ cup of liquid when making the cauliflower sauce and then you can add more liquid at the end if you want it thinner.
A note about nutritional yeast.
Nutritional yeast is a popular health food thats often used in vegan cooking. It's considered healthy because it has protein, vitamins, minerals and antioxidants. If you want to learn more about the health benefits check out this article on why nutritional yeast is good for you.
Using it in this recipe gives the cream sauce a bit of a cheesy flavor. You could use always use a grated parmesean or romano cheese here if you don't have any nutritional yeast.
And this is what it looked like after it is blended well.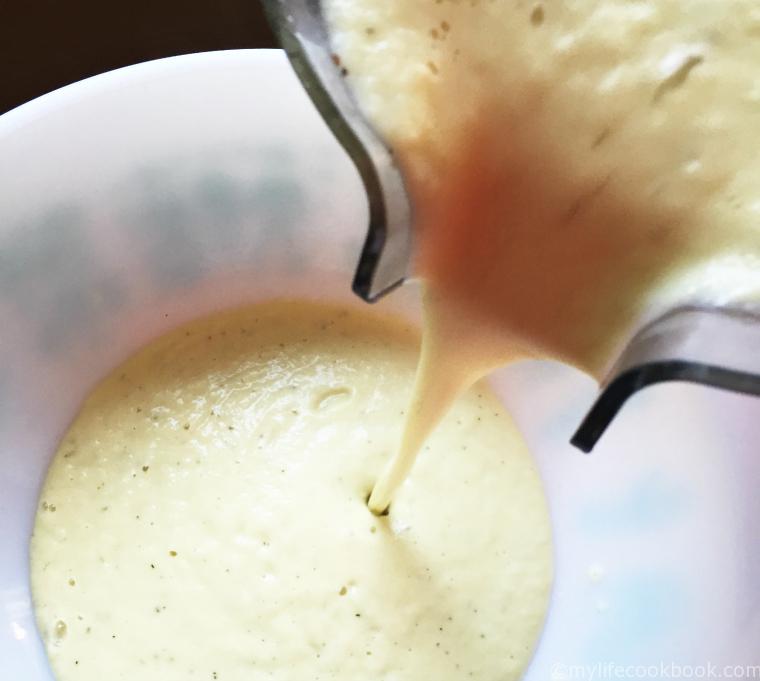 How to make this easy keto chicken pot pie soup.
I used a lot of short cuts for this recipe so you won't have to take hours at the stove, chopping veggies or even using a dutch oven. This recipe should take less than 30 minutes.
While you are cooking the cauliflower for the cauliflower cream, add the frozen veggies to a soup pan and heat to medium heat. Stir and cook them for a minute or two until they start to soften. I used the veggies below from Trader Joes.
Now you are ready to add the cooked chicken. I usually buy a couple rotisserie chickens from Costco and clean of the meat to freeze for recipes like this. Then I take the bones and make bone broth.
Stir the chicken and veggies and make sure they are heated through. Mix the Better than Bouillon with 1 cup of hot water and add to the pan.
Next pour in the finished cauliflower sauce and mix it well.
Let the soup cook for about 5 more minutes to let all the flavors meld. Spoon into a bowl and serve and that's it! If you want you can garnish with fresh parsley but it's not necessary.
Store leftovers in an airtight container. Please scroll down to see and print the recipe card.
To make this more of a meal, try it with these keto biscuits and a nice green salad. The biscuits will give that feel of that traditional chicken pot pie flavor.
Recipe Notes & Tips
You can control the thickness of the soup by how thick your make the cauliflower sauce. So maybe use just ¼ – ½ cup of liquid when making the cauliflower sauce and then you can add more liquid at the end if you want it thinner.
I love Better than Bouillon in my soups. It gives it so much flavor and you only need a teaspoon. However you can use chicken broth or chicken stock in it's place if you don't have it. You might want to add a bit more seasonings or salt though.
For the veggies, if you are following a strict Paleo diet, you would want to use Paleo vegetables. Corn is not one but peas and green beans are generally thought to be ok. Here is a visual guide to low carb veggies if you are interested.
As mentioned above, you can substitute parmesan cheese for the nutritional yeast.
While this is chicken pot pie soup, it's also great with leftover turkey!
I have an easy keto biscuit recipe that would go great with this. You can make a batch and just serve them along side the soup.
I hope you enjoy this delicious low carb pot pie soup. And if you get a chance to make it, drop me a line and let me know how it went. Soup is my favorite comfort food and is perfect at this time of the year. Enjoy!
The nutritional information for 1 serving of this keto chicken pot pie is: 142 calories / 6.2g fat / 7.4g carbs / 2.2g fiber / 14.3g protein = 5.2g. net carbs
And check out my friend Jenn's keto pie crust and maybe you can use it with this pot pie soup recipe.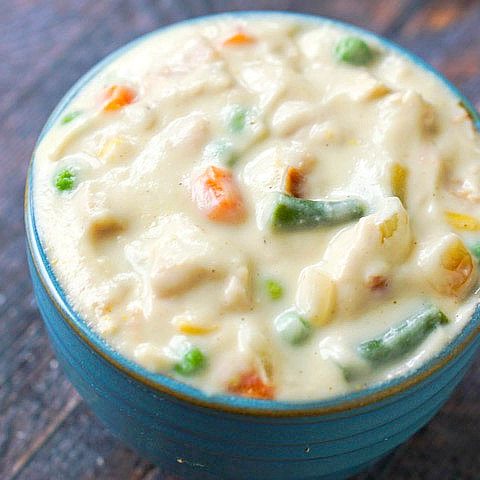 Easy & Healthy Chicken Pot Pie Soup
This easy & healhty chicken pot pie soup uses a creamy, cauliflower sauce instead of cream. Takes little time and uses items you probably have on hand. It's the ultimate comfort food on a low carb diet.
Ingredients
3 cups cauliflower florets
1 teaspoon dried onion flakes
1 cup frozen vegetables
8 ounce cooked chopped chicken breast or turkey
2 teaspoons Better than Bouillon dissolved in 1 cup of hot water (can use 1 cup chicken broth too)
2 tablespoons nutritional yeast (can sub with parmesan cheese)
2 cloves garlic, crushed
2 tablespoons olive oil
¼ teaspoon sage
¼ teaspoon thyme
salt and black pepper to taste (optional)
Instructions
Creamy Cauliflower Sauce:
In a pot add cauliflower and enough water to almost cover florets.
Cover and cook until cauliflower is tender.
Once the cauliflower is tender drain but retain the water.
Add the cauliflower to a high speed blender or food processor. To that add the olive oil, yeast, sage, thyme, garlic, dehydrated onions, a pinch of salt & pepper and ¼ cup of cooking liquid.
Puree until smooth.
For The Soup:
Add frozen vegetables to the pan and saute a minute or two until warmed through.
Add the chicken and stir. Then mix the bouillon with 1 cup of hot water and stir in.
Add pureed cauliflower mixture to the cooked chicken and veggies.
Cook until flavors meld, about 5 minutes. If it's too thick add more water or chicken broth until you get the consistency you like.
Enjoy!
Notes
142 cals / 6.2g fat / 7.4g carbs / 2.2g fiber / 14.3g protein = 5.2g net carbs
Nutrition Information:
Yield:

6
Serving Size:

1
Amount Per Serving:
Calories:

142