You are going to love this easy keto biscuit recipe because it's very easy to make and it's a good staple recipe to make on a keto diet. You can eat them many different ways and they freeze great for a quick keto snack or breakfast. Best of all they are gluten free and have only 4.2 grams net carbs per biscuit and 11.1 grams protein.
You might also like these keto meat lovers or veggie breakfast bisciuts!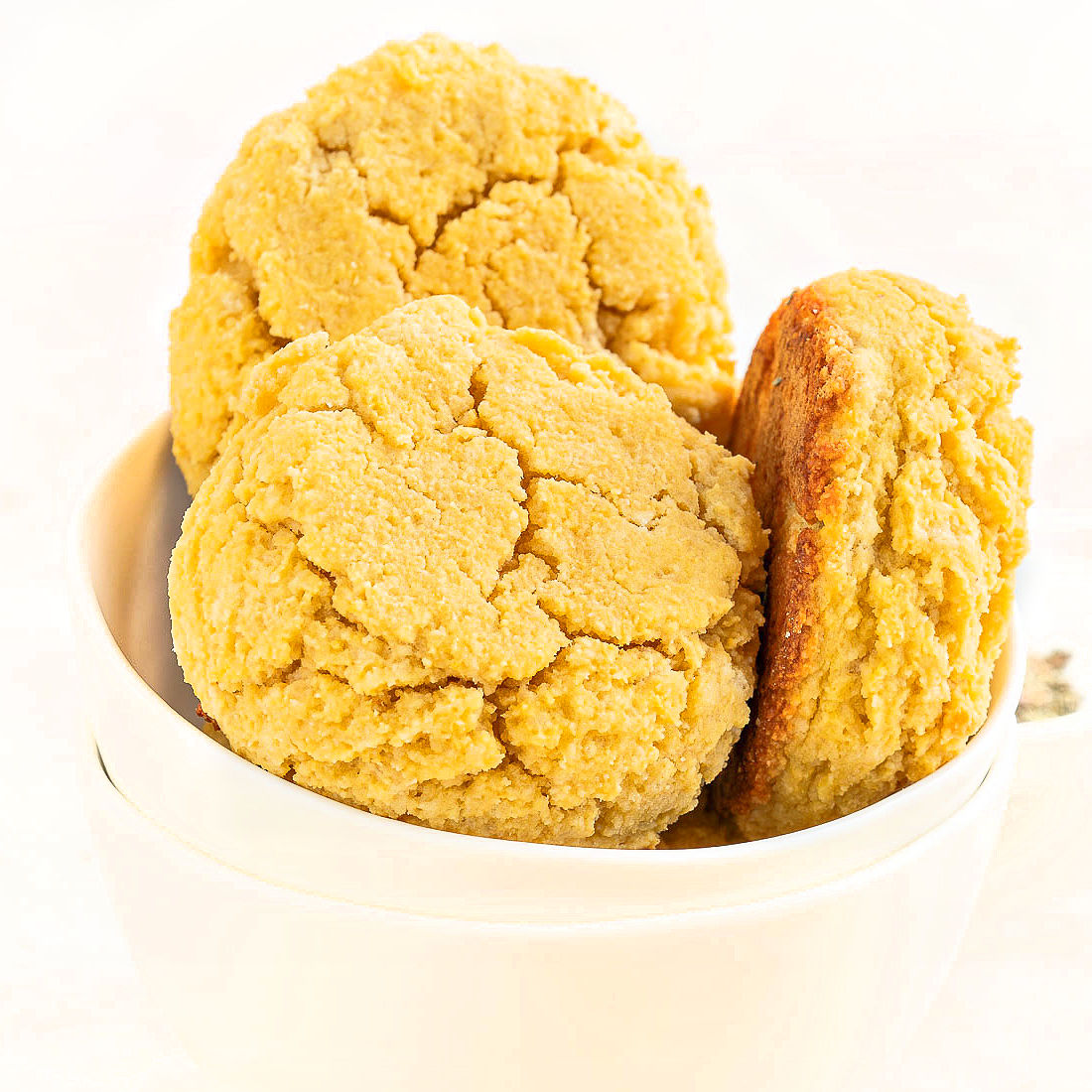 I don't know about you but biscuits are such comfort food for me. I've been wanting to make biscuits and sausage gravy for a long time because I thought my son would love it (and he did). But I needed to first make this keto biscuit recipe.
This almond flour biscuits recipe creates a light and soft texture yet they are very filling. Great for anyone on a low carb or gluten free diet. They are also perfect for those that want some homemade bread type food but don't care for baking. Biscuits are the easiest thing to bake.
There are lots of ways to eat these keto biscuits so make a big batch and freeze them for another day. This is a good meal prep recipe to have on hand to keep you on track. Plus they are low carb, high protein and gluten free!
Keto biscuits and gravy.
While this keto biscuit recipe is a good staple in a low carb diet I mainly wanted to make this for sausage gravy I was making for my son. I have that recipe coming up in 2 days so keep a look out for that. It's really good!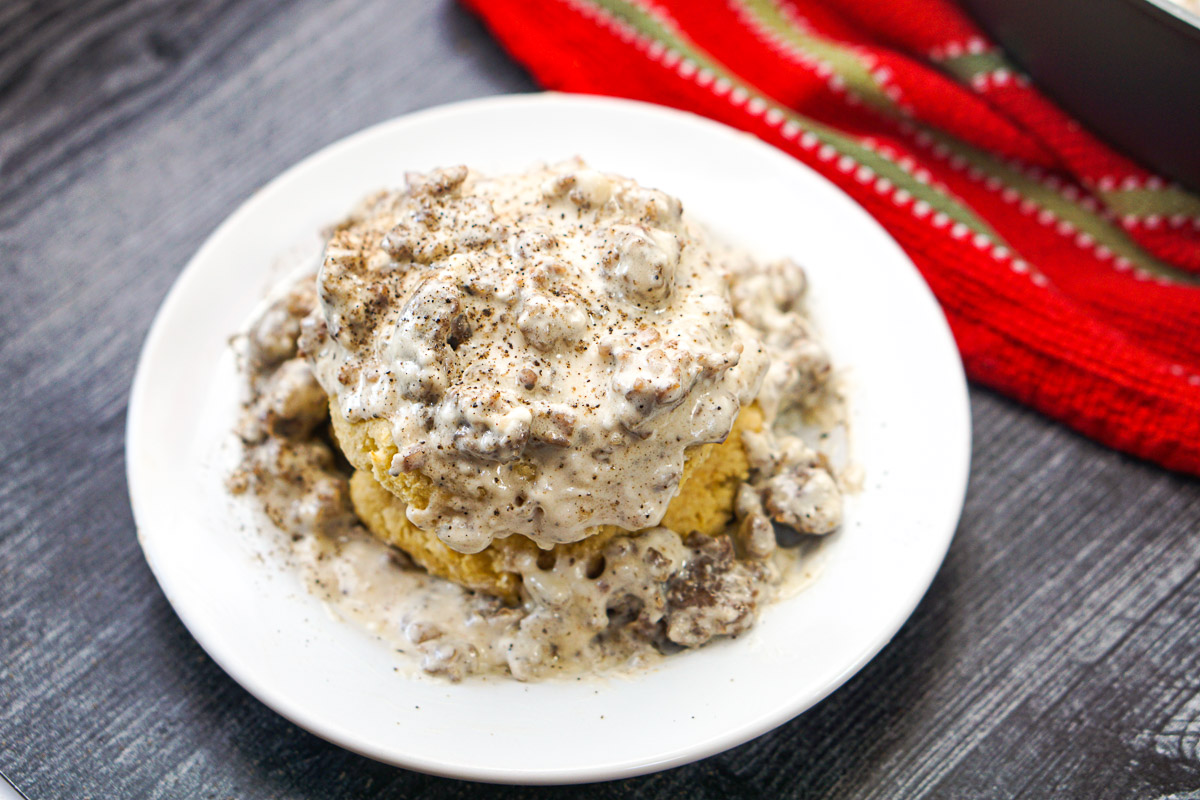 Other ways to use keto biscuits are to make
breakfast sandwiches with eggs and sausage or bacon
top with sugar free jam and butter
use with a bbq pulled pork or chicken to make a sandwich
top a keto stew to make it like a shepherds pie
top chicken pot pie soup with them
Recipe ingredients I used.
The simple ingredients I used were eggs, cream cheese spread, almond flour, baking powder, baking soda, salt, coconut flour and unsalted butter.
Use blanched almond flour instead of almond meal if you can. All in all that is much better for keto friendly baking.
How to make keto biscuits.
This recipe made 8 smaller keto biscuits. You can make them a bit larger if you want them for more of a meal like with keto sausage gravy.
Step 1: Preheat the oven to 350°F. Then line a baking sheet with parchment paper and set it aside.
Step 2: Get out a medium bowl and add the eggs and cream cheese spread. Whisk or beat with a hand held mixer to combine.
Step 3: Get out a food processor and add the almond flour, baking soda, baking powder, salt and coconut flour. Pulse a few times to mix well. Then cut the chilled butter into small pieces and add the food processor.
Pulse a few times until the butter is chopped into small pieces the size of a pea. It should have a crumbly texture when done like the picture below.
Step 4: Pour the dry ingredients into the mixing bowl with the wet ingredients. Mix with a spoon until you have a thick batter or biscuit dough.
Step 5: Get out the prepared baking sheet and divide the mixture into 6-8 portions. Use your hand to form the portions into rounded biscuit shapes and place them on the baking sheet.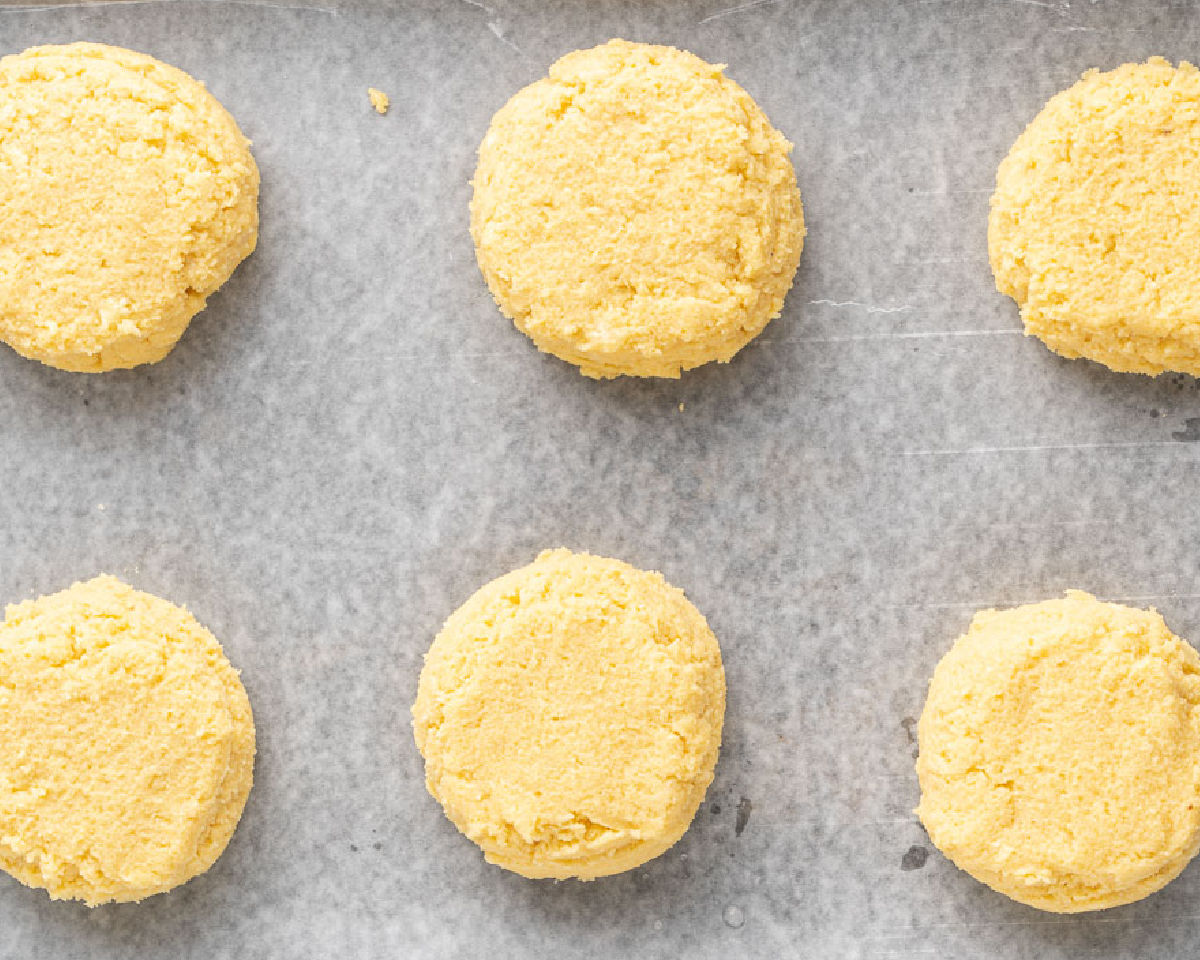 Step 6: Place them in the preheated oven and bake for 10-12 minutes until they are golden brown on the bottom. You want the to be soft on the top so that they stay moist. So the bottoms are nicely browned take them out and let them cool completely before serving.
You can top the warm biscuits with melted butter or anything you want. Store leftovers in an airtight container or ziplock bags.
I froze a few for a quick keto breakfast or snack. Just pop the frozen biscuit in the microwave and reheat for about 30 seconds until heated through.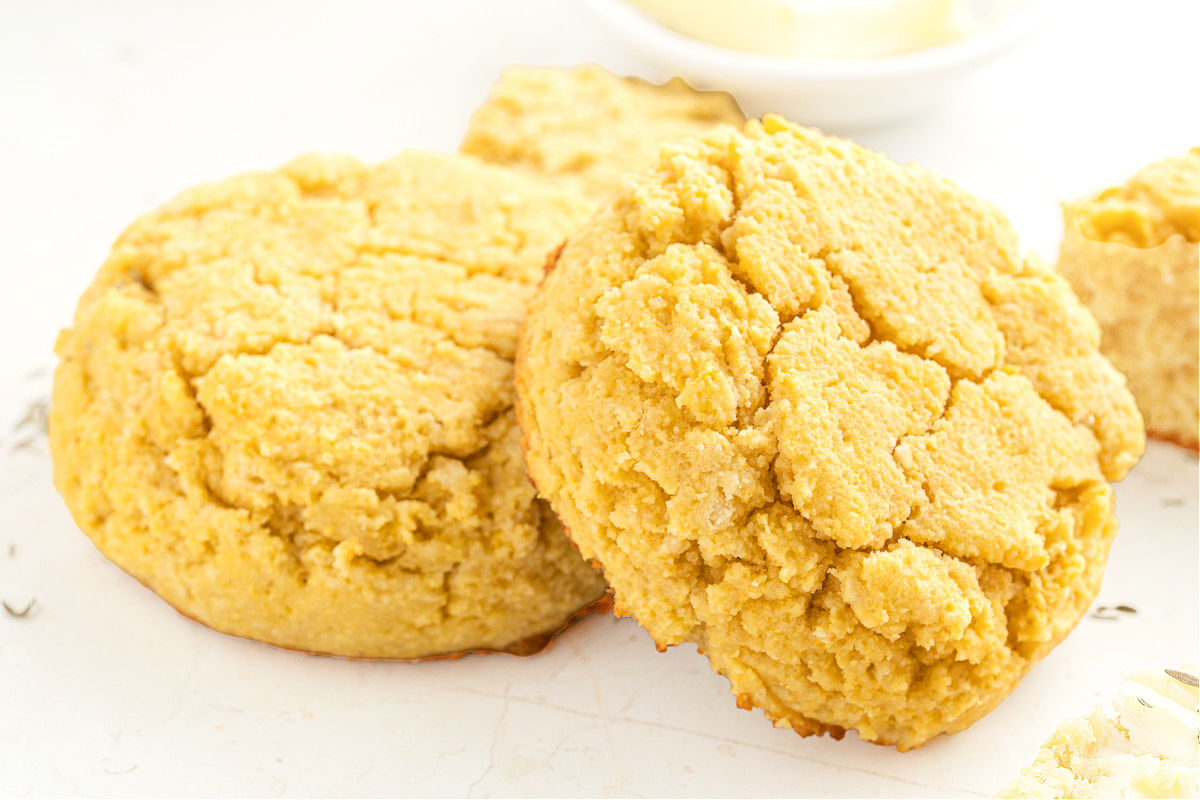 Please scroll down the view the printable recipe card.
Recipe Tips and Notes
This recipe makes 6 large or 8 small low carb biscuits.
It's important not to over bake them. Once they are browning on the edges at the bottom they are done. Let them cool completely before taking them off the baking sheet.
I just store my biscuits in a ziplock bag in the refrigerator but that does take away the crispiness of them. You can just toast them in a pan or in the toaster.
These freeze well. Just pop in the microwave for 30 seconds and then toast if you want them crispier.
Mix in things like cheddar cheese, jalapenos, cooked sausage or bacon, chives, fresh herbs, old bay seasoning, blueberries, etc to change up the flavor.
Eat them as is with butter, sugar free jam or some other low carb spread. Or use them to top casseroles like chicken pot pie or stews. Also make good buns for breakfast sandwiches.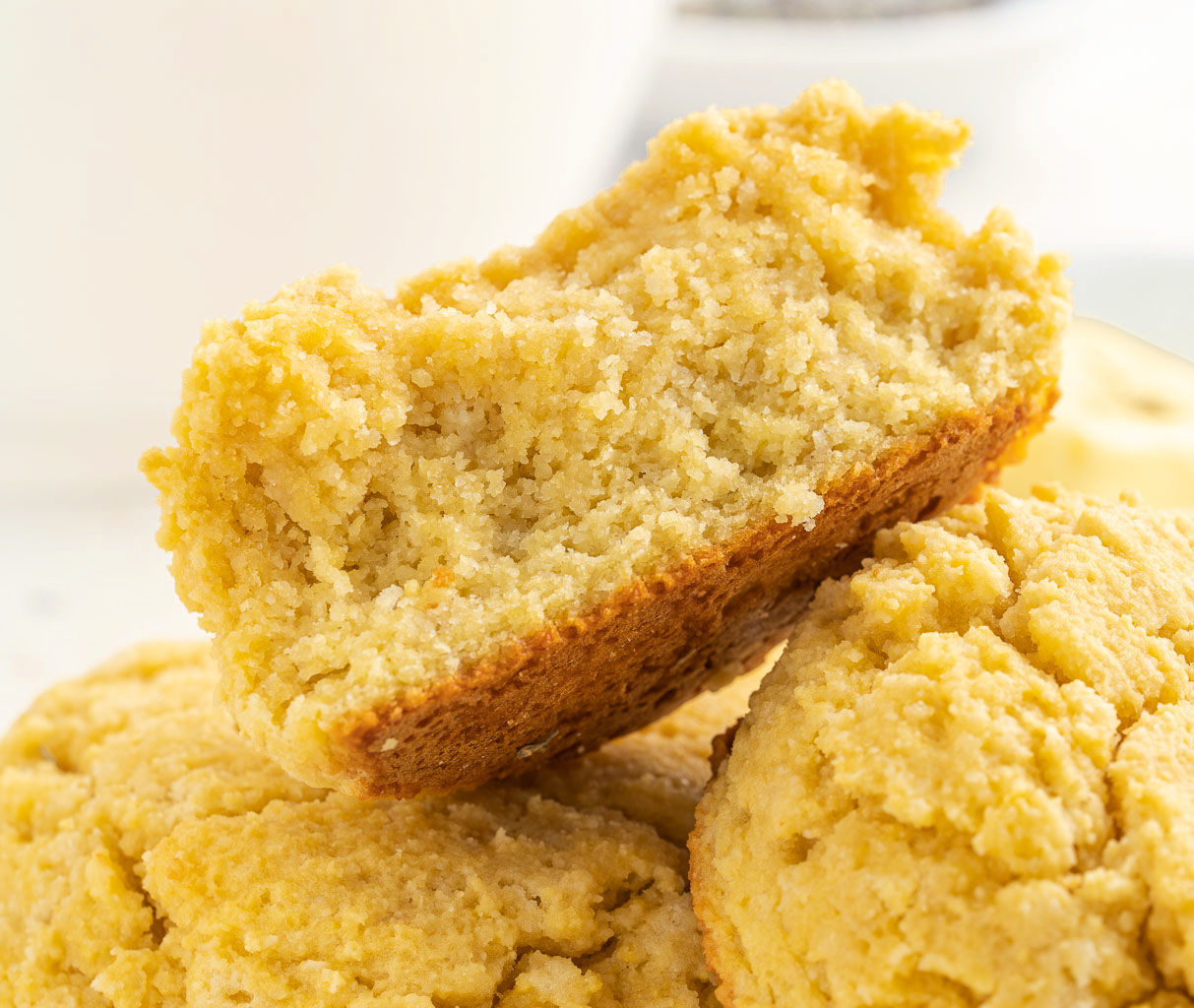 Well I am glad I finally made this low carb keto biscuit recipe. They are so easy to make that I want to have a stash in my freezer for a quick breakfast or even lunch. They make a great keto bun for sandwiches. I hope you enjoy them too! Find more keto recipes for breakfast here.
The nutrition info is 271 calories / 21.5g fat / 9.8g carbs / 5.6g fiber / 11.1g protein = 4.2 grams net carbs
Keto Biscuit Recipe
This low carb keto biscuits recipe is a simple one that will help keep you on your low carb diet. These biscuits can be eaten many ways so they are good for meal planning. They are low carb, gluten free and high protein!
Ingredients
3 eggs, beaten
4 tablespoons cream cheese spread
1 ½ cup almond flour (blanched flour)
⅓ cup almond flour (blanched flour)
⅓ coconut flour
½ teaspoon baking soda
½ teaspoon salt
1 teaspoon baking powder
4 tablespoons butter (unsalted and cut into cubes)
Instructions
Preheat the oven to 350°F. Get out a baking sheet and cover with parchment peper and set aside.
Get out a mixing bowl and beat the eggs. Add the cream cheese spread and either whisk or use an electric hand mixer to beat them together.
Get out the food processor and add the dry ingredients - almond flour, coconut flour, baking soda, baking powder and salt. Pulse for few times to combine.
Next add in the butter cubes. Pulse a few times until the butter is chopped up into little pieces but not completely blended through. It should have a crumbly texture.
Pour the contents of the food processor into the bowl with the wet ingredients. Mix together to form a thick batter.
Divide the batter into 6 larger or 8 smaller portions. Form them into biscuits and place on the prepared baking sheet. Place in the oven and bake for 10-12 minutes until they turn golden brown around the bottom. Take them out and let them cool completely. Don't over cook them or they will dry out.
Store leftover biscuits in a ziplock bag. You can also freeze them. Reheat in the microwave for 30 seconds and/or toast in the oven or on the stove.
Notes
The nutrition info is 271 calories / 21.5g fat / 9.8g carbs / 5.6g fiber / 11.1g protein = 4.2 grams net carbs
Nutrition Information:
Yield:

8
Serving Size:

1
Amount Per Serving:
Calories:

271