These delicious low carb sausage & cheese muffins make the perfect snack, breakfast or even appetizer. Easy to make and taste like a sausage and cheese pizza and only 1g net carbs per muffin.
You might also like these low carb savory breakfast cookies.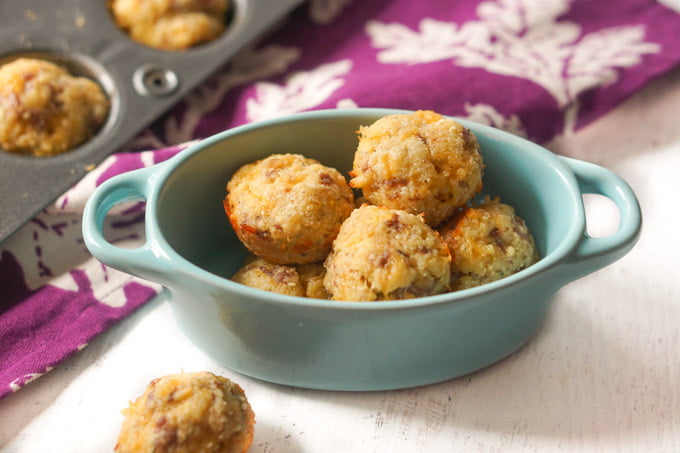 I made these low carb sausage & cheese muffins awhile ago but I forgot to post it! I had hoped to freeze them and eat a couple for a snack or something but my husband and I ate the whole thing! They were super filling so I don't suggest that you do that, but I wanted to point out that they were really tasty. They are great for a grab and go low carb breakfast, snack or even as an appetizer.
This recipe was an adaptation of Lynn Terry's recipe on TravelingLowCarb.com. She has lots of great ideas for low carb living and even has a 90 Day Low Carb Challenge Facebook group if you are interested. The Facebook group has some very inspiring member testimonials so check both places out if you get a chance.
Sausage & Cheese Muffins Ingredients
The ingredient for these savory mini muffins is almond flour, eggs, cheeses, spices, garlic, butter and Italian sausage. I only used 1 Italian sausage link in this whole recipe.
For almond flour I really like Honeyville because they use blanched almonds to make a finer flour. But I've also used Blue Diamond too. Both can be found on Amazon and sometimes Costco.
Low Carb Cheese Muffins Recipe
This is very simple. You start by taking the casing off of the Italian sausage and place in a bowl. Try to break it up as much as you can. then add in all the other ingredients and mix well. It should look like the photo above.
Next roll them into balls and place in a sprayed mini muffin pan. I got 20 mini muffins out of this recipe. Next bake them in a 350 degree F oven for 10 minutes.
How To Store Them
If you are not going to eat them all at once, try freezing them. I put them in a baggie and place them in the freezer. Just reheat them in the microwave for a minute or so.
If you are going to eat them within a day or so, make sure the store them in the refrigerator. They can keep in there for a few days.
So next time you want a low carb snack or even if you want to take an appetizer to a holiday party and still stick to your low carb diet, this is the one to make. There is only 1 net carb in each muffin and believe me they are filling. Enjoy! Nutrition per muffin:
78 cals / 6.6g fat / 1.6g carbs / 0.6g fiber / 3.9g protein = 1g net carbs
These with my friend Zuzana's keto sausage gravy!
Mini Low Carb Sausage & Cheese Muffins
These delicious low carb sausage & cheese muffins make the perfect snack, breakfast or even appetizer. Easy to make and taste like a sausage and cheese pizza!
Ingredients
1

cup

almond flour

½

cup

cheddar cheese, shredded

½

cup

grated Parmesan cheese

1

Italian sausage link, castling removed

2

eggs

2

Tablespoons

butter, melted

½

teaspoon

oregano

½

teaspoon

basil

1

teaspoon

crushed garlic
Instructions
Preheat oven to 350 degrees.

Mix everything in a large bowl. Make sure to take off the casing on the sausage and break up into small pieces. It's easier to mix with your hands though messy.

Spray a small muffin tin with cooking spray.

Divide your mixture into as many small muffins as you like. I made 20 muffins with this batch. They are small but dense so don't let the small size fool you.

Bake for 10 minutes and take out of oven.

Eat immediately or let cool a bit and freeze for an easy low carb snack.