If you love chaffles, you will love this keto blueberry waffles recipe. You only need a few ingredients to make these delicious chaffles. This is a new low carb breakfast idea to try with only 3g net carbs per gluten free waffle.
You might also like these strawberries & cream keto chaffles!
Recently I've been in a blueberry phase. I've made low carb blueberry ice cream, blueberry muffins and now these keto blueberry waffles.
Actually they are chaffles which are waffles made with cheese instead of flour but they are sweet and delicious.
I love how easy they are to make and I eat them without maple syrup! I hope this will be another low carb breakfast for you to try in this new year as they only have 3g net carbs per waffle! Plus they are gluten free too!
Are blueberries keto friendly?
Yes blueberries are low carb and keto friendly. They have just a few net carbs and are also very healthy for you.
Blueberries are low in calories but high in fiber and vitamins such as C and K. They are also rich in antioxidants and can be good for hearth and brain health.
There are 70 calories and roughly 13g net carbs in 1 cup blueberries. (Source: USDA)
Waffle ingredients
The ingredients I used in these keto waffles are cream cheese, almond flour, shredded mozzarella shredded cheese, an egg, baking powder, Swerve brown sweetener and fresh not frozen blueberries.
I only used 2 tablespoons of blueberries and cut them in half since they are smaller waffles.
I wanted to point out that I really like the Swerve brown sugar in these as opposed to regular granulated sweetener. It adds a caramelized flavor and makes these sweet enough that you won't need any syrup.
So if you have it or any other keto brown sugar try that first. Lakanto also makes a golden monkfruit which would work good too.
Let's make our Keto Blueberry Chaffles!
First mix the cream cheese, 1 egg, mozzarella cheese, almond flour, brown sugar sweetener, baking powder and blueberries to make the batter.
If your waffle iron requires greasing, first heat it up and then add the oil. I like to use coconut oil.
If using a full size waffle iron, just add ¼ of the batter to the center and cook accordingly. Note it will spread as it cooks (see pics below).
When golden brown, let them cool a few minutes and they will firm up. Use a sugar free syrup or eat as is!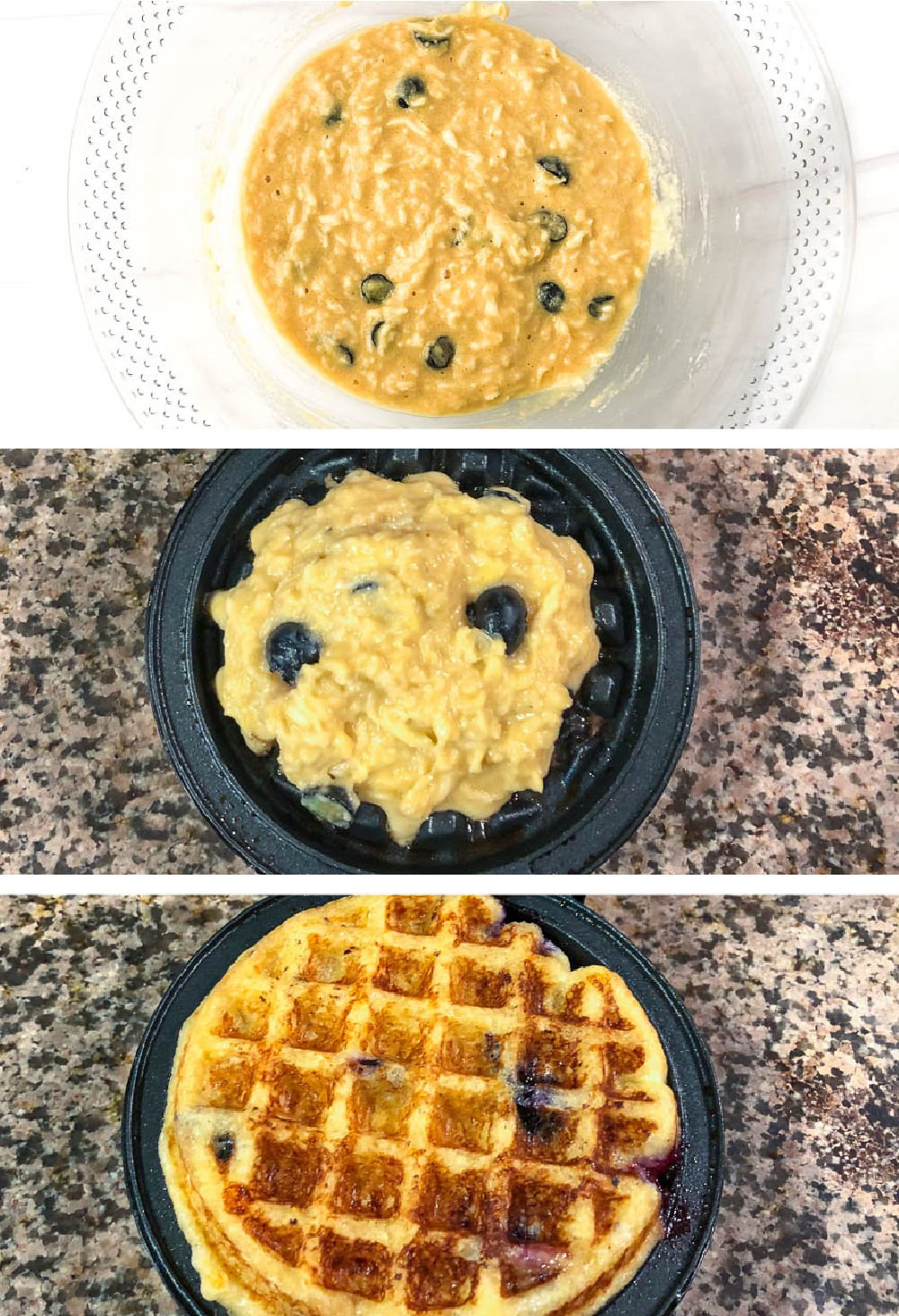 The waffle iron I used
I really love my Oster waffle iron but for these chaffles I used a Dash mini waffle maker I found at Target but they also sell it on Amazon.
It works great for chaffle recipes like this which work better when the waffles are small. So I highly recommend this inexpensive Dash mini waffle maker.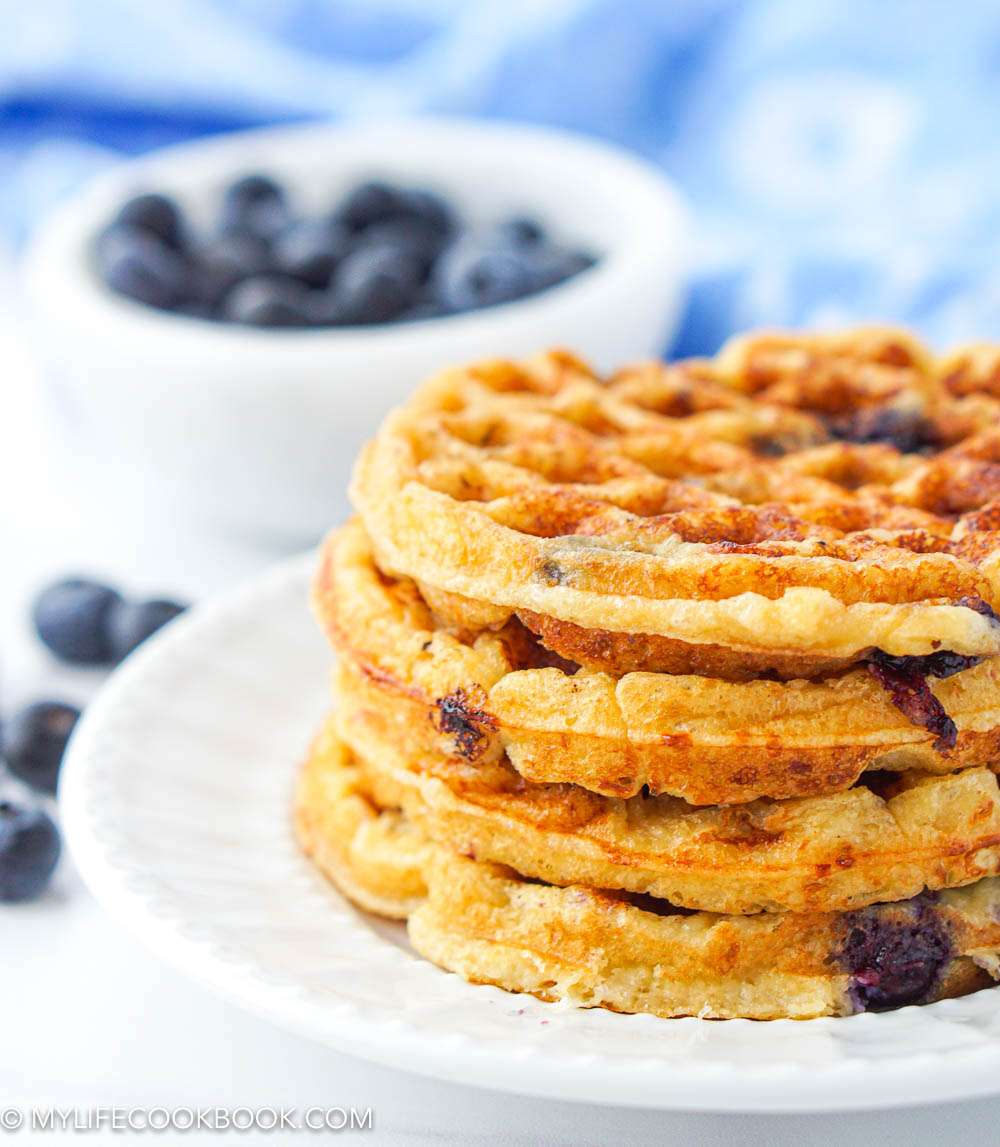 Recipe Notes & variations
Please note this recipe makes 4 small blueberry chaffles and are not full size. The smaller waffles are very filling because they are mainly made from cheese. Also the smaller size works better with any waffle iron you use.
I used a Dash mini waffle maker which works great for chaffles. I highly recommend it over a larger one because it's easier to get the waffle out. However I also make chaffles in my full size waffle maker. You just have to make sure to make it smaller and center it. Then carefully lift it out when it's done.
These chaffles will be soft when they first done but will harden up once they cool.
Make sure to grease your waffle maker ahead of time. I like to use coconut oil.
You can use other berries if you wish as they are a low carb fruit. I would cut them into small pieces though just like I sliced the blueberries in half.
Try to use the Swerve brown sugar sweetener or any brown sugar sweetener over regular sweetener. I give these waffles a caramelized flavor which is delicious! You can also try Lakanto golden monkfruit if you have it.
Use a sugar free syrup or eat as is!
I hope you enjoy these delicious gluten free keto chaffles and with only 3g net carbohydrates and they are perfect on a low carb diet! Also check out these other low carb breakfast ideas!
The nutrtional information for 1 blueberry chaffle is: 188 calories
14.7g fat / 3.9g carbs / 0.9g fiber / 10g protein = 3g net carbs
Check out this sugar free simple syrup that would be great on these waffles.
Keto Blueberry Waffle Recipe
These keto blueberry chaffles are deliciously easy to make and perfect for a low carb breakfast.
Ingredients
3 tablespoons cream cheese, softened
1 cup shredded mozzarella cheese
1 egg, beaten
¼ cup almond flour
2 tablespoons Swerve brown sugar sweetener
1 teaspoon baking powder
2 tablespoons fresh blueberries (cut in half)
Instructions
makes 4 - use half of strawberry waffles recipe but 2 tablesspon brown sugar and 2 tablespoons blue berries
Heat up the waffle maker as you are making the batter.
In a bowl mix beat the egg and then add in the rest of the ingredients. Make sure the get the cream cheese well incorporated into the mixture. If you cream cheese is too hard, you can microwave it for a few seconds to soften before mixing with the other ingredients.
Grease your waffle maker if necessary. Once hot, add ¼ of the waffle batter to the center of the iron. I used a mini waffle iron so it filled the whole iron. If yours is regular sized, just place the batter mixture in the middle and make it smaller.
Once golden brown gently lift out the waffle and let cool. It will get more sturdy as it cools.
Eat as is or use a sugar free syrup on top.
Notes
The nutrtional information for 1 blueberry chaffle is: 188 calories
14.7g fat / 3.9g carbs / 0.9g fiber / 10g protein = 3g net carbs
Recommended Products
As an Amazon Associate and member of other affiliate programs, I earn from qualifying purchases.
Nutrition Information:
Yield:

4
Serving Size:

1
Amount Per Serving:
Calories:

188