This low carb vanilla mint matcha smoothie is an invigorating way to start your morning. Packed with healthy ingredients for only 5.6g net carbs.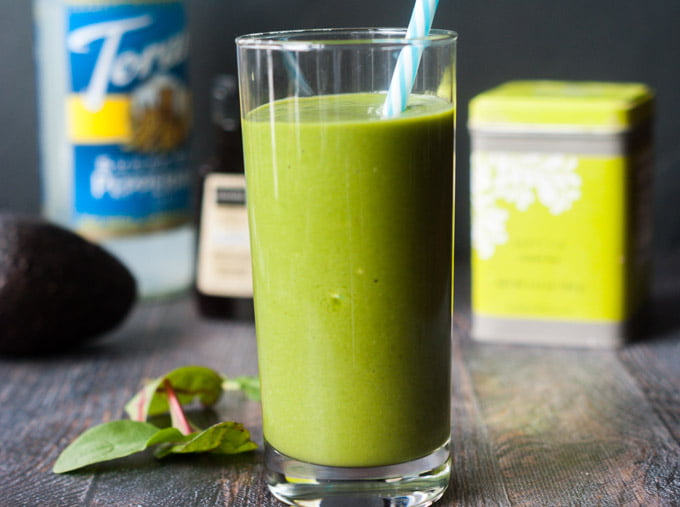 I don't know why but I crave mint in the winter. It may seem strange that I crave a cooling herb in the cold weather but I do. With the new year, I wanted to start drinking green smoothies again and of course wanted to keep the carbs low. So this low carb vanilla mint matcha smoothie has it all. It's packed with nourishing greens, healthy fats and antioxidant power. It also has a bit of a caffeine lift to get me started in the morning!
Above are the ingredients I used in this smoothie, most of which are from Aldi. Like this pack of organic greens and an avocado for healthy fats and creaminess. I also got the vanilla extract and almond milk at Aldi. The matcha green tea is from Steeped. My friend Debbie sells their teas and I just love them! Matcha is very good for you and provides a bit of caffeine I need in the morning. And lastly I used a sugar free peppermint syrup from Torani. I am huge Torani fan and you can buy them in some grocery stores, on their site or on Amazon. You can also use peppermint extract or fresh mint if you want. If you do, you will want to add some sweetener like Sweetleaf vanilla stevia or whatever sweetener you prefer.
Low Carb Vanilla Mint Matcha Smoothie
I froze the avocado over night to add more thickness to the drink but you don't have to, just add a few ice cubes instead. Also you can use whatever greens you have on hand. And if you want to add some protein try your favorite protein powder. I've ben using CarbThin because it has 0 carbs. But Great Lakes Gelatin (green label) would also be a great addition because their gelatin is from grass fed cows and has alot of healthy properties. I put this in when I'm making this for my son. He LOVED this one by the way. (Yay!)
So this is my healthy greens vanilla mint matcha smoothie. Here's a breakdown of the healthy ingredients one more time and the nutrition below that using the products I mentioned:
baby greens – full of vitamins and minerals
matcha green tea – full of antioxidants and a little kick of caffeine
avocados – full of fiber, potassium and healthy fats
gelatin- can heal your gut, protect your joints and is a good source of protein
230 cals / 17.7g fat / 13.8g carbs / 8.2g fiber / 4g protein = 5.6g net carbs
You might also like my friend Jenn's keto strawberry smoothie.
---
Vanilla Mint Matcha Smoothie (low carb)
This low carb vanilla mint matcha smoothie is an invigorating way to start your morning. Packed with healthy ingredients for only 5.6g net carbs.
Ingredients
½

avocado

frozen if possible

½

teaspoon

matcha green tea

1

cup

greens

tightly packed

1

cup

almond milk

½

teaspoon

vanilla extract

1

Tablespoon

Torani's peppermint syrup

or a few drops of peppermint extract *

5

ice cubes.

Optional – see note

5

drops of vanilla stevia

1

Tablespoon

gelatin-

from grass fed cows if possible OR 1 scoop protein powder
Instructions
Add all ingredients to a high speed blender and blend on high until all the ingredients are pulverized. Serve and enjoy!

*NOTE* If you use a protein powder it will add sweetness so you may not need the stevia. However if you use the gelatin you may want more sweetness because it has no flavor. Same with the peppermint syrup vs peppermint extract. The syrup is sweet and the extract is not. So taste and adjust accordingly.
THIS POST MAY CONTAIN AFFILIATE LINKS. FOR MORE INFO PLEASE VISIT OUR POLICIES PAGE.
---
more healthy delicious smoothies to try!