These air fryer chicken patties are an easy keto dinner you can make with canned chicken. They are very flavorful and you can make them in about 20 minutes! These can also be a tasty low carb snack or even appetizer for party. Each keto chicken patty has just 87 calories, 0.5 grams carbs and 9.5 grams of protein.
You might also like these keto air fryer chicken nuggets.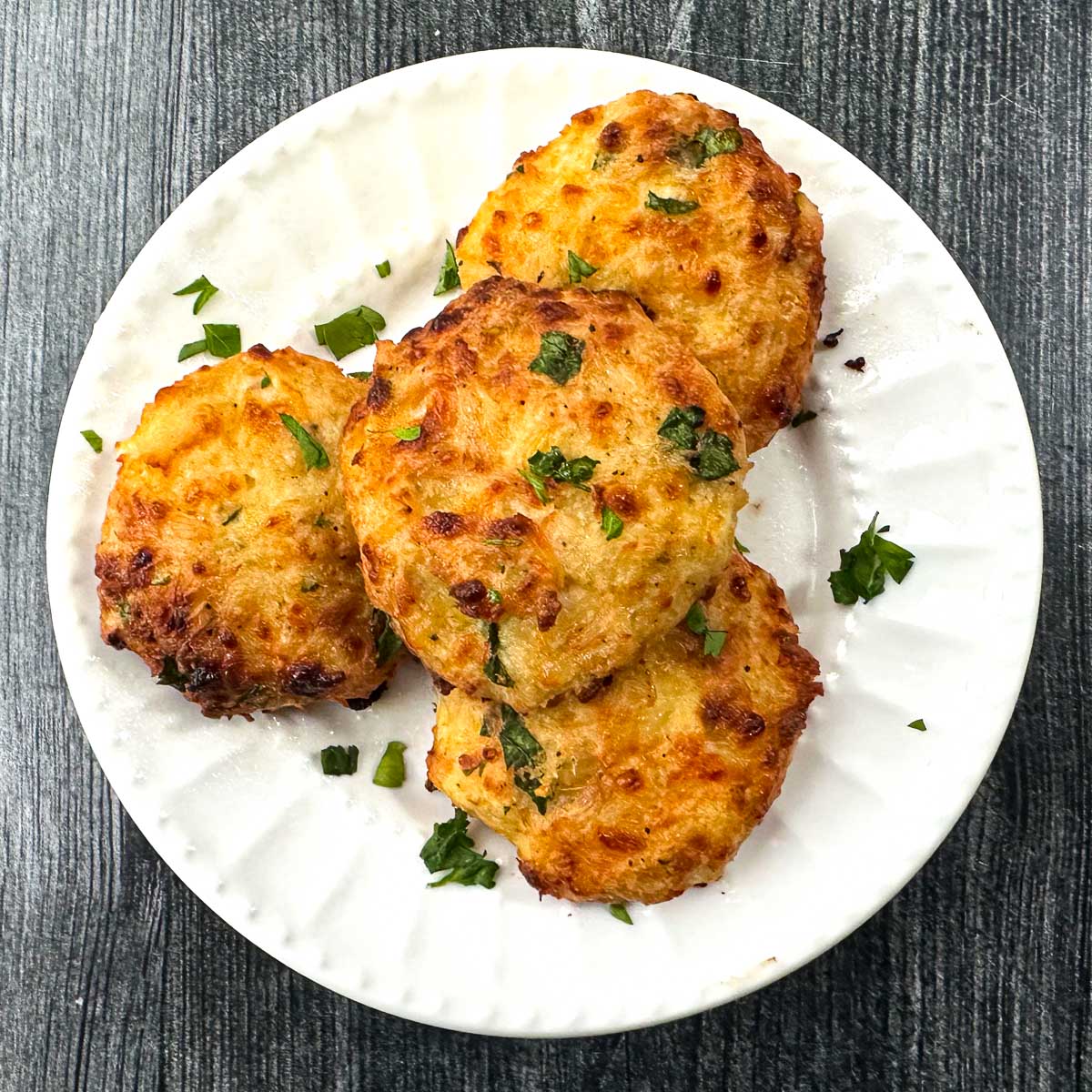 In the past I have made salmon patties with canned salmon and thought why couldn't I made something similar with chicken. So I came up with these keto air fryer chicken patties made with canned chicken.
They are really easy to make and then take no time in the air fryer. You can also vary the herbs and spices to change up the flavor and add a variety of dipping sauces. That way you can make them into a tasty and fun low carb appetizer for your next football party.
This is the kind of pantry dinner you can make anytime with simple ingredients. Note I didn't use almond flour or pork rinds in these patties so they are pretty meaty! I also used these to make a low calorie frozen dinner so make a big batch and freeze some for later.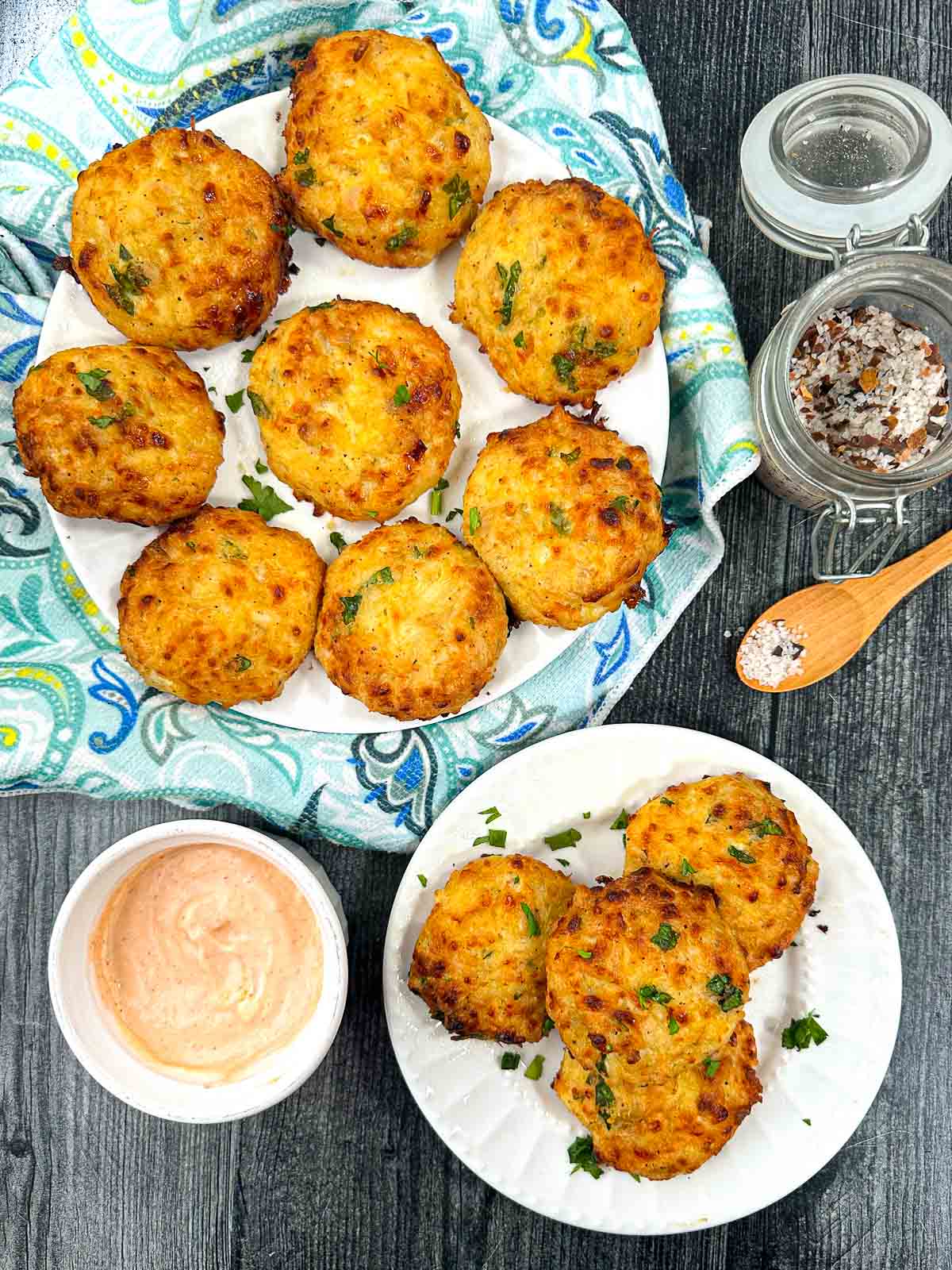 Recipe ingredients and I used and substitutes.
Below you can see the simple ingredients I used which were canned chicken, parsley, salt, black pepper, onion powder, garlic powder, parmesan cheese, eggs and mozzarella.
Canned Chicken
The purpose of using this is to make it easier and to use foods you have on hand. If you wanted to you could use leftover chicken breast meat but it should be cooked. You would want to chop it up so its mixes easily with the other ingredients. I would not use ground chicken for this recipe though.
Mozzarella Cheese and Egg
These are necessary to keep the patties together. If you want you can use another kind of cheese but I would at least keep half mozzarella.
Parmesan Cheese
I use this mostly for flavor. Again I would keep this if you can but if you don't have any you can use a little bit of extra mozzarella.
Fresh Parsley
I mostly use this for color. You can use other fresh herbs like basil, thyme, chives, etc. Or just eliminate it if you don't want to use it.
Note that once you make these you can play around with the seasoning to make different flavors. Use a Mexican seasoning and fresh cilantro or Italian seasoning and a little marinara sauce for example. Or add a little hot sauce and use cheddar cheese for a Buffalo style flavor.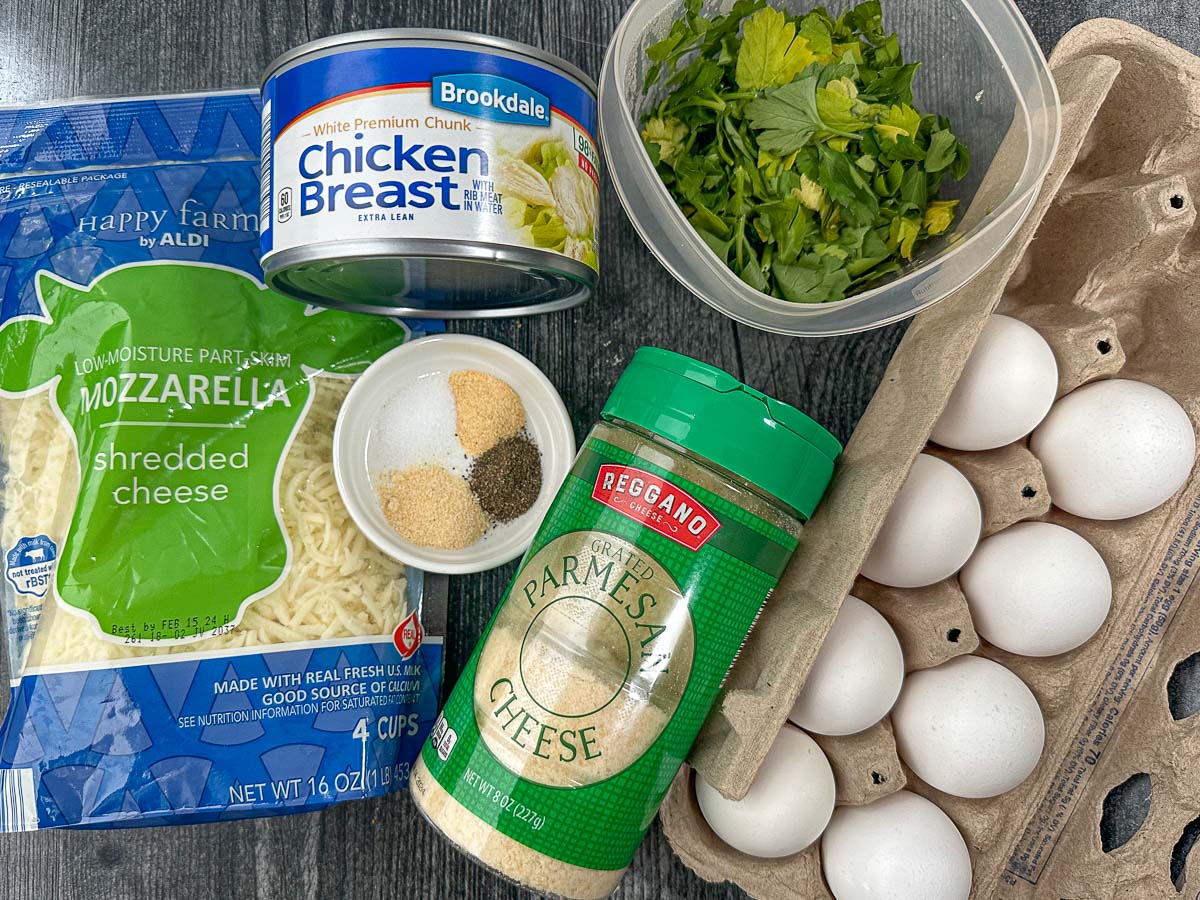 How to make keto air fryer chicken patties.
Step 1: Drain all the water out of the can and place the meat into a bowl. Using fork try to break it up or shred it so it mixes well with the other ingredients.
Step 2: Add the rest of the ingredients and mix together well with the meat.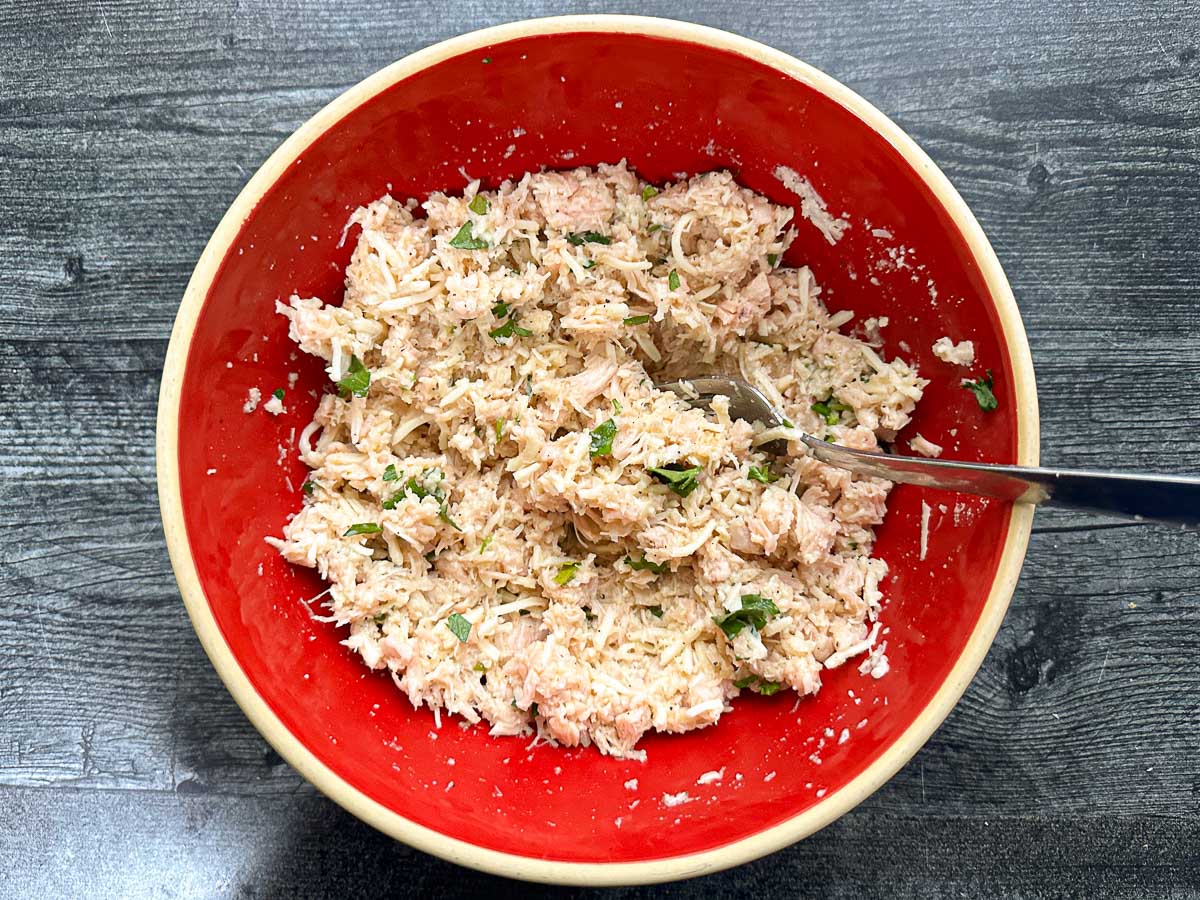 Step 3: Spray the air fryer basket with nonstick cooking spray and set aside. Form the chicken mixture into patties. I got 12 pieces out of this recipe and I used about ¼ cup of meat to make each.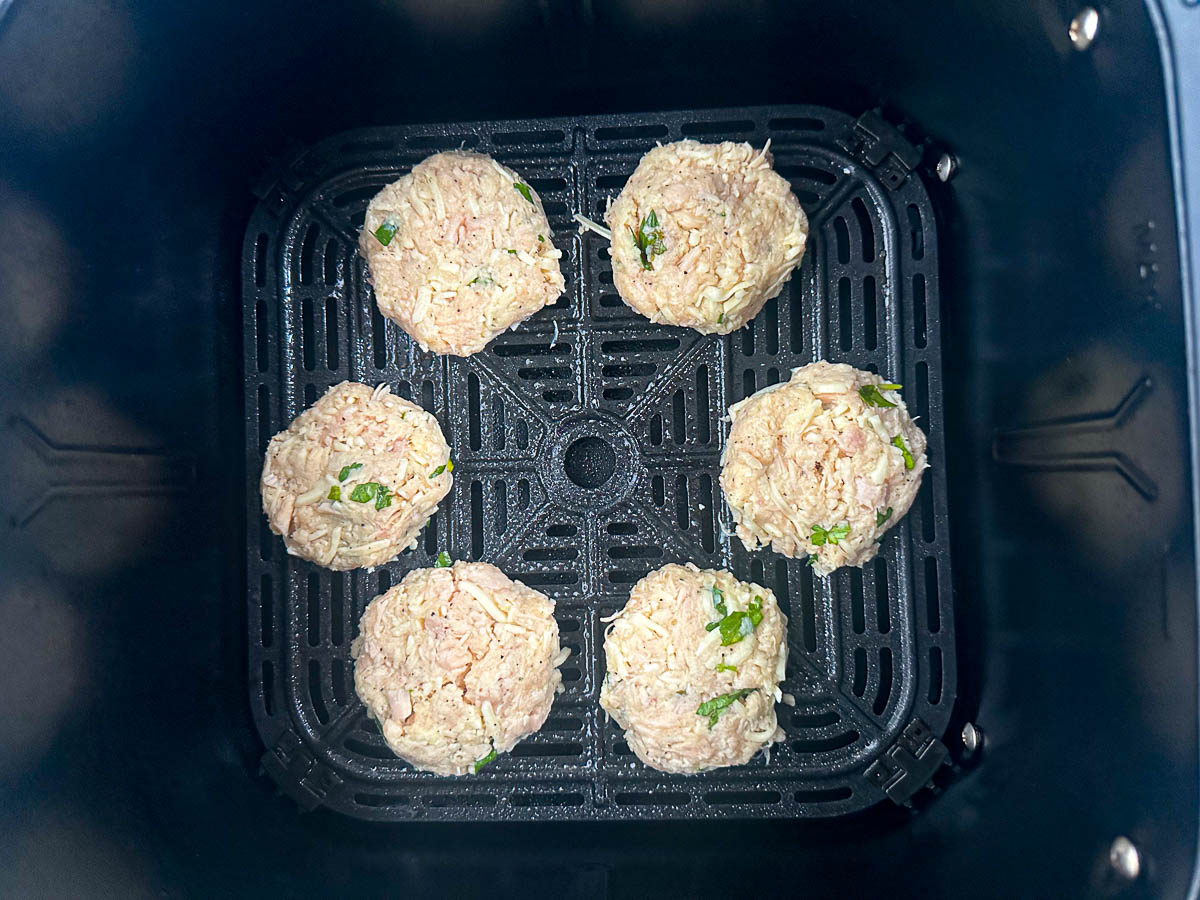 Step 4: Place the patties in the prepared air fryer basket in a single layer. You may have to do these in batches. Air fry at 350°F for 13-15 minutes until golden brown. Check them around 13 minutes and if they are not brown enough put them in for a few more minutes.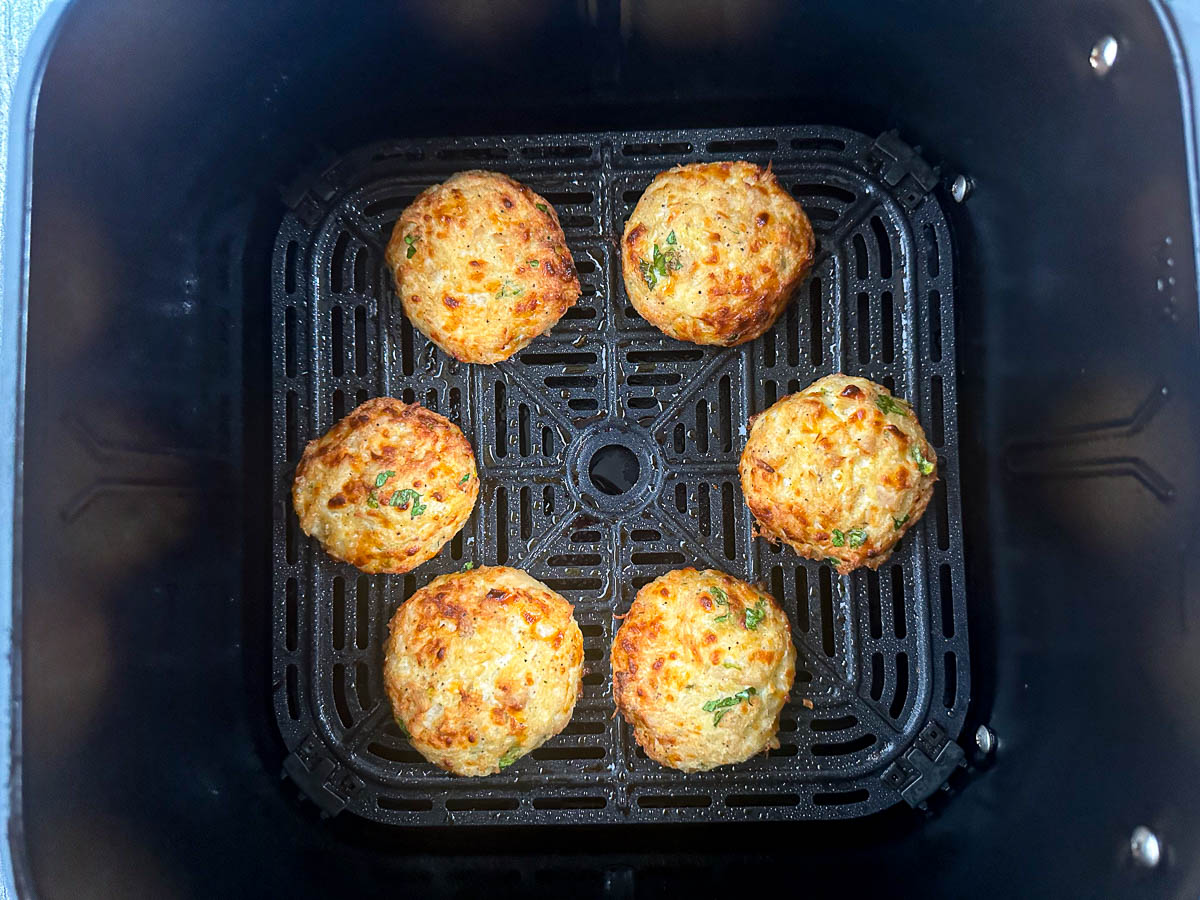 Step 5: Let rest for a few minutes before saving. Store leftovers in an airtight container. Please scroll down to view the printable recipe card.
Ways to eat these patties.
To make this more of complete meal you can serve them with a fresh salad and vegetable. You can also eat them as a burger. Use lettuce leaves as a bun and top with your favorite burger toppings and condiments.
These are great for keto meal prep and planning. I made low calorie and low carb lunches pictured below by adding some buttered green beans with almond slivers. I froze them for an easy and healthy lunch.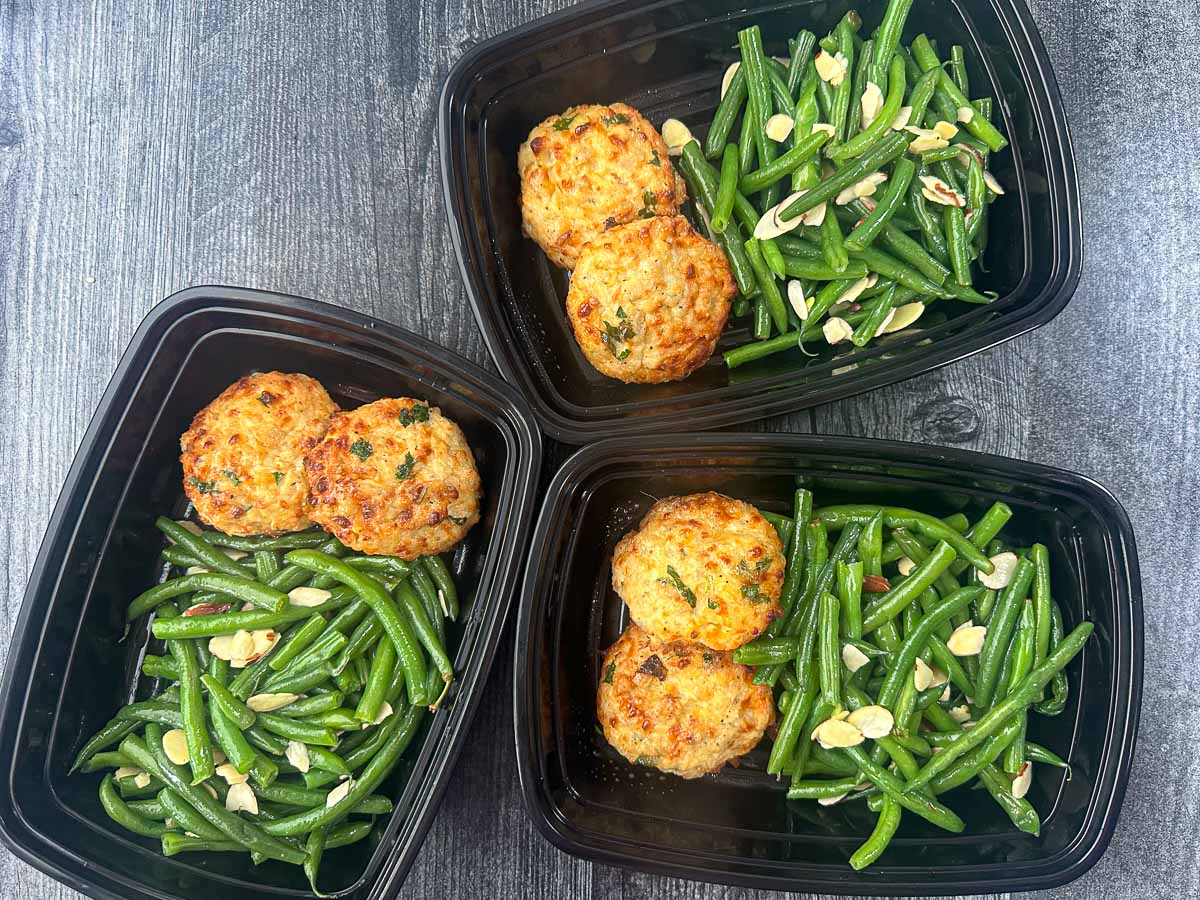 Another option is to eat them as an appetizer or snack along with a dipping sauce. I love it with this sriracha aioli or this homemade ranch dressing. You can use your favorite sauces or any dip or condiment you would use with nuggets would go with this dish.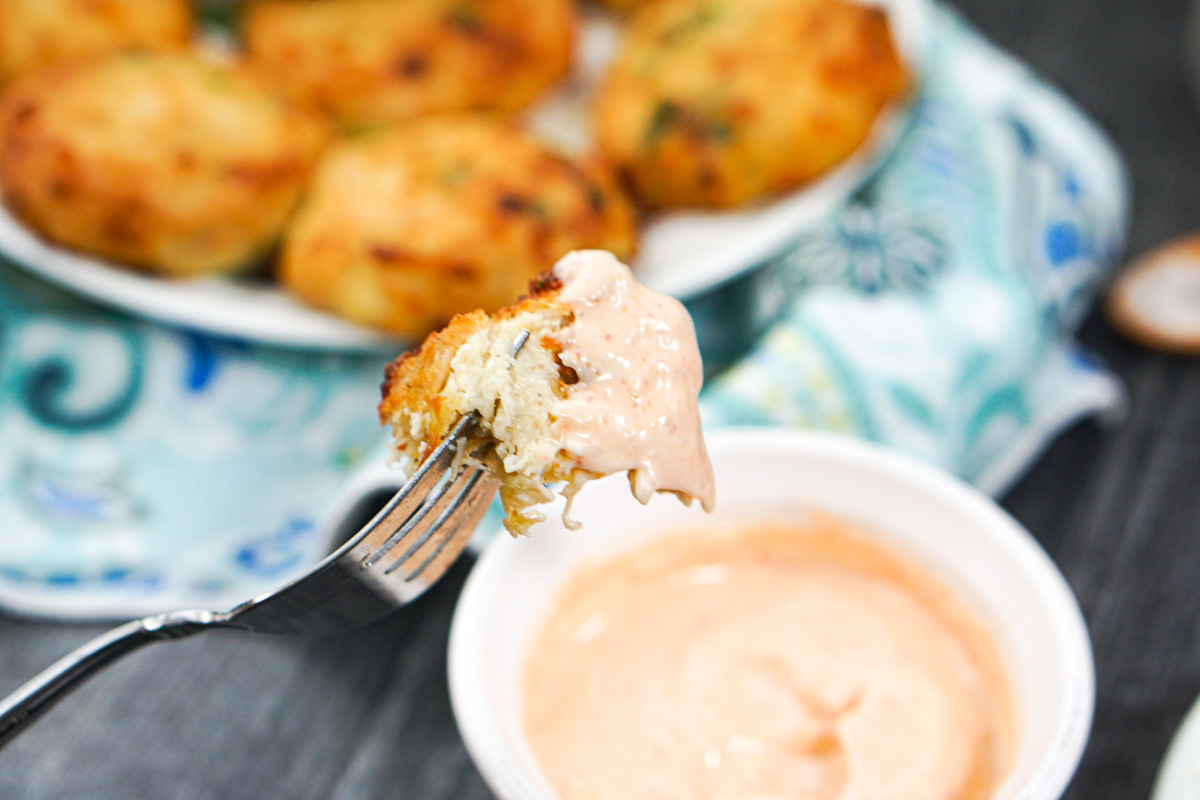 More keto recipes to try with canned chicken.
Here are a few keto recipes that I use canned chicken with. It's such an easy ingredient to always have on hand for quick dishes. These are a few of my favorites.
Essentially you can use canned chicken in place of leftover rotisserie chicken in most recipes. However I find it tastes better in casseroles and dips where the chicken isn't the main ingredient.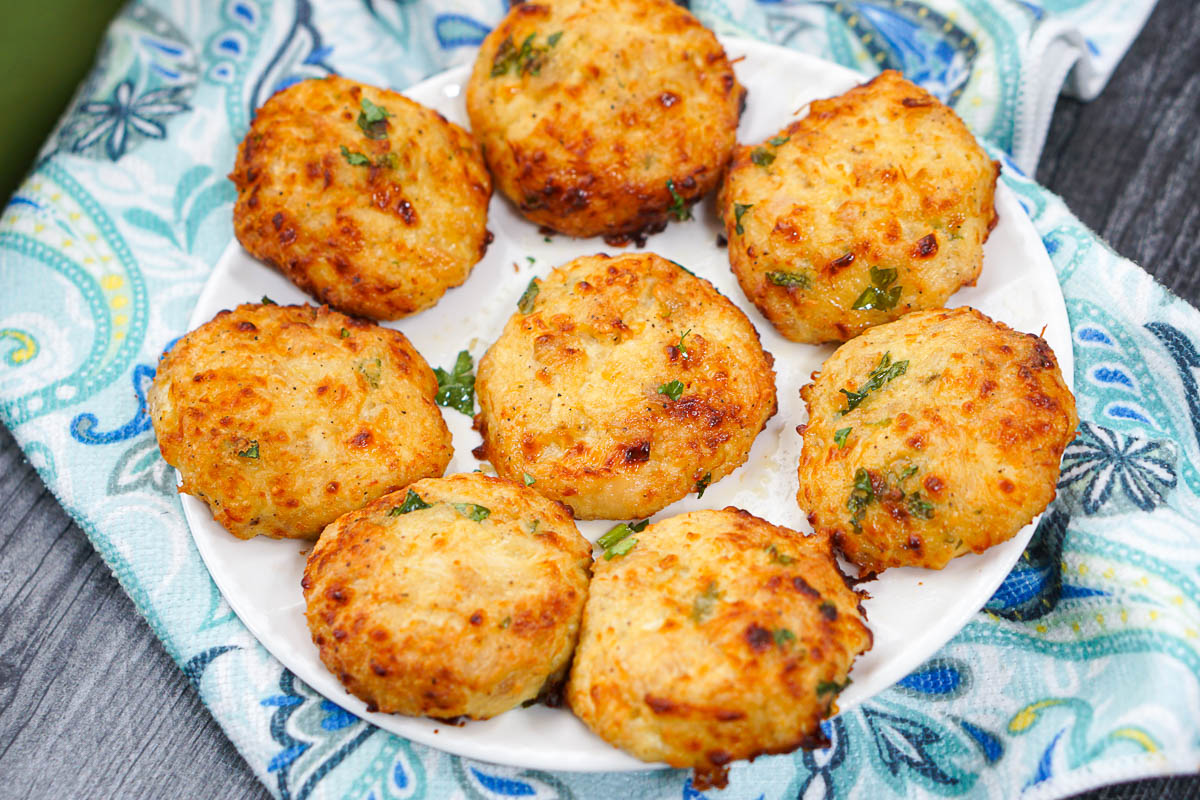 I hope give these keto air fryer chicken patties a try someday. They really are a great way to use canned chicken especially for a low carb meal plan. You can use them for a keto friendly appetizer with your favorite dipping sauce or as a main dish. Enjoy!
The nutritional information for 1 crispy chicken patty is 87 calories / 3.3g fat / 0.5g carbs / 9.5g protein = 0.5g net carbs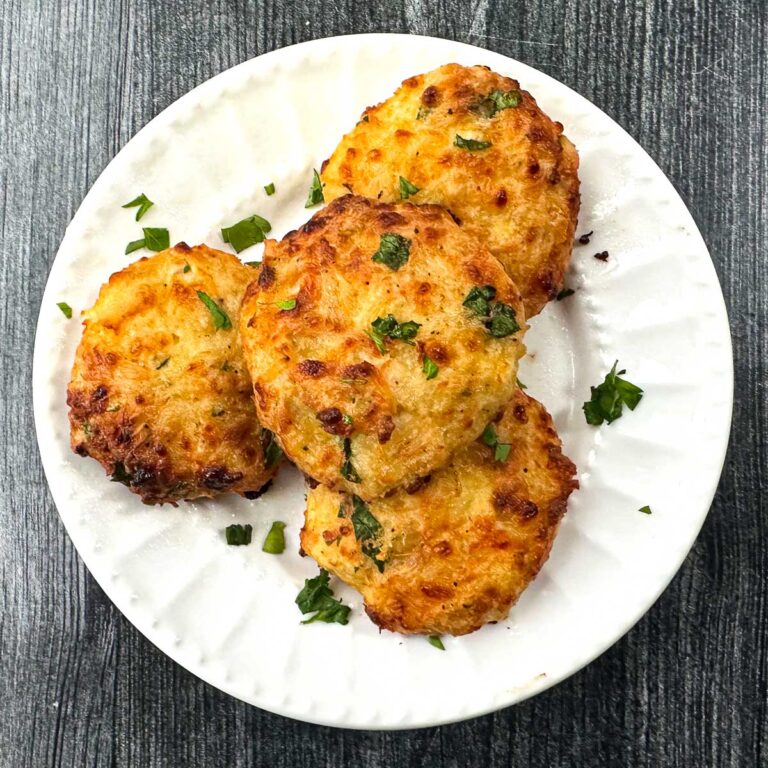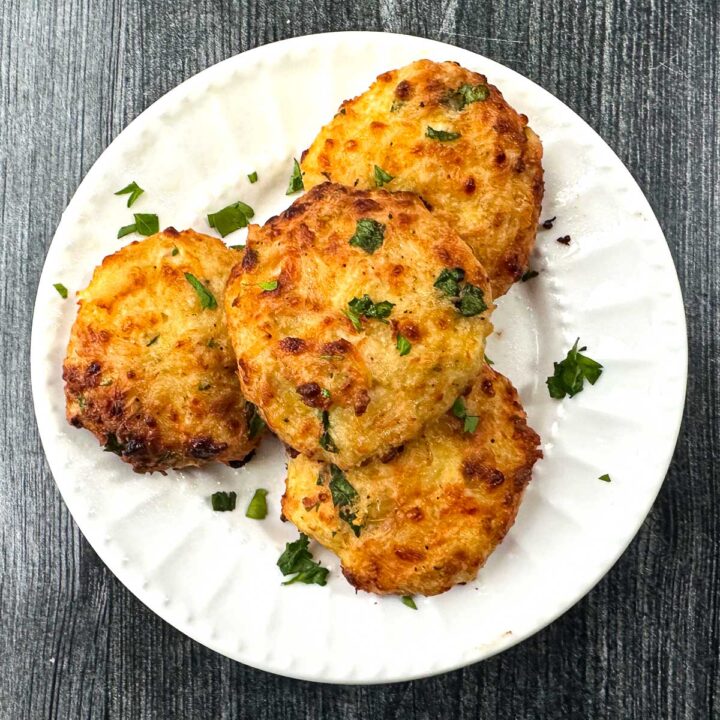 Air Fryer Chicken Patties Recipe
These air fryer keto chicken patties are made with canned chicken so they are easy to make and taste delicious! Great for keto meal planning or use as a keto appetizer along with a dipping sauce.
Ingredients
2 (12.5 ounces) cans chicken breast (16 ounces when drained)
1 cup mozzarella cheese
2 eggs
¼ cup parmesan cheese
1 tablespoon fresh parsley, minced
¼ teaspoon salt
¼ teaspoon black pepper
¼ teaspoon garlic powder
¼ teaspoon onion powder
Instructions
Spray the basket of your air fryer with nonstick cooking spray and set aside.
Get out a large mixing bowl. Drain all the water from the canned chicken and the pour the meat into mixing bowl. Using a fork, shred the chicken to get out the clumps and chunks.
Add the rest of the ingredients and mix well to combine. Next form into 12 patties and place on a plate. I used roughly a ¼ cup of the mixture to make each patty. You can make them bigger or smaller if you like.
Carefully place the patties in the prepared air fryer basket. You may have to do thesse in batches. If you want you can spray the tops with nonstick cooking spray but you don't have too.
Bake at 350°F for 13-15 minutes until golden brown. Check around 13 minutes and if not golden brown keep baking for a few more minutes. Cooking time may vary depending on the size of the patties and your air fryer.
Let cool before serving. Store in airtight containers or freeeze for later.
Notes
The nutritional information for 1 chicken patty is 87 calories / 3.3g fat / 0.5g carbs / 9.5g protein = 0.5g net carbs
Nutrition Information:
Yield:

12
Serving Size:

1
Amount Per Serving:
Calories:

87