This keto creamy chicken broccoli soup is full of flavor and is very easy to make. It uses pureed cauliflower to give it a creamy texture and add even more healthy veggies to the soup. This creamy keto soup is a hearty soup that is low calorie too with only 157 calories and 6.7g net carbs
You might also like this keto chicken pot pie soup!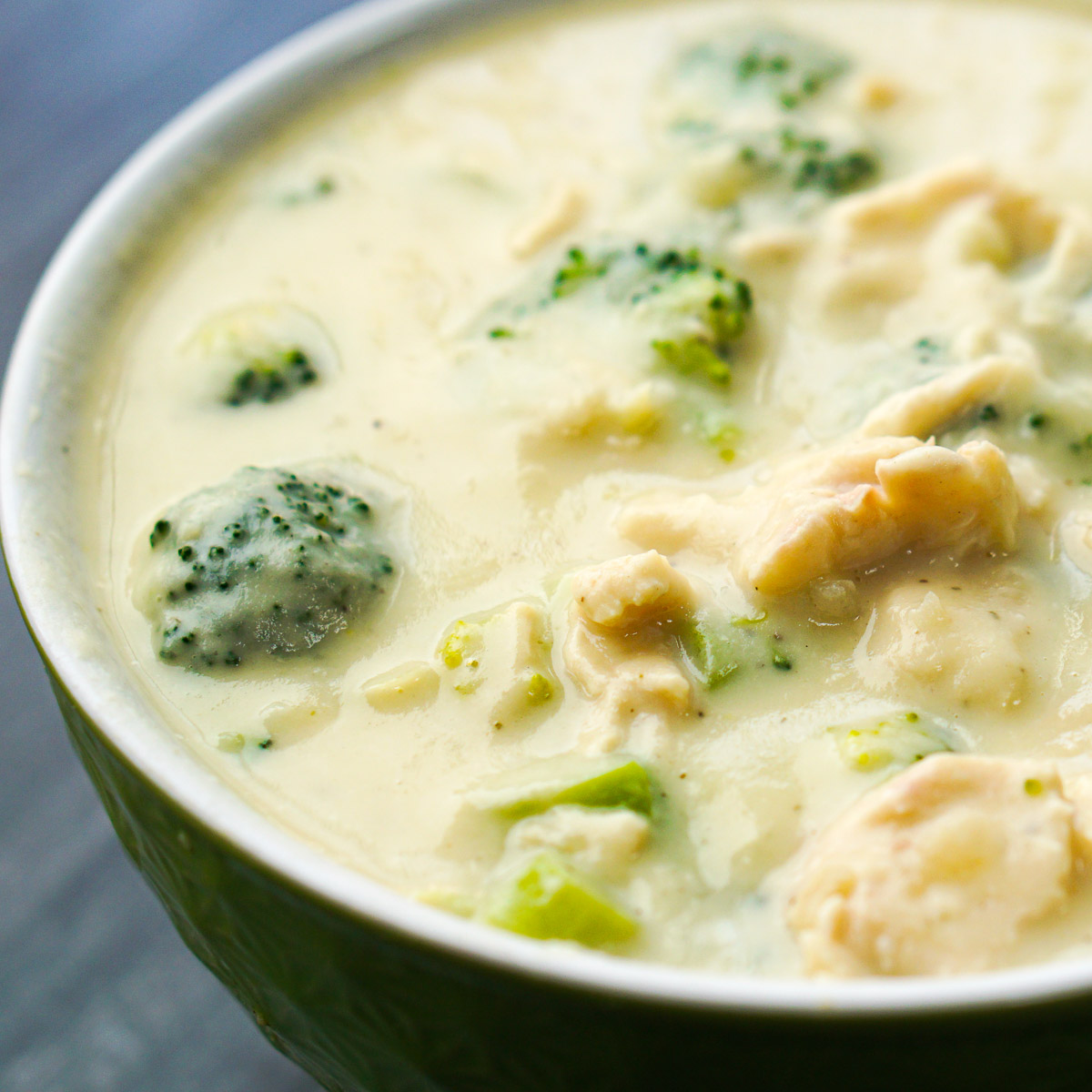 Lately I've been going through old posts and remaking them and this keto creamy chicken broccoli soup was perfect for cold winter days. It's full of healthy ingredients, it's thick and creamy and mostly importantly delicious.
I used a cauliflower cream to thicken it instead of flour or heavy cream so it's gluten free and with 2 easy substitutions it's dairy free as well. The cauliflower cream is simply pureed cauliflower with herbs and spices and it not only adds nutrition but it also does a great job of thickening soup.
This is a great low carb soup to make for busy weeknight dinners as it only takes 30 minutes and it's very filling for a light meal. I freeze portions for a quick lunch and just reheat it in the microwave.
Recipe ingredients I used.
The simple ingredients I used to make this creamy delicious soup is cauliflower florets, broccoli florets, dried minced onion, butter, chopped cooked chicken breast, Better than Bouillon chicken base, Parmesan Cheese, garlic cloves, olive oil, salt, thyme, onion powder and black pepper.
To make this dairy free: All you need to substitute is nutritional yeast for the parmesan cheese and olive oil for the butter. Originally I used the nutritional yeast but didn't have any this past time so I used parmesan.
Cooking Tip 1: Also I always have chopped chicken breast in my freezer. I buy 2 rotisserie chickens every time I got to Costco then I take the chicken off and chop it into 1 cup servings and freeze in ziplock bags. It's perfect for making soup or casseroles quickly.
Cooking Tip 2: Another tip I have for you is that I use Better than Bouillon base in almost all of my soup recipes(I have over 35 of them). It just adds so much flavor that I usually have 3 flavors on hand at all time.
However if you don't have any you can substitute with regular chicken bouillon, chicken broth or chicken stock. But I highly recommend buying some if you are interested in making your own soups, gravy or sauces.
How to make keto creamy chicken broccoli soup.
Step 1: Get out a soup pot and add the cauliflower florets to it along with water. You want the water to just about to cover the florets. Bring to a boils and simmer for 8-10 minutes until the cauliflower is for tender.
Step 2: Drain the cauliflower and place it into a high speed blender of food processor. Try to retain a bit of the cooking liquid if you can. Add olive oil, yeast, onion powder, thyme, garlic, salt and black pepper and 1 cup of the cooking liquid to the blender.
Blend on high until thick, smooth and creamy and set aside.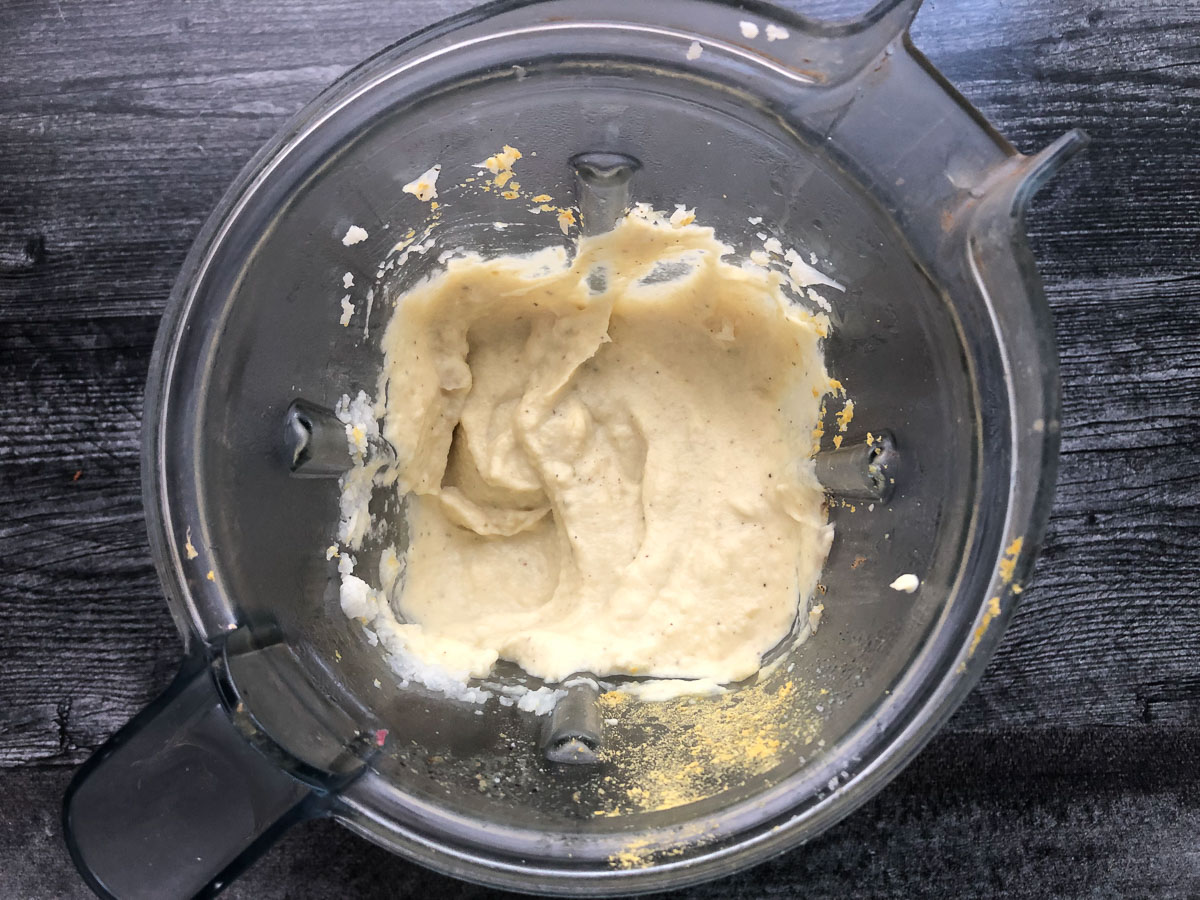 Step 3: Using the same pot, add the butter to it and heat to medium heat. Add the minced dried onions and saute for 1 minute. Then add the broccoli florets, water, Better than Bouillon and simmer for a few minutes until the broccoli has softened.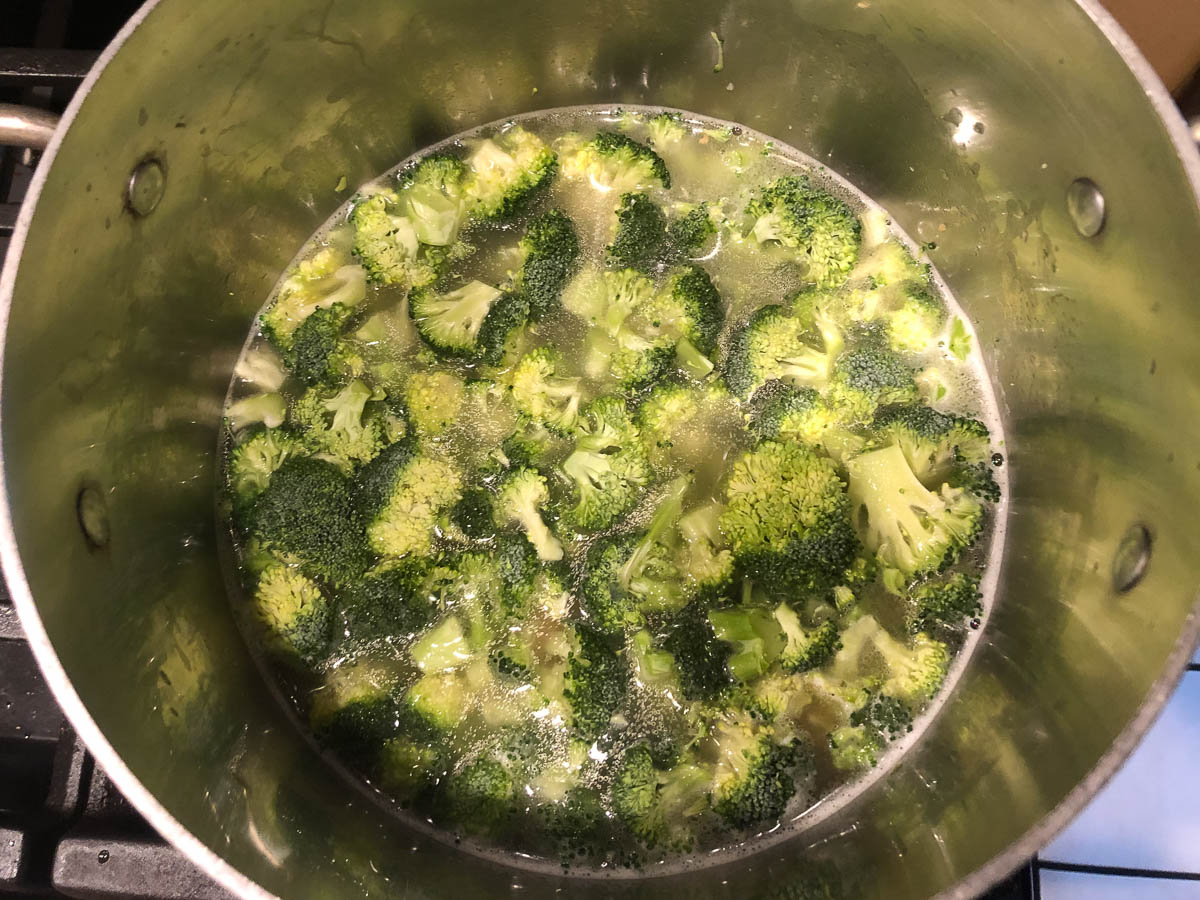 Step 4: Add the cooked chopped chicken to the broth and mix well.
Step 5: Lastly spoon the cauliflower cream into pan and mix everything together. Cook for about 5 minutes more so all the flavors and meld together.
At this point if you like the soup thinner you can add a bit more water or even chicken broth to thin it out. It will all depend on how thick your cauliflower cream is.
Store leftover soup in an airtight container or place portions in freezer safe containers and freeze for quick lunches or meals. (Please scroll down to view the printable recipe card.)
More easy and delicious keto creamy soup recipes.
I love a good creamy soup so I have quite a few on this blog. Here are a few of my favorite recipes.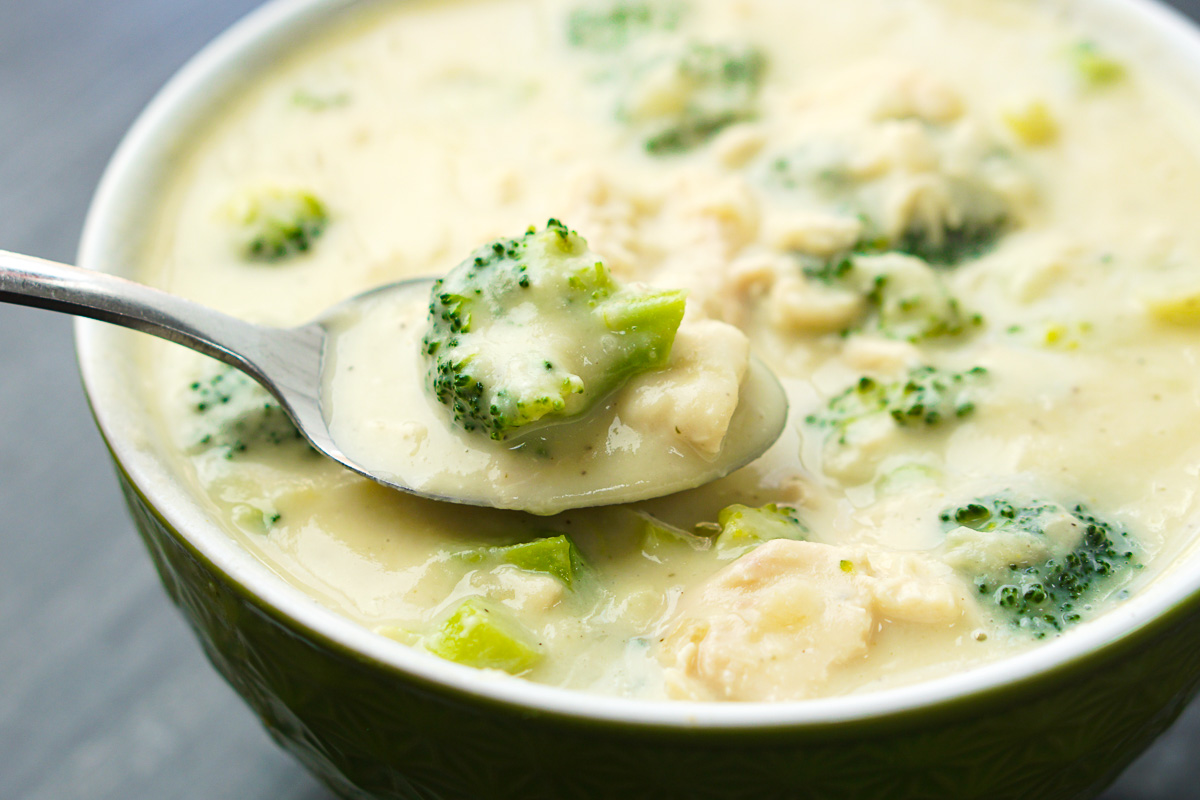 So that my friends is my healthy and delicious keto creamy chicken broccoli soup. You can make this recipe in less than 30 minutes which is helpful on busy weeknights.
And once you try that cauliflower cream you will have a new away to add creaminess to lots of recipes. I hope you enjoy this one!
The nutritional information for 1 serving = 157 cal / 8.6g fat / 10.4g carbs / 3.7g fiber / 11.3g protein = 6.7g net carbs
Keto Creamy Chicken Broccoli Soup
This keto creamy chicken & broccoli soup uses cauliflower cream to make a healthy, hearty soup. Low calorie and gluten free!
Ingredients
4 cups cauliflower florets
2 teaspoons dried minced onion
1 tablespoon butter*
2 cups broccoli florets, chopped
1 cup chicken, cooked and chopped
1 tablespoon Better Than Bouillon chicken base (or bouillon)
2 tablespoons parmesan cheese (or nutritional yeast)*
2 cloves garlic, crushed
2 tablespoons olive oil
¼ teaspoon salt
¼ teaspoon thyme
¼ teaspoon onion powder
¼ teaspoon pepper
2 cups water
Instructions
To Make the Creamy Cauliflower Sauce:
In a soup pot add cauliflower and enough water to almost cover florets. Turn the heat up to medium high heat. Cover and cook until cauliflower is fork tender.
Drain the cauliflower but retain the water.
Add the cauliflower to a high speed blender or food processor. To that add the olive oil, parmesan cheese (or nutritional yeast), onion powder, thyme, garlic, salt, black pepper and 1 cup of the cooking liquid.
Puree until thick, smooth and creamy.
To Make the Soup
Using the same soup pot, add the butter and minced dried onion. Saute for a minute to soften the dried onion.
Add the broccoli to the pot along with the water and Better than Bouillon. Again you can use regular boil and water or 2 cups of chicken broth. Simmer for a minutes or two to soften the broccoli.
Next add the cooked chicken, stir and cook for a minutes.
Add cauliflower mixture to the soup and mix well. If you desire a thinner consistency add a bit more water or chicken broth. Cook until flavors meld, about 5 minutes.
Store leftovers in an airtight container. You can also freezer portions of this soup for quick low carb lunches.
Notes
The nutritional information for 1 serving = 157 cal / 8.6g fat / 10.4g carbs / 3.7g fiber / 11.3g protein = 6.7g net carbs
*If you want to make this soup dairy free just substitute nutritional yeast for the parmesan cheese and olive oil for the butter.
* I love Better than Bouillon bases for soup and highly recommend it. But if you don't have it you can use regular bouillon or substitute with chicken broth for both the Better than Bouillon and water.
Nutrition Information:
Yield:

6
Serving Size:

1
Amount Per Serving:
Calories:

157
Unsaturated Fat:

0g