Try this delicious, healthy and low carb creamy chicken spinach soup, that uses cauliflower cream sauce so it's dairy free too! The creamy cauliflower sauce goes great with the chicken and spinach for a healthy meal. Each serving has only 149 calories and 3.4g net carbs.
You might also like this low carb creamy chicken & broccoli soup.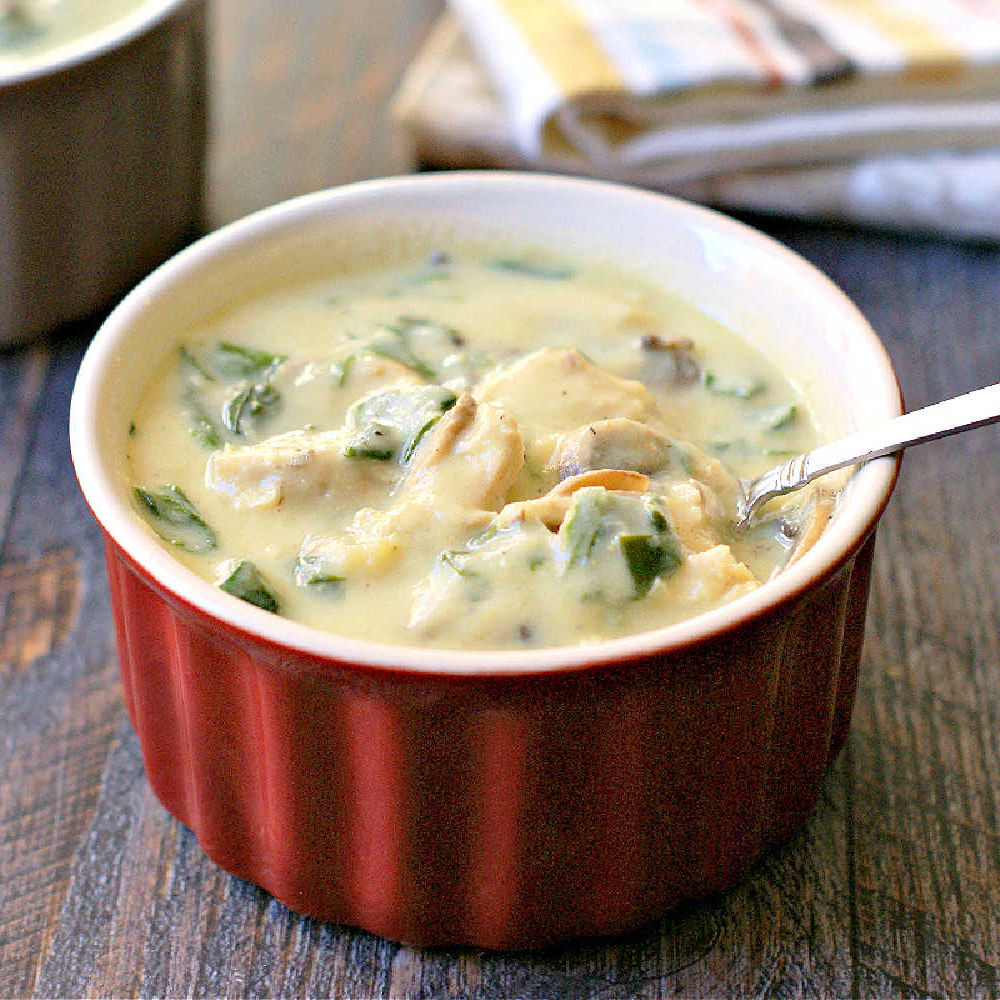 I love creamy soups. My husband, not so much. But this one was for me because I was craving a creamy mushroom type of soup. And since I always have cut up rotisserie chicken in the freezer and some baby spinach on hand, I came up with this low carb creamy chicken & spinach soup.
To make this creamy, I used a cauliflower cream sauce that I loved so much in my chicken pot pie soup. The result was a delicious and nourishing keto spinach soup that was hearty enough for a meal with only 149 calories and 3.4g net carbs.
Recipe ingredients I used.
So the main ingredients in this creamy chicken soup are mushrooms, fresh spinach, cooked chicken breast and cauliflower cream sauce. I also used olive oil to saute with and Better than Bouillon chicken base in this recipe.
The cauliflower cream sauce includes, cauliflower florets, olive oil, sage, thyme, salt, black pepper, garlic cloves and nutritional yeast.  It's a great replacement for heavy cream or flour to thicken soups.
Those are 3 nutrient packed veggies right there and if you use chicken bone broth, you'll have even more good stuff in there! So the first thing you want to do is make your cauliflower cream sauce.
How to make cauliflower cream sauce.
Step 1: To make the cauliflower cream sauce boil your cauliflower on the stove. When it's fork tender, drain but reserve the cooking liquid.
Step 2: Add your cauliflower, olive oil, spices and nutritional yeast into a high speed blender along with a cup of the cooking liquid. Blend until it's smooth and creamy like the pic below.
 A note on the nutritional yeast
: it is a healthy and flavorful ingredient that gives the sauce a slightly cheesy flavor. You could substitute grated cheese but if you are trying to go dairy free then nutritional yeast
 is the way to go.
Set the cauliflower sauce aside and start on the rest of the soup.
How to make this keto chicken spinach soup recipe.
Step 3: Heat up a soup pot to medium heat. Add olive oil and mushrooms and sauté until they are brown a bit.
Step 4: Put your garlic in the pan and sauté for a minute more.  Then add the bouillon (if using), spinach and chicken broth. Let this simmer for 3-5 minutes.
Step 5: When the spinach is wilted add the chopped chicken and cook for a few minutes so that it's heated through.
Step 6: Finally pour in your cauliflower cream mixture. Let that simmer for a few minutes so that all the flavors meld. Let cool and serve. Store leftovers in airtight containers. (Please scroll down to view and print the recipe card.)
I like a creamy soup to be thick but if you would like it thinner, add a bit of the reserved liquid if you have any left or some more chicken broth to thin it out.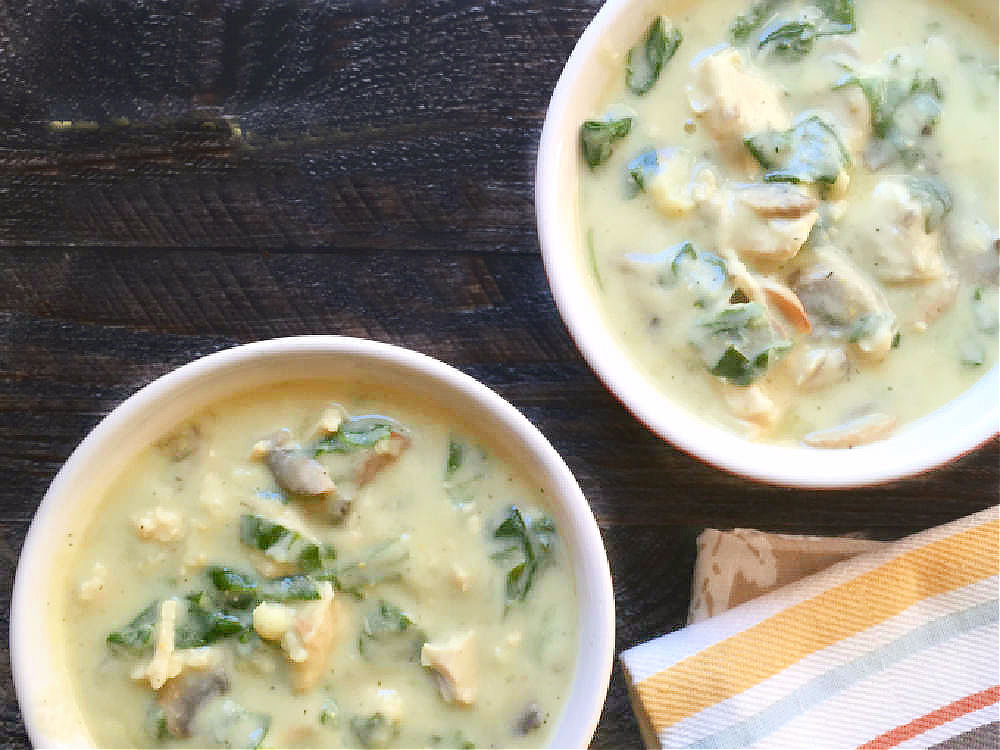 My secret ingredient for super tasty soup!
A note on the bouillon. I LOVE Better Than Bouillon
products because they add so much flavor.
They come in may different flavors and offer organic and and low sodium versions. It's not necessary to this recipe but I really think it adds flavor so I highly suggest using it.
Other low carb creamy soups to try.
I love soup and I have over 40 soup recipes on this blog. Almost all of them are low carb and healthy but there are a few that aren't but they are good!
My favorite low carb creamy soups are:
Now you have a healthy, hearty meal in a bowl. I hope you like this keto chicken spinach soup as it's pure keto comfort food. And have fun playing around with the cauliflower cream sauce. 
As I mentioned before I used it in many of my low carb soup recipes so I'm sure you can come up with some good uses for it yourself. Enjoy!
The nutritional information for 1 serving is 149 calories / 7.2g fat / 5g carbs / 1.6g fiber / 16.5g protein = 3.4g net carbs
Creamy Chicken Spinach Soup Recipe
Try this delicious Paleo Creamy Chicken & Spinach soup. It uses cauliflower cream sauce so it's dairy free and low carb too!
Ingredients
1 Tablespoon olive oil
8 oz mushrooms, sliced ( about 2 cups)
1 ½ cup cooked chicken, chopped
2 cloves of garlic, crushed
2 cups fresh baby spinach, chopped
1 Tablespoon Better Than Bouillon (optional but recommended)
1 cup chicken broth or water
Cauliflower Cream
4 cups cauliflower pieces
2 Tablespoons olive oil
¼ teaspoon sage
¼ teaspoon thyme
½ teaspoon salt
¼ teaspoon pepper
2 cloves garlic, crushed
2 Tablespoons nutritional yeast (can sub grated Parmesan cheese but not Paleo)
1 cup of water retained from boiling cauliflower
Instructions
To make the cauliflower cream sauce, add your cauliflower to a pan and fill with water until almost covering the cauliflower.
Cover and cook until the cauliflower is fork tender.
Drain cauliflower but retain the liquid.
Add to a high speed blender along with 1 cup of the retained liquid, olive oil, spices, nutritional yeast and garlic. Blend until smooth and creamy.
Set aside and start making the soup.
Add olive oil and mushrooms to a soup pan.
Saute mushrooms until they just start to brown.
Add your garlic and sauté for 1 minute more.
Then add your bouillon, spinach and chicken broth and let simmer for 5 minutes.
Next add your chicken and cook for 1 or 2 minutes until heated through.
Add your cauliflower cream sauce and continue to cook a few more minutes until all the flavors meld together.
If you wish to it to be thinner, add more chicken broth or water.
Notes
The nutritional information for 1 serving is 149 calories / 7.2g fat / 5g carbs / 1.6g fiber / 16.5g protein = 3.4g net carbs
Nutrition Information:
Yield:

8
Serving Size:

1
Amount Per Serving:
Calories:

149
Unsaturated Fat:

0g