These savory breakfast cookies are like an omelet and biscuit rolled into one. Full of tasty savory ingredients for a low carb breakfast on the go.
You might also like this low carb breakfast pizza recipe!
Ok I'm calling these cookies but they are really more of a biscuit. Cookies sound more fun though. 🙂 I wanted something different that I could freeze and then microwave when I wanted a quick breakfast or lunch on the go so I made these savory breakfast cookies. They are low carb and grain free and they are delicious. I used the ingredients that I often use in my omelets: sausage, onions, peppers and cheese. Add a little almond flour and eggs and voila, savory breakfast cookies.
Other freezable low carb breakfast
I've made other freezable low carb breakfast foods like my Freezable Breakfast Burritos and these Low Carb Breakfast Sandwiches so you can see I like a freezable, easy breakfast on the go kind of thing. I always seem to be in a rush for breakfast and sometimes I just plain old skip it. In those cases I'm often eating these things for lunch instead of breakfast. But I'm trying to eat breakfast, I really am.
Low Carb Breakfast Cookies REcipe
Sauté onions, peppers and sausage to precook them.
Let that cool then add it to some beaten eggs, almond flour and cheese.
Mix and form little cookies and then place on a silicone covered cookie sheet.
Bake at 375 degrees F for about 8-10 minutes.
My Favorite Almond Flour
Make a double batch and put some in a freezer bag for snacks and breakfasts on the go. For almond flour I really like Honeyville because they use blanched almonds to make a finer flour. But I've also used Blue Diamond too. Both can be found on Amazon and sometimes Costco. If you'd like to see my Amazon favorites, check out my page!
Savory Breakfast Cookies
This recipe made a batch of 12 sizable cookies. I would eat two for breakfast personally. There are only 2.9g of carbs per cookie and 8.2g protein so to me that's a decent breakfast.
Well I hope you like these as much as I do. If you are on a low carb diet, sometimes variety is helpful. Even if you aren't low carbing it, I think you and your family will like these because they are quite tasty. And for those doing Weight Watchers, each cookie is 4 Smart Points. Enjoy!
127 cals / 8.9g fat / 3.3g carbs / 0.4g fiber / 8.2g protein = net carbs 2.9g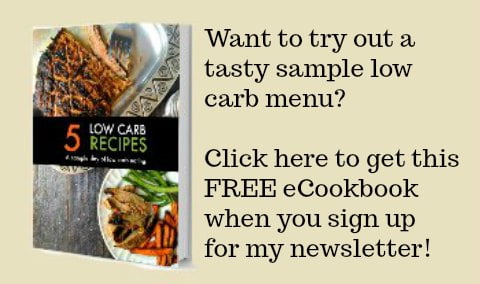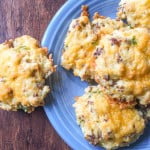 Savory Breakfast Cookies (low carb)
These savory breakfast cookies are like an omelet and biscuit rolled into one. Full of tasty savory ingredients for a low carb breakfast on the go. Only 2.9g net carbs per cookie and 4 points for Weight Watchers Smart Points.
Ingredients
4

oz

pork sausage

1/2

cup

onion

chopped

1/2

cup

green peppers

chopped

3/4

cups

almond flour

1/2

teaspoon

salt

1/2

teaspoon

pepper

1

teaspoon

baking powder

3

eggs

1

cup

cheddar cheese

shredded
Instructions
Preheat oven to 375.

Saute sausage, onions and peppers until the sausage is browned and the vegetable soft. Take off heat and let cool.

In the meantime add almond flour, salt, pepper and baking powder to a bowl and mix.

In a separate bowl beat eggs, then add 1/2 cup of the cheese. Add to the flour mixture and mix well.

Add cooled sausage mixture and mix to combine.

Place a piece of parchment paper or a silicone mat on a large cookie sheet.

Place a big spoonful of mixture as you would to make cookies. Dough is sticky so try to use the spoon as well you can.

Press down gently on each cookie to flatten a little. Sprinkle with cheese and bake for 8-10 minutes.

Store in the refrigerator or freezer.