If you are looking for a fun keto breakfast idea, try this low carb breakfast pizza. This pizza has a gluten free egg crust and it's topped with breakfast sausage, bell peppers and cheese. It's great for a keto brunch but you could eat it for lunch or dinner too and it only has 2.1g net carbs!
You might also like these other low carb breakfast recipes.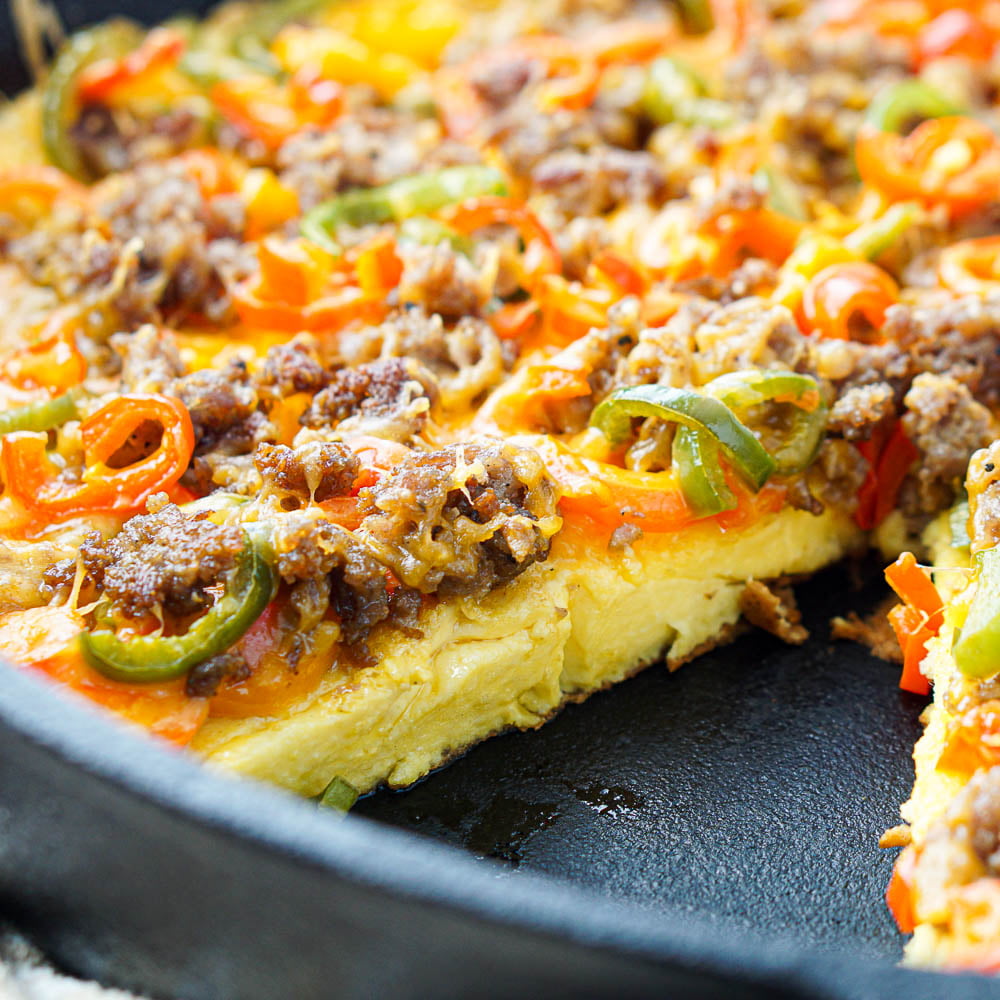 I love breakfast food, even though I'm not a huge breakfast eater. I can eat eggs any time of the day so when Sunday Supper came up with an egg theme for this week's supper, I knew right away I wanted to make a low carb breakfast pizza recipe.
Using all my favorite pizza toppings like sausage and sweet peppers, I made this keto breakfast pizza with a frittata like crust.
Most low carb pizza crust is made from almond flour. But this egg crust was an easy substitution as well as being delicious and gluten free. So who want's some pizza for breakfast?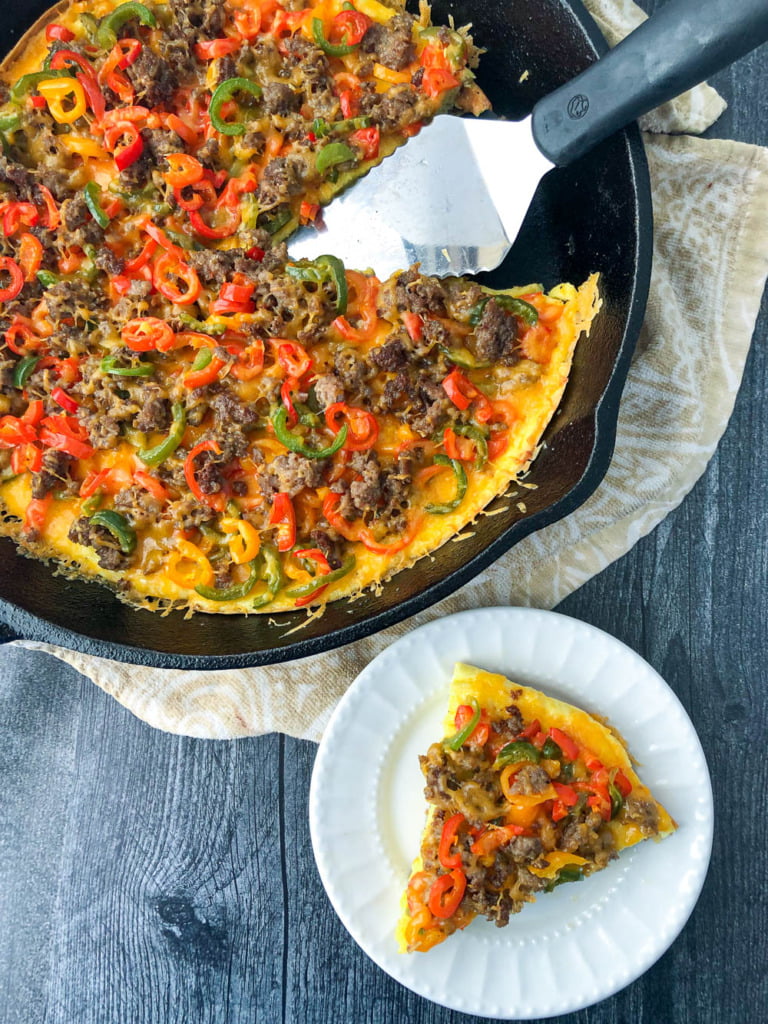 Other Toppings For This Low Carb Pizza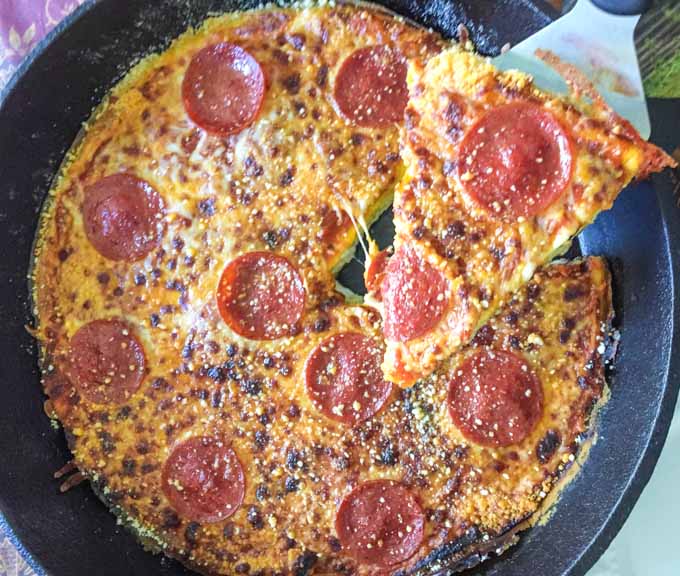 The beauty of this recipe is that you can put anything you want as a topping. Bacon of course would be yummy but you can also do a pepperoni pizza with red sauce and mozzarella.
I tried that recently and it was great! Or you can do a arugula, red onion and goat cheese. Lots of combinations would work well and still be considered pizza for breakfast!
What Type Of Pan To Make This Pizza In?
You must use an oven safe pan. I used my 12 inch cast iron skillet but sometimes I have used a stainless steel two handled skillet. However I find the cast iron skillet works best. But you can use any pan that goes from the stove to oven.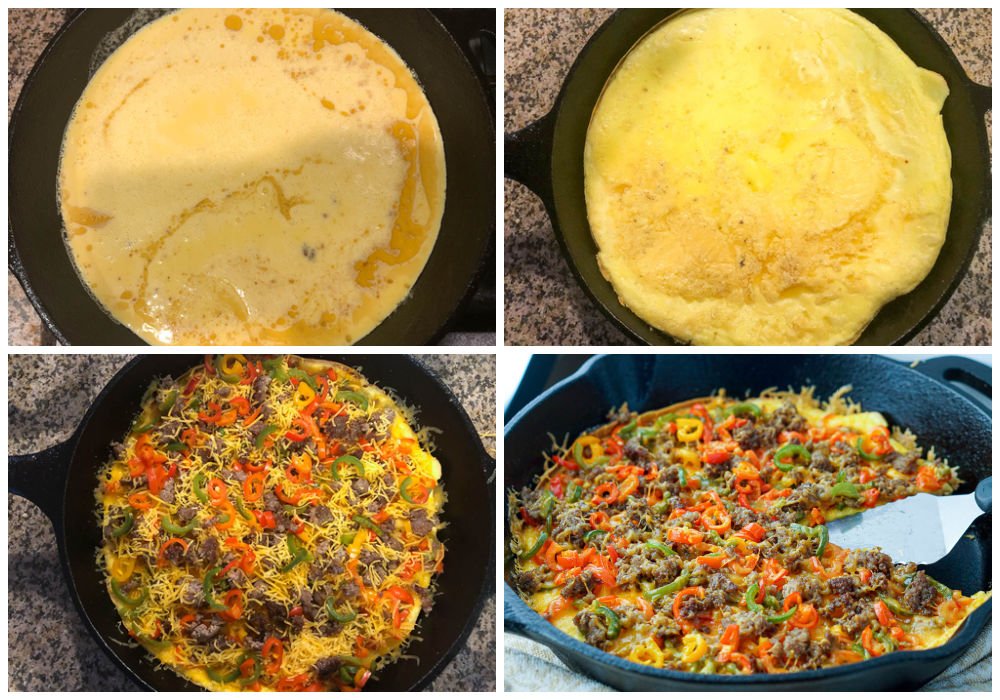 Let's Make Some Keto Breakfast Pizza!
First you want to brown the sausage in your cast iron skillet. When it done, take it out and set aside.
While the sausage is browning, add the peppers to a microwave safe bowl and cook for 3 minutes. I love this microwave steamer for this.
Next add the eggs, heavy cream, salt & black pepper to a blender and blend on low until mix well.
Pour into the same skillet and cook on the stove for about 3-5 minutes or until you see the sides set up.
Then transfer to the preheated oven to cook for another 8 minutes.
Take out the egg crust and top with peppers, sausage and cheese. Place under the broiler for about 3 minutes to melt the cheese.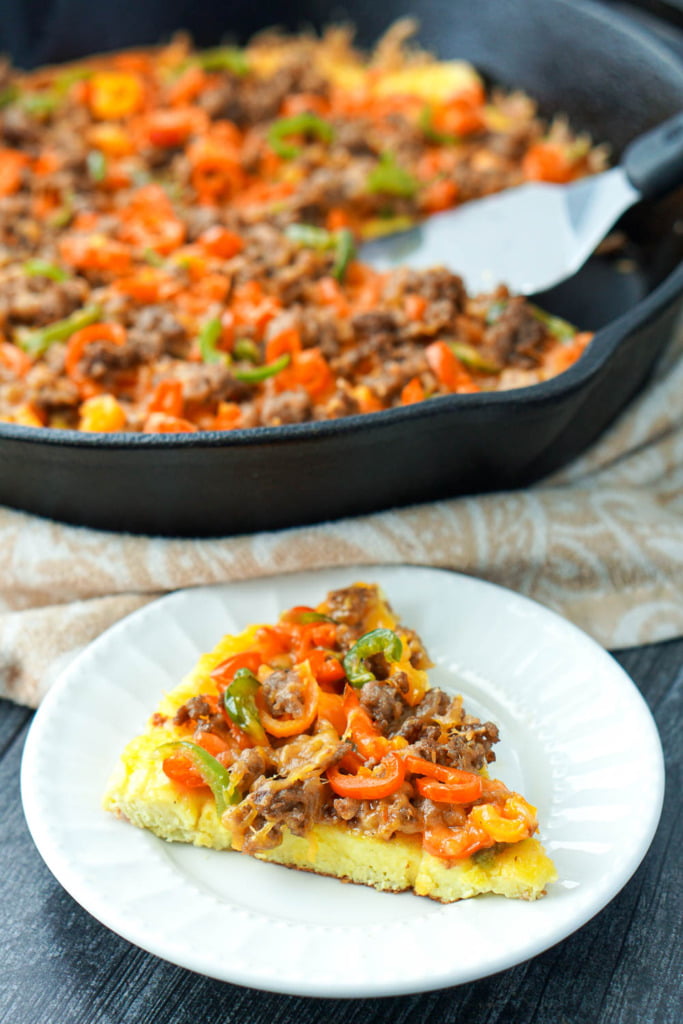 About The Baking Time.
Originally when I made this recipe I baked the egg crust for 15 minutes. It made a somewhat dry crust. More recently I cooked it only for 8 minutes and you can see below that it's much more moist and I preferred it that way. However if you want it more bread-like then cook it for longer.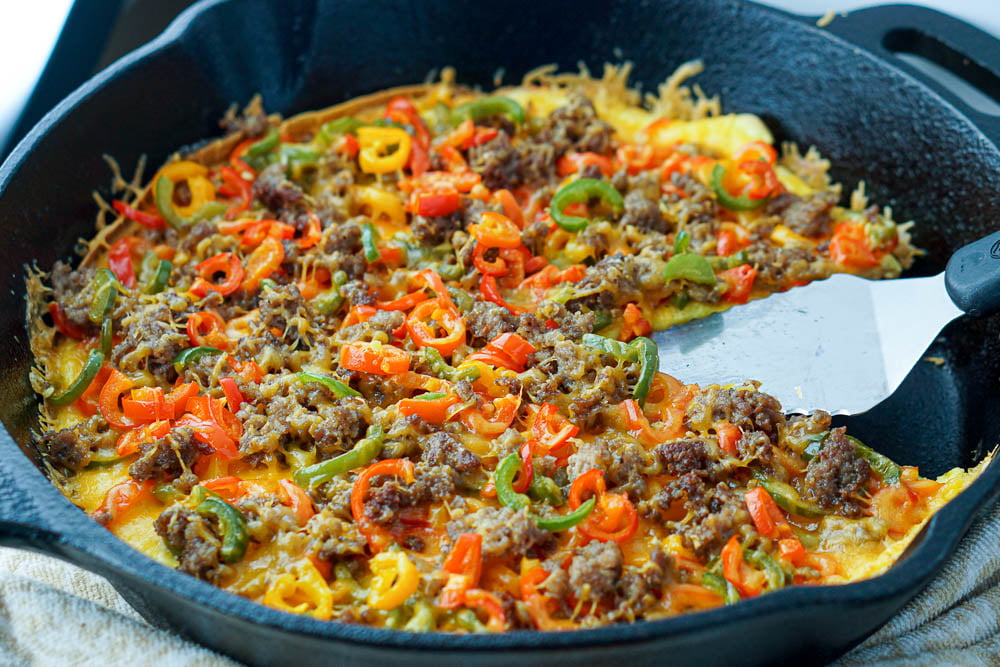 Recipe Tips And Notes
When you pull the egg crust out of the oven, it will be big and puffy. You can deflate it a bit by poking it with a fork. That will make it flatter so you easily add the toppings.
Using a cast iron skillet works best for this recipe though you can use any skillet that goes from the stove to the oven. The grease from when you cook the sausage in the cast iron skillet helps the eggs from sticking to the pan.
I used 12 eggs and a 12 inch pan and it took me about 5 minutes on the stove and 8 minutes in the oven. If you use a smaller skillet you may have to cook it longer because your "egg crust" will thicker than mine. Or you could use less eggs and cream.
I used cheddar cheese for my pizza but you can use a variety of cheeses, like mozzarella cheese or asiago cheese.
This keto breakfast pizza freezes well so place the extras in a freezer safe container and microwave to heat up for a quick low carb breakfast, lunch or dinner.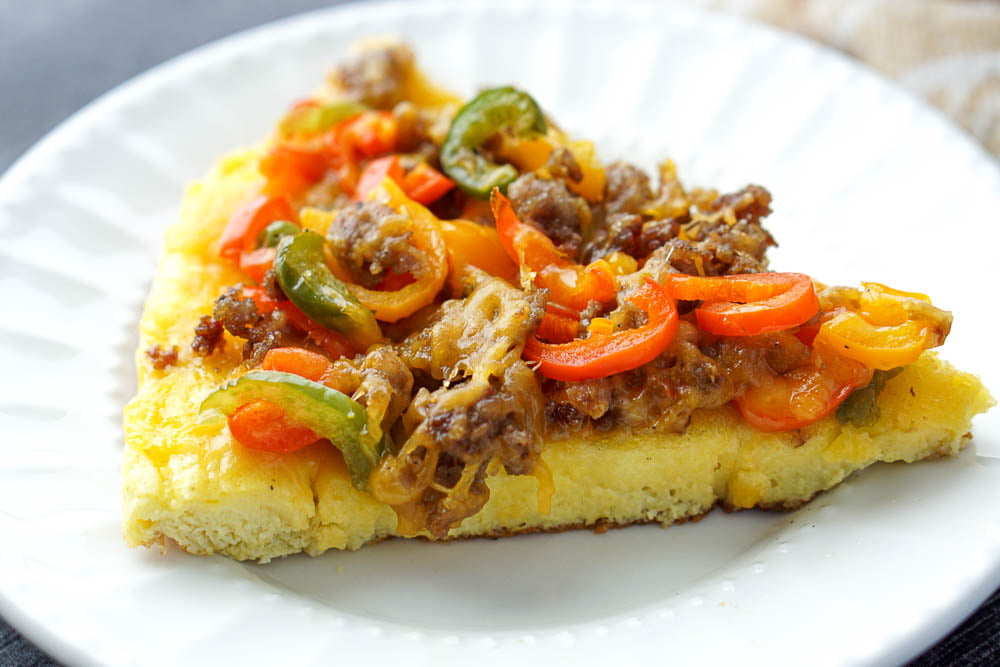 Just let it cool for a few minutes before you slice it. It's a meal for anytime of the day. I hope you like this simple low carb breakfast pizza.
The nutrition per slice is: 307 cals
24.3g fat / 2.6g carbs / 0.5g fiber / 18.4g protein = 2.1g net carbs.
Other Low Carb Pizza Recipes
If you are looking for other keto pizza recipes, I have quite a few. Most use fathead pizza crusts which uses a mixtures of mozzarella cheese and cream cheese to make the dough. However some use spaghetti squash, cauliflower, ground turkey or ground beef for the crusts. Here are all of my low carb pizza recipes.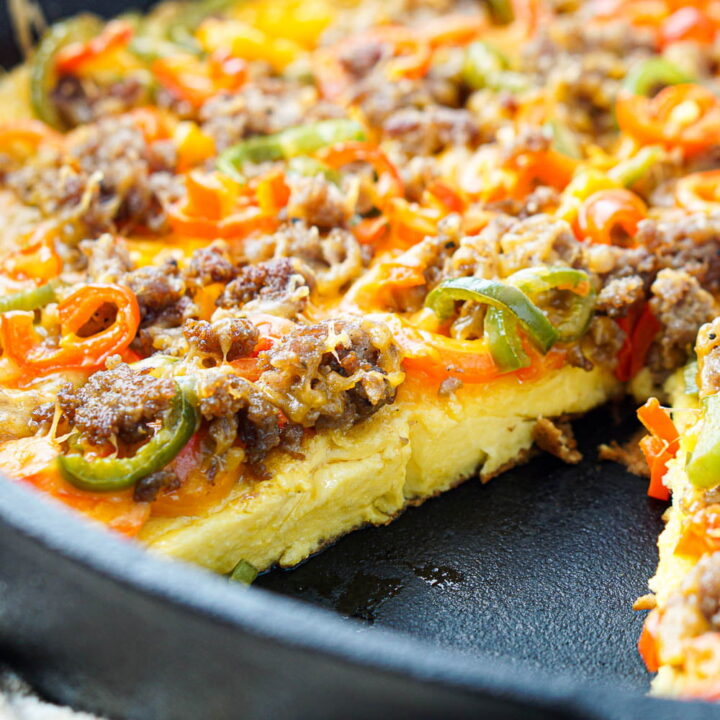 Low Carb Breakfast Pizza
This low carb breakfast pizza would be great for breakfast, lunch or dinner. An easy and tasty meal that is only 2.1g net carbs!
Ingredients
12 eggs
½ cup heavy cream
½ teaspoon salt
¼ teaspoon pepper
8 oz sausage
2 cups peppers, sliced or chopped
1 cup cheese, shredded
Instructions
Preheat oven to 350 degrees F.
Add peppers to microwave for 3 minutes.
Brown sausage in cast iron skillet. (My skillet was 12 inches)
Take out the sausage and set aside.
Mix eggs, cream, salt and pepper together and add to same skillet.
Cook for 3-5 minutes until the sides start to set up.
Add to oven and bake for 8-15 minutes. If you want a drier crust bake it for 15 minutes but if you want it more moist bake it for only 8 minutes.
Take out and add sausage, peppers and cheese.
Set under broiler for 3 minutes.
Let sit for 5 minutes.
Notes
The nutrition per slice is: 307 cals
24.3g fat / 2.6g carbs / 0.5g fiber / 18.4g protein = 2.1g net carbs.
Nutrition Information:
Yield:

8
Serving Size:

1
Amount Per Serving:
Calories:

307
Unsaturated Fat:

0g
Or try some of these keto egg recipes – asiago arugula eggs, veggie breakfast biscuit or this breakfast kielbasa casserole.