This low carb breakfast pizza would be great for breakfast, lunch or dinner. An easy and tasty meal that is only 2.1g net carbs!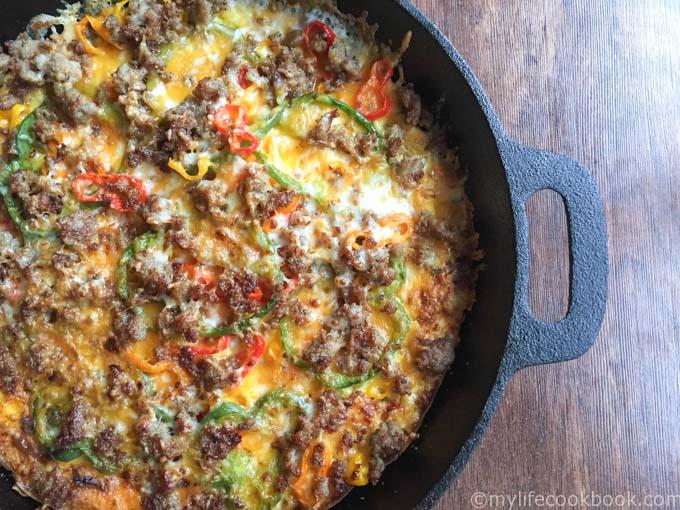 I love breakfast food, even though I'm not a huge breakfast eater. I can eat eggs any time of the day and when Sunday Supper came up with an egg theme for this week's supper, I knew right away I wanted to make a low carb breakfast pizza. I used all my favorite pizza toppings  like sausage and sweet peppers and adapted them to a frittata like crust. The result was delicious and I like that it was low carb too. I'm always making those low carb recipes. 🙂
The beauty of this recipe is that you can put anything you want as a topping. Bacon of course would be yummy but you can also do a traditional pepperoni pizza with red sauce and mozzarella. I tried that recently and it was great! Or you can do a arugula, red onion and goat cheese. Lots of combinations would work well.
This was very easy to make in my cast iron skillet. You must use an oven safe pan. I browned the sausage separately and microwaved the peppers too. So to make the egg "crust" you whisk a dozen eggs and cream and cook on the stove for about 5 minutes or until you see the sides set up. Then transfer to the oven to cook for another 20 minutes. When you pull it out it will be big and puffy. At least mine was. I actually had a deflate it a bit to get it flat so I could add the toppings.
Since the toppings were already cooked, I just layered the cheese and toppings and set it under the broiler until the cheese was nice and melted.
Low Carb Breakfast Pizza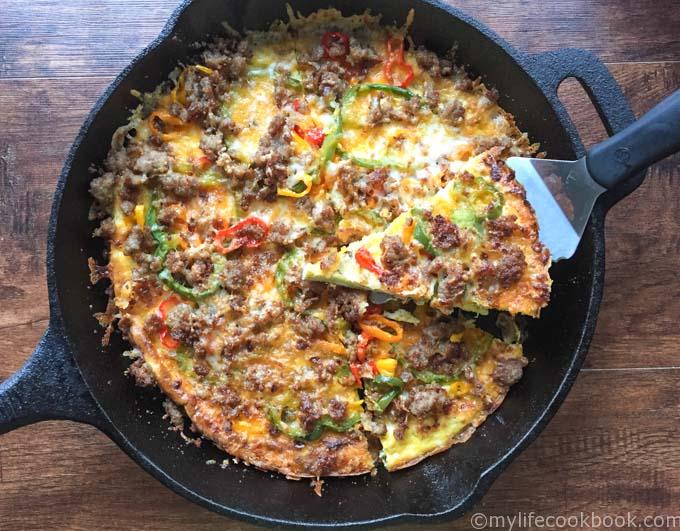 And that is all she wrote.  Let it cool for a few minutes and then slice and eat. Delicious! A meal for anytime of the day. I even froze 2 pieces and have had them for lunch. I hope you like this simple low carb breakfast pizza. The nutrition per slice is: 307 cals /24.3g fat / 2.6g carbs / 0.5g fiber / 18.4g protein = 2.1g net carbs.
Low Carb Breakfast Pizza
This low carb breakfast pizza would be great for breakfast, lunch or dinner. An easy and tasty meal that is only 2.1g net carbs!
Author:
Denise Wright (MyLifeCookbook.com)
Ingredients
12 eggs
½ cup heavy cream
½ teaspoon salt
¼ teaspoon pepper
8 oz sausage
2 cups peppers, sliced
1 cup cheese, shredded
Instructions
Preheat oven to 350 degrees.
Add peppers to microwave for 3 minutes.
Brown sausage in cast iron skillet.
Take out and set aside.
Mix eggs, cream, salt and pepper together and add to skillet.
Cook for 5 minutes until the sides start to set up.
Add to oven and bake for 20 minutes.
Take out and add sausage, peppers and cheese.
Set under broiler for 3 minutes.
Let sit for 5 minutes.
THIS POST MAY CONTAIN AFFILIATE LINKS. FOR MORE INFO PLEASE VISIT OUR POLICIES PAGE.
---
More low carb waffles to try!
And now it's time to check out these other great Egg-tastic dishes at Sunday Supper Movement.