This ham and cabbage soup recipe is a family favorite. It's the perfect dish to make after a big ham dinner. Use the hambone to make a flavorful stock.
You might also love this low carb creamy pumpkin, kale and sausage soup!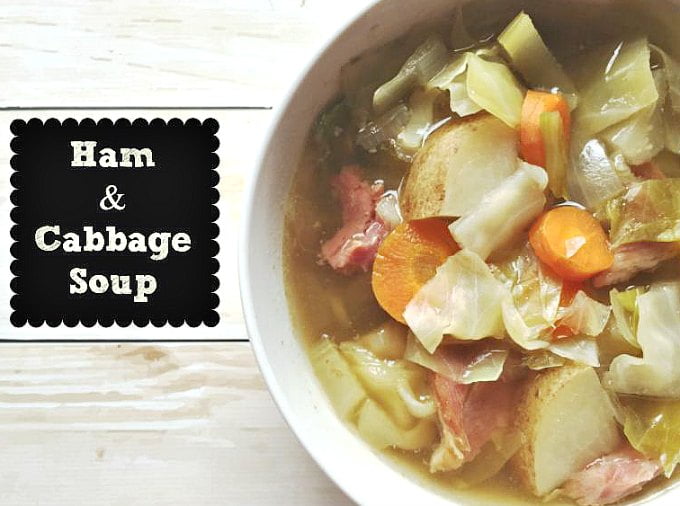 I had never heard of this dish until I met my husband. I think it's because my mom never really made ham, and this is a dish that you make with the leftover ham bone and scraps. It happens to be one of my husbands favorites and it's become one of mine. The best thing about it is that it's simple and very tasty.
Make the ham stock first
The first thing you want to do is to make your ham stock. I find the easiest way is in a crockpot. Add you large hambone (after you've cleaned as much meat as you want off of it and pour water to cover almost to the top of the crockpot. Add a bay leaf or two, some pepper and I omit the salt because you never know how much is in a ham. Let that cook over night and you should get a nice rich broth.
Strain the broth from the crockpot into your big stock pot and put in the refrigerator for a few hours. When you do this, the fat will rise to the top and harden, making it easy to take off. See how it hardens (pic below).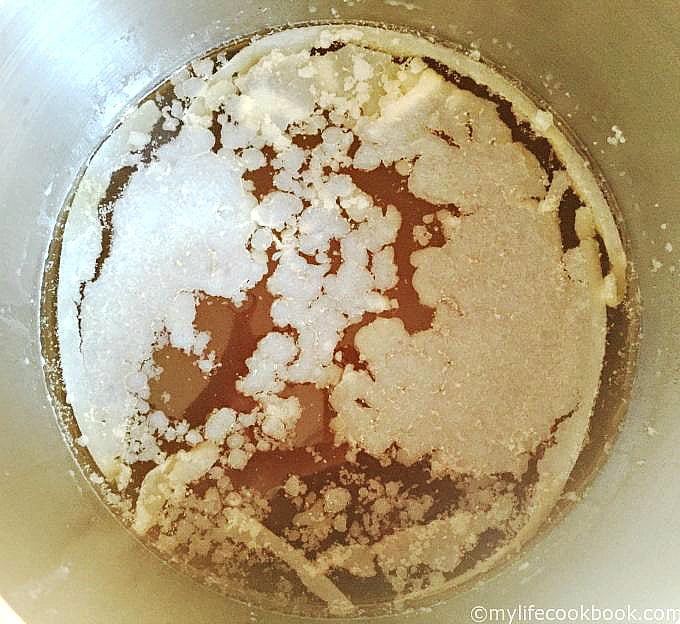 Ham and Cabbage Soup Recipe
Once you've skimmed off the fat, put your stock pot on the stove and set to a medium high heat. Chop up your veggies and add them to your pot. I like to use onions, carrots, celery, potatoes and of course cabbage. Some people put green beans too but my hubby doesn't care for it, so no green beans for us.
Cook all of those lovely ingredients until the vegetables soften which may be an hour or so. Make sure you have enough stock to cover all the veggies and if not, add water.
Once the veggies have softened, add your ham and cook for about 10 minutes more. At that point you can season with salt and pepper. I'm always afraid to add to much salt because ham is very salty to start with and nothing is worse than too salty soup.
And that is all there is to it for this ham and cabbage soup. It's a hearty meal in of itself. We just eat it with French or Italian bread and that's our whole meal. I hope you like this dish and if you've ever heard of it before, drop me a line in the comments and tell me how you make yours. Do you add green beans?
Ham and Cabbage Soup
This is a simple but tasty meal and makes perfect use with left over ham and ham bone from a ham dinner.
Cook Time
1
hour
10
minutes
Total Time
1
hour
20
minutes
Ingredients
4

cups

Ham Stock or water

1/2

head of cabbage

2

carrots chopped

2

celery stalks chopped

1/2

onion chopped

2

large potatoes chopped

2

cups

ham chopped

salt and pepper to taste
Instructions
To make your ham stock, place your ham bone in a slow cooker and fill with water. Add a few bay leaves and peppercorns if you have them.

Cook over night and then strain the next morning.

Set your stockpot in the refrigerator for a few hours so that the fat will rise to the top, harden and can be easily skimmed off.

Add your ham stock to a large stock pot. Heat to medium high.

Add all your vegetables and let simmer until they are soft. May take up to an hour.

Add in your chopped ham and cook for additional 10 minutes.

Season with salt and pepper.

Serve with crusty bread.