Sun dried tomato & broccoli creamy cabbage noodles is an easy side dish or main course. A great low carb alternative to pasta. Only 5.8g net carbs.
You might also like this cabbage with creamy tomato sauce.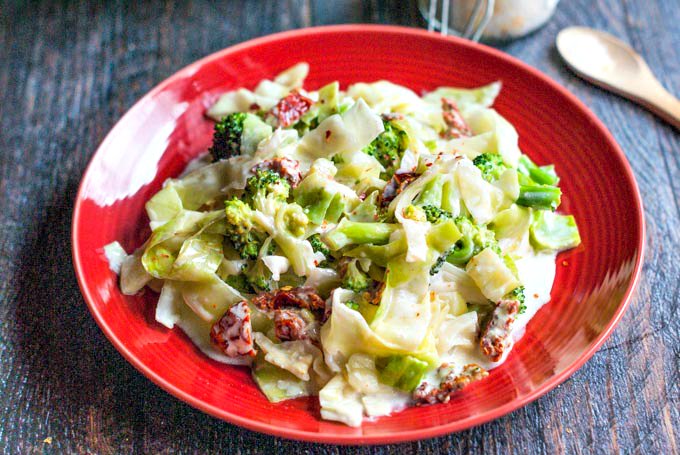 Sometimes I just get in the mood for a creamy pasta dish. My hubby is not such a fan of creamy sauces and I'm always trying to keep the carbs down, so I made these creamy cabbage noodles for myself one night. The creamy sauce was easy to make and the sun dried tomatoes gave it a boost of flavor. While cabbage noodles do not taste like pasta, they are surprisingly good and makes eating cabbage a bit more fun.
Other Cabbage Noodles Recipes
I have a few other cabbage noodle recipes on my site (pork ragu with cabbage noodles, red curry cabbage noodles). So believe me when I say cabbage noodles are good. And if you are on a low carb diet, they are a great thing to try when you are craving pasta. The cream sauce is simple but rich with butter, cream cheese, cream, sun dried tomatoes and grated cheese. I added some broccoli because I love how broccoli soaks up whatever sauce it's in. Yummo.
Creamy Cabbage Noodles Recipe
So, to prepare, I melted the cream cheese and butter in a saute pan. I added in the cream and grated cheese and whisked to incorporate. Then I added in the sun dried tomatoes, cooked cabbage and broccoli.
Note: I precooked the cabbage and broccoli in the microwave to speed things up. Mix well and let simmer for a few minutes and you have a tasty low carb side dish or meal. This made about 4 side dish portions or 2 main dish portions.
The nutrition is for the side dish portion.
1 serving = 229 cals / 19.3g fat / 8.5 carbs / 2.7g fiber / 7.3g protein = 5.8g net carbs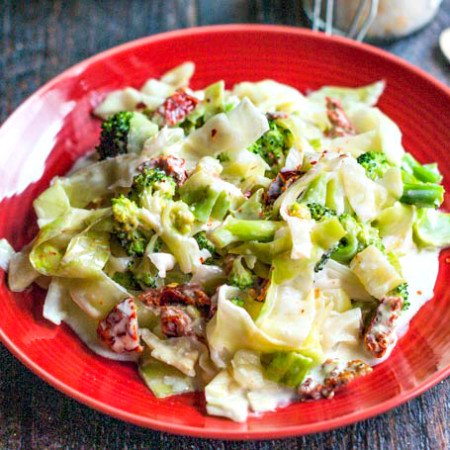 Creamy Sun Dried Tomato & Broccoli Cabbage
Creamy sun dried tomato & broccoli cabbage is an easy side dish or a main course. A great low carb alternative to pasta.
Ingredients
2

cups

cabbage, sliced thinly

¼

cup

sun dried tomatoes chopped

¼

cup

boiling water

¼

cup

heavy cream

2

Tablespoons

butter

½

cup

grated cheese

¼

cup

cream cheese

1

cup

broccoli florets
Instructions
Slice your cabbage into thin strips or noodles.

Microwave on high for 5 - 10 minutes or until cabbage is cooked

Place your sundries tomatoes into a small bowl and add the boiling water. Let sit.

When cabbage is done, take it out and place your broccoli into the microwave and cook for 4 minutes.

In a large saucepan, add your butter, cream and cream cheese.

Once all the cream cheese is melted, whisk in the grated cheese.

Add in the tomatoes and water, mix well.

Add in your cabbage noodles and broccoli and let cook for 3 minutes.
Sun Dried Tomato & Broccoli Creamy Cabbage