Rick's easy pickled jalapeño peppers recipe is a tasty use of fresh jalapeños from the garden. Much better than store bought and very easy to make.
You might also like these bacon wrapped stuffed jalapenos recipe

This is Denise's husband Rick. I may be better known to some of you as the travel blogger of Day Tripping with Rick who sometimes guests on this blog.
I always thought myself a decent cook until I met my wife. Now I'm relegated to the grill/smoker or other manly-men meat-burning device. I leave the heavy lifting to her, and rightly so. She is an excellent cook to which many of you can attest.
But every once in a while, I have my moments. Such a day is today. I'm going to talk to you about cold pickled jalapeno peppers.
I generally will do this a couple of times in the summer when my pepper plants are neglected after a week at the beach and I'm stuck with 100 or so fully mature chiles. Unless you are actually operating a Mexican restaurant, you will never use 100 chilies before they shrivel up. So I'm going to show you what you can do with them.
Like me, I'm guessing you might have questions so we'll handle them up front.
Q- What is cold pickling and why would I do this instead of full-bore sterile pickling?
A- Sterile pickling is for the truly hard core. You have to have a big freaking pot to put your canning jars and lids into so you can sterilize them before you can. Your quality assurance policy has to be better than Dow Chemical. After all, when you're done, the stuff you put up has to last through the Zombie Apocalypse. Your stuff will be the stuff that the radioactive cockroaches, which are the only survivors will be eating.
Cold pickling is easy. Everything you make goes into the fridge and stays there until you eat it. So you tend to eat them pretty quick. The whole process takes about 20 minutes
Q- So, why wouldn't I just go down to the Dollar General and buy a jar of pickled jalapenos for a buck?
A- Unlike the stuff you get at the store which is picked old, mechanically sliced, cooked to within an inch of edibility, and packed off from parts unknown, you are doing all this yourself. The cold-pickled stuff will be crisper, fresher, better tasting and you'll be the envy of every Super Bowl party when you pull out a jar of these for your Super Nachos. And you will impress your friends when you give them a jar.
Q- How many peppers do I need?
A- How many pepper do you have? I'll give you a basic recipe that I use and you just increase or decrease it to fit the number. Today we'll put up about 3 pints, which is about 40 peppers. I like jalapenos or serrano peppers. Actually a mixture of the two which is bright red and bright green makes a nice gift. For this recipe, they are interchangeable.
Preparing The Pickled Jalapeño Peppers
1. Pick
2. Slice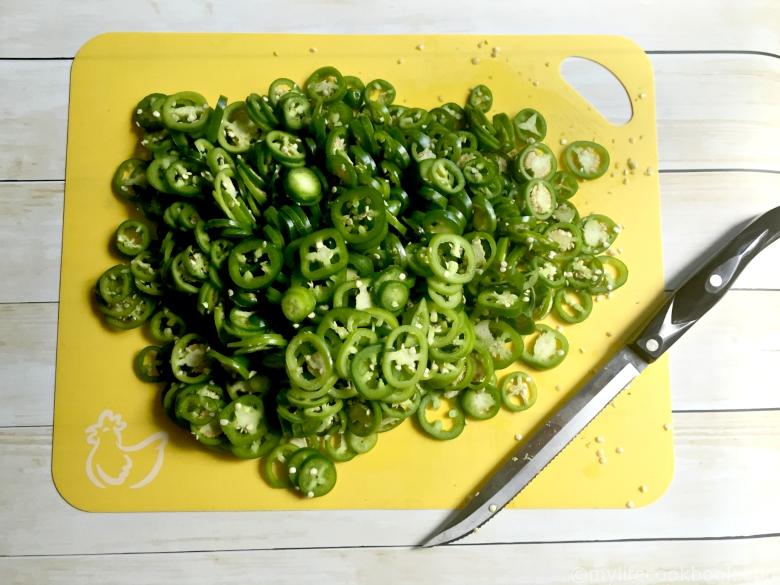 I like to slice them about ⅛-1/16th inch thick rings. At the end of the day, you have rings, seeds and hats.
Put the seeds in with the rings. The hats I just pitch.
The Cold Pickle Recipe
This is pretty standard stuff and you probably have everything in your kitchen somewhere.
3 cups of water
3 cups of white vinegar
¾ cup of white sugar
¼ cup of salt
4 cloves of garlic – crushed
2 teaspoons of oregano
1 teaspoon of coriander seeds
Throw everything into a spaghetti pot and bring to a boil.
Here is where my recipe veers a bit from others. Most will but the peppers into the pot of boiling pickle and let it sit for 10 min or so. Instead, I pack the pepper rings into the jars dry, and pour the boiling mixture over the peppers. Then put on the lids and take them out to the garage fridge. I find that by doing it this way the pepper rings stay crisper.
Give them away to your friends who think that the only place you can get food is a store. They will look at you with new respect.
The cold pickle work with all kinds of vegetables. I love to grow bush beans and I tend to get overrun this time of year. I will separate out the straightest ones and pickle them. They make great stirrers for bloody marys.
Rick (click to learn more about Rick.)
The nutritional information is for 1 out 12 servings in a pint of jalapenos and using sweetener instead of sugar:
6 cals / 0.1g fat / 6.2g carbs / 5.5g fiber / 0.2g protein = 0.7g net carbs
Rick's Easy Pickled Jalapeno Peppers
This is an easy way to enjoy home grown jalapeno peppers. Rick's easy pickled jalapeno rings are much bette than store bought.
Ingredients
3

cups

water

3

cups

white vinegar

¾

cup

white sugar, or sweetener if you're counting carbs

¼

cup

salt

4

cloves

garlic, crushed

2

teaspoons

oregano

1

teaspoon

coriander seeds

40

jalapenos, sliced
Instructions
Slice the peppers about ⅛-1/16th inch thick rings. At the end of the day, you have rings, seeds and hats. Put the seeds in with the rings. The hats just pitch.

Pack the peppers into your pint jars all the way up to the top, fairly densely packed.

Throw everything else into a spaghetti pot and bring to a boil.

Then spoon the pickle mixture into the jars using a ladel until the liquid reaches the top. Put on the lid and voila, you got pickled pepper rings.