These spicy pickled green beans are my new obsession. Crunchy refrigerated pickled green beans that are both spicy and sweet and best of all, a tasty low carb snack.
You might also like these pickled jalapeno peppers recipe!
I hadn't planned on writing this post but I cannot stopping eating these spicy pickled green beans that my husband made! They are so good and so easy to make and best of all for me they are low carb.
My husband has been canning and pickling all summer but this is my favorite. He used his pickled jalapeño recipe and added lots of green beans. The combination is spicy and tangy and a bit sweet which goes great with the fresh, crunchy green beans. Green beans are not even one of my favorite vegetables but I love these!
Ok I do like green beans when they are in a green bean casserole or tasty Asian green bean almondine side dish. But there is something about this pickle that I can't get enough of.
I keep a plate of them by my computer when I'm working and just crunch on one when I get hungry. I like that it's low carb but it's also very healthy too. Now I will show you how easy it is.
Let's Make Some Pickled Green Beans!
My hubby has a whole technique but I'm going to just give you the nitty gritty details. You clean and trim your green beans and chop the peppers. He used pint size jars like this.
He turns the jar on the side to stuff the green beans in so they are standing straight and then adds the peppers on top.
Then get a pot and pour in all the rest of the ingredients and bring to a boil. Turn off the heat and ladel into the jars.
Let them cool off before adding a lid and placing into the refrigerator.
They are not canned pickled green beans, they are refrigerator pickles. As in they have to be refrigerated but they will keep for quite a long time. My hubby said you wouldn't want to can them because the green beans and peppers would get soggy.
Well I hope you like this recipe as much as I do. I mostly posted this for my own use; so I can have the recipe at my fingertips to make these year round.
The nutritional information is approximate because it will be dependent on how many green beans you use and how many jars (I used 5 jars). But the nutrition for about ¼ of a pint jar which is roughly 10 green beans is:
17 cals / 0.1g fat / 2.7g carbs / 0.8g fiber / 0.5g protein = 1.9g net carbs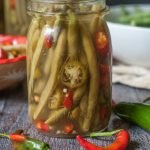 Spicy Pickled Green Beans (low carb)
These spicy pickled green beans are my new obsession. Crunchy refrigerated pickled green beans that are both spicy and sweet and best of all, a nice low carb snack.
Ingredients
3

cups

of water

3

cups

of white vinegar

¾

cup

of Splenda sweetener

¼

cup

of salt

4

cloves

of garlic - crushed

2

teaspoons

of oregano

1

teaspoon

of coriander seeds

1 ½

lb

of green beans, cleaned and trimmed*

4

fresh jalapeños, sliced

4

fresh cayenne peppers, sliced
Instructions
In a large sauce pan, add all the ingredients except the vegetables and bring to a boil.

Divide green beans and peppers evenly among your jars.

Pour pickling liquid over the vegetables and let cool.

Cover and place in the refrigerator over night.

Enjoy!

*Note: this pickling recipe will make roughly 5 pint jars of spicy pickled green beans. It will depend upon how many beans you put in your jars.

Serving size is roughly 10 green beans.
Recipe Notes
The nutritional information is approximate because it will be dependent on how many green beans you use and how many jars (I used 5 jars). But the nutrition for about ¼ of a pint jar which is roughly 10 green beans is: 
17 cals / 0.1g fat / 2.7g carbs / 0.8g fiber / 0.5g protein = 1.9g net carbs