These low carb jalapeño popper waffles can be a great snack, lunch or even breakfast! They are savory waffles with a bit of a kick and only take a few minutes to make. 1.1g net carbs each.
I know I swore off making these kinds of waffles but my husband was trying to keep his carbs down for awhile and I was running out of things to make him for breakfast. He's not an egg eater so that limits what I can make him. He does love these low carb waffles though. They have a hint of spice, though not too much because I cleaned out the ribs and seeds really well. And the rest is just cheesy goodness. It's so easy to make these low carb jalapeño popper waffles that I made a bunch and froze them for later. They would make a good snack or appetizer too!
Low carb savory waffles
When you make these and find that you love them (at least I hope you will) come back and check out some of my other 9 savory low carb waffles. My favorite is probably my pizza waffle or the chicken, ham and swiss. They are all just variations of this recipe but I even have a pumpkin waffle for my dog! (That one doesn't have cheese or peppers in it though so it's safe for pups.) I love them because they only take a few minutes to make and they taste delicious!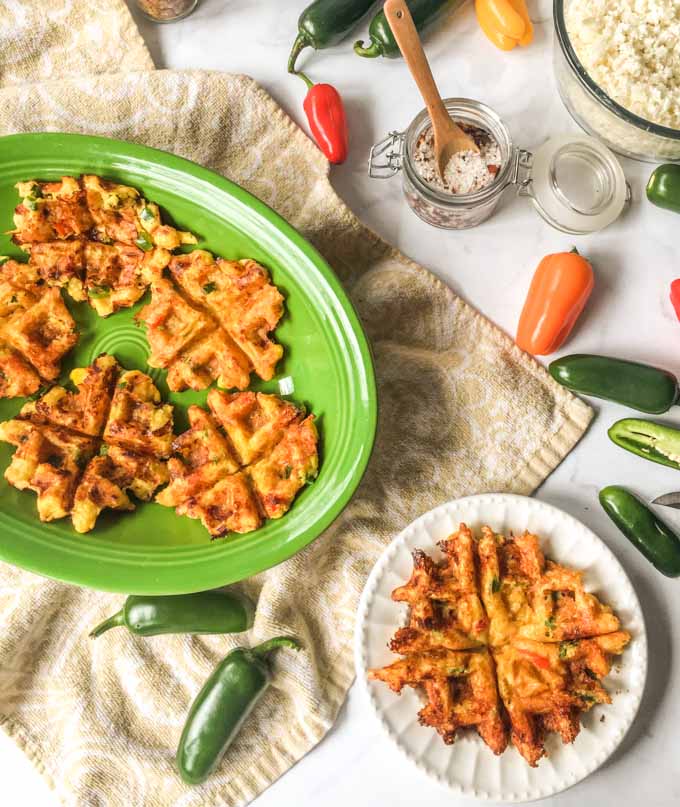 Waffle ingredients & Waffle makers
As I mentioned above I really cleaned out the pepper of it's seeds and ribs to make sure these waffles weren't too hot. Though my husband loves hot stuff, I didn't think it would be a good way to start his morning. If you want it more spicy, keep the ribs in. That might be nice if you are making these for a snack or appetizer. I also used a mini bell pepper to give it color and more pepper taste. The other ingredients are riced cauliflower, eggs and cheeses. Mix them all together and just spoon them into your waffle maker. I have this one I got at Target and love it. It doesn't need greasing first but you might want to grease yours first. Check your manufacturers instructions first so they don't stick to your waffle maker.
Jalapeno Popper Waffles Recipe in a nutshell
Clean 1 jalapeño pepper of ribs and seeds and finely dice. Also dice 1 mini bell pepper.
Beat eggs in a bowl and add the peppers, cauliflower rice, mozzarella cheese, cheddar cheese and Parmesan cheese.
Mix well and then spoon a small amount on to the preheated waffle maker.
Eat immediately or store in the freezer and microwave for 30 secs to eat later.
I hope you enjoy these low carb jalapeño waffles. The nutritional information for 1 waffle is:
107 cals / 7.7g fat / 1.4g carbs / 0.3g fiber / 7.9g protein = 1.1g net carbs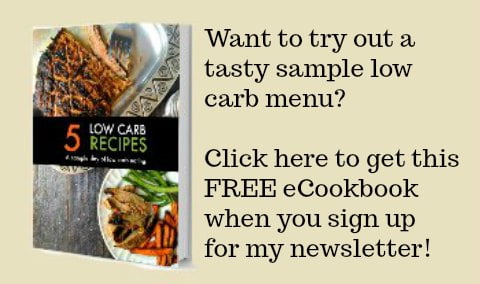 Low Carb Jalapeño Waffles
These low carb jalapeño popper waffles can be a great snack, lunch or even breakfast! They are savory waffles with a bit of a kick and only take a few minutes to make. 1.1g net carbs each.

Ingredients
1

jalapeno pepper, finely diced

1

mini sweet pepper, finely diced

2

eggs

1/2

cup

mozzarella, shredded

1/2

cup

cheddar cheese, shredded

1/4

cup

Parmesan cheese, grated

1/2

cup

cauliflower rice
Instructions
Clean the ribs and seeds out of the jalapeño and then finely dice both peppers.

Tor rice the cauliflower, add florets to a food processor and pulse a few times until they resemble rice grains.

In a bowl, beat the eggs and then add the rest of the ingredients.

Heat up waffle iron. If you manufacturers directions suggests greasing first, please grease before cooking each waffle.

Add a bit of waffle mixture to your waffle iron in the center and cook as you would any other waffle. Continue until mixture is gone. This made 6 small waffles for me.

Eat immediately or if freezing, reheat in the microwave for 30 to 60 seconds. They will not be crunchy when reheating but they will taste delicious anyway.