These delicious keto pizza waffles are not only low carb but they are gluten free and grain free too! All you need are eggs, cheese, cauliflower, pepperoni and spices. Best of all each is only 0.9g net carbs and makes for a great low carb snack!
You might also like these 9 savory low carb waffles post!
Remember the veggie noodle kick I was on? Well now it's a savory waffle kick. Last week it was savory breakfast waffles with spinach and bacon. Today it's keto pizza waffles with pepperoni and tomato dipping sauce. I have lots more ideas for these waffles but I don't want to overwhelm you with all this waffling (haha).
I started to make these savory low carb waffles because I was in the mood for something bread-y and I'm always trying to keep it low carb-ish.And thus the pizza waffle was born and boy is it yum-my! Really. It tastes very much like pizza so if you too, are doing the whole low carb thing, this is a good substitute for pizza. It's like pizza in a convenient waffle form.
TIPS FOR MAKING THESE CHEESE WAFFLES
Make sure to grease your waffle iron first. My Oster waffle iron doesn't need much greasing but yours might. Check the manufacturers instructions to see. I often use coconut oil or butter after each waffle.
Only make small waffles. Add the "batter" to the center of the waffle iron and just enough to make a small waffle. Too big and it will be difficult to get out.
Don't substitute the mozzarella cheese. The stringy factor in that cheese is what keeps it together well.
If reheating, only microwave for 30 second intervals until heated through. It will be soft but will harden as it cools.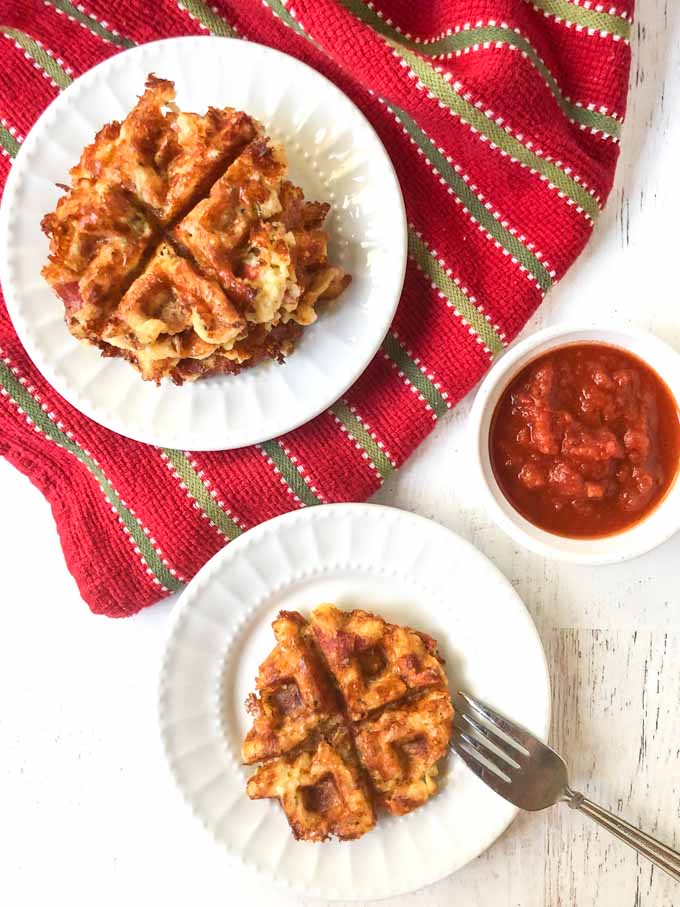 Keto Pizza Waffles ingredients
Because this is a gluten free waffle there is not any flour of any kind in them – no wheat, almond or coconut flour. The ingredients are cheeses (mozzarella, cheddar and Parmesan), eggs, pepperoni cauliflower rice and spices.
The cauliflower is to give it some bulk and the egg and cheese keeps it together.

Keto PIzza waffle recipe
You start by mixing all the ingredients together in a bowl. Above is what it should look like. In the meantime get your waffle iron nice and hot. I have an Oster waffle iron that does not need greasing but these can get sticky so make sure to grease the waffle iron before each waffle.
Since this recipe only make 4 small waffles, you can eyeball 1/4 of the mixture and plop it in the center of the waffle iron. Close the lid and proceed to make waffles.
Low Carb Marinara sauce
I really like the marinara sauce I get at Aldi. It's called Specially Selected Premium Marinara sauce and has 5g net carbs per 1/2 cup of sauce. It's still rather high but it's convenient to buy, inexpensive and I like the taste.
There are lower carb sauces that you can buy on Amazon. This Organico Bello has 2g net carbs and this Rao's has 3g net carbs per half cup. However I have not tried either but they have good reviews. I have these and some other low carb condiments you might like in my Amazon store.
So that is my simple keto pizza waffles! I like to dip them in a little marinara sauce like some might dip a breadstick. Again this recipe only makes 4 small waffles but they are very filling. The nutritional information for 1 small waffle (without sauce) is:
96 cals / 7.2g fat / 1.1g carbs / 0.2g fiber / 6.6g protein = 0.9g net carbs
More low carb waffles to try!
If you like keto waffles like this one or what some might all chaffles (cheese waffles) I have many on this blog. As a matter of fact I made a post of 9 low carb waffles that you might like.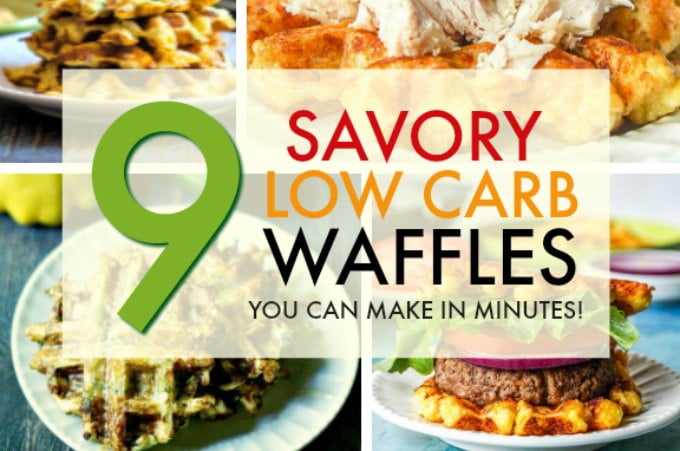 Savory Pizza Waffles (grain free, low carb, Paleo)
These delicious savory keto pizza waffles are not only grain free, they are also low carb. All you need are eggs, cheese, cauliflower, pepperoni and spices.
Ingredients
1

egg

1/4

cup

riced cauliflower

6

slices

of pepperoni, chopped

1/4

cup

mozzarella cheese, shredded

1/4

cup

cheddar cheese, shredded

2

tablespoons

grated parmesan cheese

1/4

teaspoon

garlic powder

1/4

teaspoon

onion powder

1/2

teaspoon

Italian spices

low carb tomato sauce for dipping
Instructions
First rice your cauliflower. There are a few ways to do this, but you can just cut it up into florets and pulse in a food processor (gently though...you don't want cauliflower puree)

In a large bowl beat the egg and then add the rest of the ingredients. Mix well.

Heat up your waffle maker and then grease it with melted coconut oil or butter.

Make your waffles according to your manufacturer's directions.

This recipe makes 4 small waffles or 1 large one.

Enjoy!