These savory keto vegetable waffles are quick to make and absolutely delicious! Not only are they low carb, these waffles are gluten free, dairy free and Paleo. Each waffle has only 4.5g net carbs and are great for a keto snack or meal.[Updated 1/21]
You might also like these keto zucchini waffles recipe!
Recently one of my readers contacted me about my original zucchini waffle recipe which had cheese as an ingredient. She was disappointed because she was looking for a dairy free waffle recipe. So I came up with these keto vegetable waffles with her in mind.
It turned out to be my husband's favorite low carb breakfast so I'm glad I did! Each of these waffles has only 4.5g net carbs, 6.1g protein and they are gluten free, dairy free and keto. You can't beat that!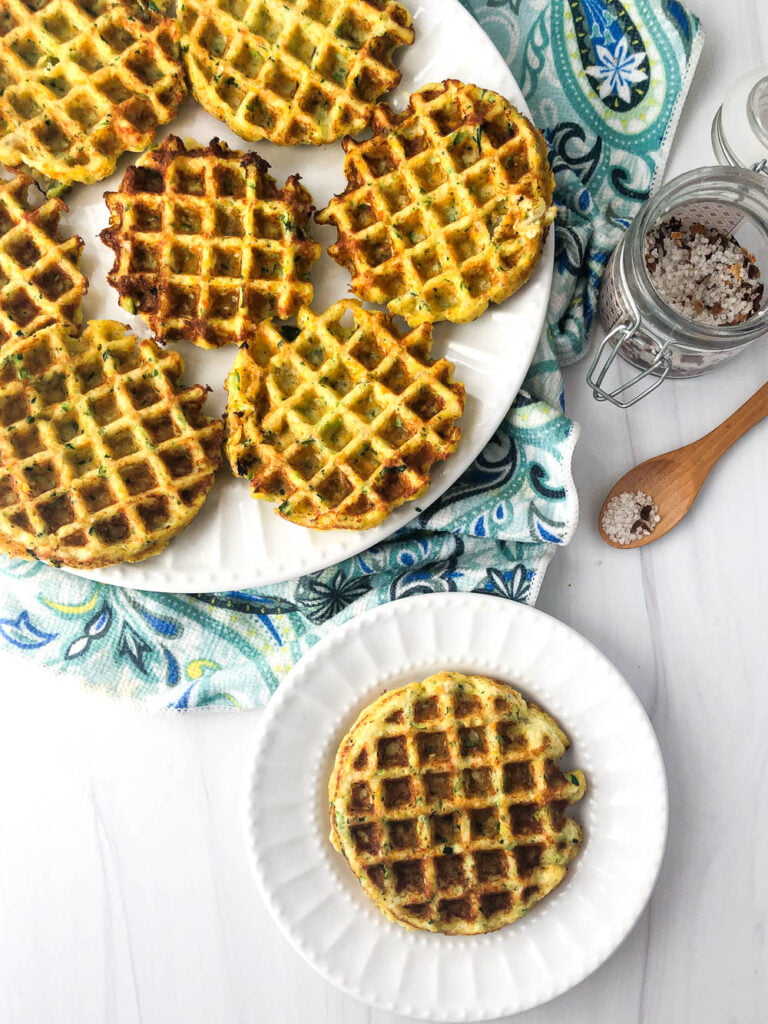 What Veggies I Used
I used zucchini, carrots and onion in this veggie waffle recipe. These veggies work well but you could also use grated cauliflower too. They add bulk, taste and nutrtion to the recipe.
The Keto Waffle Ingredients
The ingredients I used for this recipe are: zucchini, carrots, onions, eggs, nutritional yeast, almond flour, garlic powder, salt and coconut oil.
A note about nutritional yeast: this adds a healthy nutty, cheesy flavor to the waffles. If you are not concerned about being dairy free and don't have any nutritional yeast you can substitute with grated parmesan cheese.
Let's Make Some Savory Waffles!
Hand grate the zucchini, carrots and onion. You can also place these in the food processor and pulse until finely chopped.
Place these grated vegetables into a tea towel and wring out all of the water. This is important as it would effect final result.
In a large bowl, add eggs and beat with a fork. Add that the grated vegetables and the rest of the ingredients leaving the coconut oil for last.
Heat up your waffle maker and use coconut oil to grease it if your iron calls for that.
Place ¼ cup of the batter into the middle of the waffle iron and cook your waffle. Continue with the rest of the batter.
My New Favorite Waffle Iron.
I have two waffle irons, one is an Oster waffle iron which is full size and now my Dash mini waffle maker. Both are inexpensive and excellent for keto waffles.
I used my Dash mini waffle maker for these kind of recipes and they work perfectly! The small size is good because these are filling and I don't think you need more than one for a snack or breakfast.
As I've mentioned my husband is a big fan of these keto vegetable waffles. I'm surprised to be honest because he hates zucchini. I've tried all summer to make something with zucchini he likes and this is the only recipe he'll eat. This and the other zucchini waffle that is.
If you are a fan of savory low carb waffles, check out my post 9 Savory Low Carb Waffles post. And for some excellent almond flour pancakes try Carolyn's from All Day I Dream About Food. Enjoy!
The nutrition for 1 waffles is 147 cals
11.5g fat / 6.6g carbs / 2.1g fiber / 6.1g protein =4.5g net carbs
Savory Keto Vegetable Waffles
These Paleo zucchini & carrot waffles are quick to make and taste great. Low carb and gluten free, each waffle has 4.5g net carbs.
Ingredients
½ cup carrots, grated
1 ½ cups of zucchini, grated
½ onion, grated
½ cup almond flour
3 eggs
½ teaspoon garlic powder
1 tablespoon nutritional yeast (can use parmesan cheese)
2 tablespoons coconut oil, melted
½ teaspoon salt
Instructions
Place your grated zucchini, onion and carrot in a tea towel and wring out as much water as possible.
Add your eggs to a large bowl and beat.
Add your almond flour, spices, vegetables and melted coconut oil. Make sure to let your coconut oil cool a few minutes so that it is still liquid but not boiling hot and won't cook the eggs.
Spoon about ¼ cup of the mixture onto the middle of the waffle iron and cook. If you waffle maker requires greasing before hand please do that. Mine did not.
This recipe should make 8 waffles.
Notes
The nutrition information for 1 waffle is: 147 cals / 11.5g fat / 6.6g carbs / 2.1g fiber / 6.1g protein =4.5g net carbs
Recommended Products
As an Amazon Associate and member of other affiliate programs, I earn from qualifying purchases.
Nutrition Information:
Yield:

8
Serving Size:

1
Amount Per Serving:
Calories:

147
Unsaturated Fat:

0g