These 9 savory low carb waffles take only a few ingredients and you can make them in minutes! Pull out that waffle maker and start experimenting. Great when frozen too for a grab and go low carb breakfast or snack!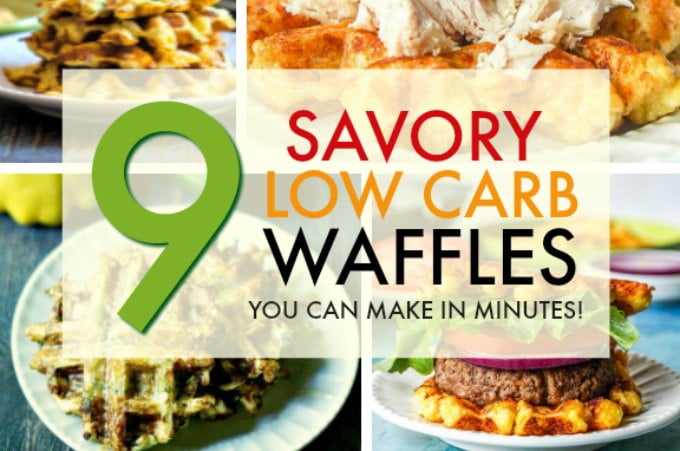 My family loves these savory low carb waffles so that is why I have so many of them on this blog. They are also very popular with my readers so I wanted to collect them all in one place.
The base of these waffles are very simple and from there you can experiment to make your own flavors. Most of these recipes only use a few ingredients, take just a few minutes to make and freeze well. So here are 9 for you to try.
What Kind Of Waffle Maker Should I Use?
First let's talk about waffle makers. I use this one because it's surface really keeps the cheese from sticking. I even take the extra precaution of greasing it between waffles. Just add a little oil or melt butter to a small bowl and brush some over the surfaces before each waffle. That should help the cheese from sticking. The Oster waffle iron I use is only $20 so if it ever gets hard to get the waffles out I just end up getting another one. We tend to eat a lot of waffles in this house. 😉
The Basic Recipe For These Low Carb Waffles
The two ingredients you have to use are eggs and mozzarella cheese. You can also use other cheese but you should make half of the cheese mozzarella because you need that stringiness to keep the waffles together. I also like to add a bit of Parmesan to give it a little flavor boost. From there you can add any vegetables you want. You can also use meats like bacon, sausage, pepperoni, ham or chicken. Lastly add any spices you want. Now let's get to the waffles!
These delicious savory pizza waffles are not only grain free, they are also low carb. All you need are eggs, cheese, cauliflower, pepperoni and spices. Only 0.9g net carbs each!
These low carb jalapeño popper waffles can be a great snack, lunch or even breakfast! They are savory waffles with a bit of a kick and only take a few minutes to make. 1.1g net carbs each.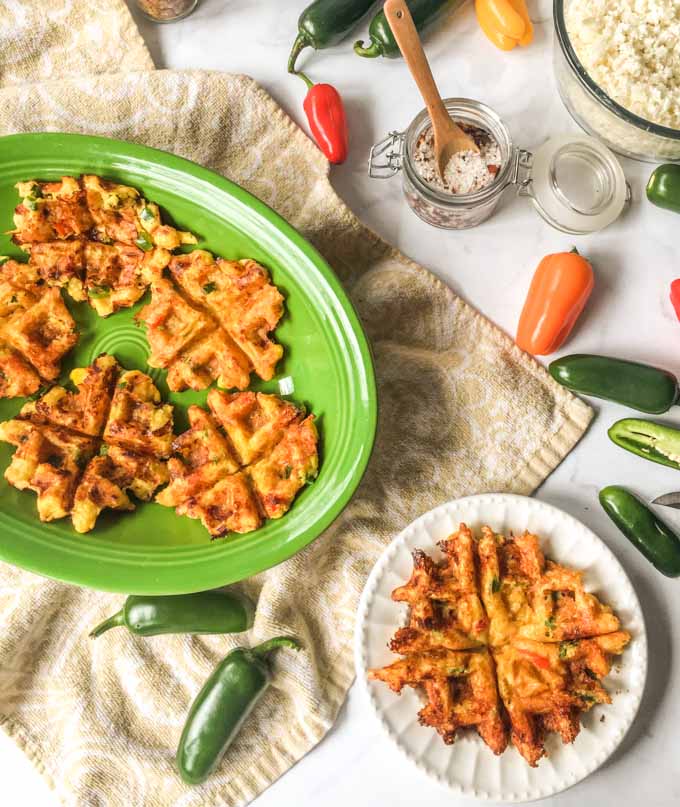 These low carb bacon cheeseburger waffles make for a fun and tasty meal. Dip in aioli, ketchup or whatever you would top your burger. Only 1.1 net carbs per waffle.
These savory breakfast waffles are a great low carb breakfast on the go! Only 1.9g net carbs per small waffle and filled with tasty cheese, bacon and vegetables.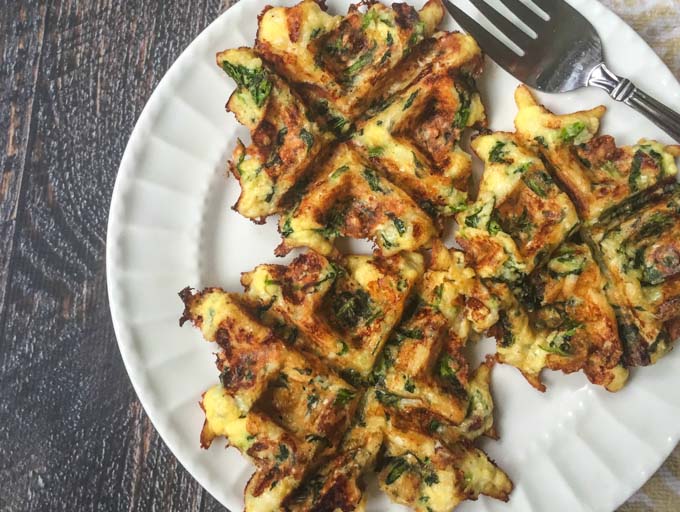 These savory zucchini waffles are gluten free and low carb. They make a great low carb breakfast or snack and you can even freeze them for later. Only 5 ingredients and 3.1g net carbs per waffle.
These low carb turkey stuffing waffles are the perfect way to eat those Thanksgiving leftovers. Easy to whip up and you can eat them for breakfast, lunch or dinner. Only 1.4g net carbs each!
If you are looking for an easy low carb breakfast or snack, try these broccoli & cheddar low carb keto waffles. Only a few ingredients and you have a savory, gluten free waffle everyone will love. Only 1.7g net carbs per serving.
These chicken ham & swiss waffles are low carb and most tasty. Only a 5 ingredients and 10 minutes to make and 1g net carbs per waffle.
Looking for a fun low carb bun for your burger? Try a cheese waffle burger! Cheesy, chewy and perfect on your favorite burger. Only 1.6g net carbs for 2 waffles which equals 1 bun. Add your favorite toppings like bacon, peppers, onions, etc.
TIPS FOR MAKING THESE CHEESE WAFFLES
Make sure to grease your waffle iron first. Mine doesn't need much greasing but yours might. Check the manufacturers instructions to see. I often use coconut oil or butter after each waffle.
Only make small waffles. Add the "batter" to the center of the waffle iron and just enough to make a small waffle. Too big and it will be difficult to get out.
Don't substitute the mozzarella cheese. The stringy factor in that cheese is what keeps it together well.
If reheating, only microwave for 30 second intervals until heated through.
And as an added bonus, check out my friend Maya's keto chaffles 5 ways post. She has great tips and recipes for you too!