These savory low carb waffles are a great low carb breakfast on the go! Only 1.9g net carbs per small waffle and filled with tasty cheese, bacon and vegetables.
You might also like these low carb zucchini waffles recipe.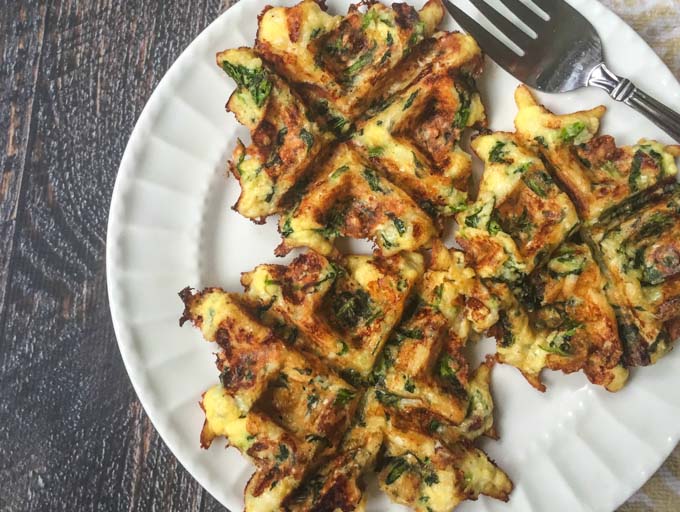 I love waffles, but traditional waffles do not love me. After I've eat one (or two) I just want to go to sleep, so not a good breakfast food for me. I've tried various Paleo and gluten free varieties and while some were good (and some were not) I still have yet to find one that I really like. So for now I'm sticking to these savory low carb waffles.
This savory low carb waffle is a play on my spinach & cheese waffle recipe and is definitely a meal in of itself. It has spinach, cauliflower, eggs, cheese and bacon so all your bases are covered with this one. Not only are they low in carbs (1.9g) they are pretty high in protein (6.2g) so overall a healthy way to start your day.
My Favorite Bacon
I will keep this post short and sweet because you're really here for this delicious waffle recipe. But first let me tell you about this wonderful product I've found at Aldi's. It's uncured bacon…no nitrites, nitrates or preservatives. I feel like it's a healthier option for my family but it's also the most delicious bacon I've ever eaten. I think it's the applewood smoked flavored or thicker cut that makes it taste so good though I don't really know but I love it.
Ok I digress. The point is that give it a try next time you go to Aldi. While I used it in the recipe you can use any kind of bacon you want. You could even use ham if you wish. Just make sure to cut it up in little pieces before you mix it with the other ingredients.

Savory Low Carb Waffles Recipe

First you want to get your bacon cooking. I make mine in the microwave when I am in a hurry. I have a microwave plate like this one
and it takes about 5 minutes. It's also easy to pour off the excess bacon grease (which when I'm using the above bacon I keep for cooking other things.)
Next you want to rice your cauliflower. You can find out how here or if you are in a hurry, just put florets in a food processor and gently pulse until you get a rice like texture. Set the riced cauliflower aside. (Note: I always make extra because there is a lot of things you can make with it. For example you can add it to soups, omelets or make a pilaf side dish.)
In a large bowl mix together your spinach, cauliflower rice, bacon, cheeses, eggs, spices and a tablespoon of melted butter or bacon fat. Then just grease up your waffle iron and add your mixture. Golden, crispy deliciousness!
Low Carb Waffles In A Nutshell
cook bacon, crumble and set aside
place cauliflower florets in a food processor and pulse until a rice like texture
mix spinach, cauliflower rice, bacon, cheeses, eggs, spices and butter
add mixture to waffle iron to make waffles according to manufacturer's instructions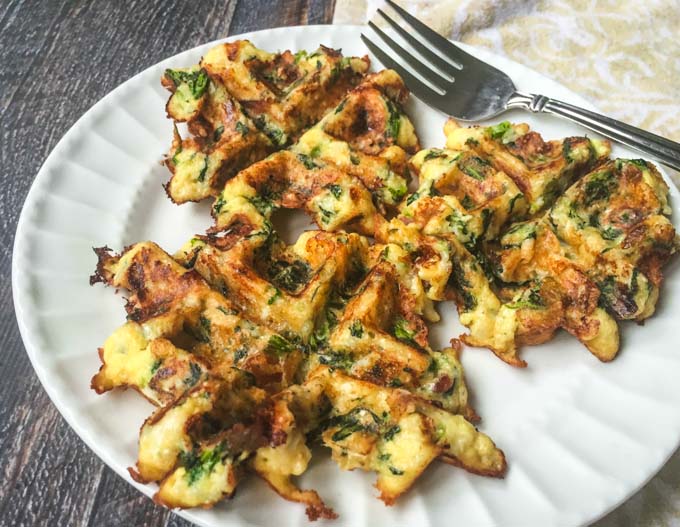 This recipe makes 2 large waffles or 6-8 small ones. Hope you like this as much as I do. I have a few ideas for some other ones so stay posted! The nutritional information per serving based on 8 small waffles is:
95 cals / 7.1g fat / 2.3g carbs / 0.4g fiber / 6.2g net carbs = 1.9g net carbs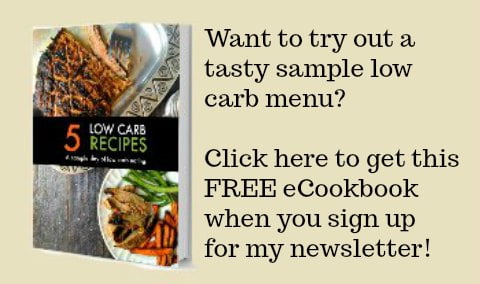 Savory Low Carb Waffles
These savory breakfast waffles are a great low carb breakfast on the go! Only 1.9g net carbs per small waffle and filled with tasty cheese, bacon and vegetables.
Ingredients
2

strips of bacon, cooked and crumbled

½

cup

riced cauliflower, raw

½

cup

frozen chopped spinach, (squeeze water out first)

2

eggs

½

cup

mozzarella cheese, shredded

½

cup

cheddar cheese, shreddwed

1

tablespoon

bacon fat or melted butter

¼

cup

Parmesan cheese, grated

1

teaspoon

onion powder

1

teaspoon

garlic powder
Instructions
Make your bacon any way you wish. Reserve a tablespoon of the bacon fat and crumble bacon

Thaw and squeeze out as much water as you can from the spinach and add to a bowl.

Rice your cauliflower and add to the spinach along with the beaten eggs, cheeses, onion powder, garlic powder and bacon pieces.

Mix well.

Grease your waffle iron according to manufacturers directions.

Add the mixture to your waffle iron and make as you would regular waffles.

This recipe made 2 large waffles or 6-8 small waffles. I recommend smaller waffles because they are easier to get out of the waffle iron.

Please note that my waffle iron did not require any greasing but if yours does, please do so before each batch.