Looking for a fun low carb bun for your burger? Try a cheese waffle burger! Cheesy, chewy and perfect on your favorite burger. Only 1.6g net carbs for 2 waffles which equals 1 bun. Add your favorite toppings like bacon, peppers, onions, etc.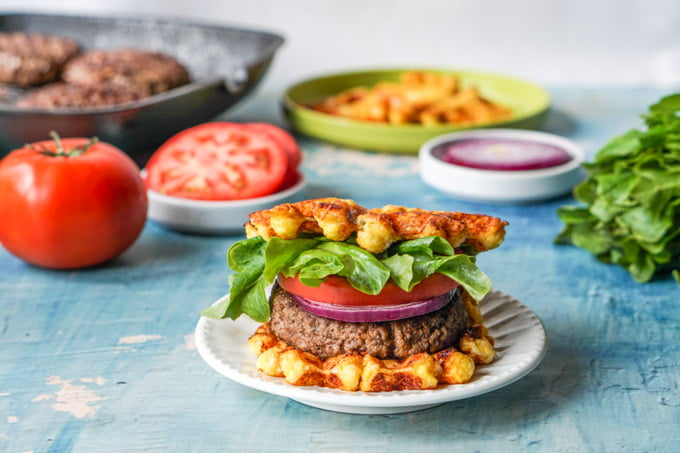 I was watching a cooking show the other day and they were making chicken and waffles. I have never had this dish but it always looks so good. But the whole idea got me to thinking about all of the savory waffles I make. They would make a perfect low carb bun substitute for a burger! They are mostly made out of cheese but they have a chewy texture that tastes bread-like. So today I bring you low carb cheese waffle burgers!
Low Carb Cheese Waffles
Have you ever tried my savory waffles? I have quite a few recipes on this blog and they seem to be very popular with my readers. My most recent one was a jalapeño popper waffle. Another favorite recently has been my chicken, ham & Swiss waffles. Here are a few more I have on the site.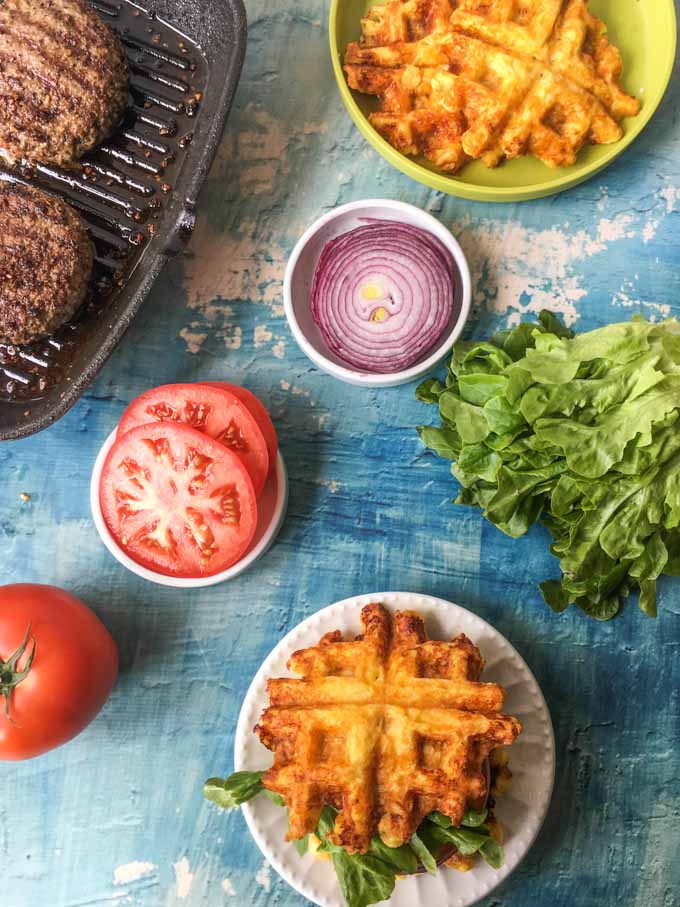 Basic Savory Waffle Recipe
The basic recipe for these savory waffles is riced cauliflower (for bulk), eggs, mozzarella, cheddar and Parmesan cheese. From there you can add in other things like meat, vegetables, spices , etc. You just mix the ingredients together and spoon on to a good waffle maker. We use this one because you don't have to grease it before using. My hubby makes waffles on the weekend so we get a lot of use out of it and have been very happy with it and it's very inexpensive.
For today's waffles I just wanted to have a plain cheese waffle so as to add more fresh toppings to my burger. However feel free to add bacon or hot peppers or whatever you want in the batter.

Cheese Waffle Burger Notes
You can substitute different cheeses for the cheddar in this recipe but keep the mozzarella and Parmesan. The mozzarella makes it more elastic and the Parmesan acts like breadcrumbs almost.
Make sure to keep these waffles small. The bigger you make them the harder they are to get off the waffle iron. Just spoon the batter into the middle to make the smaller ones.
Check your waffle maker to see if you should grease it first. You can always use cooking spray to make sure they don't stick to the waffle iron.
These waffles can be frozen. Just pop into the microwave for a 30 seconds or so to reheat.
The nutrition for 2 waffles. (1 bun) but not the burger is:
165 cals / 12.3g fat / 2g carbs / 0.4g fiber / 11.8g protein = 1.6g net carbs
You might also like my friend Jenn's keto sourdough chaffles!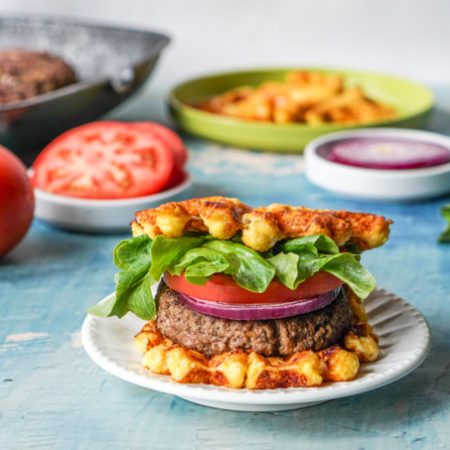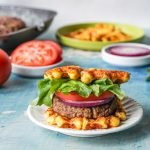 Low Carb Cheese Waffle Burger
Looking for a low carb bun for your burger? Try a cheese waffle! Cheesy, chewy and perfect on your favorite burger.

Ingredients
2

eggs

½

cup

cauliflower, riced and raw

½

cup

mozzarella, shredded

¼

cup

Parmesan cheese, grated

½

cup

cheddar cheese, shredded

3

beef patties, cooked
Instructions
Make your hamburgers and cook while making the waffles.

Preheat the waffle maker. Then in a large bowl, mix the eggs, cauliflower rice and cheeses together.

If your waffle maker requires greasing before hand please do so.

When waffle maker is hot, spoon a bit of the mixture on the center of the waffle maker and cook according to manufacturers instructions.

This recipe should make 6 small waffles which will work as a bun for 3 hamburgers.