These keto Philly cheesesteaks and waffles are the perfect cure for those your cheesesteak cravings. Steak, peppers and onions topping a savory cheese waffle and covered in provolone cheese. One serving on 1 waffle is only 3.5g net carbs! This post is sponsored by the Certified Angus Beef ® brand in conjunction with a social media campaign through Sunday Supper LLC. All opinions are my own. #Steakholder #BestAngusBeef
You might also like these low carb sloppy joes recipe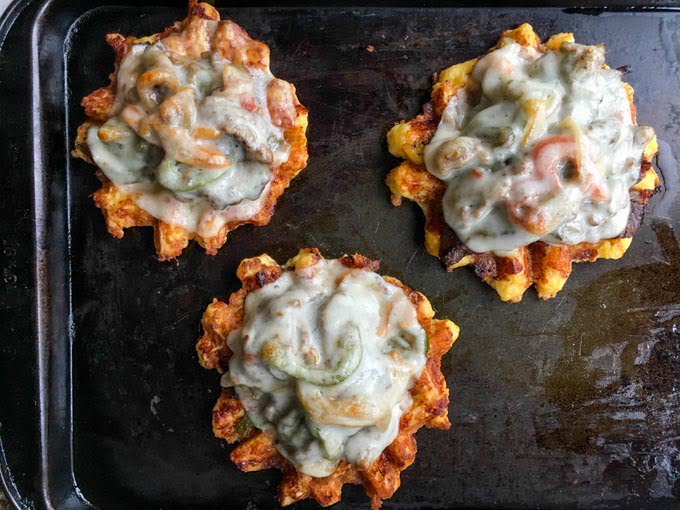 I'm sure I've mentioned before that we love peppers and onions on just about anything. In this keto Philly cheesesteak and waffles recipe I've added a good piece of beef and a savory cheese waffle and it was delicious! It's a very easy keto recipe and I think everyone will like it! Best of all for me, each serving has only 3.5g net carbs.
What Type Of Meat For A Keto Philly Cheesesteak
Typically a Philly cheesesteak is made with thinly cut ribeye steak which can be a bit expensive. Also sometimes your grocery store will have beef already sliced up for a cheesesteak. I wanted to use Certified Angus Beef ® brand so after discussing this with the butcher at Giant Eagle I decided to try a sirloin steak. He was worried I'd have trouble cutting it thin but I found away.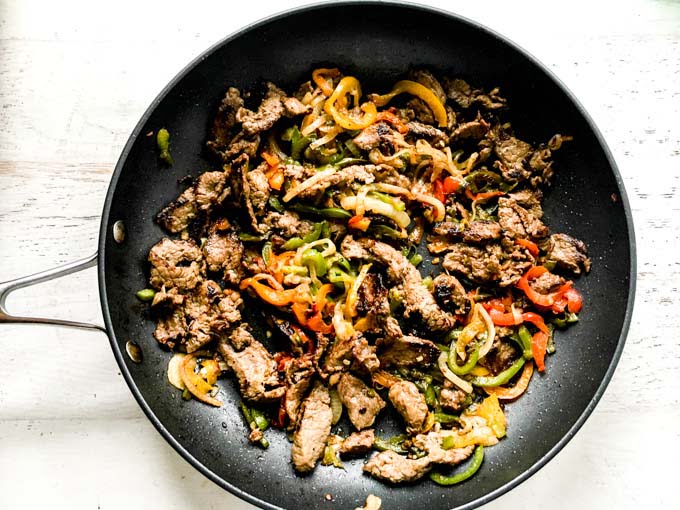 The Secret To Think Slices Of Beef
My husband told me this trick. Just freeze the meat for about an hour before using and it will be much easier to slice. Also use a good knife which I bought from Cutco many many years ago.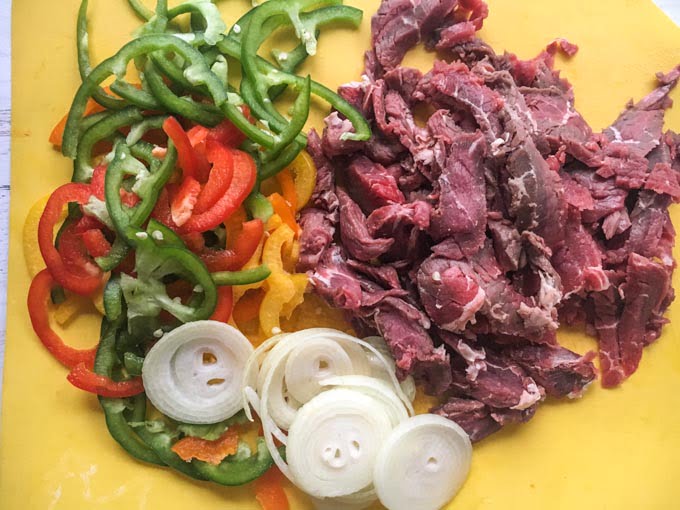 Keto Cheesesteak Ingredients
To me a cheesesteak involves good beef, thinly cut onions and peppers and a good melty cheese on top. Being keto the bun is kind of out the question but I got around that by using my cheese waffles. They were dynamite together! I would venture to say they were even better than a bun.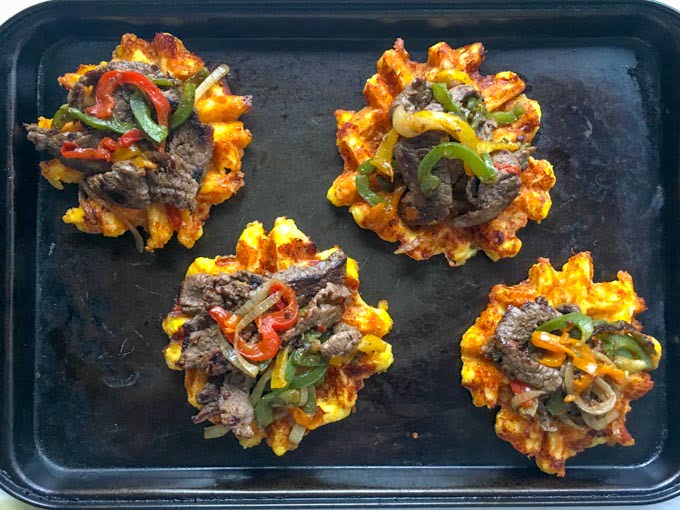 Low Carb Cheesesteak Recipe
In a large saute pan, add some oil and heat to medium high.
Add the steak, peppers and onions and sprinkle with salt and pepper.
Saute until the meat is done and the vegetables are to your liking.
Meanwhile make your cheese waffles (recipe here).
Place waffles on a cookie sheet and then top with the meat mixture.
Add a slice of provolone and set under the broiler until the cheese is melted.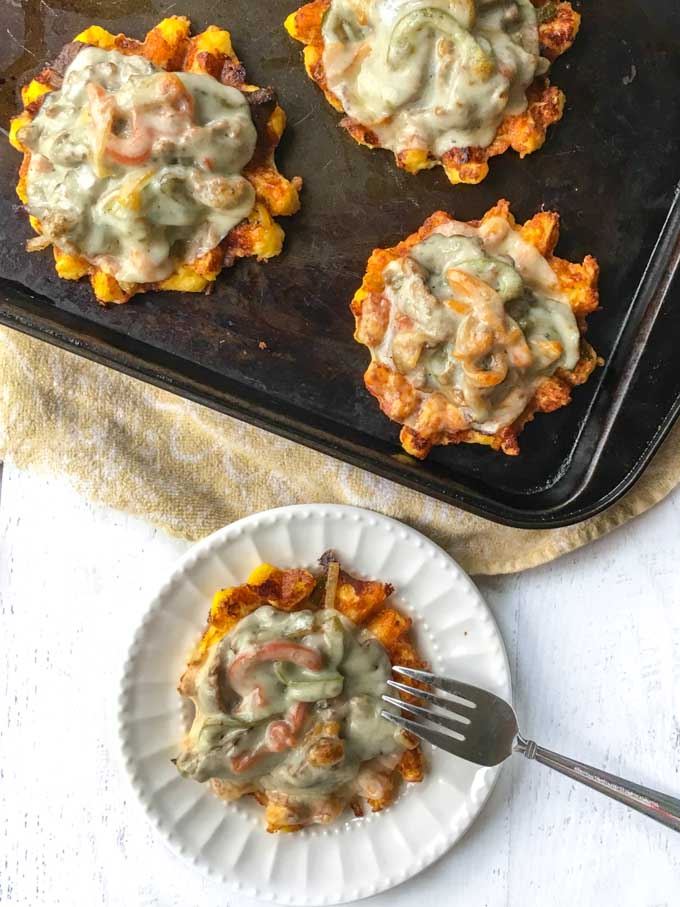 How To Eat These Cheese Waffles And Cheesesteaks
I like using a fork, however that doesn't mean you can use two waffles to make a bun. It will be a little messier than your typical bun but it can be done. I personally like having more meat and vegetables than the cheese waffle so a open face sandwich worked better for me.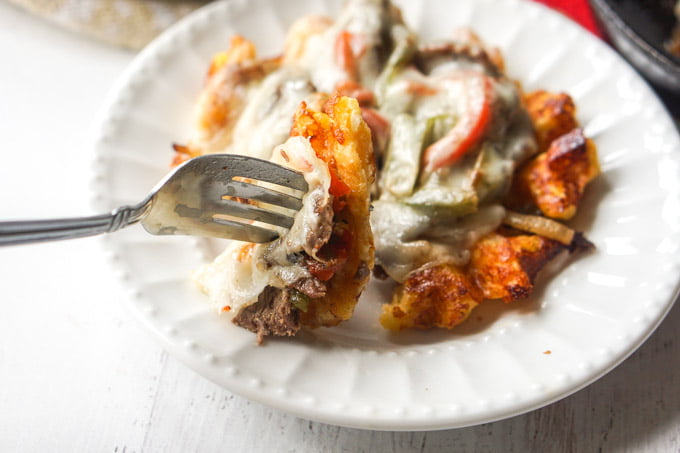 You can also eat this straight from the skillet. I have these mini cast iron skillets that you can divide the meat up and place cheese on top. Eat it right from the skilled for an even lower carb dinner. I think I bought these skillets at Target many years ago but they have them on Amazon too!. I used them in the low carb skillet chocolate cake too.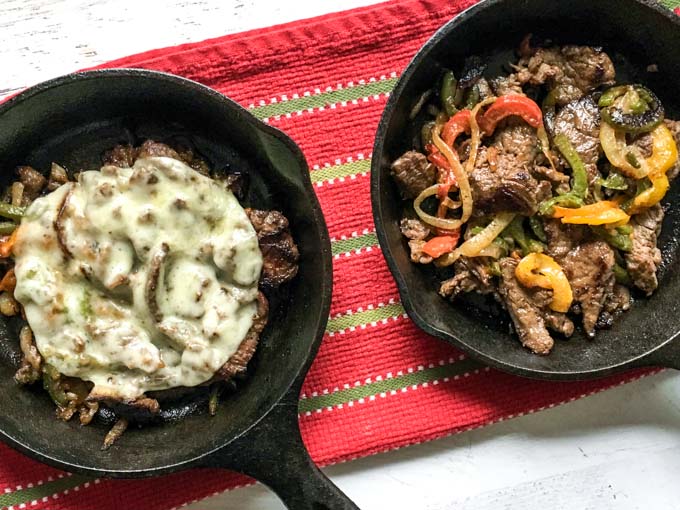 This keto Philly cheesesteak is really, really tasty and I could eat them right out of the pan. The following is the nutrition for the waffles and beef mixture separately.This assumes the meat makes 6 servings.
The nutrition for 2 waffles (1 bun) is:
165 cals / 12.3g fat / 2g carbs / 0.4g fiber / 11.8g protein = 1.6g net carbs
The nutrition for 1 serving cheesesteak mixture:
226 cals / 9.3g fat / 3.9g carbs / 1.2g fiber / 29.1g protein = 2.7g net carbs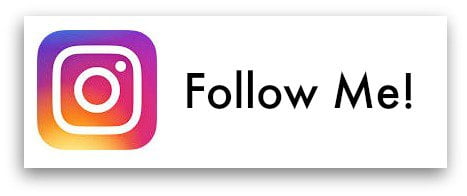 Keto Philly cheesesteaks and Waffles
These keto Philly cheesesteaks and waffles are the perfect cure for those your cheesesteak cravings. Steak, peppers and onions topping a savory cheese waffle and covered in provolone cheese. One serving on 1 waffle is only 3.5g net carbs!
Total Time
2
hours
10
minutes
Ingredients
1

tablespoons

oil

1

lb

sirloin steak, thinly sliced or shaved

1

cup

green pepper, sliced

1

cup

red and orange peppers , sliced

½

cup

onion, sliced

6

pieces

provolone slices

6

cheese waffles (optional)
Instructions
Heat up a large skillet to medium high heat and add oil.


When the oil is hot, add the meat, onions and peppers. Sprinkle salt and pepper over it and saute until the meat is done and the vegetables are soft - about 15 minutes.

When both waffles and meat mixture is done, place six waffles on a cookie sheet. Divide the mixture on each waffle and top with a slice of provolone cheese.

Place under the broiler until the cheese is melted.

Note you can also eat this with the waffle. Try it right from the skillet. Just add the cheese at the end and place the whole skillet under the broiler.
By the way I recently joined this Certified Angus Beef® Kitchen Facebook group and have been learning great beef tips. It really helped me to make my first prime rib! For more information about Certified Angus Beef ® brand follow them on their Social Media Platforms: Facebook | Pinterest | Instagram | YouTube | Twitter