This is an easy keto Christmas dinner that you can easily make for your family this holiday season. Prepare low carb side dishes the night before then all you need to do is make the prime rib roast with my special tips. All of these keto Christmas recipes are easy and great for those on a keto diet. 
This post is sponsored by the Certified Angus Beef ® brand in conjunction with a social media campaign through Sunday Supper LLC. All opinions are my own.
You might also like this keto no bake pumpkin cheesecake for dessert.
First of all I am very proud of myself because I made my first prime rib roast. I don't know why but I've always been intimated to make roasted meats. Which is a shame because roast beef is a family favorite, naturally low carb and looks great on your holiday dinner table!
Turns out they are easy to make! So today I wanted to share with you how I did it along with 3 keto side dishes. This post is an easy keto Christmas dinner of prime rib and keto side dishes to go with it. All of these dinner recipes use simple ingredients for a holiday feast or special dinner party.
Rib roast cooking tips using #RoastPerfect.
First of all I wanted to tell you to start with a quality piece of meat. That means Certified Angus Beef ® to me so I bought my prime rib roast at Giant Eagle which has a huge range of beef products. The roast I bought was a 5.5lb rib roast.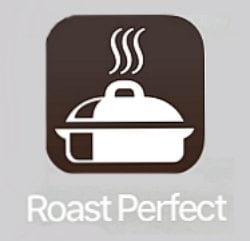 So this is what I did. I joined this Certified Angus Beef Kitchen Facebook group for great beef tips. That is where I watched this video and realized that roasting a rib roast was not going to be hard.
I also used this fantastic app called Roast Perfect which helped me pick out the meat, prepare it and cook it. It has a timer and lots of tips and recipes too.
How to cook a rib roast in the oven.
Step 1: The night before prepare the spice rub which is made of salt, oregano, basil, thyme and rosemary. The herbs and spices add so much flavor to the roast. Essentially it was the rub from this post without the stuffed garlic cloves as it has plenty of flavor without it.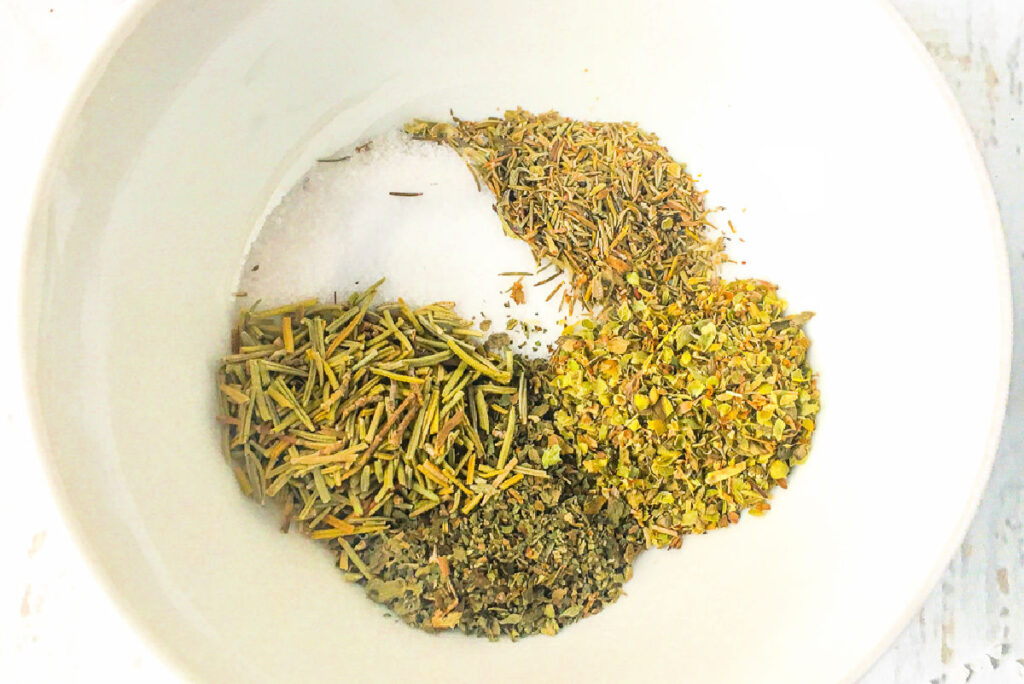 Step 2: Rub the spicesall over the roast and really try to get it everywhere. Then wrap it in plastic wrap and refrigerated it over night. About a half hour before roasting the prime rib, take it out of the refrigerator and let it come to room temperature.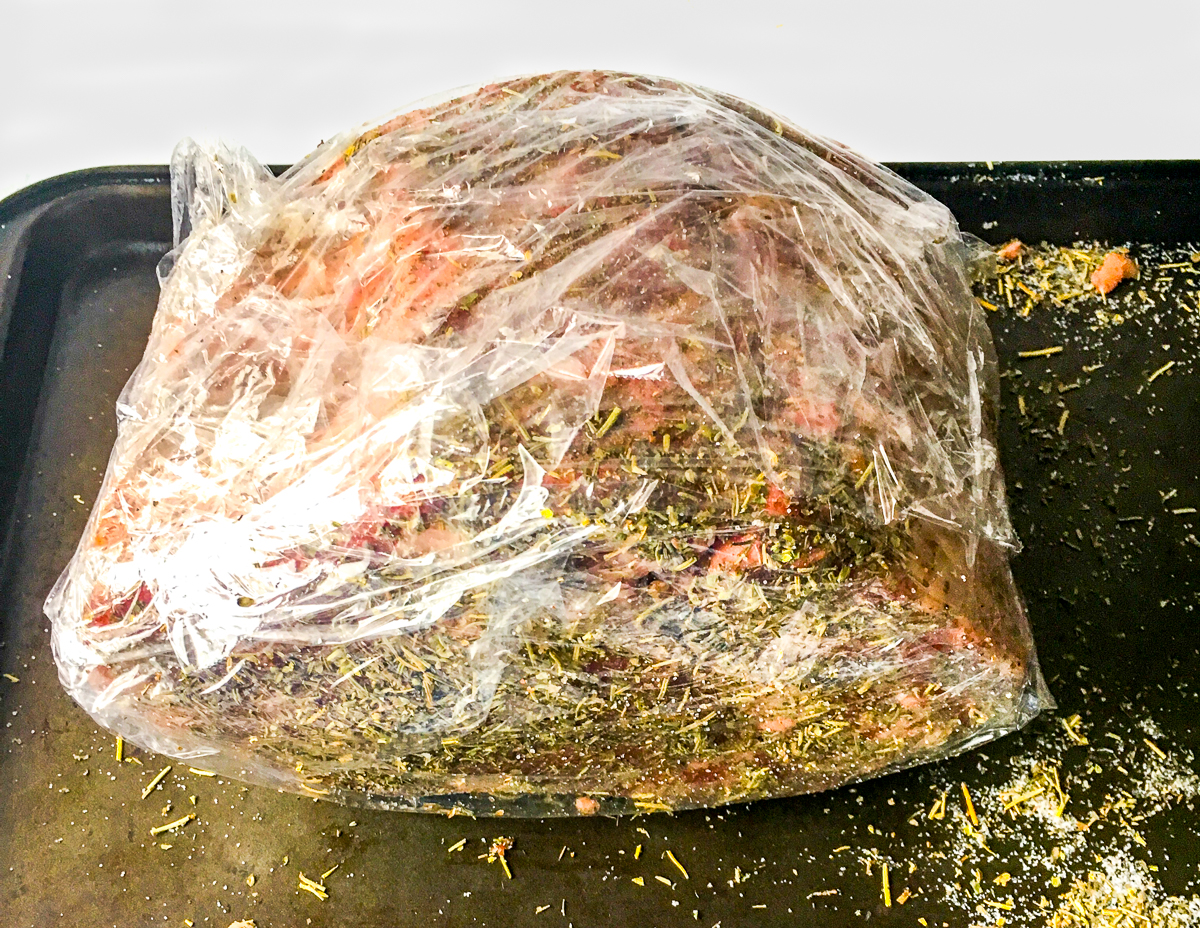 Step 3: From there I followed the app instruction and used the timer on the app. It said to roast at 450°F for 15 minutes and then turn the oven down to 325° F and continue roasting for 2:01:30. (2 hours 1 minute and 30 seconds)
Step 4: The temperature to look for is 135°F when you take it out of the oven. It will then continue to cook while resting. Rest for 15 minutes and it's ready to slice. (Please scroll down to view and print the recipe card.)
It came out perfect for us! My hubby is still talking about it. 🙂 Honestly the RoastPerfect app was super helpful and I highly recommend it.
Keto Christmas side dishes to serve with roast beef.
I made 3 side dishes for my low carb holiday dinner menu: twice baked and mashed cauliflower recipe, Brussels sprouts recipe with crispy bacon and roasted vegetables.  
These are three very easy low carb side dishes you can make ahead of time and you can add a nice Christmas salad for an appetizer and a keto chocolate mousse if you have a sweet tooth. And that will finish your amazing holiday meal.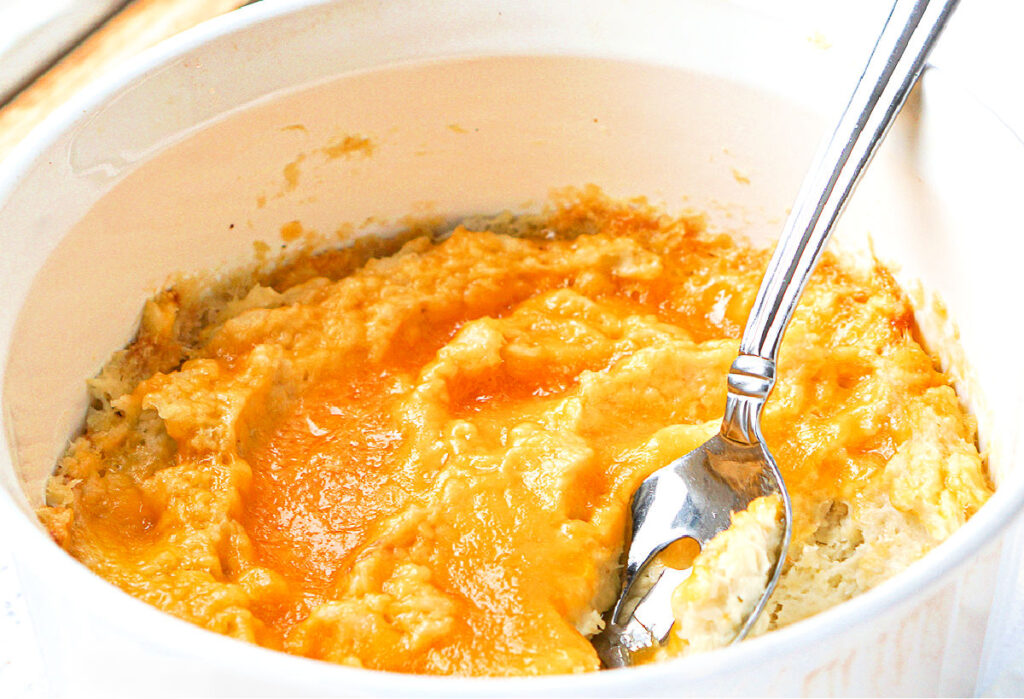 How to time your keto Christmas dinner.
With a little meal prep and good timing, you can make this decadent meal in no time for your holiday gathering. Here's how to do it.
Step 1: The mashed cauliflower can be made solely in the microwave. So make the mash the day before, sprinkle cheese on top and then microwave 5-7 minutes before eating.
Step 2: The Brussels sprouts can be precooked the day before and then 10 minutes before eating, make your bacon in a saute pan and then add the cooked sprouts to the hot bacon grease to brown.
Step 3: Lastly you can roast the vegetables the night before and just reheat before serving.
So you see you can roast the meat in the oven. When the roast is resting, microwave the cauliflower mash, finish off the sprouts on the stove and reheat the vegetables in the microwave or hot oven from the roast.
Other keto side dishes to try.
I have lots of low carb holiday recipe ideas for you. Just check out these 88 keto holiday recipes post I did for Thanksgiving to find more side dishes that would work great too! It has all of the holiday classics and some of my most popular recipes.
I love the simplicity of green beans and bacon or these decadent creamy keto baked mushrooms too. There are also the classic keto cranberry sauce, green bean casserole and keto sausage stuffing as well as sweet treats and dessert recipes. And there is a tasty holiday cocktail recipe or two!
I've also cooked turkey a few different ways – in a smoker, Instant Pot and air fryer. So if you prefer turkey for Christmas, check out those posts or this slow cooker roasted chicken. I'm sure you will find the perfect side dish or dessert and other dinner ideas.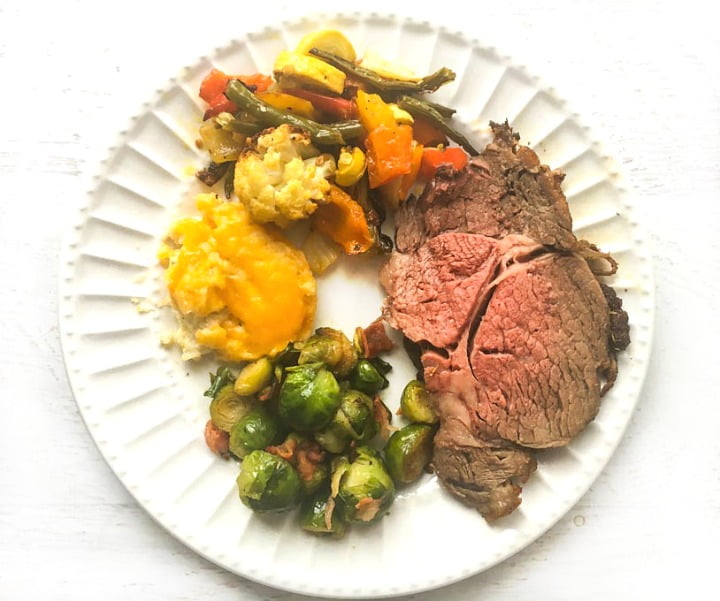 As I said I was very please with how this rib roast came out as it was the perfect holiday dinner. I'm really glad I found that Facebook group and app because I now feel confident to tackle any other kind of roast.  For more information about Certified Angus Beef ® brand follow them on their Social Media Platforms: Facebook | Pinterest | Instagram | YouTube | Twitter
I hope you enjoyed this easy low carb Christmas dinner.  All of these simple keto friendly recipes are easy and perfect for the festive season.  The nutritional information is as follows:
1 slice of rib roast
738 cals / 40.4g fat / 0.3g carbs / 0.1g fiber / 84.4g protein = 0.2g net carbs
1 serving of cauliflower mash
87 cals / 5.9g fat / 5.2g carbs / 1.9g fiber / 4.6g protein = 3.3g net carbs
1 serving of Brussel sprouts
72 cals / 1.7g fat / 11.6g carbs /4.9g fiber / 5.7g protein = 6.7g net carbs
1 serving of roasted vegetables
154 cals / 11.2g fat / 11.4g carb / 4.6g fiber / 4.1g protein = 6.8g net carbs
Easy Keto Christmas Dinner - Rib Roast & Sides
Cook Time:
2 hours
30 minutes
Total Time:
2 hours
35 minutes
This is an easy low carb Christmas dinner that you can easy make for your family this holiday season. Prepare the side dishes the night before and all you need to do is make the roast which I have tips to show you. All of these healthy recipes are great for those on a ketogenic diet.
Ingredients
Rib Roast (8 servings)
5.5 lbs boneless rib roast
2 teaspoons salt
1 teaspoon dried basil
1 teaspoon dried oregano
½ teaspoon dried thyme
1 teaspoon dried rosemary
Twice Baked Cauliflower Mash (6 servings)
1 head cauliflower, chopped
2 tablespoons French onion dip
2 tablespoons cream cheese
½ cup cheddar cheese, shredded
Brussels sprouts with Bacon (6)
4 pieces center cut bacon
1 lb Brussels sprouts, halved
Instructions
To make rib roast.
The night before, mix spices and rub all over roast. Wrap in plastic wrap and refrigerate over night.
The next day take roast out ½ hour before roasting to come to room temperature. Preheat oven to 450 degrees F. Place on a rack and then place that on a cookie sheet or roaster pan.
Roast for 15 minutes then turn down to 325 degrees for 2 hours and 1 minute. Please use the Roast Perfect app to get exact times for different size roasts and for the degree of doneness. This recipe is for a 5.5 lb rib roast done to a medium - medium rare.
When internal temperature reaches 135 degrees F, take out of the oven, tent with aluminum foil and rest for 15 minutes before carving.
To make the twice baked cauliflower mash.
The day before, chop the cauliflower and place in a microwaveable bowl. Cook for 15 minutes. Place the cooked cauliflower in a high speed blender along with the cream cheese and French onion dip. Blend on high to puree.
Spoon cauliflower mash into a baking dish and sprinkle cheddar cheese on top. Cover and refrigerate until ready to eat.
To cook, place in the microwave for 5-7 minutes until heated through and cheddar cheese is melted.
To make the Brussels sprouts and bacon.
The night before cut the sprouts in half and microwave for 4 minutes. Refrigerate over night.
10 minutes before eating, cook the bacon in a large saute pan. Take out the bacon and saute the sprouts in the bacon grease for a few minutes. Sprinkle crumbled bacon on top before serving.
To make the roasted vegetables.
If you wish to make this dish, please see this post: https://mylifecookbook.com/red-palm-oil-roasted-winter-vegetables/
Note you can use regular olive oil in this recipe.
Notes
1 slice of rib roast
738 cals / 40.4g fat / 0.3g carbs / 0.1g fiber / 84.4g protein = 0.2g net carbs

1 serving of cauliflower mash
87 cals / 5.9g fat / 5.2g carbs / 1.9g fiber / 4.6g protein = 3.3g net carbs

1 serving of Brussel sprouts
72 cals / 1.7g fat / 11.6g carbs /4.9g fiber / 5.7g protein = 6.7g net carbs

1 serving of roasted vegetables
154 cals / 11.2g fat / 11.4g carb / 4.6g fiber / 4.1g protein = 6.8g net carbs
Nutrition Information:
Yield:

8
Serving Size:

1
Amount Per Serving:
Calories:

738
Unsaturated Fat:

0g