Try this pumpkin keto no bake cheesecake for a guilt free and easy dessert. A creamy and delicious pumpkin cheesecake filling with an easy nut crust. This tasty treat is low carb, gluten free, no bake and only 4.9g net carbs per serving.
You'll love this keto bacon maple no bake cheesecake recipe too!
I'm not much of a cheesecake person but since I love my sweets, cheesecakes are a low carb diet's answer to dessert. I'm not much of a baker either so a no bake cheesecake is even better because it takes minutes to make, not hours.
I have a lot of pumpkin recipes on the blog because pumpkin adds flavor, thickness and nutrition a recipe. This pumpkin keto no cheesecake recipe is of my most popular recipes.
It's great for the fall and winter and especially if you want a dessert around the holidays and are on a low carb diet. It super easy and sure to be family favorite so give it a try!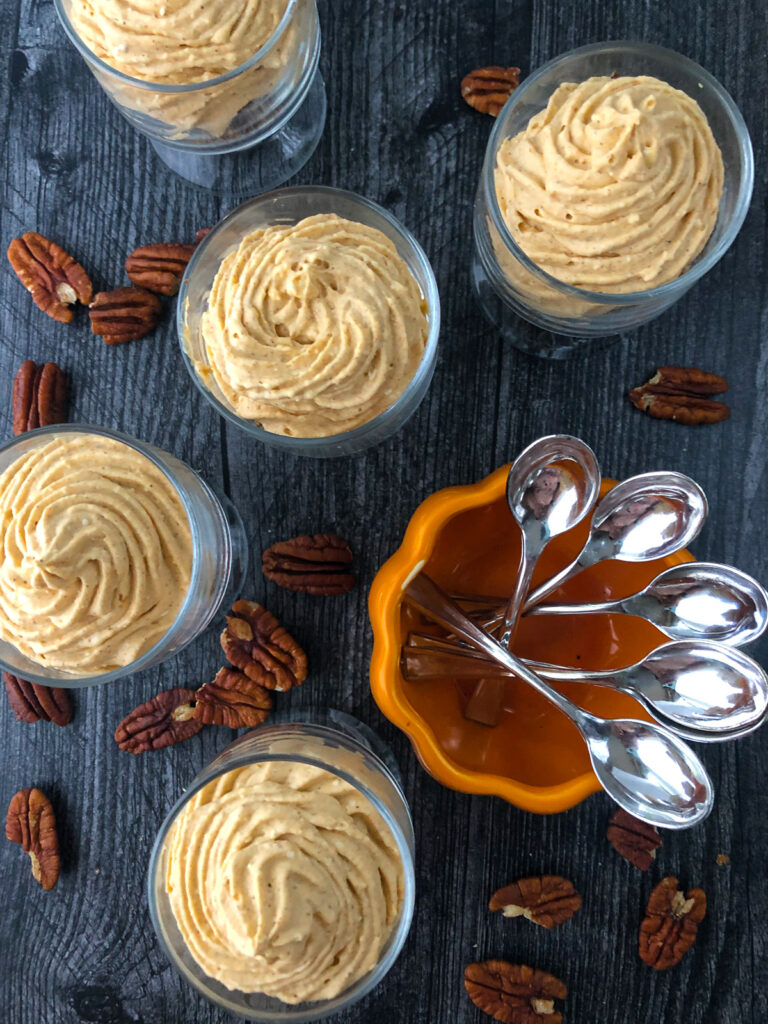 Other pumpkin keto recipes to try.
(Please note this post has been updated from the original 6 years ago). Since then I have made quite a few pumpkin recipes on this blog. But for starters check out this 9 low carb pumpkin recipes post to see some of my favorites.
Recipe ingredients I used.
The simple ingredients I used for this no bake pumpkin cheesecake are:
canned pumpkin puree (not pumpkin pie filling)
Swerve brown sugar sweetener (or Lakanto golden)
cream cheese
heavy whipping cream
vanilla extract
cinnamon
pumpkin pie spice
Note that I used raw pecans, however you could use walnuts, almonds or a combination of any of these. If you don't have any raw nuts, another option is to use almond flour and melted butter to make the crust.
No need to bake it. The butter will keep the almond flour together. I prefer the taste of raw nuts though.
What Size Jar Should I Use?
The last time I made this recipe I used 4 of these 8 oz jars pictured below but to be honest they were too big. This keto dessert is very rich and I think it would be better if you made it into 8 smaller desserts.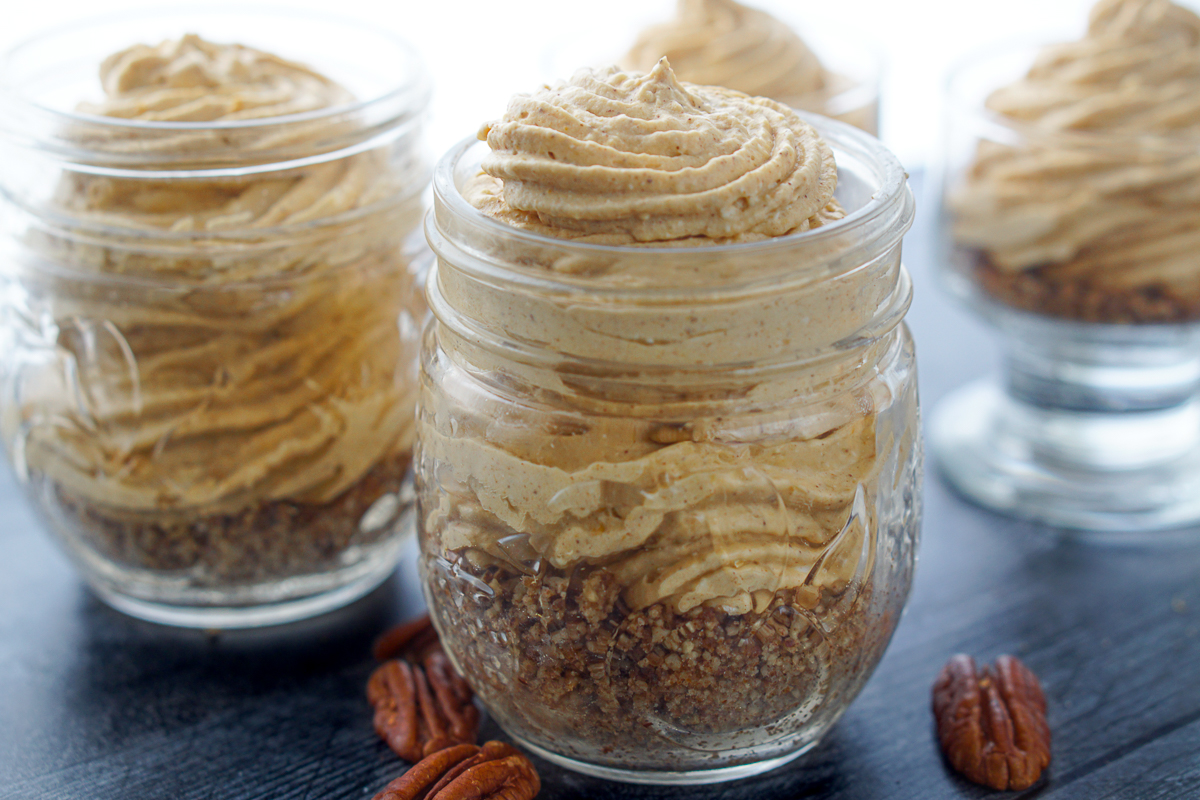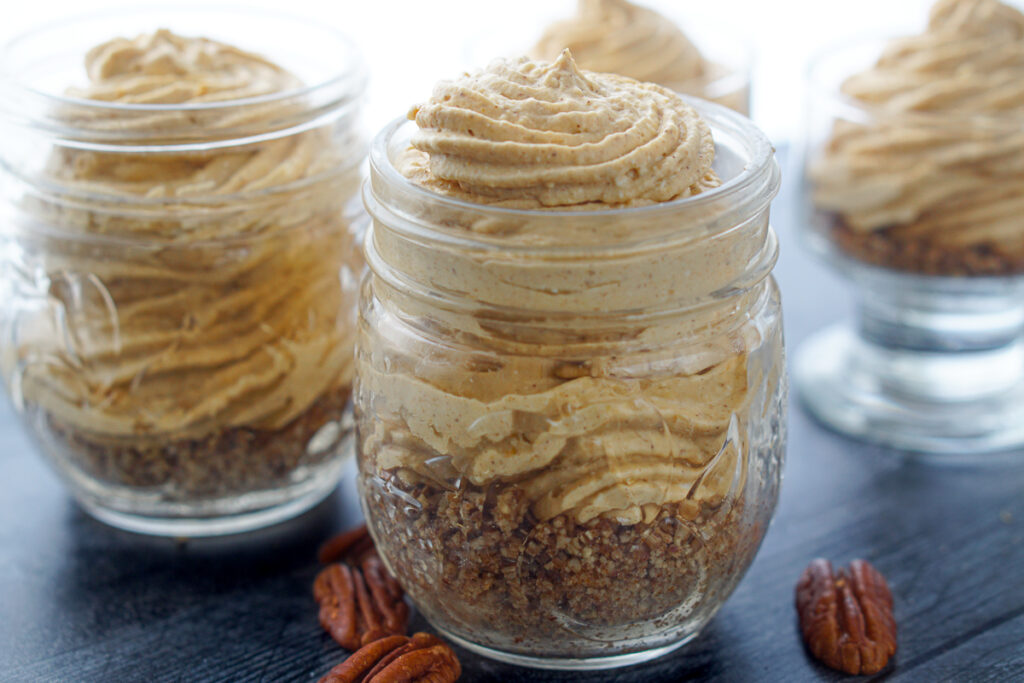 So this time I used some 3.5 oz glass dessert dishes pictured below that I bought at a discount store. The closest ones I could find similar to these are these glass dishes on Amazon.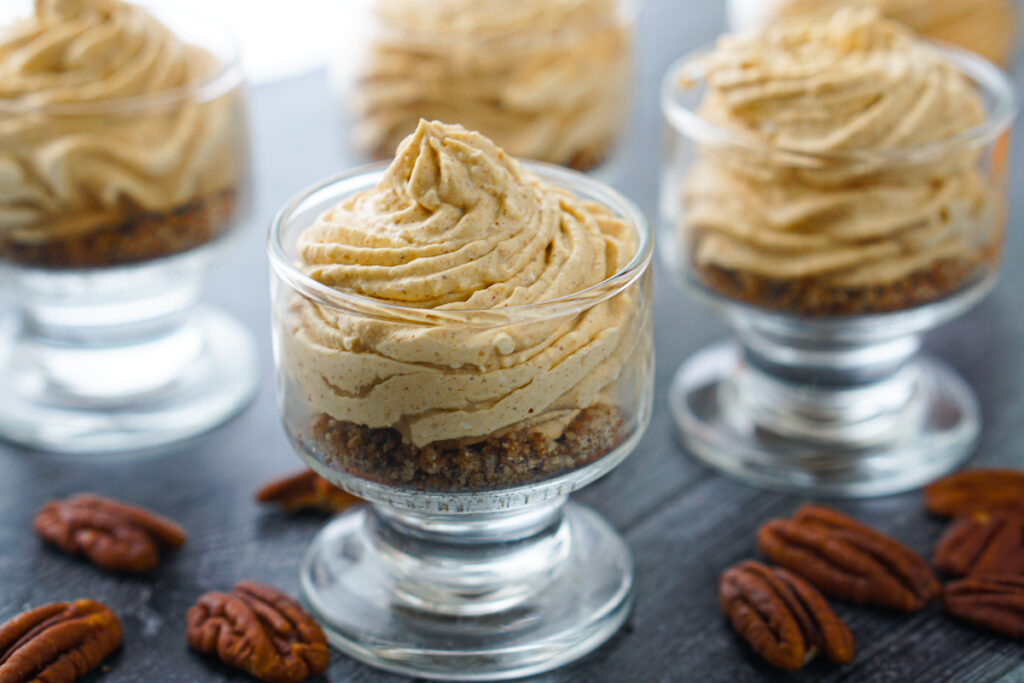 Using a smaller container you can get 8 servings from this recipe which is more appropriate.
There are also plastic containers you can buy at the dollar store that would work, these 4 ounce mason jars or these small ramekins and it would be the perfect serving.
How to make no bake pumpkin keto cheesecake.
Step 1: First you want to make your nut crumb base. Just add some nuts to your food processor along with some sweetener and cinnamon. I used all raw pecans this time but sometimes I add walnuts.
For the sweetener I use either Swerve brown sugar sweetener or Lakanto monkfruit sweetener but you can use your sweetener of choice. Grind or pulse until it starts to get moist and crumbly.
Step 2: Divide the mixture between all of your containers and press to make a pseudo pecan crust. Since I used the small glass containers I divided it between 8 containers.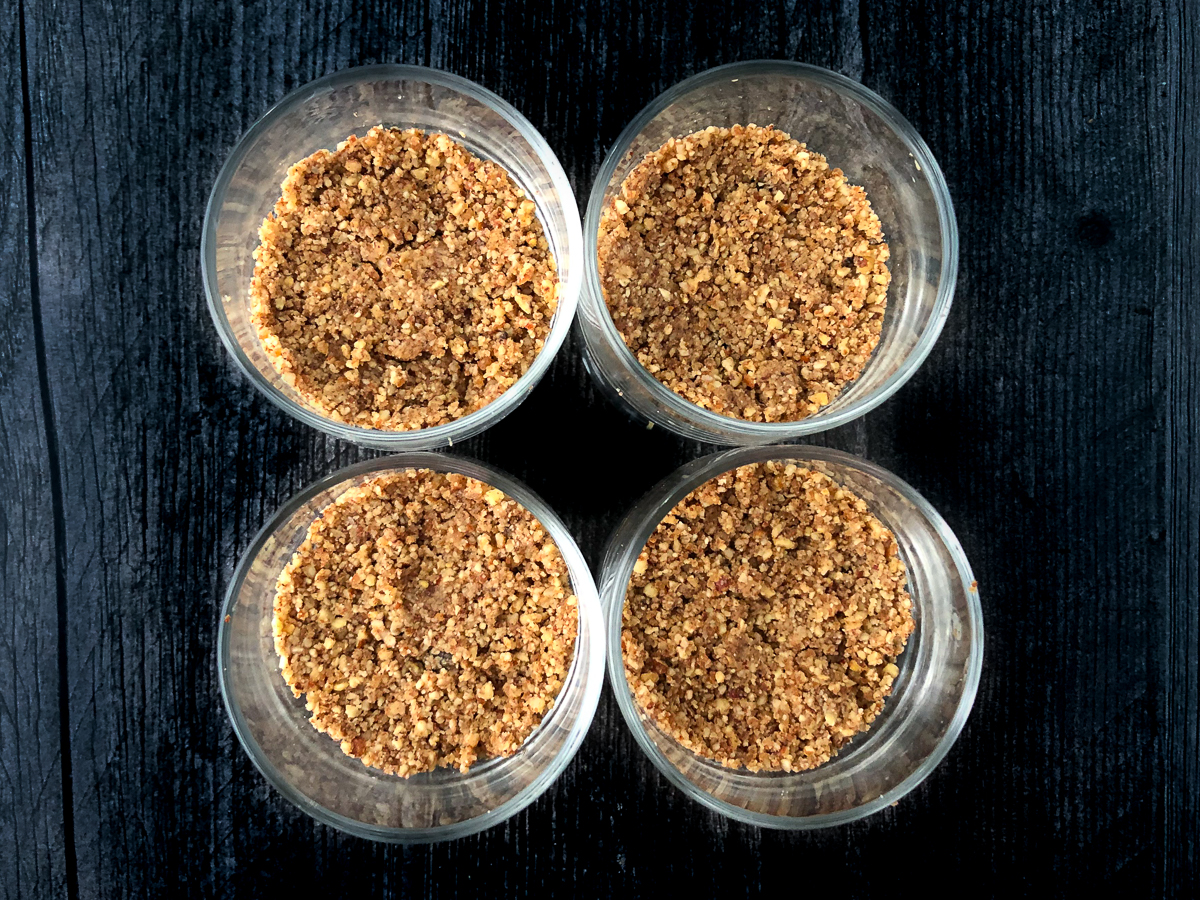 Step 3: Then you move on to the pumpkin cheesecake mixture. The key to this cheesecake filling is to use room temperature cream cheese. That's the only way to get the lumps out. And keep your heavy cream really cold. Don't pull it out of the refrigerator until you need it.
Add the cream cheese, pureed pumpkin, spices and sweetener to your mixing bowl and beat until creamy. Then add your cream and beat for about 5 minutes until the mixture has a light and fluffy texture.
Step 4: Spoon your cheesecake mixture into each container. Top with a few nuts and a sprinkle of cinnamon if you want. Cover with plastic wrap and refrigerate until you are ready to eat. (Please scroll down to view and read the recipe card.) (Please scroll down to view and read the recipe card.)
That's it folks. Easy peasy lemon squeezy. I hope you give these keto sweet treats a try because it's super easy and tasty and best of all it only takes about 15 minutes!
The nutritional information for 1 serving based on 8 servings is:
355 caloriess / 34.8g fat / 7.8g carbs / 2.9g fiber / 5.3g protein = 4.9g net carbs
You can find most of the ingredients on my Amazon page if you are interested.
No Bake Keto Pumpkin Cheesecake
You have to try this no bake pumpkin cheesecake. You can enjoy all the deliciousness of a pumpkin cheesecake without the guilt. Low carb and no baking, it's the perfect fall dessert!
Ingredients
1 ½ cups nuts, I used pecans
1 tablespoon sweetener (Swerve brown sugar or Lakanto Golden)
½ teaspoon cinnamon
8 ounces cream cheese, softened (room temperature)
1 cup heavy whipping cream
½ teaspoon cinnamon
½ teaspoon vanilla extract
1 teaspoon pumpkin pie spice
½ cup Swerve brown sugar sweetener, or Lakanto golden
¾ cup pumpkin puree (canned)
Instructions
To make the crust, add nuts, cinnamon and the 1 Tablespoon of sugar substitute in a food processor and grind until the nuts become moist and sticky.
Divide mixture evenly into the ramekins, jars or whatever container you are using.
Add the cream cheese, pumpkin and sugar substitute to a bowl of your mixer. Mix on high until everything is smooth and creamy.
Add your vanilla, pumpkin pie spice and cinnamon and mix until well incorporated.
Add your heavy cream and mix on high for about 5 minutes or until the mixture is nice and fluffy.
Spoon cream cheese mixture into your ramekins or containers and garnish with nuts and cinnamon if using.
Refrigerate until ready to eat.
Notes
Note that I used raw pecans, however you could use walnuts, almonds or a combination of any of these.
Nutrition Information:
Yield:

8
Serving Size:

1
Amount Per Serving:
Calories:

355
Unsaturated Fat:

0g
Check out the web story for this post!