3This maple bacon low carb cheesecake is outrageously good! So creamy and decadent you won't believe it's a no bake low carb dessert with only 3.2g net carbs.
You might also like this low carb raspberry no bake cheesecake.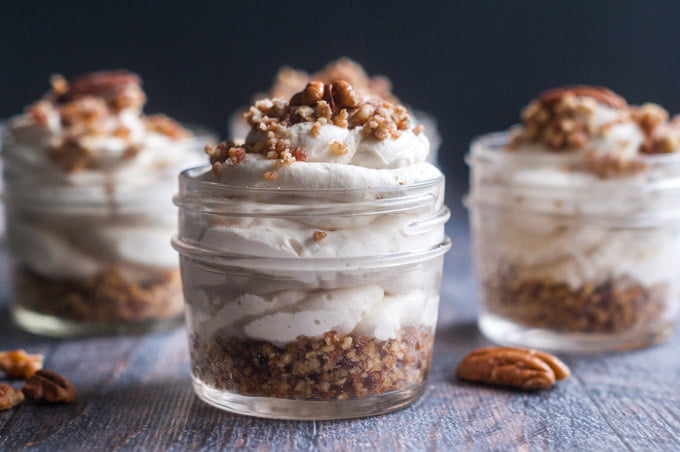 I've been on a maple kick lately. I recently had thought about making a maple no bake cheese cake with a pecan crust and then thought what if I add a bit of bacon? It would be tasty (because it's bacon) and add some salt and fat to make it more of a crust. It was so good! The pecan and bacon crust went perfect with the maple cheesecake filling.
But I warn you these are rich! I served them in 4oz jars and that was more than enough. So today I'm giving you my maple bacon low carb cheesecake. Super easy because it's no bake and decadent too with only 3.3g net carbs.

Basic No Bake Low Carb Cheesecake Ingredients
I have lots of no bake low carb cheesecake recipes on my blog because I have yet to master a real cheesecake. One day though…..I will. So I used the same basic recipe as my raspberry no bake cheesecake. It's simply, Swerve sweetener, cream cheese and cream.
However this time I used a maple extract that I just got. It's Frontier brand which I love and can't wait to experiment more with. I already tried a low carb maple walnut biscotti and it was so good I've made 4 batches already.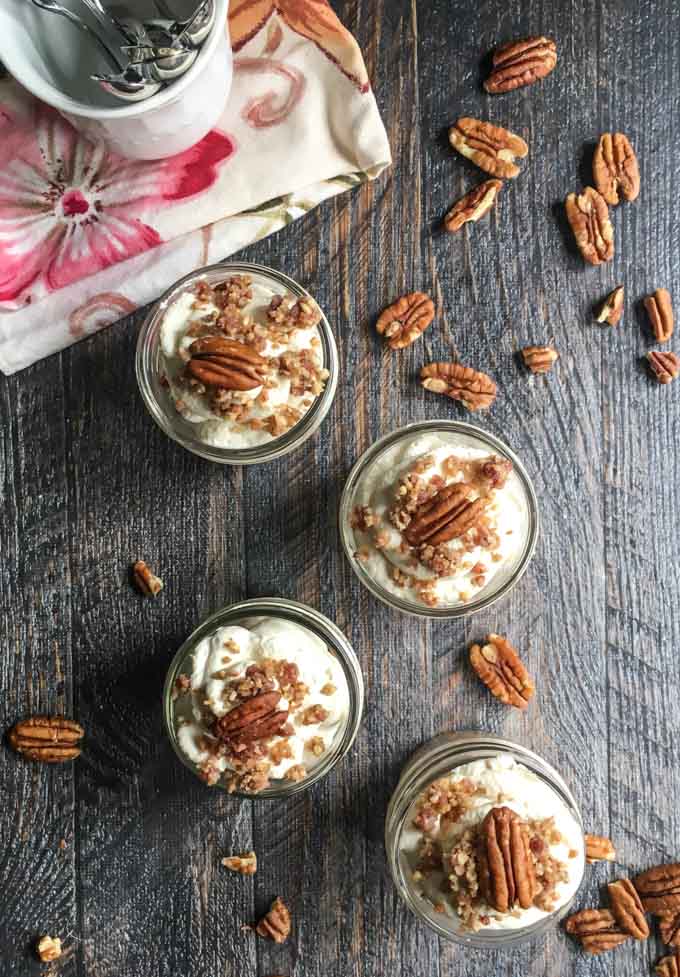 Maple Bacon Low Carb Cheesecake Recipe
First things first you want to make the crumbly bottoms by grinding your nuts and bacon in a food processor. They will be sticky and perfect for the crust of these treats. Then you want to cream your cream cheese, Swerve, cream, vanilla and maple extract. You want it to be light and fluffy. Now you are almost done.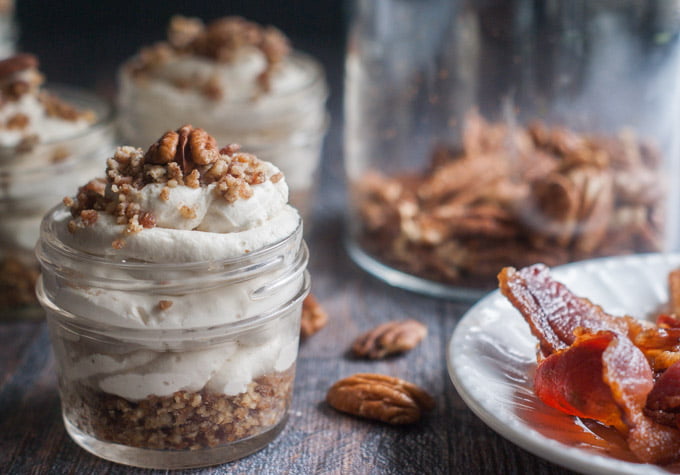 I used an icing bag to pipe the cream cheese mixture into the jars but you can use a ziplock back and cut out the corner to mimic an icing bag. Or you an just spoon it in. Then I topped it with a bit of the pecan bacon mixture and added a pecan on top.
Low Carb Maple Bacon No Bake Cheesecake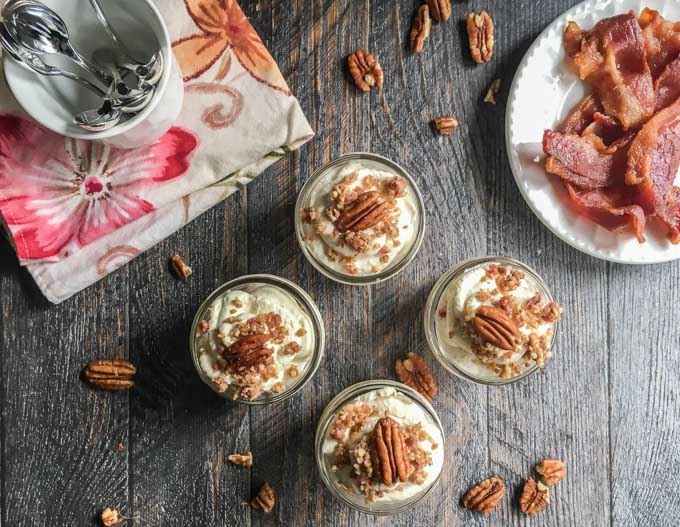 Let me warn you that a little bacon goes along way. At first I made it with more bacon and it was too much. I used 4 oz jars that I got at Target and I find that this is a good size as it made 4 desserts. I hope you like these as much as I did and here is the nutritional information for each:
460 cals / 46.3g fat / 6.3g carbs / 3g fiber / 7.0g protein = 3.3g net carbs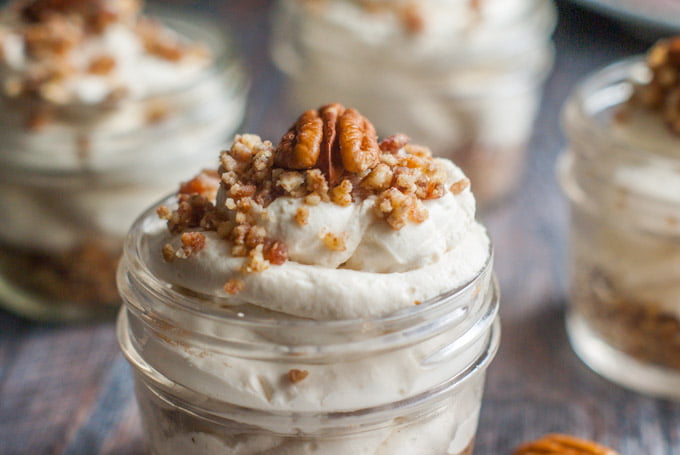 You might also like my friend Sandra's sugar free cheesecake. Go check it out!
Low Carb Maple Bacon No Bake Cheesecake
This low carb maple bacon no bake cheesecake is outrageously good! So creamy and decadent you won't believe it's a low carb dessert.
Ingredients
1

cup

raw pecans

2

slices

bacon, cooked

6

tablespoons

cream cheese

at room temperature

¾

cup

heavy cream

5

tablespoons

Swerve sweetener

1

teaspoon

vanilla extract

2

teaspoons

maple extract
Instructions
In a food processor add your pecans and bacon and grind until it becomes sticky.

Add this mixture to the bottom of each jar but save a bit for sprinkling on top.

Press down to pack in the mixture.

In a large mixing bowl add your cream cheese and Swerve sweetener. Cream until well mixed.

Add in the cream and extracts and mix until light and fluffy.

Add the cream cheese mixture to an icing bag or ziplock bag with a corner cup off, and carefully add it to the jars. You can also just spoon them in.

Top with the rest of the pecan mixture and refrigerate until ready to eat.