This easy brined smoked turkey breast recipe is great for Thanksgiving dinner or for making sandwiches any time of the year. Just use my simple brine for turkey breast overnight and then smoke it for a few hours to get a delicious smoked turkey flavor. It's a great low carb food to have on hand. [updated 11/20]
You might also like how to cook a turkey breast in the air fryer!
Recently I posted a recipe for a smoked barbecue brisket because my hubby and I are really enjoying his smoker. Today we decided to smoke a turkey breast. We ate this easy brined smoked turkey breast for Sunday dinner with all the usual Thanksgiving fixings and it was yummy!
The best thing about this recipe is that you get a delicious dinner that reaps loads of turkey leftovers for sandwiches, soup and salads!
A Simple Brine Recipe For
Smoked Turkey Breast
Brining a smoked turkey is very easy and gives the turkey moisture as well as flavor so I highly recommend it.
Sometimes it's hard to find a container big enough to brine a turkey breast so make sure to use your largest pot.
The brine we used today contains salt, brown sugar, bay leaves, onions, celery, fennel seed and garlic. Just pour it over the breast and refrigerate over night. You can use brown sugar sweetener if you want to cut out the sugar or carbs.
NOTE: If you don't have all of these ingredients on hand, I find that the most important ingredients are the water, salt, brown sugar and garlic.
Then next day take the turkey out of the brine and pat dry.
How Long To Smoke A Brined
Turkey Breast
If you smoke a turkey breast at a temperature between 200 – 225° F it can take between 3-5 hours to cook.
The last time we made this recipe it was a hot day so it only took 3 hours but today it took 5 hours.
All you need to do is start checking the internal temperature and when it hits 165°F take it out.
Steps For Smoking A Turkey Breast
Brine your turkey breast the night before. The next day, take it out of the brine and pat dry.
Mix olive oil and spices and brush over turkey breast.
Place in the smoker and set temperature to 200 – 225°F.
Turkey should be finished between 3-5 hours. Start checking the internal temperature at 3 hours. Once it reaches 165°F it is done.
Take it out and let it rest for 10-15 minutes before carving.
Today it took us 5 hours to reach 165°F internally while in the summer it only took us 3 hours so you have to keep checking it.
When you take it out of the smoker it should like nice and browned like the picture below. Let it set for 10 – 15 minutes before carving.
Below you can see what it looks like after we carved it. This was when we had the full pre-Thanksgiving dinner. It went so fast we had very little leftovers.
Below are 3 recipes you might like to make with turkey leftovers. The Thanksgiving leftover turkey cristo is one of my favorite sandwiches!
Recipes Using Leftover Turkey
Two more ways to cook a turkey breast
If you love turkey as much as we do, here are two more delicious ways to cook a turkey breast. You can cook a turkey breast in the air fryer. Or try reading this post on how to cook a turkey breast in the Instant Pot. Enjoy!
Smoked Turkey Breast FAQs
Do you have to brine a turkey breast before smoking?
Yes you should because brining makes turkeys juicier. Turkey breast is a drier type of meat and the brine adds moisture and flavor. Learn about the science of brining here.

How long does it take to smoke a turkey breast?
If you set your smoker to 200°F – 225°F it should take anywhere between 3-5 hours. The important point is to reach an internal temperature of 165°F

How long should you brine a turkey breast?
It's best to brine a turkey in the refrigerator overnight or at least 8 hours.

What type of wood chips should I use to smoke a turkey?
Fruit woods such as apple and cherry are milder types of wood and will give a subtle sweetness to foods like poultry or fish. Middle of the road woods like hickory, maple and pecan are good for pork, beef and game meats. The strongest is mesquite which can overpower the meat so use it in moderation. Learn more here.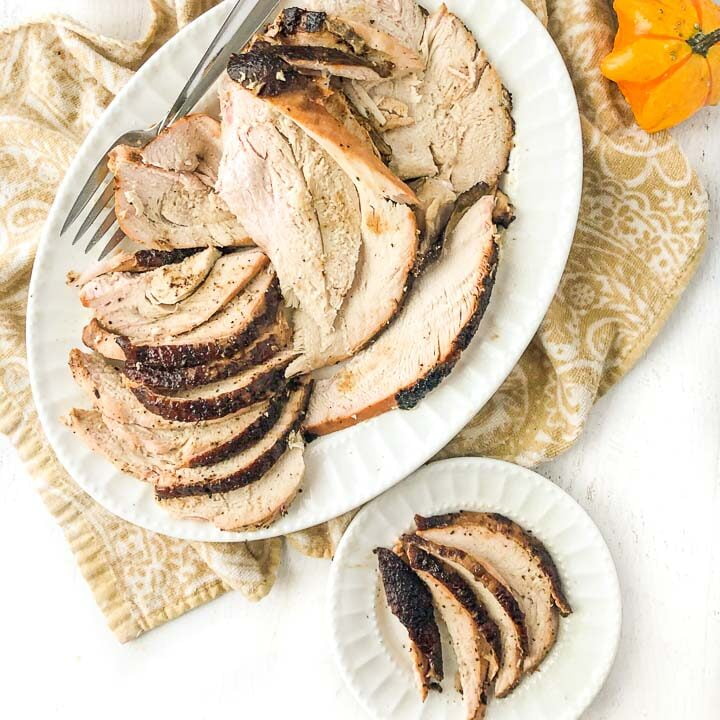 Easy Brined Smoked Turkey Breast
Total Time:
17 hours
5 minutes
This easy brined smoked turkey breast is great for summer sandwiches and snacking. Or do like we do and have Thanksgiving all year round!
Ingredients
1 whole turkey breast, bone in
4 cups water
½ onion chopped
2 stalks celery chopped
1 teaspoon crushed garlic
2 bay leaves
1 teaspoon fennel seeds
2 Tablespoons salt
4 Tablespoons brown sugar
2 tablespoons olive oil
2 tablespoons of poultry spice
Instructions
Mix all of the ingredients (other than the turkey, olive and poultry spice) in a large bowl.
Add the turkey breast to a large container (I used a large soup pot) and pour the brining mixture over top. You may have to double the brine to cover you turkey. If so you can just mix a second batch of water, brown sugar, salt and garlic.
Refrigerate over night.
Take out and pat dry.
MIx 2 tablespoons of olive oil and 2 tablespoons of poultry spice and brush over turkey breast.
Place the turkey in your smoker and adjust the temperature to between 200 and 225 degrees F. The lower the better though it might take longer.
Run your smoker according to manufacturer's instructions.
Smoke for approximately 3-5 hour or until the roast reaches 170 degree F with a meat thermometer. In the warmer weather it took us 3 hours and in colder weather it took 5 hours. Just make sure to start checking the internal temperature about half way through to gauge how it's cooking.
Let sit 10 minutes then carve.
Notes
Based on 6 servings, 1 serving is: 330 cals
14.5g fat / 2g carbs / 0.2g fiber / 39.7g protein = 1.8g net carbs
Nutrition Information:
Yield:

6
Serving Size:

1
Amount Per Serving:
Calories:

330
Unsaturated Fat:

0g