This is my favorite right now! A turkey apricot cheddar sandwich has all the elements of the perfect sandwich.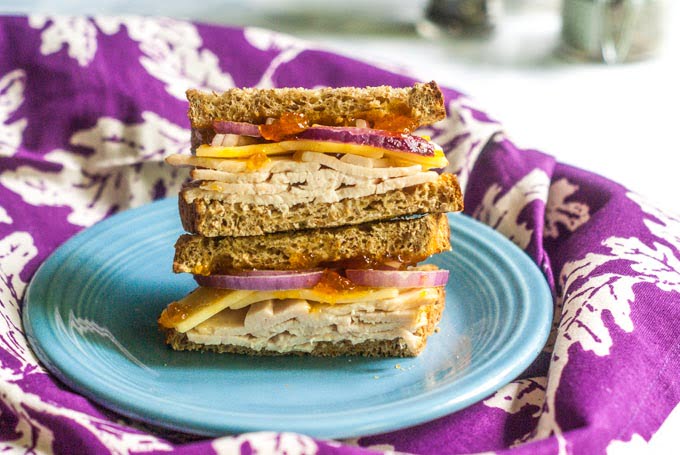 As you might have noticed, I've been getting away from the low carb recipes. Not because I've fallen out of love with the low carb lifestyle, but more because I've been having an affair with bread. It started on vacation (for my birthday) in Sonoma. We went to the best little bakery that had so many different kinds of delicious loaves, hot and fresh from the oven. Then when we went on our wine tour I had the best sandwich ever. It was a turkey sandwich with white cheddar and lemon chutney and it was de-lic-ious! And while I haven't come up with a lemon chutney….yet, this
turkey apricot cheddar sandwich
comes pretty close to that one and has become my new favorite.
To make my favorite sandwich you need good bread. While shopping at Costco's I found some nice French bread and this tasty sprouted 7 grain bread. Both were really good but I preferred the 7 grain personally. The others in my family went for the French bread.
While having this affair with bread, I thought about writing a series of sandwich posts as that's always an easy meal to serve my family on a hot summer night. They would have to be special sandwiches though. No PB&J or grilled cheese sandwiches (not that there is anything wrong with them), but rather a good sandwich using unique meats, cheeses and toppings. So that was my intention but this is the only sandwich I've made so far. My son is strictly a turkey club boy and my hubby is happy with a salami and tomato. So no series on sandwiches and that's probably best for me because I'm going to need a break from bread. It's not you [bread] it's me.  🙂
Turkey Apricot Cheddar Sandwich
This isn't much of a recipe but it is a very delicious sandwich combination and I wanted to share it with you. Do you have a favorite sandwich for summer? Drop a comment and let me know. And if you buy some apricot jam, here are two more recipes that uses it that I think you will love: spicy apricot chicken meatballs and apricot pistachio cookies. Enjoy!
PS If you are interested in our Sonoma vacation, check out the great posts my hubby wrote on DayTrippingWithRick.com!
Turkey Apricot Cheddar Sandwich
This turkey apricot cheddar sandwich has all the elements of the perfect sandwich.
Ingredients
2

slices

of hearty bread of your choice

3-4

thick slices of fresh turkey breast

1

thick slice of sharp cheddar cheese

1

slice

of red onion

1-2

tablespoons

of apricot jam`
Instructions
Spread the jam on one slice of the bread.

Stack your sandwich with turkey, cheese and onion.

Now it's time to sink your teeth in and enjoy!

Note: Many different jams would work nice here. Also adding a spicy element like jalapeños or chiles would be great. Or try adding some lemon or orange zest to the jam for even more flavor.