If you are looking for a low carb recipe that uses leftover turkey, try this low carb turkey noodle casserole. It's rich and creamy and has only 1.9g net carbs per serving!
You might also like this creamy low carb turkey soup recipe!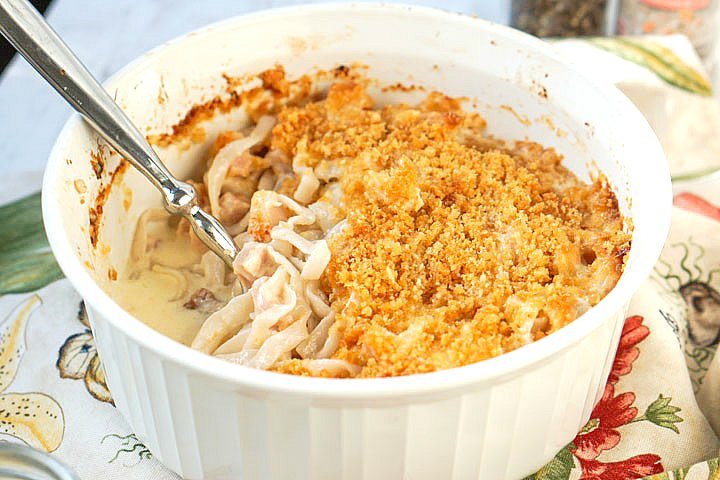 I have been making so many casseroles lately. The colder weather just puts me in the mood for them and I like to freeze portions for a quick lunch.
Anticipating turkey leftovers from Thanksgiving, I tried this low carb turkey noodle casserole using some Wonder noodles I had in the cupboard. It came out so good I'm now hoping we have some leftovers!
Using Keto Wonder Noodles
Have you ever tried Wonder noodles? They are made yam fiber and have 0 net carbs and 0 calories. The texture is that of pasta but they have absolutely no taste. Which is not a problem if you use a really tasty sauce like I did in this turkey noodle casserole.
All you need to do to use them is make sure you rinse them really well. I just put mine in a colander and ran the water for 1 full minute. Then heat them up for 2 minutes and they are done. I used the fettuccine in this recipe but they have spaghetti and rice too.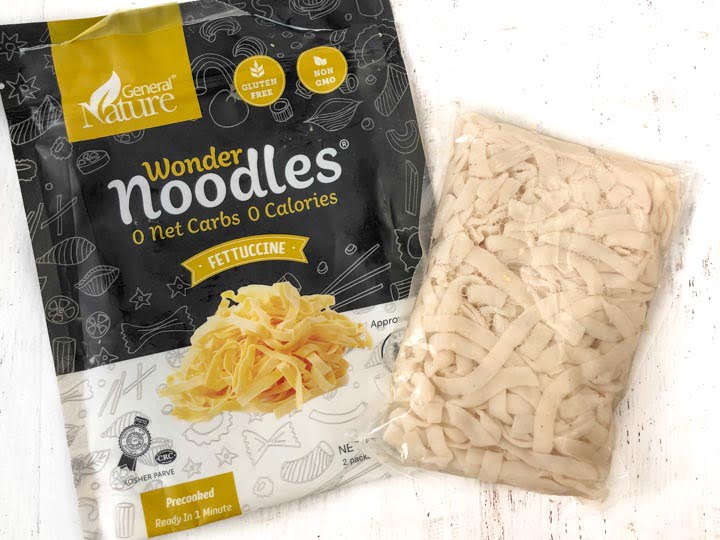 Low Carb Turkey Noodle Casserole Ingredients
Most of the ingredients I used for this recipe can be found at Aldi or your local grocery store. The only two ingredients that you wouldn't find there are the leftover turkey and Wonder noodles. I bought my Wonder noodles online since I have never seen them in a grocery store.
The other ingredients are cream cheese, heavy cream, onion powder, garlic powder, gruyere cheese, pork rinds, Parmesan cheese and of course leftover turkey.
Making The Leftover Turkey Casserole
The first thing you want to do is rinse the Wonder noodles and set them aside. Then get out a saute pan and add the cream cheese, ½ of the cream, spices and gruyere cheese. Whisk them together to make a sauce.
Then add in the chopped turkey and Wonder noodles and mix well. Spoon this mixture into a greased baking dish and cover with a mixture of ground pork rinds and parmesan cheese.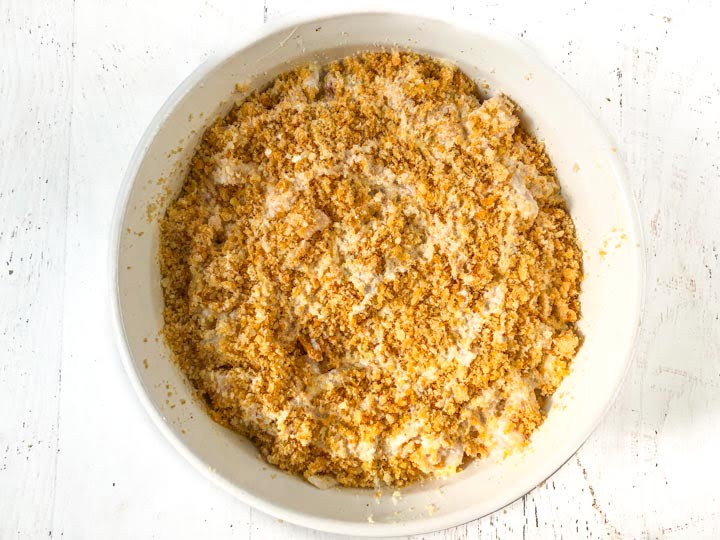 Lastly pour over the remain cream and bake in a 350°F oven for about 30 minutes. That's all there is to it!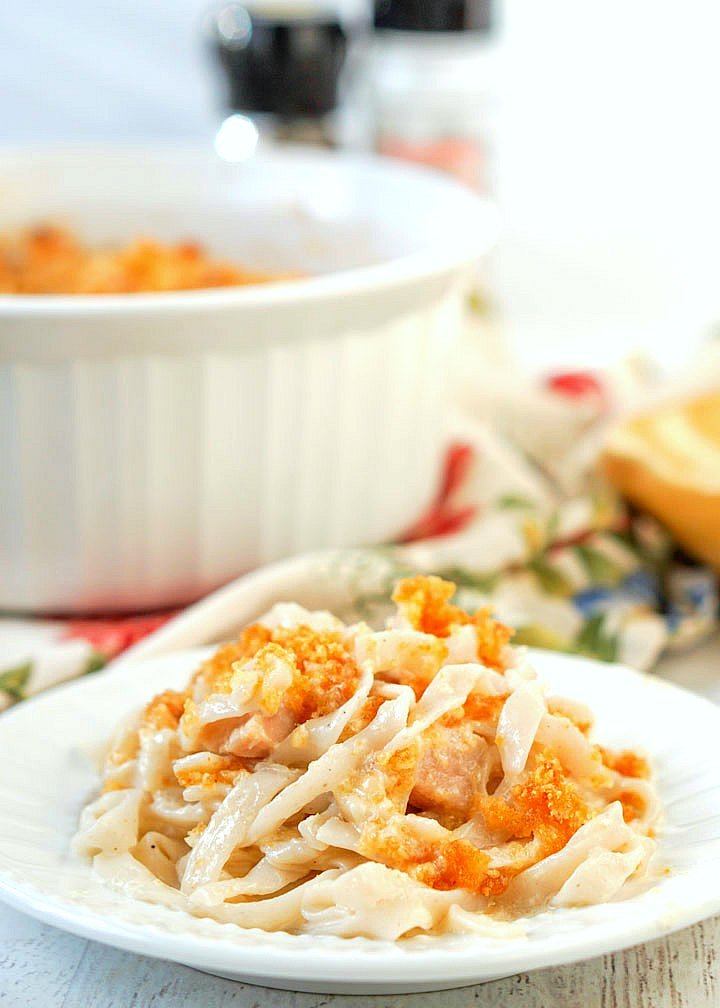 Making Substitutions For This Casserole
While most of these ingredients are probably in your pantry or refrigerator right now, you might want to make substitutions.
If you are not low carb, you can use cooked fettuccine or cooked egg noodles to replace the Wonder noodles.
While I used turkey breast you can use dark meat and you can also substitute rotisserie chicken if you wish.
If you are low carb and don't have any Wonder noodles, it will be hard to substitute. You can try wide zucchini noodles but I would cook them in the microwave for a few minutes first. Then try to make sure you get out all the excess water before adding to the cream sauce.
You can substitute Swiss cheese for the gruyere or really any flavorful cheese you want. I don't recommend mozzarella though. as it doesn't have much taste.
You can substitute almond flour for the pork rinds. However I would toast the the almond flour in a saute pan with some butter before topping the casserole.
You can also use cauliflower, broccoli, zucchini and/or mushrooms instead of the noodles for a creamy turkey vegetable casserole.
Lastly you can add bacon, mushrooms or even some peas to the recipe to change it up a bit.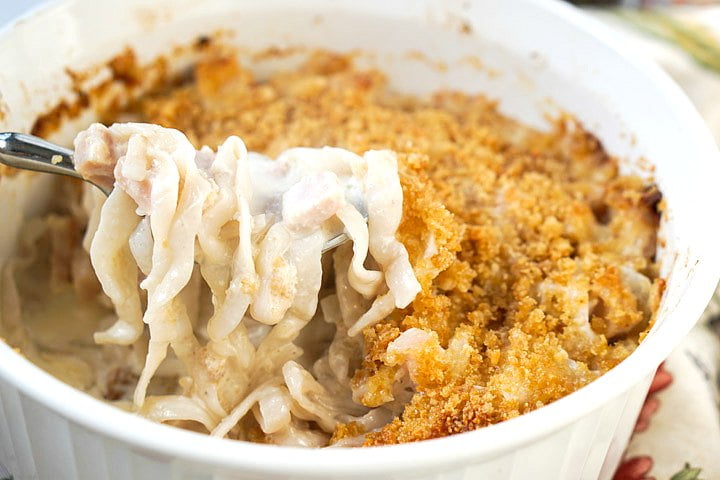 Well I hope you give this low carb turkey noodle casserole a try even if you don't have leftovers. As I mentioned above you can also use rotisserie chicken.
The nutritional information for 1 serving is:
462 cals / 29.3g fat / 5.5g carbs / 3.6g fiber / 40.1g protein = 1.9g net carbs
Where To Buy Pork Rind Crumbs For Breading
If you don't want to make your own pork rind crumbs you can always buy these Pork Panko breading crumbs on Amazon!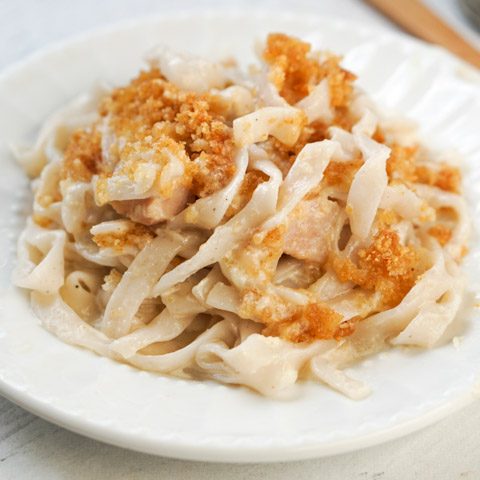 Low Carb Turkey Noodle Casserole
If you are looking for a low carb recipe that uses leftover turkey, try this low carb turkey noodle casserole. It's rich and creamy and has only 1.9g net carbs per serving! 
Ingredients
14 oz Wonder Noodles
1 lb cooked turkey breast, chopped
2 oz cream cheese
½ cup heavy cream, separated
½ teaspoon garlic powder
½ teaspoon onion powder
½ cup gruyere cheese
1 ¾ oz pork rinds, crushed and ground
¼ cup parmesan cheese
Instructions
Preheat oven to 350°F.
Place Wonder noodles in a colander and run water over them for 1 full minute. Drain the water and set aside.
In a large pan, melt the cream cheese and mix with half of the cream, garlic powder, onion powder and gruyere cheese. Whisk to combine to make the sauce.
Add in the Wonder noodles and turkey, mix and cook for a few minutes.
Spoon into a greased baking dish.
Crush the pork rinds in a food processor so they look like bread crumbs. MIx with the Parmesan cheese and sprinkle over casserole.
Evenly pour the cream over the casserole then place in the oven to bake for 30 minutes.
Notes
See post for substitutions and suggestions.
Nutrition Information:
Yield:

1
Amount Per Serving:
Calories:

462
Net Carbohydrates:

1.9g