Low Carb chicken Romano with lemon butter sauce is a delicious gluten free, keto dinner. Easy to make and high in protein with only 1.4g net carbs per serving.
You might also like this low carb pork chops Romano recipe too!
Chicken Romano with lemon butter is a dish my oldest sister made when she was just out of college. It was fantastic! I don't know where she learned how to make it but she's an excellent cook so she probably just whipped it up. I am 8 years younger than her, so I remember being blown away that she could cook something so good.
Anyway, this is my low carb version of her recipe. It's very simple and sure to be a family favorite! I've even made a low carb Romano caulliflower steaks!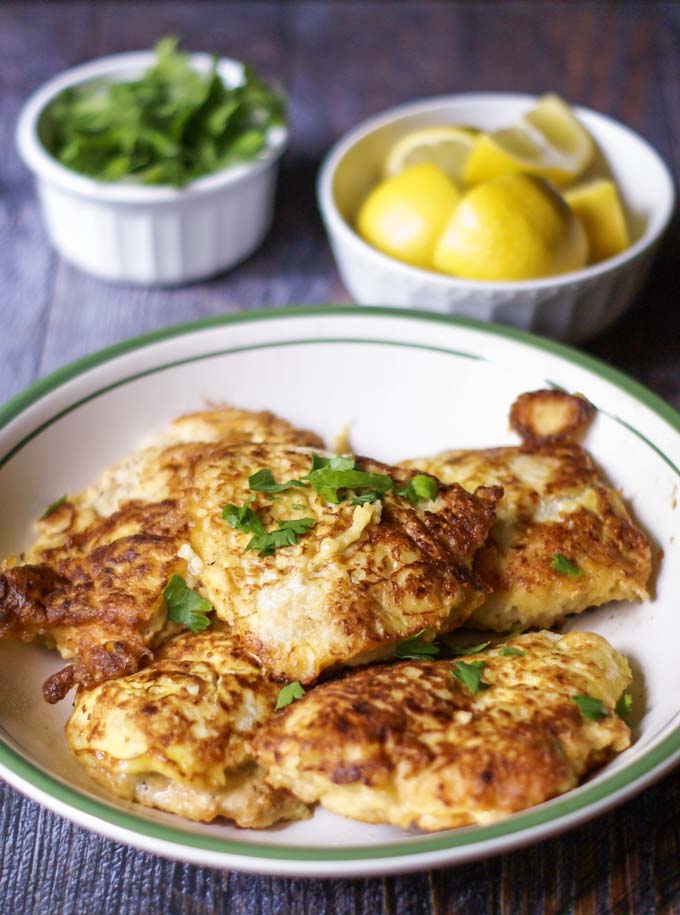 How To Make Chicken Romano Low Carb & Gluten Free
As I've mentioned many, many times that I'm always trying to keep things Paleo or low carb. This recipe usually calls for dredging your chicken in flour first, then egg, then cheese. I just used almond flour instead and combined the egg and cheese mixtures for simplicity.
For those of you that have no problem with flour, just substitute regular flour for the almond flour, however I thought the almond flour worked fine. As a matter of fact I served this to my family including my in laws and no one knew it was almond flour.
Low Carb Chicken Romano Recipe
So after you dredge your chicken in the flour of your choice, you then dip it in a mixture of eggs, grated Romano cheese and a little water to thin it out. Place the chicken in a hot skillet that has some olive oil and bit of butter and fry until golden brown.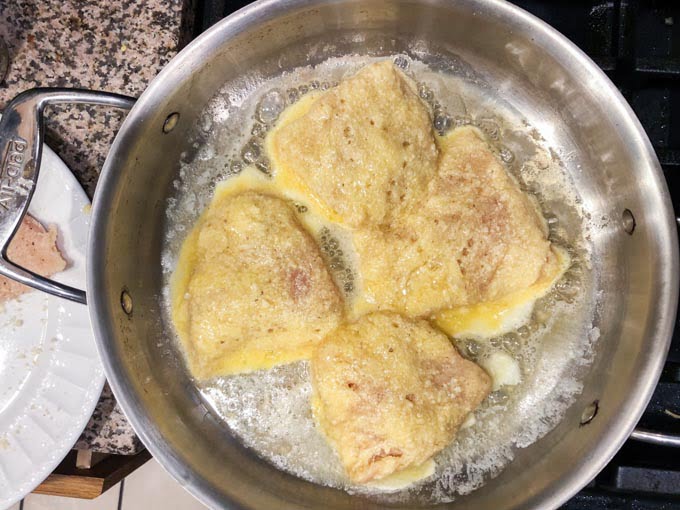 A Note About The Chicken
As a time saver I always buy a package of thinly sliced chicken breasts from the grocery store. They don't have it at every grocery store, but it keeps me from having to pound it out. Aldi now carries thin sliced chicken breasts.
You want to have a thin cutlet so they are cooked after you fry them. If you have bigger pieces which you can see I do, you can just pop these in the oven for 10 minutes after browning and they should be cooked through. Had I had more time I would have pounded out the thicker pieces.


While the chicken is in the oven, make your lemon butter sauce by melting butter and mixing in the juice of one lemon. Bring the sauce to a simmer and when the chicken is done, top it off with the lemon butter sauce. Garnish with chopped parsley and add a wedge of lemon if you like.
I hope you try it and that your family likes it as much as mine. Enjoy! The nutritional information for 1 serving is:
358 cals / 20g fat / 1.8g carbs / 0.4g fiber / 41.6g protein = 1.4g net carbs
Low Carb Chicken Romano with Lemon Butter (gluten free)
Chicken Romano with Lemon Butter sauce is a delicious gluten free, low carb and Paleo dinner. Easy to make and high in protein.
Ingredients
2

Tablespoons

olive oil

1

Tablespoon

butter

¾

cup

almond flour

1 ½

lbs

chicken, thin sliced

3

eggs

¼

cup

water

½

cup

Romano cheese, grated

salt & pepper to taste

2

Tablespoons

butter

1

lemon, juiced

¼

fresh parsley chopped finely, optional

1

lemon cut into wedges, optional
Instructions
Preheat oven to 350F.

If your chicken breasts are not already cut thin, cut to make thin cutlets and pounded thin.

Sprinkle salt and pepper over your chicken.

Put your almond flour in a large shallow bowl or dish. Dredge your chicken breasts in and coat each side.

Heat a large sauté pan to medium high.Add 2 Tablespoons of olive oil and 1 Tablespoon of butter and heat until sizzling.

In a separate large shallow bowl or dish, beat the eggs, water and Romano cheese together.

Dip the chicken breasts in the egg mixture.

Add the breasts to the pan and cook until browned on both sides. Move to an oven safe dish.

Continue in batches until all the chicken is done.

If breasts are thick you can bake for 10 minutes to make sure they are done all the way through. If they are thin you may not need to do this.

In another sauté pan, melt 2 Tablespoons of butter and the juice of one lemon. Simmer for a minute or two and then pour over the finished chicken.

Sprinkle with fresh parsley and serve with extra lemon wedges.