These keto air fryer artichoke hearts make a great appetizer or throw them on a low carb salad. You only need 4 ingredients and making artichoke hearts in the air fryer is super easy. Serve them with a creamy dip for your next party or eat them as a delicious keto snack. Only 0.4g net carbs per piece!
You might also like these low carb stuffed artichokes!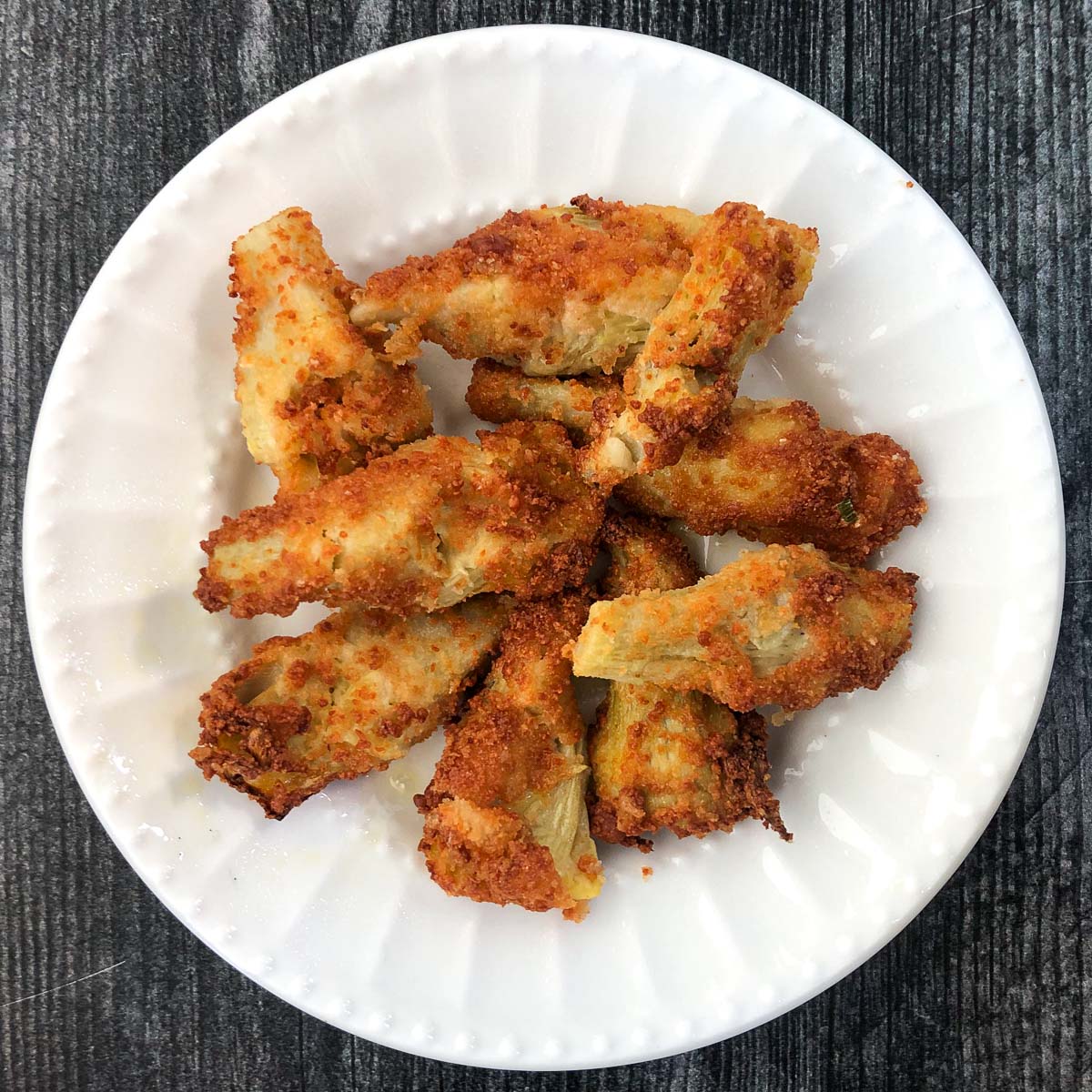 Recently I was at a local restaurant they had a delicious appetizer of fried artichoke hearts on the menu and they were very tasty! I thought I could A) make them low carb and B) fry them in the air fryer.
So today I am sharing with your my keto air fryer artichokes recipe. I only used 3 ingredients for the breading (no flour) and then I dipped them in a delicious and creamy avocado dip.
I also used a few on my keto shrimp BLT salad for even more flavor. The creamy dip is actually the salad dressing for that salad so it all went together great! But these would intended to be an easy and tasty keto appetizer or snack so give them a try.
Are artichoke hearts keto friendly?
Artichokes are a naturally low carb vegetable though it's actually a thistle. They are low calorie, low fat but high in fiber and even protein. A medium artichoke has 6.6g net carbs, 60 calories and 4.2g protein.
They are also a good source of folate, vitamin C, vitamin K and minerals like magnesium, potassium and iron. (source)
Whether you eat them whole and dip the leaves in melted butter or just eat the hearts on salads, dips or fry them like I did today this is a very healthy and low carb vegetable/thistle.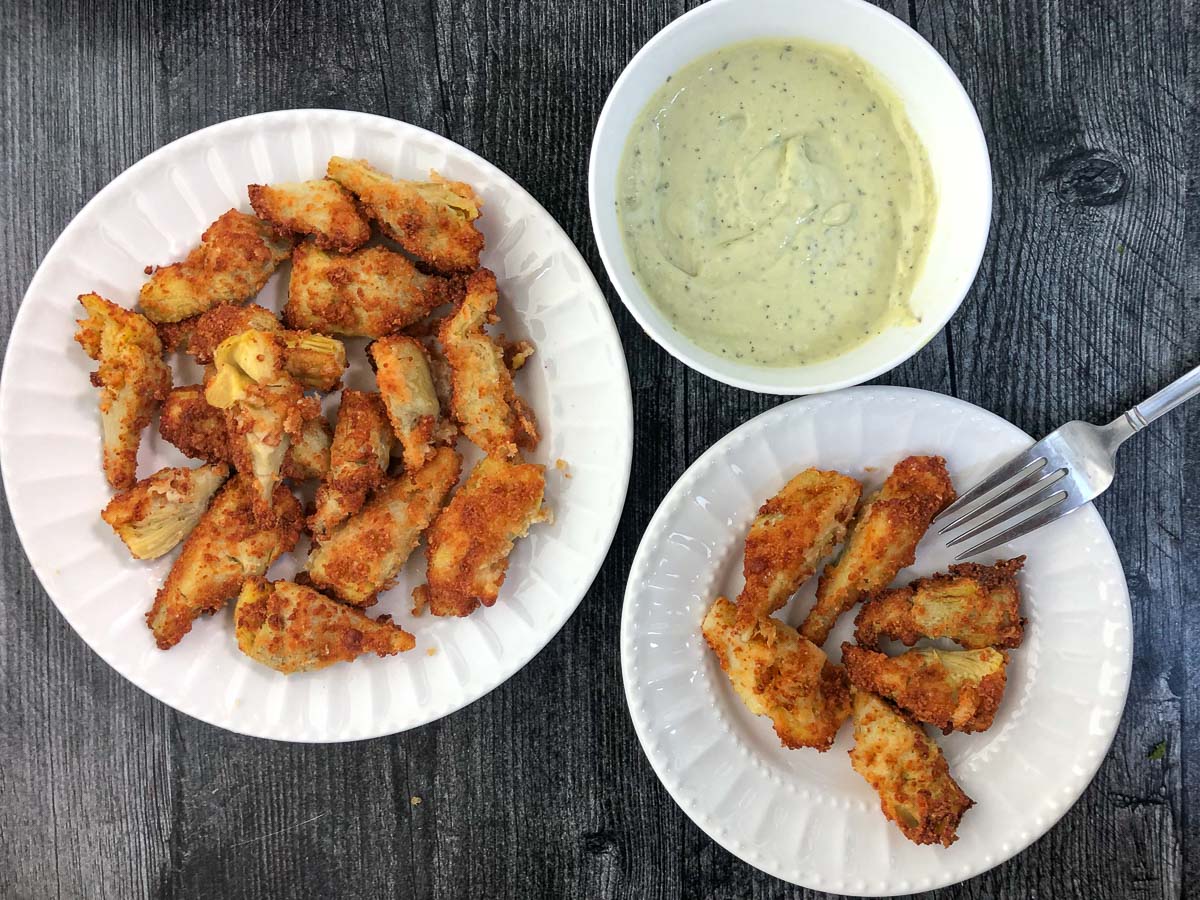 Recipe ingredients I used.
You only need 4 simple ingredients to make this dish – mayonnaise, canned artichoke hearts, plain pork rinds and parmesan cheese.
Note that I used a 13.75 ounce can of Aldi's quartered artichokes hearts in water. Do not use marinated artichoke hearts though as they will add more carbs. I got roughly 30 pieces out of this can.
If you have pork panko bread crumbs they would work great for this but if you don't, just buy a bag of pork rinds and place them in the food processor. Grind them until they look like bread crumbs!
How to make keto fried artichoke hearts in the air fryer.
Step 1: To bread the artichokes, you want to get a shallow bowl and pour in the pork rind bread crumbs and parmesan cheese and mix well.
Step 2: Drain artichoke hearts from the can or jar and towel dry them. Then add them to a small baggie along with the mayonnaise. You might want to do these in batches of 4-5 at a time. It's a less messy way to coat each of the hearts with a mayo.
Step 3: Take the artichoke hearts out 1 at a time and roll them in the pork rind mixture, then set on a plate do the rest.
Step 4: Spray the air fryer basket with nonstick cooking spray or use a silicon liner like the one pictured below. They are great for easy clean up by the way.
Step 5: Set the air fryer temperature to 380°F and bake for 8 minutes until nice and golden brown. Cooking time may vary. Depending on the size of your air fryer you will probably have to cook these in 1-2 batches.
Eat these immediately for the most crunchiness. However they still taste delicious if they size awhile.
Store leftovers in an airtight container in the refrigerator. (Please scroll down to view the printable recipe card.)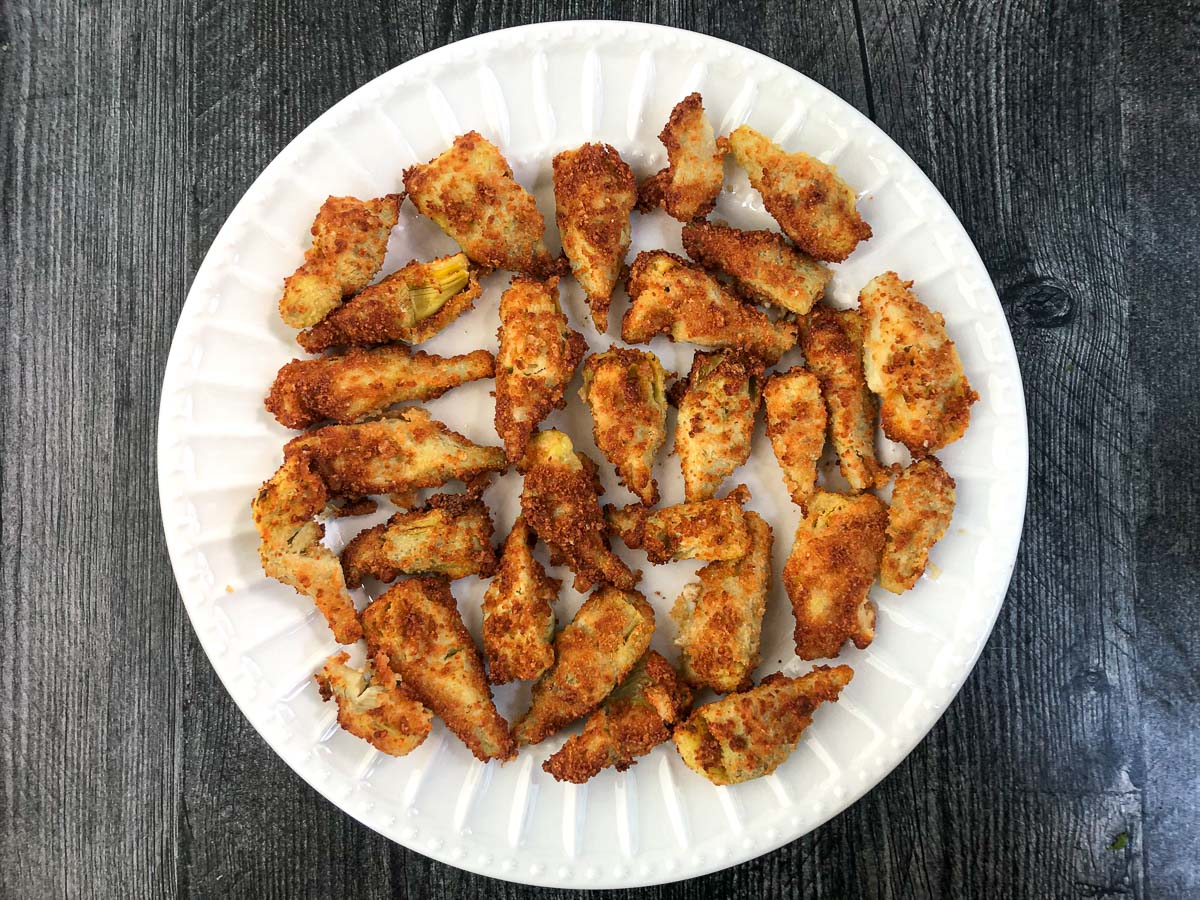 If you don't have an air fryer.
You can easily make these keto fried artichoke hearts in a conventional oven. Bread them like the recipe says then place them on a sprayed rimmed baking sheet. Preheat your oven to 400°F and bake them for 10 minutes until golden brown.
You can also pan fry them in some oil. Heat up a skillet to medium high heat and add enough oil to completely cover the bottom of the skillet. Place the breaded pieces in and cook until browned on both sides.
This should only take around 10 minutes. Drain on a piece of paper towel and serve.
What to serve these with for a keto appetizer.
You can eat these as a healthy appetizer with a dipping sauce. I have many keto dipping sauce recipes but I think this honey mustard dipping sauce or this avocado lime dipping sauce would go great.
Or you can try these other low carb sauces: jalapeno aioli, buffalo aioli or tomato bacon jam all of which go great with fried foods.
You can also make a quick garlic aioli sauce. Just mix some mayo with crushed garlic and a bit of lemon juice and use that as a dipping sauce. You can even use ranch dressing!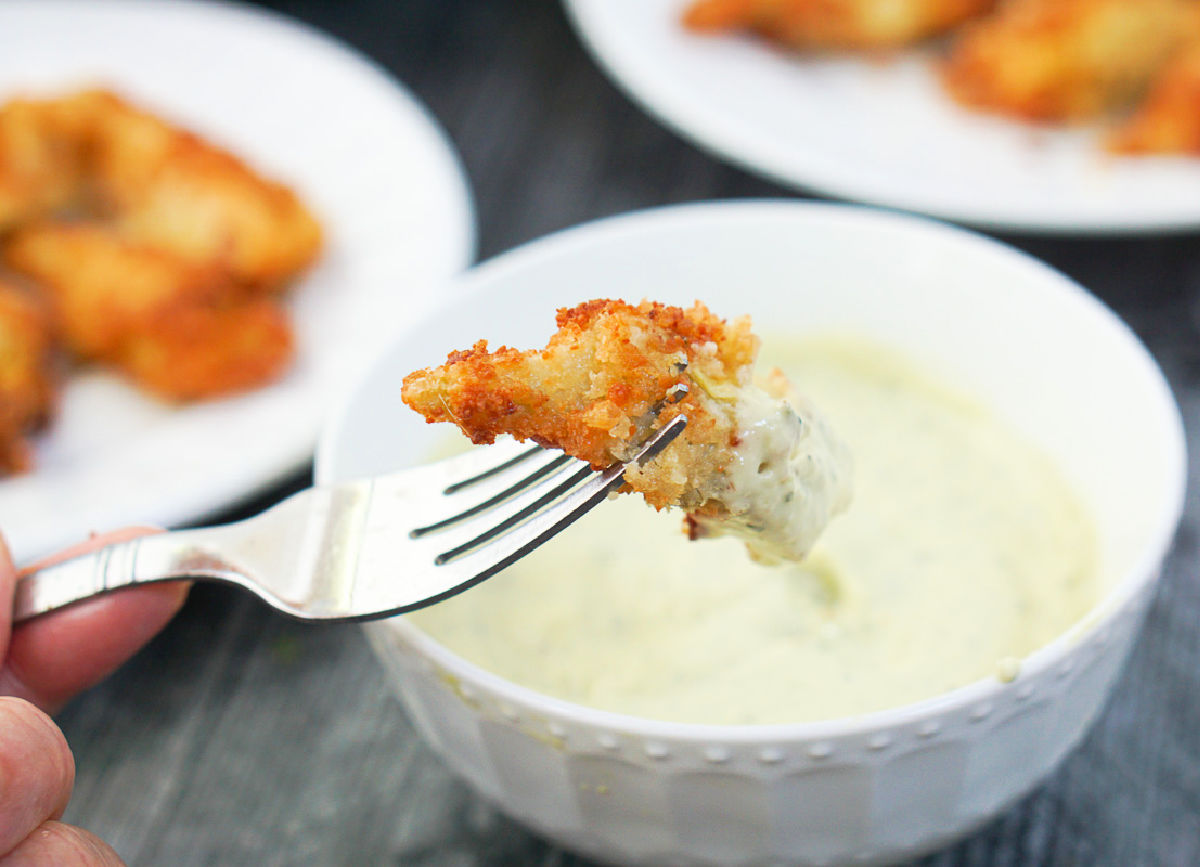 Other low carb artichoke recipes to try.
If you ever wondered what to do with canned artichokes here are a few keto recipes you might like or other ideas for how to use this low carb vegetable.
Well I hope you enjoy these easy keto fried artichokes. They are so easy in the air fryer and make a delicious low carb appetizer or snack regardless if you are on a low carb diet. And here are more keto air fryer recipes to try. Enjoy!
The nutritional information for 1 pieces is 36 calories / 2.8g fat / 0.6g carbs / 0.2g fiber / 2.3g protein = 0.4g net carbs
Keto Fried Artichoke Hearts in the Air Fryer
This air fried artichokes recipes is both low carb and gluten free. Using just 4 ingredients to make this easy air fryer keto appetizer in 15 minutes!
Ingredients
1 can artichoke hearts, ( mine had 30 quarters)
1 cup pork rind breadcrumbs
1 cup parmesan cheese
¼ cup mayonnaise
Instructions
Spray the basket of the air fryer with nonstick cooking spray.
Get out a shallow bowl and pour in the crushed pork rinds and parmesan cheese. If you are making your own pork rind breadcrumbs just add some to a food processor and grind until they look like crumbs. Mix the two together and set aside.
Drain the can of aritchoke hearts and dry them off with paper towels.
Get out a small baggie and add the mayo. Place the dried artichoke hearts into the baggie in batches. Squish them around to get the mayo all over each piece.
Take them out and roll them around in the breadcrumb mixture to coat them completely. Place in the prepared air fryer basket.
Set the air fryer to 380°F and bake them for 7-8 minutes or until they turn golden brown. Depending on the size of your air fryer you may have to make these in a few batches.
Store in an airtight container. Serve with dipping sauce or eat as is.
Notes
The nutritional information for 1 pieces is 36 calories / 2.8g fat / 0.6g carbs / 0.2g fiber / 2.3g protein = 0.4g net carbs
Nutrition Information:
Yield:

30
Serving Size:

1
Amount Per Serving:
Calories:

36