These pumpkin fries with buffalo aioli are a delicious side dish or snack.The sweetness of the pumpkin goes perfectly with the spicy, creamy aioli.
You might also like this how to make the best crispy steak fries recipe.
I've been wanting to make pumpkin fries for some time now. I'm getting a bit sick of pumpkin spice everything but pumpkin itself is a tasty, healthy food. It's full of good things like antioxidants, magnesium and zinc. And I like that it can be used in different ways like to thicken my Paleo slow cooker beef stew or frozen for my pumpkin protein smoothie. But the real reason I made these pumpkin fries with buffalo aioli is because I really like fries with mayo.
Pumpkin Fries And Buffalo Aioli Recipe
The buffalo aioli is simple but tasty. I can't wait to find new uses for it. It's basically hot sauce, mayo and garlic. To make the pumpkin fries I just roasted them in the oven. I have to admit though, that pumpkin is difficult to slice. I've made two batches so far and I think next time I'm going to try using a mandolin and pray I don't slice my fingers off. I bought one like this at a home party and love it though.
Tips For This Pumpkin Recipe
Make sure you buy a cooking pumpkin. For this recipe I bought a pie pumpkin at the grocery store (that's what it was called). Just don't use one of the big carving ones. They have less taste supposedly. Here's an article about different varieties if you are interested.
Slice your pumpkin into as small of pieces as you can. This is harder than it sounds and it's not something I had the patience for. They will taste great no matter what but they will be crispier if they are cut into small pieces.
Soak your cut pumpkin for at least 20 minutes to get some of the starch out.
This is a great seasonal side dish and pumpkin is full of great things for you. Read more about the health benefits here.
Pumpkin Fries With Buffalo Aioli
How To Roast Pumpkin Seeds
Don't forget to roast the seeds! Toss them in oil, salt and pepper and roast at 300 degree F for about 20 -30 minutes depending on the size of the seeds. Check every once in awhile to make sure they don't burn.
Next time you roll your cart past all those cute little pumpkins and gourds at the grocery store, grab a good eatin' pumpkin and try these pumpkin fries. They are fries that are good for you. That's right, they are good for you and I'm sticking with that. Enjoy!
For more fun squash recipes check the recipes below.
---
---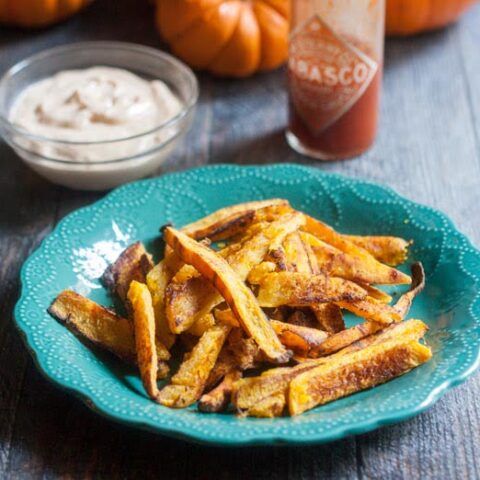 Pumpkin Fries with Buffalo Aioli
These pumpkin fries with buffalo aioli are a delicious side dish or snack.The sweetness of the pumpkin goes perfectly with the spicy, creamy aioli.
Ingredients
¼ pumpkin, peeled, cut into fries
1 Tablespoon olive oil
salt & pepper to taste
½ cup mayonnaise
1 Tablespoon hot sauce
1 clove garlic, crushed
Instructions
Preheat oven to 425 degrees F.
Spray a cookie sheet with cooking spray.
Cut pumpkin into small fry sized pieces and let them soak in cold water for 20 minutes.
Take them out and towel dry.
Toss with oil, salt and pepper.
Bake for 20 minutes or done to your liking.
Meanwhile add the mayonnaise, hot sauce and garlic in a small bowl and mix well.
Adjust the amount of hot sauce according to your desired spiciness.
Refrigerate until ready to use.
When fries are done, serve with aioli.
Nutrition Information:
Yield:

3
Serving Size:

1 grams
Amount Per Serving:
Calories:

418
Total Fat:

38g
Saturated Fat:

6g
Trans Fat:

0g
Unsaturated Fat:

31g
Cholesterol:

15mg
Sodium:

415mg
Carbohydrates:

18g
Fiber:

2g
Sugar:

1g
Protein:

2g
This post may contain affiliate links. For more information please visit our policies page.