This is a delicious low carb pumpkin protein smoothie that is perfect for getting in that protein for your morning breakfast. A low carb, high protein drink that is also high in fiber. This heath breakfast drink is easy and very tasty!
You might also love this low carb salted caramel pumpkin smoothie!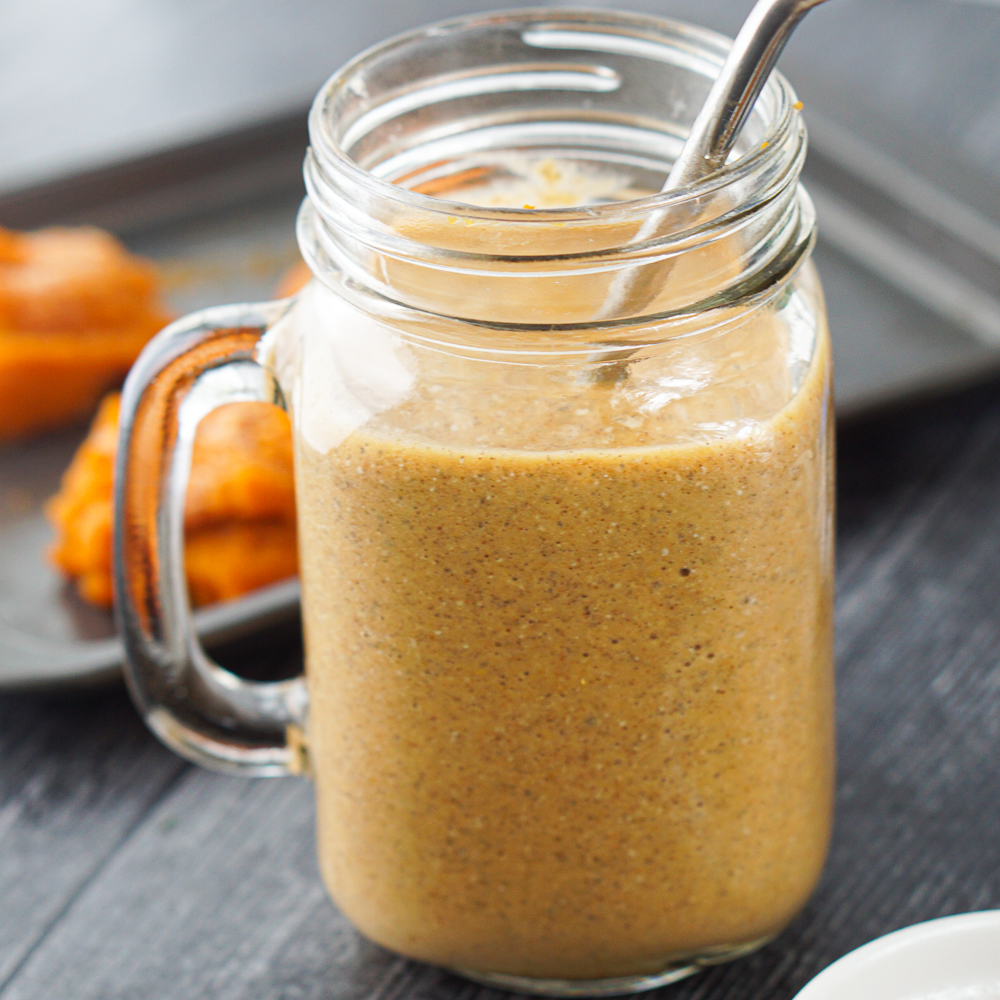 I'm not much of a breakfast person. I'm just not hungry in the morning. So on days that I'm going to the gym I try to make a protein smoothie to get me going.
It's fall and pumpkin is in the air…well not literally but it is pumpkin season. I thought I'd create a low carb pumpkin protein smoothie.
I love it because it's filling, low carb, high protein, high fiber and just tastes great. It's the perfect way to start your day if you are on a low carb diet.
Smoothie ingredients I used.
The main ingredients are: unsweetened almond milk, vanilla whey protein powder, chia seeds, frozen pumpkin puree, pumpkin spice & vanilla stevia.
I don't like mine super sweet but you could easily add some extra stevia, Swerve or your sweetener of choice. The vanilla protein powder has enough sweetness for me but you might want more.
By the way I used to use vanilla extract and sweetener but now I use Sweetleaf Vanilla Stevia which works much better in my opinion.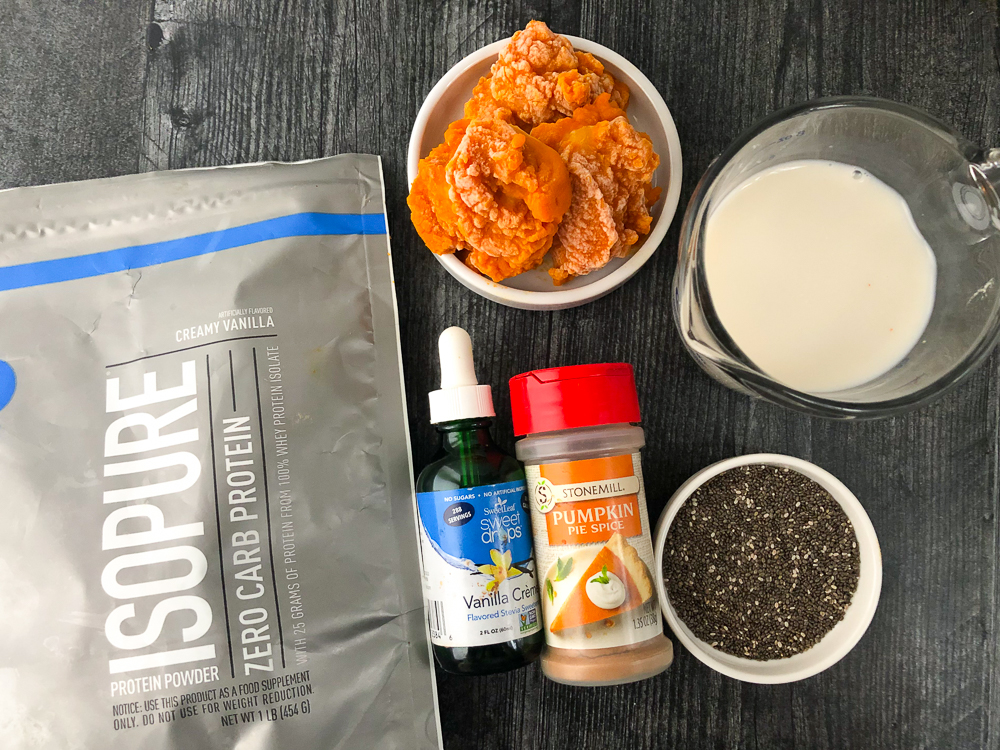 My favorite low carb protein powder.
UPDATE* I changed the protein powders I use now because the following are available in many flavors and have 0 or 1 net carbs. They are Isopure Zero Carb protein powder, CarbThin, Quest, and Lite Protein. You can find these and most of the ingredients for this smoothie on my Amazon page (click here).
Isopure has been my favorite vanilla protein powder lately and I use it in a lot of low carb high protein recipes. It has 25g protein and 0 net carbs.
Why I use chia seeds in my smoothies.
I also like to add chia seeds to my smoothies because they add fiber and thickness. If you pulverize the seeds in a high speed blender, they will start to thicken your smoothie like pudding.
Some other healthy ingredients I sometimes put in my smoothies are ground flax seeds, maca powder, Great Lakes gelatin, powder greens or fresh greens, ground nuts or nut butter, hemp seeds, and so on.
My trick for using pumpkin in smoothies.
First of all it's best to use plain, pure, canned pumpkin in this recipe … not pumpkin pie filling. The ingredients should only list pumpkin. I always seem to have leftover pumpkin puree when I use it for a recipe this is what I do.
My trick for using pumpkin in smoothies and protein drinks is to freeze pumpkin puree in 2 tablespoon increments. The frozen texture is great for smoothies, making it both thick and cold so you don't have to use ice cubes.
Just measure out 2 tablespoons per puck, place on a cookie sheet and freeze for an hour or two. Then I take the pucks off the cookie sheet and plop them into baggie to store in the freezer.
How to make a pumpkin protein smoothie.
Make the pumpkin pucks by making 2 tablespoons of pure pumpkin mounds on a cookie sheet and place in the freezer for a hour or so until frozen. You need 2 pucks (¼ cup) per smoothie. Place the extra pucks into a baggie and store in the freezer.
Add all the ingredients to a high speed blender like a Vitamix and blend on high until the smooth and creamy.
Pour into a glass and enjoy! Note the chia a seed will thicken the drink a little bit more as it sits. (Please scroll down to view and print the recipe card.)
You can add anything you like your own smoothies, but this healthy pumpkin pie smoothie is my favorite right now. Try it and I think you will make it your new morning smoothie too!
The nutrition for 1 serving is: 164 calories
6.3g fat / 11.7g carbs / 7.1g fiber / 15.9g protein = 4.6g net carb
Pumpkin Protein Smoothie (Low Carb)
Total Time:
2 hours
5 minutes
This is a delicious low carb pumpkin pie protein smoothie that is perfect for getting in that protein for your morning breakfast.
Ingredients
¼ cup pumpkin puree, (I freeze mine - see Note)
1 cup unsweetened almond milk
1 teaspoon pumpkin pie spice
½ scoop Vanilla Protein Powder (I like IsoPure Zero Carb Vanilla)
¼ teaspoon vanilla stevia, liquid
1 tablespoon chia seeds
Instructions
Note: I freeze my pumpkin ahead of time because it makes it both cold and thick. Just place the pumpkin puree in 2 tablespoon increments on a cookie sheet. Freeze for an hour or two then grab 2 "pucks" and place in the blender. You don't have to freeze it but you might want to add 2-3 ice cubes to make it thicker.
Put everything else in the blender and blend on high for 1 minute until nice and smooth. The chia seeds really need to be blended to make the shake thick.
Please note if you need to find any of these ingredients you can find them on my Amazon page.
Notes
The nutrition for 1 serving is: 164 calories
6.3g fat / 11.7g carbs / 7.1g fiber / 15.9g protein = 4.6g net carb
Nutrition Information:
Yield:

1
Serving Size:

1
Amount Per Serving:
Calories:

164
Unsaturated Fat:

0g