If you are looking for a delicious and easy, low carb appetizer you have to try this spinach artichoke keto stuffed mushrooms recipe. You only need 3 ingredients to make these creamy, cheesy mushrooms and each one only has 0.7g net carbs. And you can prepare them a day ahead of time for an easy party dish!
You might also like these other keto mushroom recipes!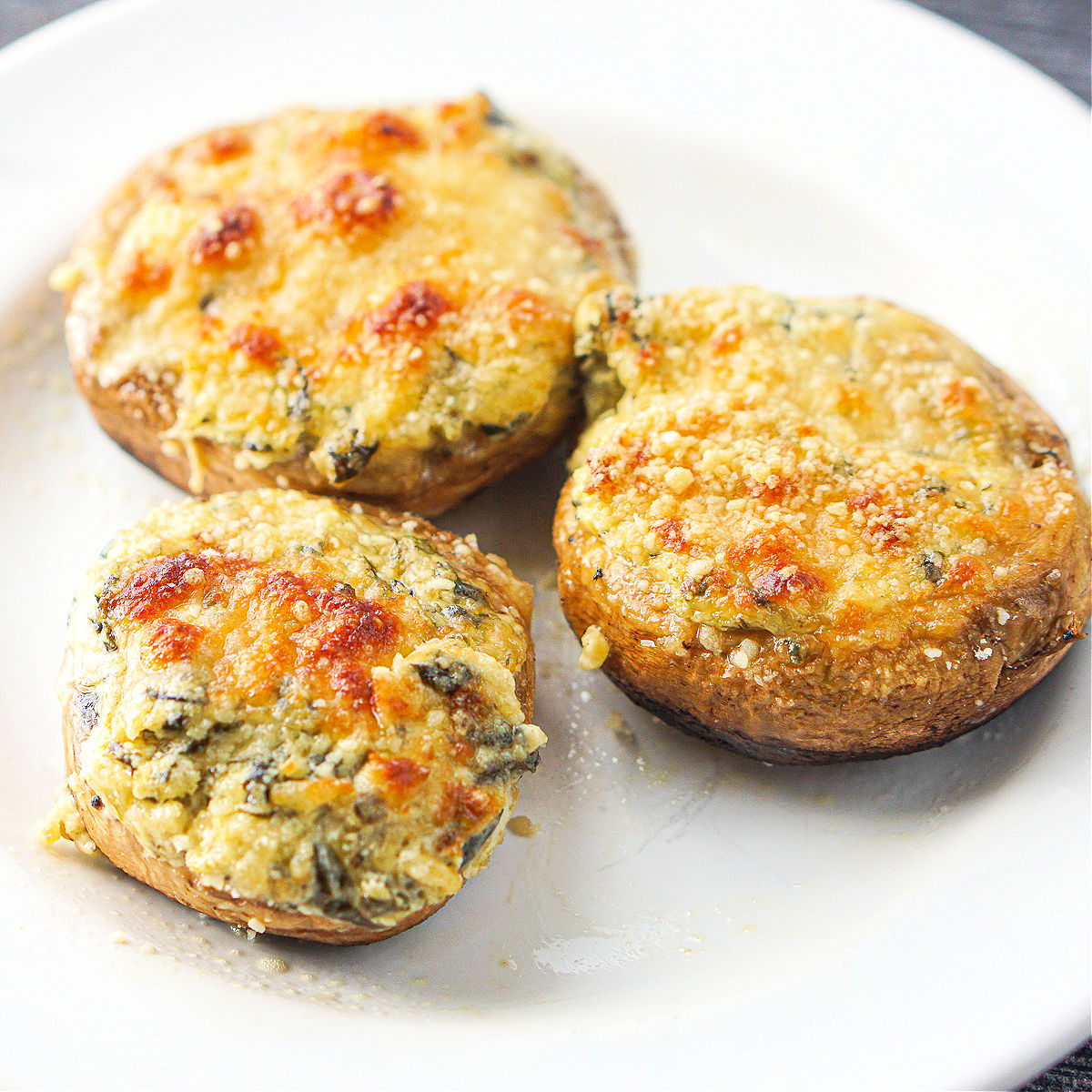 This recipe is one of my oldest recipes and at the time I wasn't even trying to eat low carb. We were having a family party for my son and I wanted a very easy and tasty appetizer so I made this spinach artichoke keto stuffed mushroom recipe again.
I had forgotten how good they are but most of all they are easy. I prepared them the day before hand and just baked them before everyone came. It's so nice to only use 3 ingredients too.
These stuffed mushrooms are low carb, gluten free and vegetarian and each one has only 0.7g net carbs. They are the perfect keto appetizer on a keto diet yet others will love them too.
Are mushrooms keto friendly?
Yes they are a low carb food! For 1 cup of sliced raw mushrooms have just 15 calories, 2.3g carbs and 0.7g fiber for 1.6g net carbs. (source)
Mushrooms are low carb, high in fiber, rich in B vitamins and minerals. So they are a nutrient rich vegetable as well as being low carb and they are many varieties to try. (source)
Plus there is so many ways to prepare mushrooms and you can eat them raw or cooked. A portobello mushroom is so meaty and makes a great keto dinner or even a low carb bun substitute for a hamburger.
Recipe ingredients I used.
The best thing about this stuffed mushroom recipe is that you only need 3 simple ingredients and they are fresh white button mushrooms, spinach artichoke dip and grated parmesan cheese.
Below you can see the dip that I bought at Costco. No getting out the cream cheese, garlic, onion, spinach etc. It's full of flavorful ingredients!
I've used dips from other places too and they all seem to be fairly low in carbs. This particular brand has about 1g net carb per tablespoon.
This dip is very versatile and you can eat it hot or cold. The flavors of this dip would also be good with this low carb tilapia recipe or use it to make keto stuff chicken breasts.
How to make this keto stuffed mushrooms recipe.
Step 1: Preheat the oven to 400°F. Spray a large baking sheet or baking dish with nonstick cooking spray. Clean out the mushrooms by taking out the stem and cleaning out the middle a bit so you can stuff with the spinach artichoke filling. I used a melon baller to do this.
Step 2: Place the mushroom caps face down on the baking sheet and bake for 15 minutes. The mushrooms will produce a lot of water so when they are done, drain off the excess liquid and turn them over to fill.
Step 3: Turn over the baked mushrooms and Fill each one with a spoonful of dip and continue until all the mushrooms are filled. Then sprinkle with grated Parmesan cheese over the filling and set them in the oven to bake.
Step 4: Bake for 15-20 minutes until they are nice and golden brown. You could also place them under the broiler after 15 minutes and brown the tops.
Step 5: Let them cool a bit before serving. These are best eaten warm. You can make them ahead of time and heat or reheat them before serving them for a party. Note that cooking time may vary depending on the size of mushrooms you have. Please scroll down to view and print the recipe card.
They taste amazing. Really they do. The prep time takes minutes to do and you can make them the night before.
Plus you will have extra filling mixture that you can use cold with veggies, or microwave and use with chips. I've been eating it with veggies for lunch for a week now!
Other low carb mushroom recipes to try.
I have quite a few mushroom recipes on the blog and below are some of my favorite low carb mushroom recipes that are:
So that is my easy spinach dip keto stuffed mushrooms recipe. I hope you like it as much as we did. It's perfect for a party appetizer, snack or even or even a low carb meal. And one of my favorite appetizer recipes because it's so easy. Enjoy!
The nutritional information for 1 stuffed mushroom is:
39 cals / 3.2g fat / 0.8g carbs / 0.1g fiber / 1.4g protein = 0.7g net carbs
You might also like my friend Keri's keto spinach pinwheels recipe!
Spinach & Artichoke Keto Stuffed Mushrooms
This spinach and artichoke keto stuffed mushroom recipe is a super easy and delicious low carb appetizer to make. Easy, low carb and lots of other things you can do with the left over dip. Even make the night before.
Ingredients
32 white mushrooms
1 ½ cups spinach & artichoke dip
¼ cup grated parmesean cheese
Instructions
Preheat oven to 400°F degrees.
Spray a baking sheet with nonstick cooking spray. Clean off the mushrooms with a damp paper towel.
Scoop out the mushroom stems to make a bowl out of the mushroom caps then place on the baking sheet with the cup part facing down so the water than accumlates will run out.
Bake for 15 minutes then take out of the oven and drain off the excess liquid.
Once cooled, add dip to all the mushrooms and then sprinkle with parmesan cheese.
Place back in the oven and bake for 15-20 minutes or until mushrooms are cooked.
Broil the last few minutes if they need to be more brown on top. Let cool before serving.
These can be made a day ahead of time and refrigerated until ready to cool. You can also easily reheat cooked musrhooms if you have leftovers.
Notes
Note you could use cheddar cheese or mozzarella but I like think parmesan has more flavor. You could also add hot pepper flakes, bacon or other toppings but this recipe is very tasty just as it is and it's simple.
The nutritional information for 1 stuffed mushroom (my recipe made 32) is
39 cals / 3.2g fat / 0.8g carbs / 0.1g fiber / 1.4g protein = 0.7g net carbs
Nutrition Information:
Yield:

32
Serving Size:

1
Amount Per Serving:
Calories:

39
Unsaturated Fat:

0g