This bacon blue cheese keto burger stuffed portobello is a delicious way to eat your burger – no bun needed! Portobello mushrooms make a great gluten free substitute for a hamburger bun. This post is sponsored by the Certified Angus Beef ® brand in conjunction with a social media campaign through Sunday Supper LLC. All opinions are my own.
You might also like this low carb meatloaf stuffed portobello recipe.
I am slowly becoming a portobello mushroom fan. I love the taste of mushrooms to begin with and the fact that they are large and meaty and can be stuffed with a variety of goodies makes them all the more appealing to me.
So lately I've been craving a good bacon blue cheese keto burger and thought it would be go nicely in a portobello cap. And it did. Now I want to put all my burgers in a portobello cap.
How To Cook Portobello Mushrooms
The first thing you want to do is prepare your mushrooms by cleaning out the gills on the underside of the mushroom. I just used a spoon and scraped them off. They come off easily.
Then rub a little oil on both sides and bake for about 10 minutes. Now they are ready to go. I made a bunch the other day and kept them in the refrigerator for a a few days and they were fine reheated. They accumulated a little water or juice but I stuffed them and baked them and they were delicious.
Tip For Making Bacon For Burgers
I stumbled upon this tip by accident but it worked nicely for this recipe. I use a microwave bacon tray something like this but mine is round. They had them at Aldi once and now I use it all the time to make bacon. You just place your bacon on the tray and add a paper towel on top. Then cook it for a few minutes until it's done to your liking.
To make bacon for you burgers, just form it into a circle like I have below, cover with a towel and cook.
And it comes out like this. Perfect for placing on a burger and not slipping having it slip off.
The Best Beef For Burgers
I always like to use Certified Angus Beef® ground beef so when it's on sale I stock up. This is the best quality of beef which is important when making a burger. I like to use a fattier type of meat like 80/20 for burgers because they have more flavor.
By the way, check out this video on how to form the perfect burger from the Certified Angus Beef Kitchen.
Assembling The Bacon Blue Cheese Keto Burger
Make your bacon and burgers while the portobellos are in the oven. I also included red onions, lettuce, tomato and of course blue cheese dressing.
How Many Portobellos To Use?
I preferred to use just one portobello and use a fork and knife to eat mine. You can see below how I ate mine. One of the reasons is that you should have 2 mushrooms roughly the same size as your burger and I only had 1 set. So I gave that to my father in law to eat.
Below is the one I gave to my father in law. You can hold it with two hand if you want just like a traditional burger. However it is still a little messy. One thing you can do is put the blue cheese dressing in the cap before you load the burger and fixings. That might make it less messy. Either way they are delicious!
So I hope this inspired you to try to use a portobello instead of a bun for your next keto burger dish. If you are already a big fan of the mushroom, please drop me a line and let me know how you use them. I'd love to hear from you!
The nutritional information for 1 burger with 2 mushrooms:
431 cals / 31.8g fat / 3.6g carbs / 2.7g fiber / 30.2g protein = 0.9g net carbs
If you need some fries to go with this burger, try my friend Taryn's keto fries!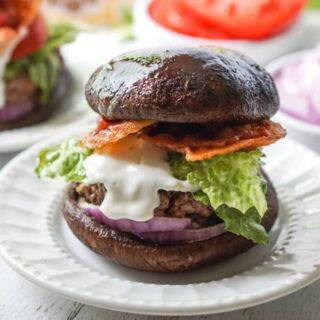 Bacon Blue Cheese Burger Stuffed Portobello
This is the perfect low carb or Paleo meal by stuffing a Portobello mushroom with the components of a bacon blue cheese burger. Delicious!
Ingredients
2

cooked portobello mushroom caps

1

cooked burger

2

pieces

cooked bacon

1

Tablespoons

blue cheese dressing

⅛

cup

sliced romaine lettuce

1

slice

of red onion

1

slice

tomato
Instructions
To cook your mushroom, clean the gills out of the mushroom cap, rub oil on both sides and cook in a 400 degree oven for 10 minutes.

Fry your hamburger in a fry pan for about 5 minutes on both sides.

Cook your round pieces of bacon by placing them in a circle on a microwaveable tray. Cover with paper towels and cook for roughly 1 minute per piece of bacon or to your desired texture.

Asseble your burger the way you like it. I used red onions, tomatoes, romaine, bacon and blue cheese dressing.

Eat with a knife and fork or add another mushroom cap to make a bun.
Recipe Notes
Nutritional information for 1 burger, 2 mushrooms, 2 bacon
431 cals / 31.8g fat / 3.6g carbs / 2.7g fiber / 30.2g protein = 0.9g net carbs