These Philly cheesesteak keto stuffed portobello mushrooms make for an easy but delicious keto dinner. The portobello mushroom caps are filled with all the flavors of a Philly cheesesteak but without the carbs of a bun! Make a big batch so you can have leftovers for a low carb lunch the next day. Each one has only 4.5g net carbs and 260 calories!
You might also like this keto fajita stuffed portobello cap recipe.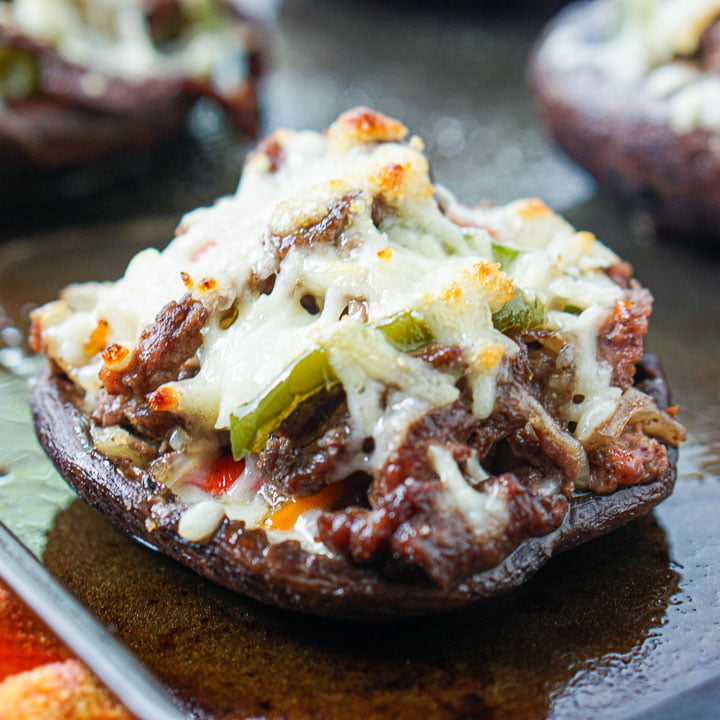 Hi folks, this an updated post that I haven't made in awhile. Stuffed portobello mushrooms have long been one of our favorite foods. I just love them and so does my hubby so it's been a nice quick dinner during the summer months.
In the past I've made many stuffed portobello recipes because you can fill them with low carb toppings and the mushroom cap makes it easy for portion control. Today I am sharing one of my favorite easy dinner recipes: Philly cheesesteak keto stuffed portobello mushrooms.
The delicious flavor combination of beef, sautéed peppers and onions go great with the portobellos and then there is the melty cheese! This is a great flavor combination for this easy keto dinner.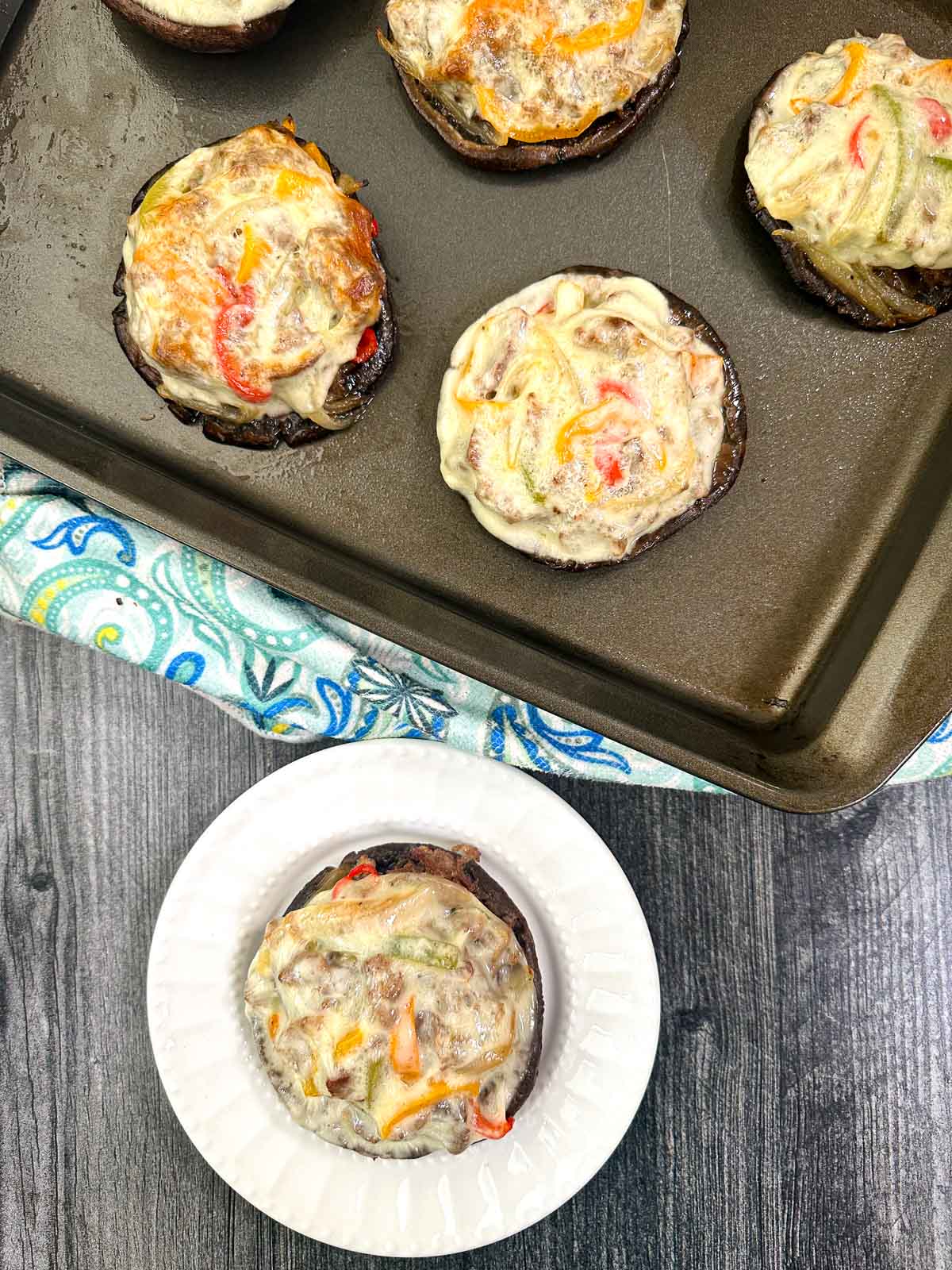 Recipe ingredients I used.
The simple ingredients I used in this dish are portobello caps, yellow onion, fresh bell peppers, olive oil, thin sliced sirloin steaks, salt, black pepper and provolone cheese slices.
Originally I made these with shredded mozzarella cheese but today when I redid this post I used provolone cheese slices which I liked better because it was less messy and I like the taste. That being said you can use which ever you want.
And the steak I uses was some thinly shaved beef from Aldi that is supposed to be used in fajitas. It worked well but you can also use ground meat, pork or even chicken if you want.
How many carbs in a portobello mushroom cap?
I buy my portobello mushroom caps at Aldi and the average cap is about 3oz. In each cap there are roughly 30 calories, no fat, 2g net carbs and 3g of protein (source). So mushrooms are low carb friendly, low calorie and make a great edible container for low carb dinners.
Portobellos are also rich in nutrients like potassium, folate, magnesium and zinc so if you like mushrooms, give this delicious and meaty portobellos a try.
How to clean and cook portobello mushrooms.
Below you can see the underside of a raw portobello mushroom cap. Here is how to clean and cook a large portobello mushroom cap.
First take out the stem in the middle. You can chop and cook that with the rest of your filling or throw it away.
See the dark gills surrounding the stem? You want to clean those with a spoon. Just gently scrape them away. The gills are safe to eat but have a weird texture and most people clean them out.
Next rub both sides of the caps with oil and turn them over with the topside up onto a rimmed baking sheet. This is because they will release a lot of extra liquid and it will just fill the cap if you cook them flipped over. Note you can also use nonstick cooking spray.
Bake in a 400°F oven for about 10-15 minutes depending on the size of your mushrooms. I checked mine at 10 minutes and they were not quite soft enough so I put them in another 5 minutes. They should be brown and soft enough to eat at this stage. Pour out any excess water before you fill them.
How to make Philly cheesesteak stuffed keto portobello mushrooms!
Step 1: The first thing you want to do is prepare and clean mushroom caps and bake them in the oven as instructed above. Once done keep the oven on.
Step 2: While they are baking, cook the cheesesteak filling. Chop the beef up into thin, small strips and the peppers and onions similarly.
Step 3: Get out a large skillet and heat to medium high heat. Once hot add the oil and turn the heat down to medium heat. Add onions and bell peppers and saute for a minute or two and then add in the beef. Sprinkle some salt and pepper over the mixture and cook until the meat mixture is cooked through.
This should take about the same time as the mushrooms to cook and cool.
Step 4: Spoon the filling into mushroom caps with the cheesesteak mixture. You can use the same baking sheet the mushrooms baked on or a baking dish. Make sure to pour excess liquid on the cookie sheet.
Step 5: Once the caps are filled, top with shredded cheese or a slice of provolone cheese. Bake for about 10 minutes until the cheese is melted. If you want them to be browned on top you can also then stick them under the broiler for a few minutes.
And that is all there is to it. Store leftovers in an airtight container. Please scroll down to view the printable recipe card.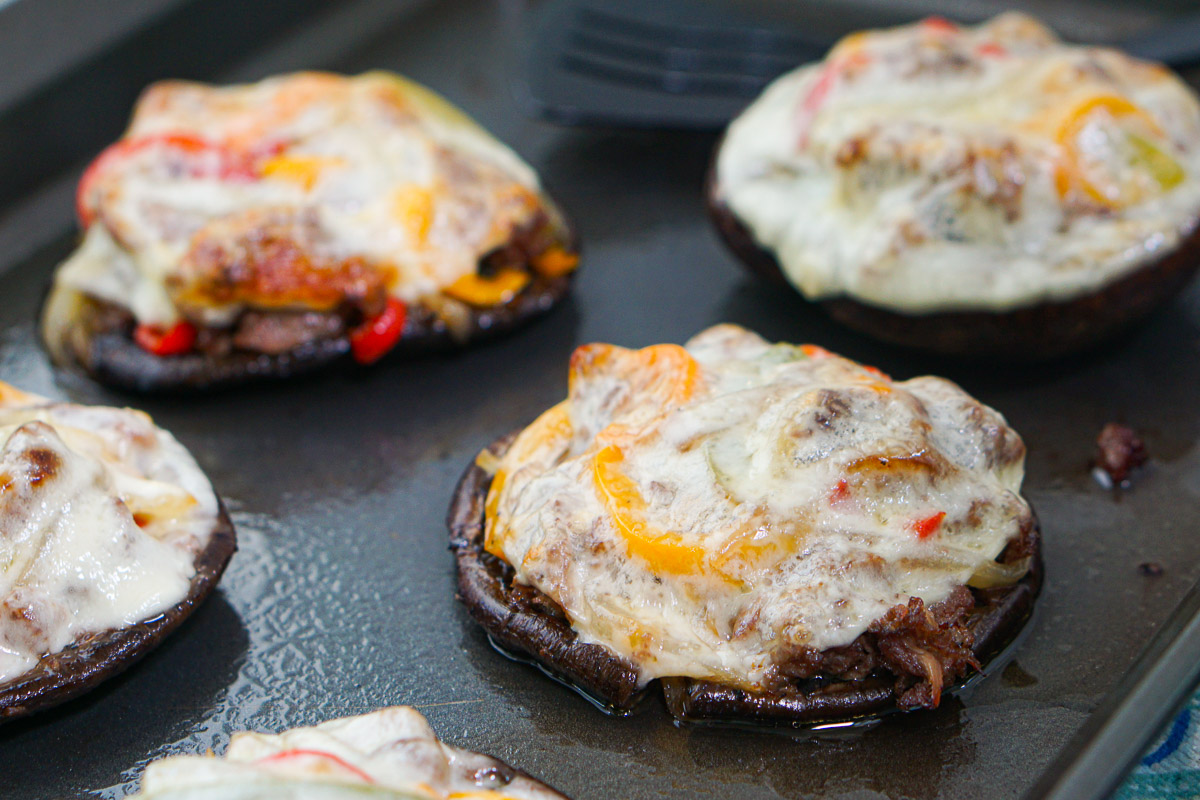 More keto cheesesteak flavored dishes to try.
My family loves the flavors of cheesesteak with the beef, sautéed onions and peppers and mushrooms. Not to mention all the cheese! Here are a few more low carb recipes similar to this.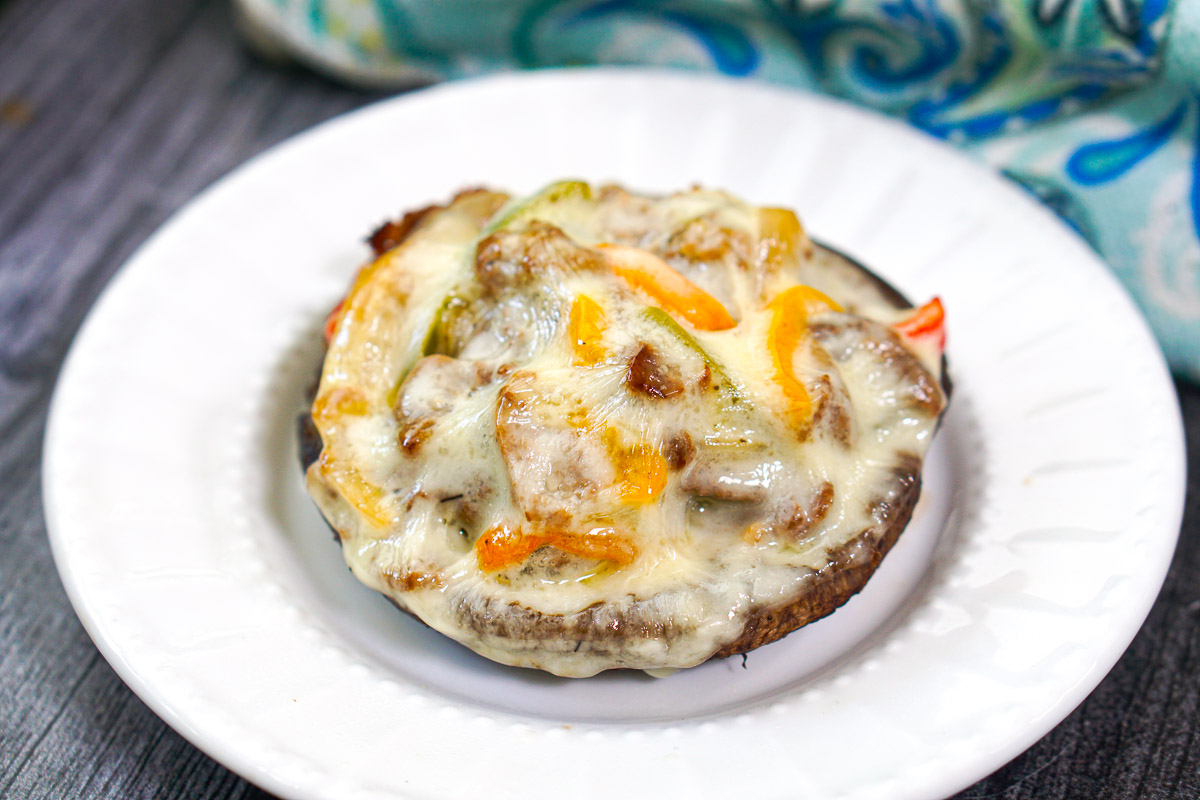 Believe me when I say the Philly cheesesteak portobellos were delicious. The meaty portobellos go great with the steak, onions and peppers and it was such an easy low carb meal for my family.
And since this recipe makes 8 mushrooms, we had leftovers for lunch the next day. I hope you enjoy as much as we do!
The nutritional information for 1 cheesesteak mushroom is: 260 cals / 15.4g fat / 7.2g carbs / 2.7g fiber / 21.7g protein = 4.5g net carbs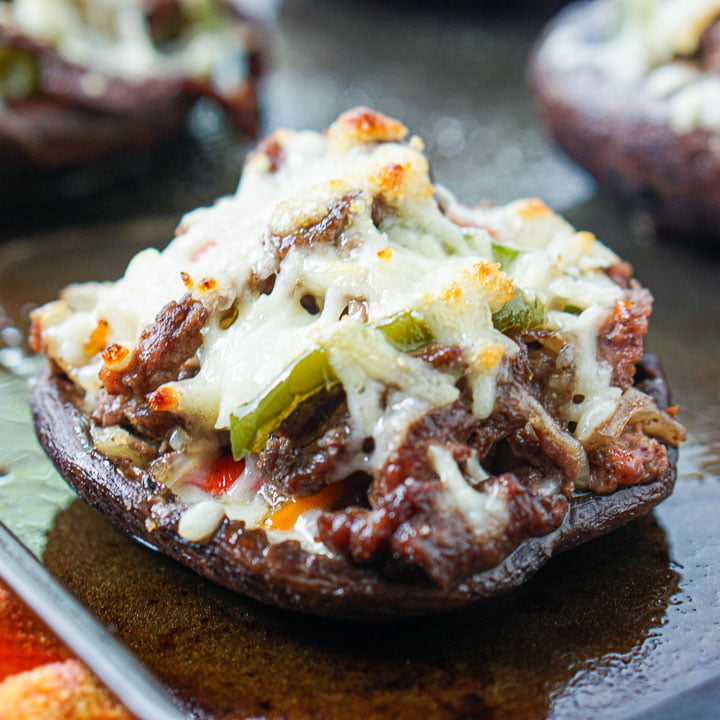 Keto Philly cheesesteak Stuffed Portobello Mushrooms Recipe
A quick and easy low carb meal that tastes great! Philly Cheesesteak stuffed portobellos are filled with onions peppers and steak and topped with melty cheese. This is a great low carb dinner option that's easy to make.
Ingredients
8 large portobello mushroom caps
2 tablespoons of olive oil
1 pound of thin sirloin steaks, cut into thin, small strips
1 cup onion thinly sliced
1 cup bell peppers thinly sliced
8 slices provolone cheese*
salt and black pepper to taste
Instructions
Preheat your oven to 400°F.
Clean portobello caps by carefully scraping the dark gills off the underside with a spoon.
Brush mushrooms with olive oil on both the tops and bottoms. Then place on a baking sheet and place in the oven.
Bake for 10-15 minutes until the mushrooms are soft and cooked through. Keep the oven on and take them out to cool. Drain any excess liquid off the tray and mushrooms.
In the meantime heat up oil in a large saute pan. Ad in the onions and peppers and sauté for a few minutes until they start to soften. Add the steak and sprinkle some salt and black pepper. Cook until everything is cooked through. This should take about the same time as the mushrooms bake and cool.
Stuff the cooled mushroom caps with the steak mixture and then top with a slice of cheese.
Set all mushrooms on a baking sheet or baking dish and place in the oven for 10 minutes. If you want them more brown on top just pop them under the broiler for a few minutes. Watch so they don't burn.
NOTE: You can easily just half everything in this recipe to make just 4 servings.
Notes
The nutritional information for 1 cheesesteak mushroom is: 260 cals / 15.4g fat / 7.2g carbs / 2.7g fiber / 21.7g protein = 4.5g net carbs
*I used provolone slices which have less carbs than shredded cheese and makes this recipe less messy but feel free to use shredded mozzarella or provolone if you want.
Nutrition Information:
Yield:

8
Serving Size:

1
Amount Per Serving:
Calories:

260
Unsaturated Fat:

0g