These stuffed portobellos are filled with all the flavor of a Philly cheese steak or meatball sub but with the carbs! A delicious low carb, gluten free lunch or dinner
Stuffed portobellos have now become a staple in our family. I just love them and so does my hubby so it's been a nice quick dinner during the summer months. A few months ago I made a Bacon Blue Cheese Burger Stuffed Portobello that we loved and more recently a Fajita Stuffed Portobellos. Today I am going to share with you two more ideas for stuffing your portobellos: Philly Steak & Cheese and Meatball Sub Stuffed Portobellos.
Before I get into the specifics, have you ever heard of Yummly? It a great place to save all your recipes just with a click of a button. I've added a Yum button to my site so if you want to save one of my recipes to your recipe box, just click the Yum button and it's saved. Pretty cool huh? You can make your own categories and easily yum recipes from all your favorite websites by installing the Yum button to your toolbar too. Lastly it has a very comprehensive and unique recipe search function. You can search on holiday, cuisine, taste, diet restrictions, nutrition, allergy, cook time, technique, and more.
On to the recipe. The first thing you want to do is prepare your mushrooms by scraping off the gills underneath the cap and rubbing oil on both sides. Then you cook them for about 10 minutes in the oven. In the meantime prepare your toppings. For the Philly Steak and Cheese, I was able to find some steak at our grocery store that was real thin and I cut it into strips. I sautéed it along with some onions and green peppers. It only took a few minutes.
For the Meatball Sub, I used frozen meatballs and pasta sauce from a jar (I love Trader Joe's Marinara) . I topped both kinds of mushrooms with shredded mozzarella and then set them under the broiler until the cheese was melted and brown.
And here they are below ready to eat. Believe me when I say they were delicious. The meaty portobellos go great with the steak, onions and peppers as well as the meatballs, sauce and cheese.
stuffed portobellos
So that was my quick and easy recipe for you today. I hope you give these a try when you don't have much time for cooking dinner but want to keep it lower carb or just because they taste great. And one more thing about Yummly. They have a great app for your phone that you can search recipes and even make a shopping list all on the go. If you get a chance, check out my recipes on my Yummly recipe page and discover more great recipes on their site.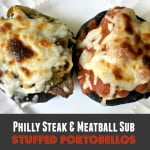 Philly Cheese Steak & Meatball Sub Portobellos
A quick and easy low carb meal that taste great! Two kinds to make: Philly Cheese Steak or Meatball Sub.
Ingredients
4

large portobello mushroom caps

2

T

olive oil

2

slices

of steak

thinly sliced

1/2

onion thinly sliced

1

green pepper thinly sliced

1

cup

of shredded mozzarella

1/4

cup

pasta sauce

12

small cooked meatballs
Instructions
Preheat your oven to 400 degrees.

Clean your mushrooms by scraping the gills off the underside.

Rub oil on the tops and bottoms of the mushrooms and then place on a cookie sheet.

Bake for 10 minutes and then cool.

In the meantime brown your thinly sliced steak in a frying pan that has been sprayed with cooking oil. It just needs to be browned and can be rare inside.

In another sauté pan, add your oil, onions and green peppers and sauté for about 15 minutes until both the are well cooked and brown.

Add your steak to your onions and peppers.

Stuff two mushrooms with 6 small meatballs each. Top those with pasta sauce and half of the shredded cheese.

Stuff the other two mushrooms with the slices of steak, then the pepper and onion mixture and lastly the shredded cheese.

Set all mushrooms on a cookie sheet and broil for 5-10 minutes until cheese is melted and browned.

Watch so they do burn.

Enjoy!
---