These fajita stuffed portobellos make for a delicious and easy low carb dinner.  A quick and easy dinner with only 4.1g net carbs per serving.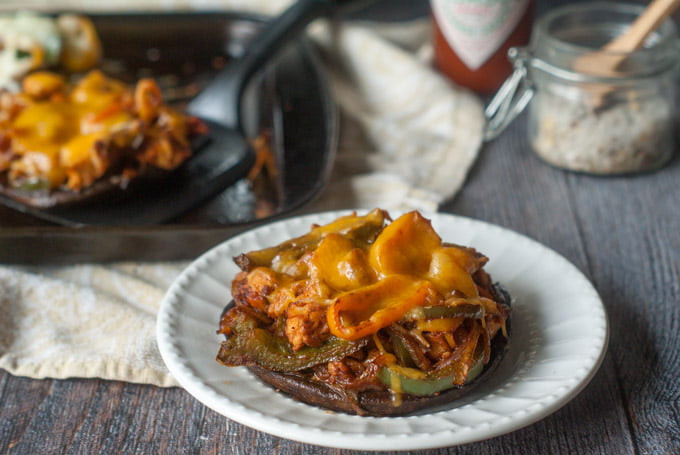 In a recent post, I mentioned that I'm really into portobello mushrooms lately. This is becoming a staple in our house…especially when I don't have much time to make dinner.  I always have peppers and onions on hand as well as frozen rotisserie chicken. So I can throw these fajita stuffed portobellos together quickly and my husband and I just love them. Of course it's another low carb, Paleo meal for us so that is a bonus. We don't eat anything else with it and it's very satisfying.
I wrote in my last portobello post (Bacon Blue Cheese Burger Stuffed Portobello) that I prepare the mushrooms ahead of time by cleaning out the gills, rubbing with oil and baking for about 10 minutes. I do a bunch at once so I have them on hand for later in the week. They keep nicely in the refrigerator.  To make the stuffing, I just sauté onions, peppers, tomatoes and spices and add my cooked chicken last. Once all the flavors are incorporated, I fill the caps.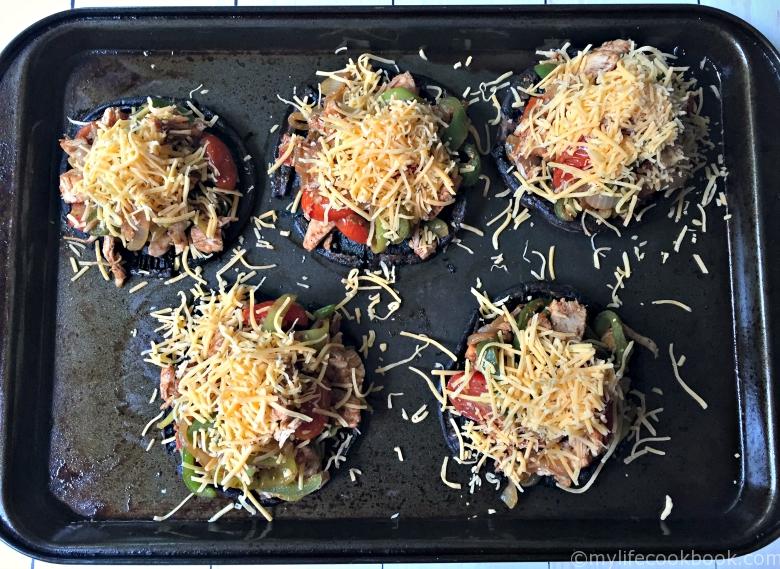 I like using fresh veggies from the garden with these. We had bell and banana peppers this year as well as grape tomatoes so I used them all in this recipe. After you stuff the mushrooms, top with shredded cheese and bake for 10 minutes more.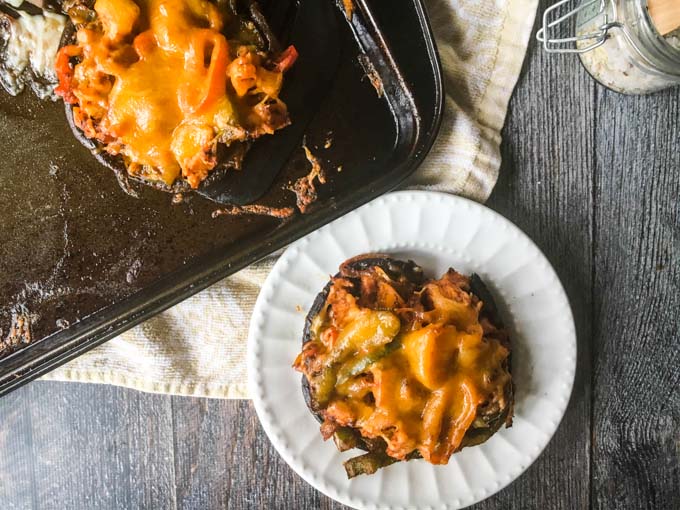 When they come out of the oven, they are ready to serve. They reheat well too.
Fajita Stuffed Portobellos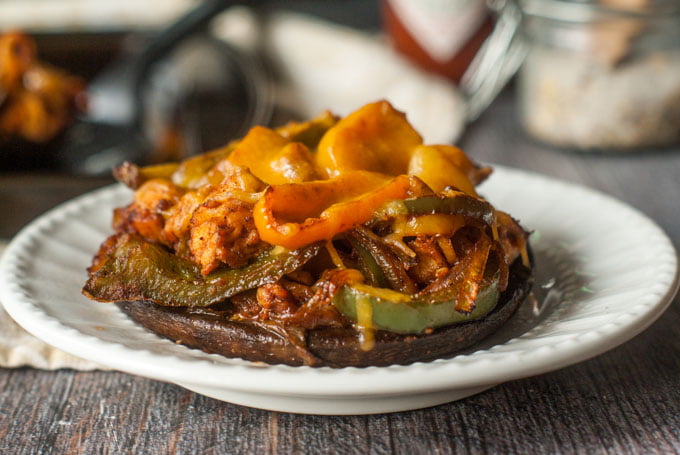 So that is all there is to it. Another quick and easy low carb meal for you (approximately 4.1 net carbs). If you haven't tried portobellos yet I encourage you to try them. Just find other ingredients that naturally go with mushrooms (like burgers and fajitas) and you won't be disappointed.  I have a few more stuffed portobello mushroom recipes in the pipelines so if you like these, stay tuned for more in the next couple weeks. Enjoy!
Fajita Stuffed Portobellos (Low Carb & Paleo)
These fajita stuffed portobellos make for a delicious and easy low carb dinner.
Ingredients
6

portobello caps

2

Tablespoons

olive oil

1

cup

sliced onions

1

green pepper

sliced

2

banana peppers

seeds and ribs takes out sliced

1

cup

tomatoes

½

teaspoon

salt

½

teaspoon

chili powder

¼

teaspoon

pepper

½

teaspoon

cumin

½

teaspoon

paprika

1 ½

cups

cooked chopped chicken

½

cup

shredded cheddar cheese

omit if strictly Paleo
Instructions
Clean mushroom caps by scraping out the gills with a spoon.

Rub both sides of caps with olive oil and bake in a 350 degree oven for 10 minutes.

In the meantime add 2 tablespoons of olive oil to a large sauté pan.

Add onions and peppers and sauté until softened.

Add spices and chicken and cook for another 5 minutes.

Once mushrooms are done and cooled so you can handle them, fill each cap with chicken mixture and top with shredded cheese.

Bake in 350 degree oven for 10 minutes or until cheese is melted and browned.

Net carbs = 4.1g
---