You are going to love the delicious flavor of these keto stuffed portobello mushrooms. They have a flavorful low carb meatloaf stuffing that makes these extra meaty. These mushroom caps are a delicious high protein low carb dinner that you can eat or freeze for later. Each one has only 4.8g net carbs and 36.2g protein!
You might also like this slow cooker keto bbq chicken.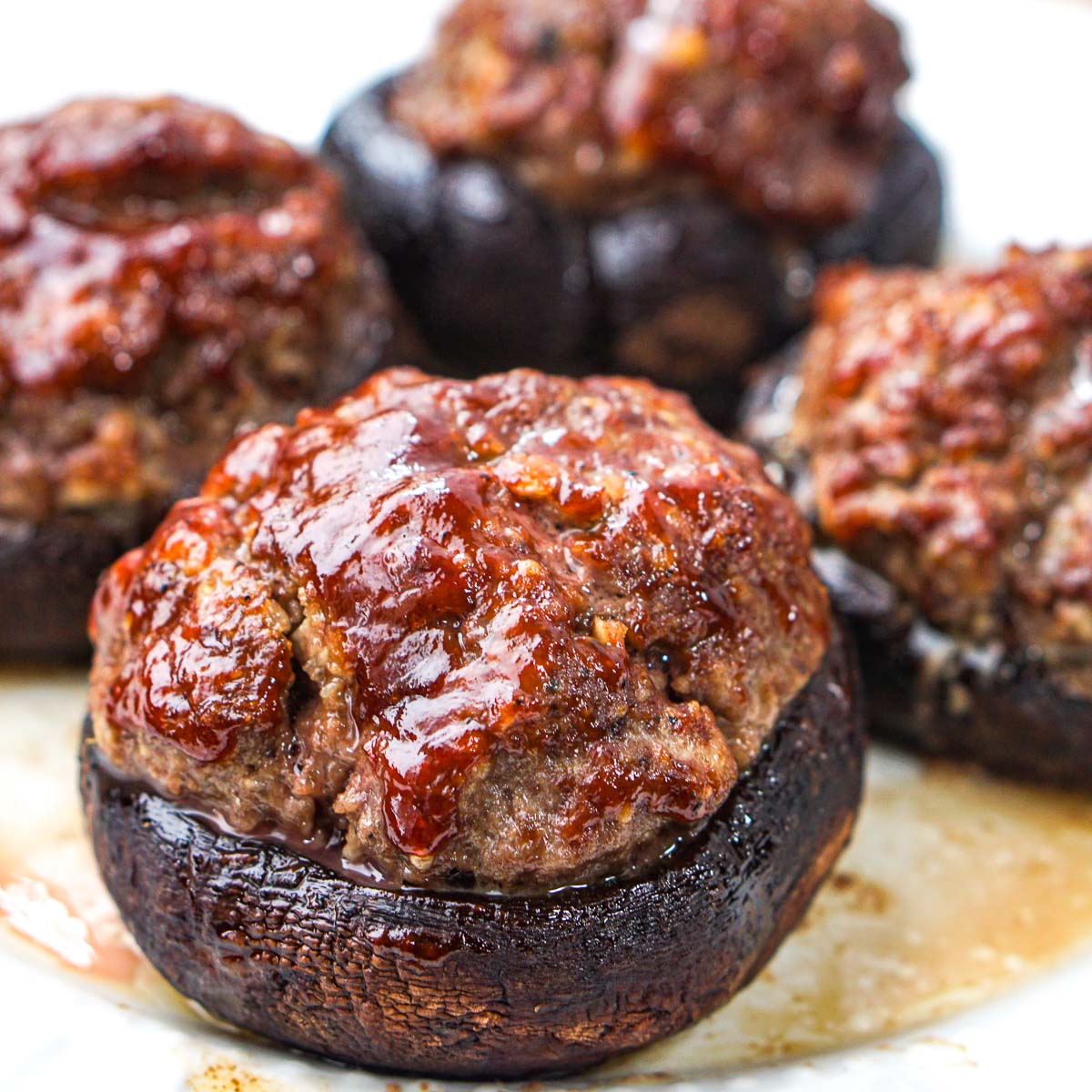 Every once in awhile I go on a portobello kick. I have quite a few button mushroom recipes as appetizers but for these bigger portobellos I like them stuffed. And sometimes we just like them plain on the grill.
Portobellos are great for a low carb diet. They are so meaty and moist on their own but when you stuff them with something tasty like this keto meatloaf the flavors just go so well together.
Today I made these keto stuffed portobello mushrooms because I wanted to have a quick lunch or dinner in the freezer for days when I don't want to eat what everyone else is eating but I still want something good!
I love them not only for the taste but because they are low carb and high protein. They are also very convenient to freeze and heat up the microwave.
Recipe ingredients I used.
All you need for this recipe are a few simple ingredients. I used 4 portobello caps. You just need to take out the stems then clean out the dark gills by scraping with a spoon.
For the low carb meatloaf stuffing I used ground beef, fresh garlic cloves, Worcestershire sauce, onion powder, dried minced onion, parmesan cheese, salt, black pepper, egg and Italian seasoning.
Lastly I brushed homemade tomato paste on top but you could also use low carb bbq sauce or low carb ketchup. Learn about that further down in the post.
Other keto portobello mushroom and meatloaf recipes to try.
If you like this recipe you will also love these other keto portobello recipes:
I also have a few meatloaf recipes – bacon wrapped, Mexican flavored and meatloaf made with ground turkey. So you can see I am a fan of both foods and luckily for me they go together perfectly.
How to make meatloaf stuffed portobello mushrooms.
Step 1: Preheat the oven to 350°F. Get out a rimmed baking sheet and spray with nonstick cooking spray.
Step 2: Clean mushroom caps by taking off the stems and taking out the dark gills. I like to use a spoon to scrape the gills off. Spray both sides of the mushrooms and place on the cookie sheet.
Step 3: Mix up the meatloaf but keep the bbq sauce for the top. Divide the meat mixture into 4 and stuff the mushroom caps with it. Smooth them out with your hands then brush the bbq sauce (or low carb ketchup) on top.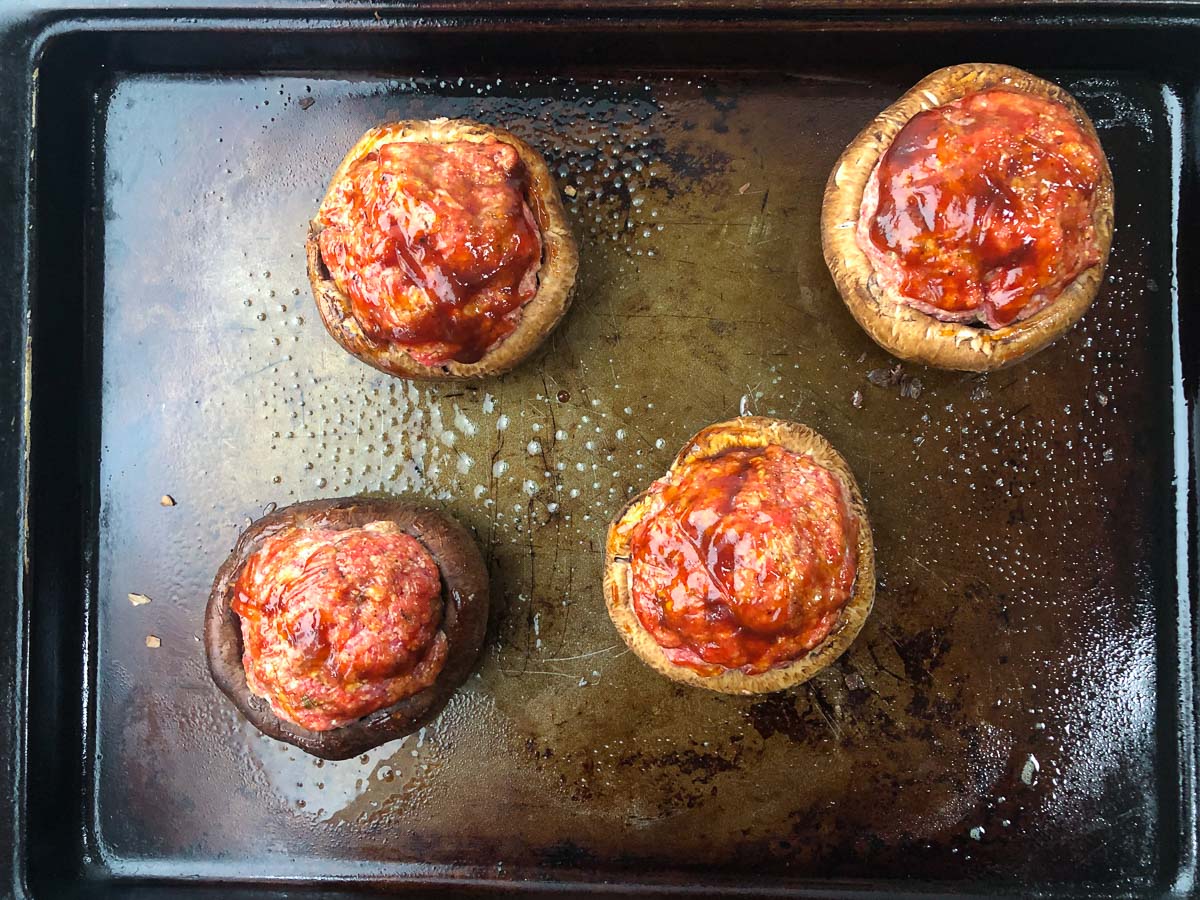 Step 4: Place the cookie sheet into the oven and bake for 30 minutes until the meat loaf is cooked through and the mushrooms are fork tender.
Store leftovers in an airtight container or freeze for late. (Please scroll down to view the printable recipe card.)
I would serve this as the main dish and then maybe a low carb side dish or green vegetable and green salad.
How to freeze for a low carb lunch or dinner.
To freeze these you can cook them through like above and let them cool completely. You can then put them in a freezer container and just take them out when you want one. Then just microwave for a few minutes until they are heated through.
If you want to make a low carb barbecue sauce.
Today I topped the mushrooms with just plain tomato paste. But sometimes I use my low carb barbecue sauce from a barbecue beef roast recipe that I keep in the refrigerator.
While I used my own sauce, I'm sure there are some great low carb barbecue sauces or ketchups out there. This barbecue sauce and this Heinz ketchup look good to me, but if you know of a good one, drop a line in the comments. I'd love to share that with my readers.
If you don't care about carbs, you can use regular barbecue sauce or ketchup if you like. The rest of the recipe would be the same.
I hope you enjoy these keto stuffed portobello mushrooms using keto meatloaf. One is plenty for me and I like to eat, so I would figure 1 mushroom per person.
The nutritional information for 1 stuffed mushroom is 327 calories / 17g fat / 6.5g carbs / 1.7g fiber / 36.2g protein = 4.8g net carbs
And check out my friend Jenn's best keto meatloaf. You could use that in these portobellos as well!
Keto Stuffed Portobello Mushrooms with Meatloaf
You are going to love these keto stuffed portobello mushrooms. The low carb friendly meatloaf filling is full of flavor on it's own to make a delicious dinner. You can eat right away or freeze for later and they have only 4.58g net carbs and 36.2g protein each.
Ingredients
1 pound of lean ground beef
1 egg
⅓ cup Parmesan cheese
½ teaspoon salt
½ teaspoon black pepper
¼ teaspoon Italian seasonings
½ teaspoon worcestershire sauce
½ teaspoon onion powder
2 cloves garlic, crushed
1 teaspoon dried minced onion
2 tablespoon tomato paste
4 large portobello mushrooms
Instructions
Preheat the oven to 350°F. Get out a rimmed baking sheet and spray with nonstick cooking spray.
Take off the stems the mushrooms and clean the gills out of the caps by scraping with a spoon.
Spray them with nonstick cooking oil on both sides of the mushrooms and place on prepared bakign sheet.
In a large bowl add the rest of the ingredients except the tomato paste or bbq sauce.
Mix well and divide the meatloaf mixture into 4.
Fill each mushroom cap with the meat mixture and smooth with your hands.
Add ½ tablespoon of the tomato paste or low carb barbecue sauce on each mushroom and spread around. You can use a pasty brush if you want.
Place the baking sheet into the oven and bake for 30 minutes or until the meat is cooked.
Notes
The nutritional information for 1 stuffed mushroom is 327 calories / 17g fat / 6.5g carbs / 1.7g fiber / 36.2g protein = 4.8g net carbs
Nutrition Information:
Yield:

4
Serving Size:

1 mushroom
Amount Per Serving:
Calories:

327
Unsaturated Fat:

0g