This low carb bbq chicken is so easy to make in the slow cooker. I've also got a delicious low carb bbq sauce which only has 2.7g net carbs per tablespoons that you can use to baste and dip your chicken in. You can make this recipe all year long!
You might also like these low carb bbq rib burgers!
I don't know why but chicken is one of the hardest things for me to cook. It always comes out tough or undercooked. The other day I was in the mood for some BBQ and didn't feel like using the grill so I came up with this low carb bbq chicken that I made in the slow cooker.
I had good luck with the slow cooker for my smokey bbq pork in the slow cooker and thought why not try it with chicken? Well I might make chicken the slow cooker from now on because this was delicious!
What Kind Of Chicken Should You Use?
I intentionally bought chicken breast on the bone to keep it more moist. However, I didn't want the skin though so I took that off. I also used boneless, skinless chicken thighs because that is what my hubby and son like. You can use whatever you want but having the bone in will make it more juicy, especially with breast meat.
Start The Low Carb Bbq Chicken In The Slow Cooker
You start by liberally sprinkling salt and pepper on both sides of your chicken. Then you place it in the slow cooker with nothing else. No liquid whatsoever. I cooked mine for 3 hours on high. Times may vary depending on your slow cooker and whether or not you are using chicken with the bones in it. You want the meat to be tender but not so tender the bones fall right out.
Then You Use The Broiler
Take out your chicken pieces and place on a foil lined cookie sheet that you have sprayed with cooking spray. Baste both sides of the chicken with the low carb bbq sauce. Turn the meat back side up and broil for 5 minutes. Then turn them over, add more sauce and broil for 5-7 minutes until browned to your liking.
The Low Carb BBQ Sauce
The sauce is an adaptation of my bbq rib burgers post. I added a smoked paprika and golden monk fruit for the sweetness. If you want more smokey flavor you can add a bit of liquid smoke too. I was happy with the smoke paprika that I got from Trader Joes.
The sauce is nice and thick so you can use it for a dipping sauce too. This recipe makes more than enough for basting the chicken and dipping sauce too. If you are need any of these ingredients you can find them on my Amazon page.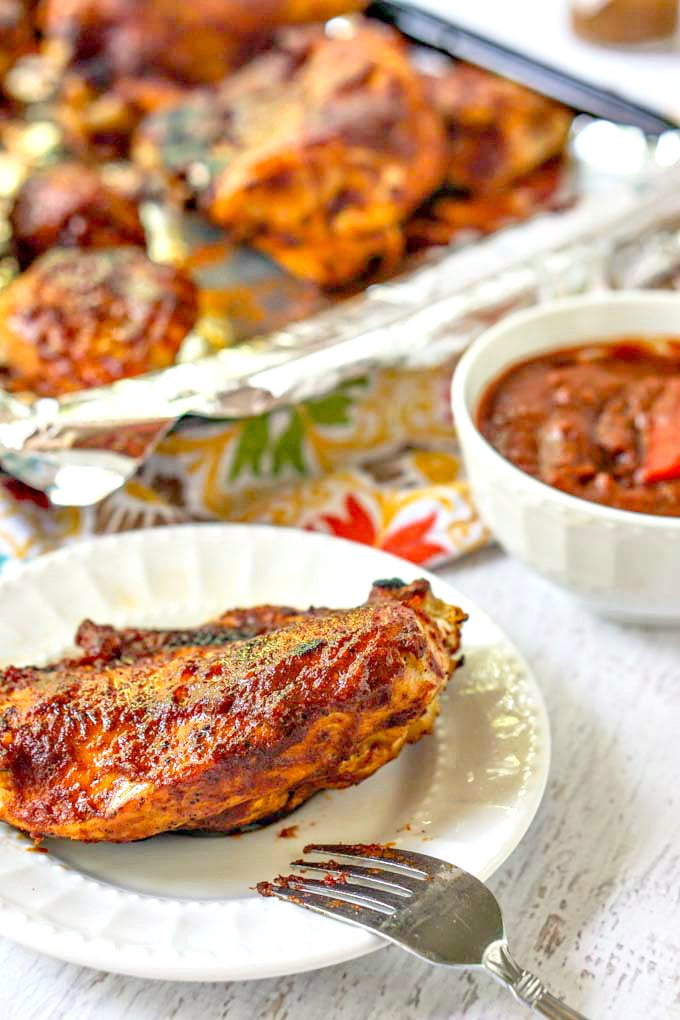 You could always put this on the grill after it comes out of the slow cooker. You would then know it was tender enough and the grill would just give it that smokey charred flavor. Next time I'm going to try to add the sauce to the slow cooker half way through. I'll let you know how it goes!
So this recipe will guarantee that you will have a nice and tender chicken next time you crave bbq. Plus there is the added benefit that it is low carb too! Make a double batch of the sauce and keep it in the fridge for all your summer barbeques and picnics!
Note* I used Lakanto golden monk fruit as my sweetener because it has a bit of a brown sugar taste. It has zero net carbs carbs as it contains fiber and sugar alcohols which are not metabolized by the body. So the nutrition for 1 tablespoon of the sauce is:
37 cals / 3.3g fat / 3.1g carbs / 0.4g fiber / 0.3g protein = 2.7g net carbs*
And if you want to try another delicious low carb bbq sauce, check out this roasted strawberry BBQ sauce from my friend Bobbi!
Low Carb BBQ Chicken in the Slow Cooker
This low carb bbq chicken is so easy to make in the slow cooker. I've also got a delicious low carb bbq sauce you can use to baste and dip your chicken in. You can make this all year long!
Ingredients
1

clove

garlic, crushed

2

tablespoons

golden monk fruit

5

tablespoons

tomato paste

2

teaspoon

chili powder

2

teaspoon

smoked paprika powder

¾

cup

water

1

tablespoon

Worcestershire sauce

1

teaspoon

onion powder

3

tablespoons

butter

1

teaspoon

dried mustard

4

chicken breasts, bone in, skinless

6

chicken thighs, boneless, skinless

salt & pepper
Instructions
Liberally season your chicken with salt and pepper on both sides.

Add to the slow cooker and cook on high for 3-4 hours or on low until the chicken is tender but not falling apart.

While the chicken is cooking, place all the bbq sauce ingredients in a small pan and whisk to combine. Simmer for 10 minutes and take off the stove.

Line a cookie sheet with foil and then spray with cooking spray.

Place chicken on cookie sheet and baste both sides with the bbq sauce.

Place under the broiler for 5 minutes, then flip and broil for 5 minutes more.

Serve with extra bbq sauce on the side to dip in if you wish.