This keto bbq chicken is so easy to make in the slow cooker. I've also got a delicious low carb bbq sauce which only has 2.7g net carbs per tablespoons that you can use to baste and dip your chicken in. You can make this recipe all year long!
You might also like these low carb bbq rib burgers!
I don't know why but chicken is one of the hardest things for me to cook. It always comes out tough or undercooked. The other day I was in the mood for some BBQ and didn't feel like using the grill so I came up with this keto bbq chicken that I made in the slow cooker.
I had good luck with the slow cooker for my smokey bbq pork in the slow cooker and thought why not try it with chicken? Well I might make it the slow cooker from now on because this was delicious!
You slow cook it with simple salt and pepper until it's nice and tender. Then you add your bbq sauce and place it under the oven broiler to brown. That's it!
What kind of chicken should you use?
I intentionally bought chicken breast on the bone to keep it more moist. However, I didn't want the skin though so I took that off. I also used bone in skinless chicken thighs because that is what my hubby and son like.
You can use whatever you want but having the bone in will make for juicy chicken, especially with white meat.
Recipe ingredients I used.
I ended up using bone in, skinless chicken breast and thighs for this dish.
The low carb bbq sauce consists of fresh garlic, Swerve brown sugar sweetener, tomato paste, chili powder, paprika, Worcestershire sauce, onion powder, dried mustard, butter, apple cider vinegar, garlic powder, salt and black pepper.
How to make keto bbq chicken in the slow cooker.
Step 1: You start by liberally sprinkling salt and pepper on both sides of your chicken pieces. Then you place it in the slow cooker with nothing else. No liquid whatsoever.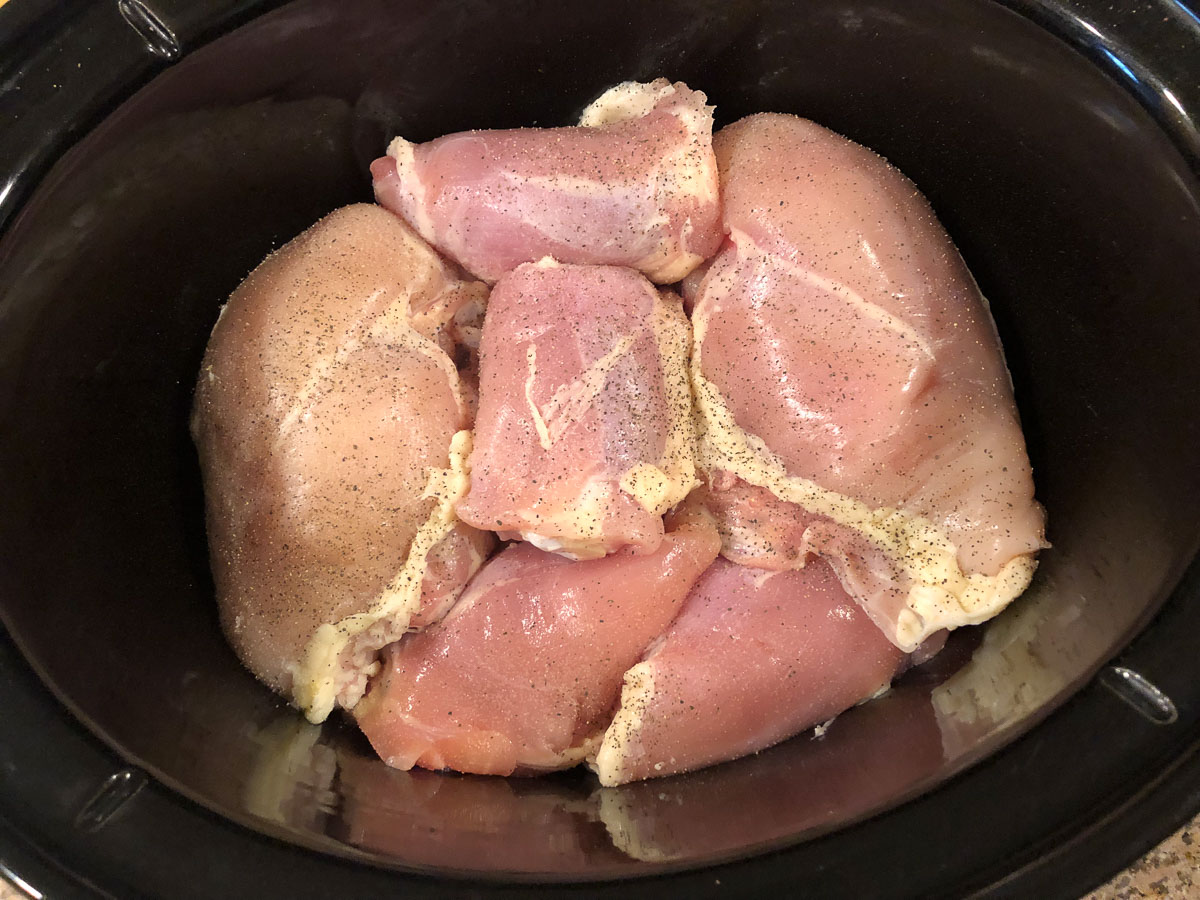 Step 2: Set the slow cooker to high heat. Mine took 3 hours but cooking times will depend on how much you do and your crockpot. You could also do this on low for 6-8 hours but you don't to over cook them.
You want the meat to be tender but not so tender the bones fall right out.
Step 3: In the meantime make the sugar free bbq sauce on the stove. Get out a medium saucepan and add the other seasonings and ingredients and whisk to combine. Taste and see if you want it sweeter or spicier and adjust accordingly though the flavor will develop more as it cooks.
Simmer on the stove for about 10 minutes. I should thicken and when you take it off the stove it will thicken more. Let set until you are ready to use it.
Step 4: Prepare a baking sheet by covering with aluminum foil. Then spray with nonstick cooking spray. Place the chicken pieces in a single layer on the baking sheet being careful to not overlap pieces.
You could also use a baking dish. Just make sure to spray it first.
Step 5: Brush the low carb bbq sauce over both sides of the chicken and set out the broiler. Turn the meat back side up and place under the oven broiler for 5 minutes. Then turn them over, add more sauce and broil for 5-7 minutes until browned to your liking and serve.
Store leftover pieces in an airtight container. You can use it to make chicken salad or place on a big chicken salad. Please scroll down to view the printable recipe card.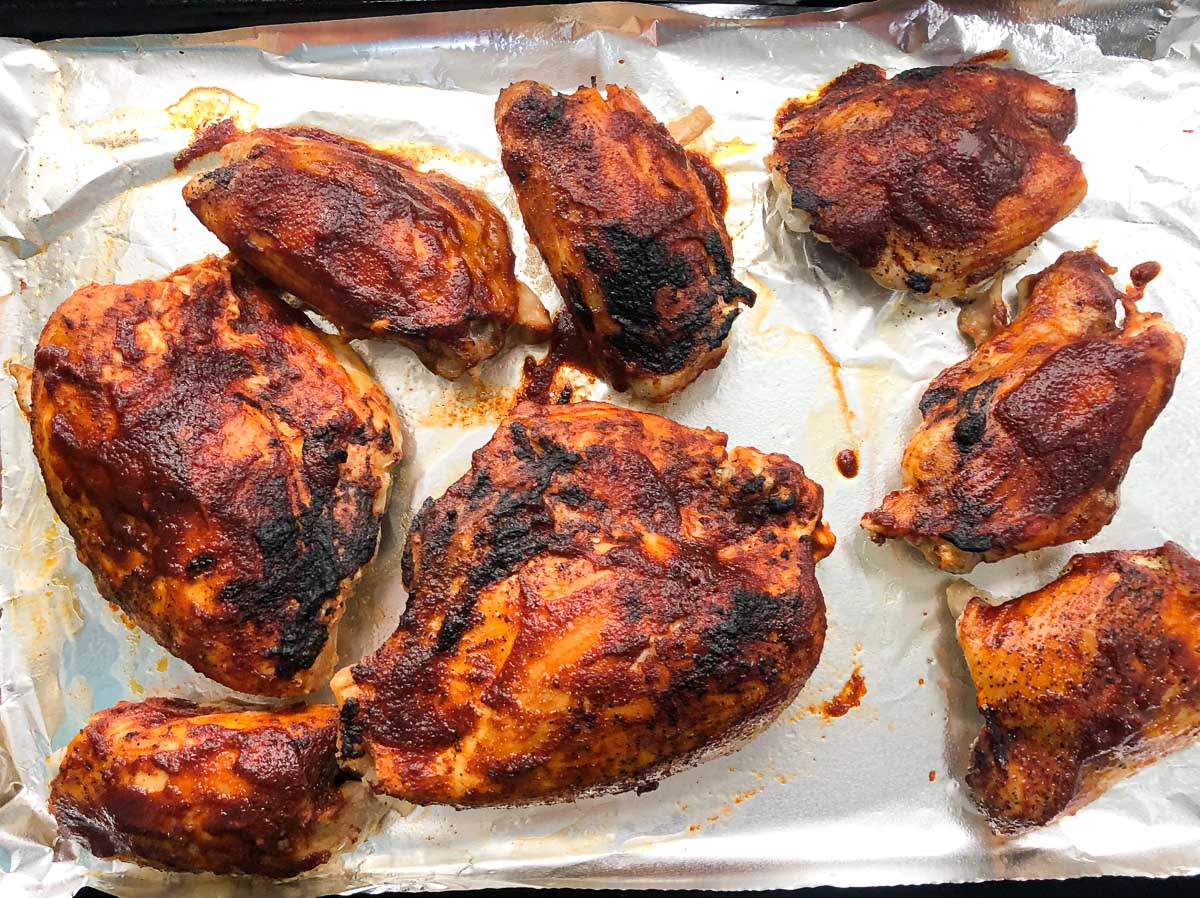 About the low carb bbq sauce.
Originally I use a smoked paprika I found at Trader Joes in this recipe for a bit of smokiness. Another way to do that is to use a bit of liquid smoke. Since I didn't have any left today and I'm updating this post I didn't use either and it was still delicious.
The sauce is nice and thick so you can use it for a dipping sauce too. This recipe makes more than enough for basting the chicken and dipping sauce too. Since it is the only source of carbs in this recipe if you scroll down you can get the nutritional information if you are counting carbs.
If you are need any of these ingredients for this bbq sauce you can find them on my Amazon page.
You could always put this on the grill after it comes out of the slow cooker. You would then know it was tender enough and the grill would just give it that smokey charred flavor.
Keto side dish recipes to try with this.
I have quite a few low carb recipe ideas that would go great with this meal. You could also just serve with a big green salad.
So this bbq slow cooker recipe will guarantee that you will have a nice and tender chicken next time you crave bbq. Plus there is the added benefit that it is low carb too!
Make a double batch of the sauce and keep it in the fridge for all your summer barbeques and picnics!
So the nutrition for 1 tablespoon of the sauce is: 37 cals / 3.3g fat / 3.1g carbs / 0.4g fiber / 0.3g protein = 2.7g net carbs
And if you want to try another delicious low carb bbq sauce, check out this roasted strawberry BBQ sauce from my friend Bobbi!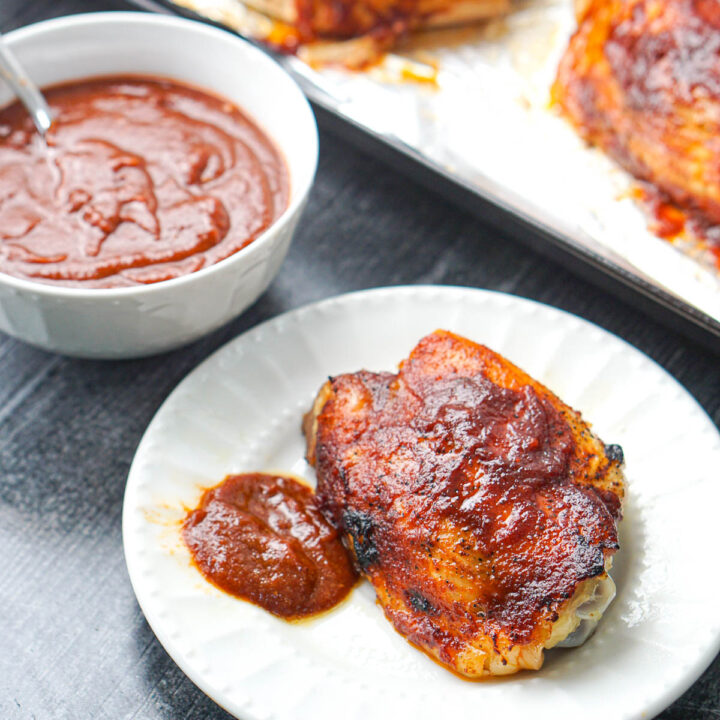 Keto BBQ Chicken in the Slow Cooker
Total Time:
4 hours
5 minutes
This low carb bbq chicken is so easy to make in the slow cooker. I've also got a delicious low carb bbq sauce you can use to baste and dip your chicken in. You can make this all year long!
Ingredients
1 clove garlic, crushed
3 tablespoons Swerve brown sugar sweetener
5 tablespoons tomato paste
2 teaspoon chili powder
2 teaspoon smoked paprika powder
¾ cup water
1 tablespoon Worcestershire sauce
1 teaspoon onion powder
3 tablespoons butter
1 teaspoon dried mustard
4 chicken breasts, bone in, skinless
6 chicken thighs, boneless, skinless
salt & pepper
1 tablespoon apple cider vinegar
½ teaspoon garlic powder
Instructions
Liberally season your chicken with salt and pepper on both sides.
Place the chicken into the slow cooker and cook on high for 3-4 hours or on low until the chicken is tender but not falling apart.
While the chicken is cooking, place all the bbq sauce ingredients in a small pan and whisk to combine. Simmer for 10 minutes and take off the stove.
Line a cookie sheet with foil and then spray with cooking spray.
Place chicken on cookie sheet and baste both sides with the bbq sauce.
Place under the broiler for 5 minutes, then flip and broil for 5 minutes more.
Serve with extra bbq sauce on the side to dip in if you wish.
Notes
The nutrition for 1 tablespoon of the sauce is: 37 cals / 3.3g fat / 3.1g carbs / 0.4g fiber / 0.3g protein = 2.7g net carbs
Nutrition Information:
Yield:

10
Serving Size:

1 grams
Amount Per Serving:
Calories:

247
Total Fat:

11g
Saturated Fat:

4g
Trans Fat:

0g
Unsaturated Fat:

6g
Cholesterol:

132mg
Sodium:

251mg
Carbohydrates:

6g
Fiber:

1g
Sugar:

5g
Protein:

32g